Apple cider vinegar is one of the healthiest ingredients you can use on a daily basis.
But before we go deeper into the usage of ACV in beauty and skin treatments, I must point out that it can't do all of these great things on its own. It's crucial that you maintain current healthy habits, namely, a healthy diet and healthy living. If you live on junk food, sit all day, and get little to no exercise, apple cider vinegar won't help. Think of ACV as that extra kick you need to get over a hump. It's your secret weapon to smooth, healthy, shiny skin and hair.
That being said, I would just like to quickly summarize some of the benefits of ACV before moving on to the recipes.
Benefits of Apple Cider Vinegar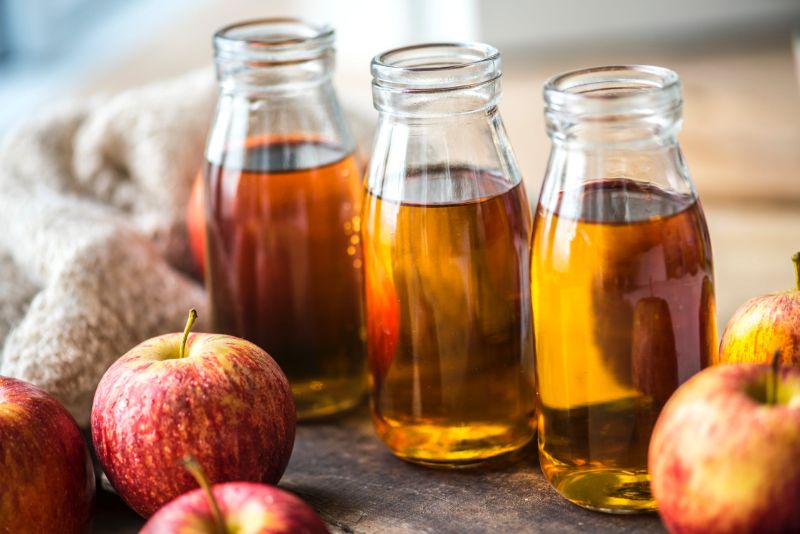 Remember, these are benefits for your skin, hair, and body. There are countless other ACV benefits for your health and your household.
Apple cider vinegar is high in acetic acid, a potent biological asset.
ACV can kill almost any type of bacteria. Vinegar is high on the list of the best antibacterial home remedies. Traditionally, vinegar has been used for disinfecting and cleaning, mostly because of its antibacterial properties.
ACV provides a soothing and calming effect. Indeed, it's one of the best remedies you can use to cure a sore throat. One, because of its antibacterial properties, but also because of its calming effects. The same effects apply for your skin.
Apple cider vinegar is high in potassium, a mineral that makes your skin healthier. Potassium also thins mucus.
Combination Skin Tonic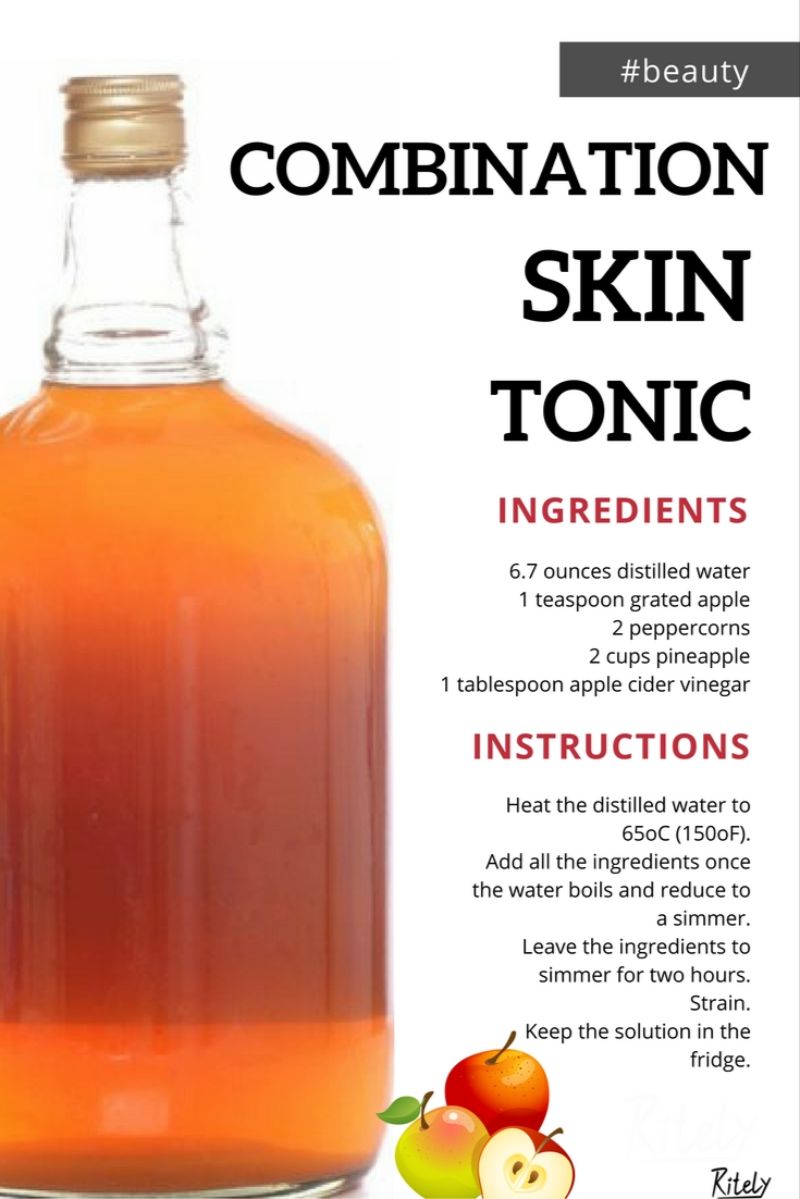 A combination skin type is one of the common types. It is exactly what it sounds like: you have some properties of dry skin and some of oily skin. Usually, people with a combination skin type have oily skin in the T-zone (the nose, chin, and forehead area). Combination skin benefits from different cosmetics than those used for oily and dry skin. Now, onto the tonic.
Ingredients:
200ml (6.7 ounces) distilled water
1 teaspoon grated apple
2 peppercorns
1 tablespoon apple cider vinegar
How to make it:
Heat the distilled water to 65oC (150oF).
Add all the ingredients once the water boils and reduce to a simmer.
Leave the ingredients to simmer for two hours.
Strain.
Keep the solution in the fridge.
Orange Crust Tonic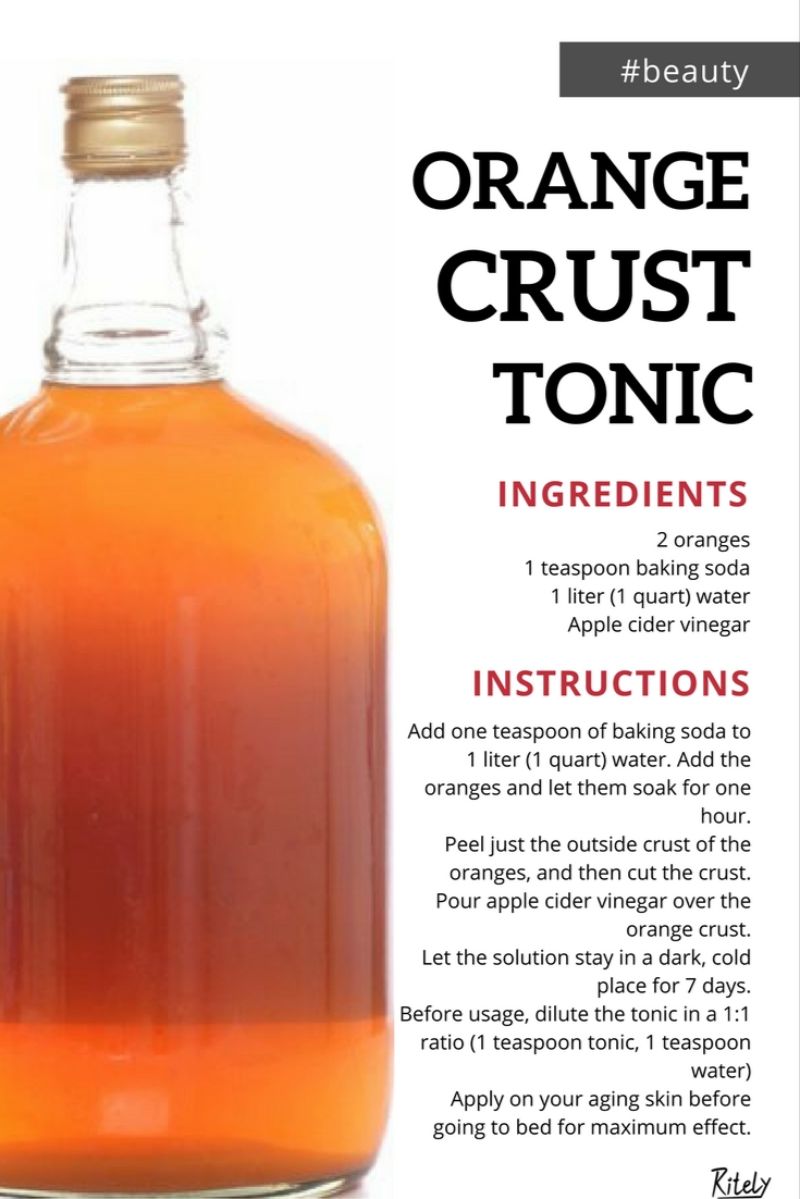 This tonic can be used for any skin type. But the best usage is for aging skin with visible pores. The tonic will help you improve the elasticity of your skin as well as tighten it up.
Ingredients:
2 oranges
1 teaspoon baking soda
1 liter (1 quart) water
Apple cider vinegar
How to make it:
Add one teaspoon of baking soda to 1 liter (1 quart) water. Add the oranges and let them soak for one hour.
Peel just the outside crust of the oranges, and then cut the crust.
Pour apple cider vinegar over the orange crust.
Let the solution stay in a dark, cold place for 7 days.
Before usage, dilute the tonic in a 1:1 ratio (1 teaspoon tonic, 1 teaspoon water)
Apply on your aging skin before going to bed for maximum effect.
Parsley and ACV Lotion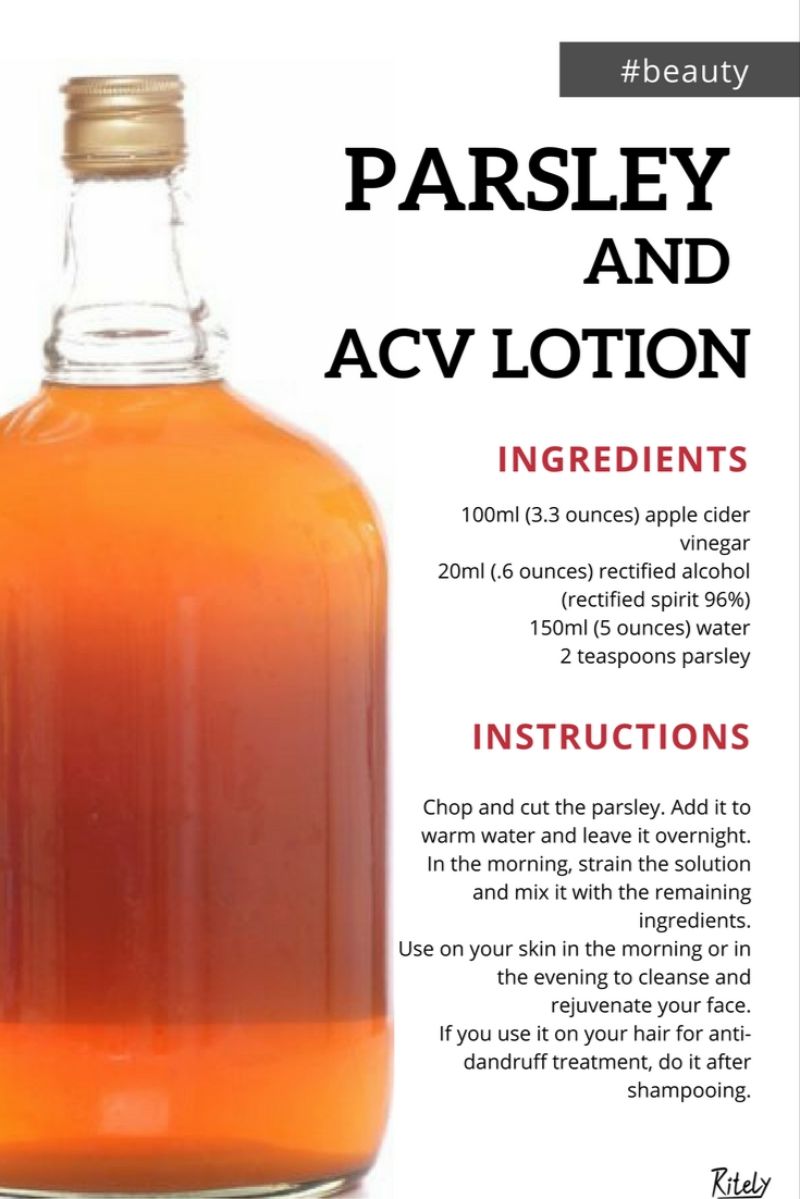 You can use this lotion for skin rejuvenation and regeneration. You can also use it for dandruff hair treatments.
Ingredients:
100ml (3.3 ounces) apple cider vinegar
20ml (.6 ounces) rectified alcohol (rectified spirit 96%)
150ml (5 ounces) water
2 teaspoons parsley
How to make it:
Chop and cut the parsley. Add it to warm water and leave it overnight.
In the morning, strain the solution and mix it with the remaining ingredients.
Use on your skin in the morning or in the evening to cleanse and rejuvenate your face.
If you use it on your hair for anti-dandruff treatment, do it after shampooing.
Skin Hydration Oil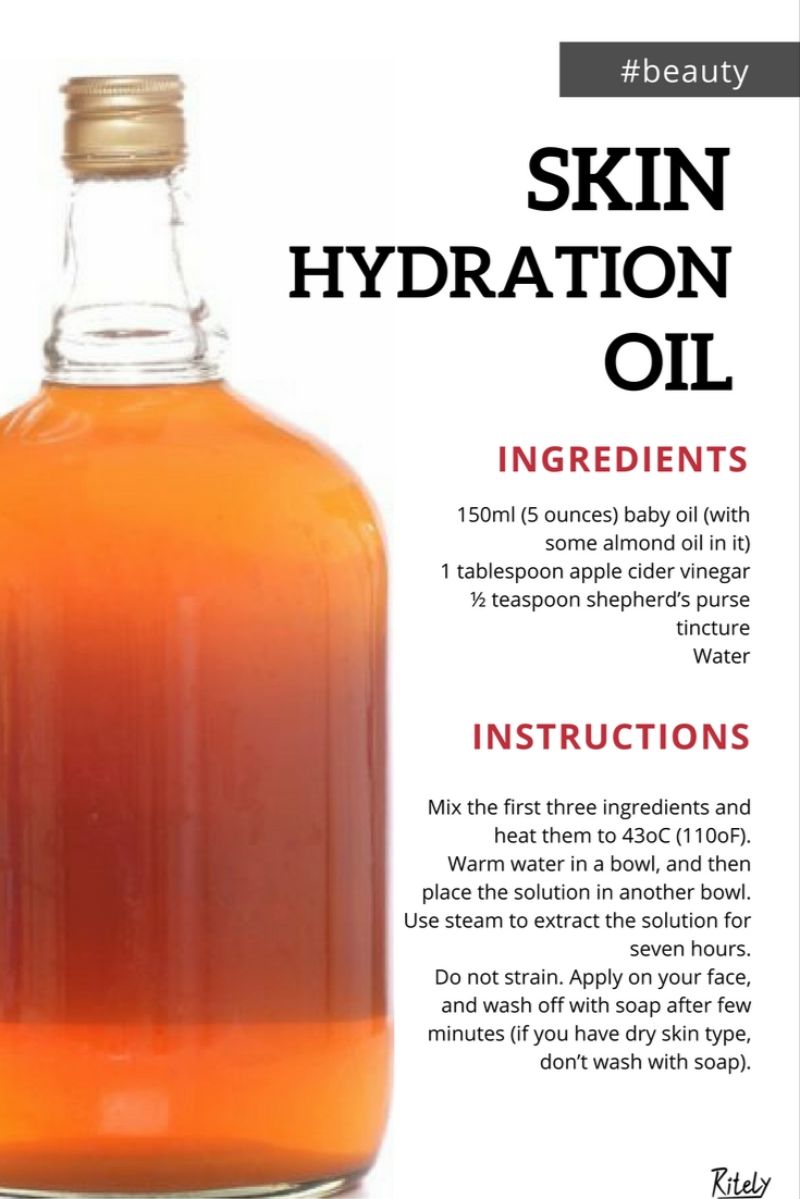 You can use this oil for hydrating your skin in the morning and the evening, or you can use it to remove makeup (in just one step!). And the best part is that your face will be toxin- and chemical-free afterwards.
Ingredients:
150ml (5 ounces) baby oil (with some almond oil in it)
1 tablespoon apple cider vinegar
½ teaspoon shepherd's purse tincture
Water
How to make it:
Mix the first three ingredients and heat them to 43oC (110oF).
Warm water in a bowl, and then place the solution in another bowl. Use steam to extract the solution for seven hours.
Do not strain. Apply on your face, and wash off with soap after few minutes (if you have dry skin type, don't wash with soap).
ACV and Bees Wax Cream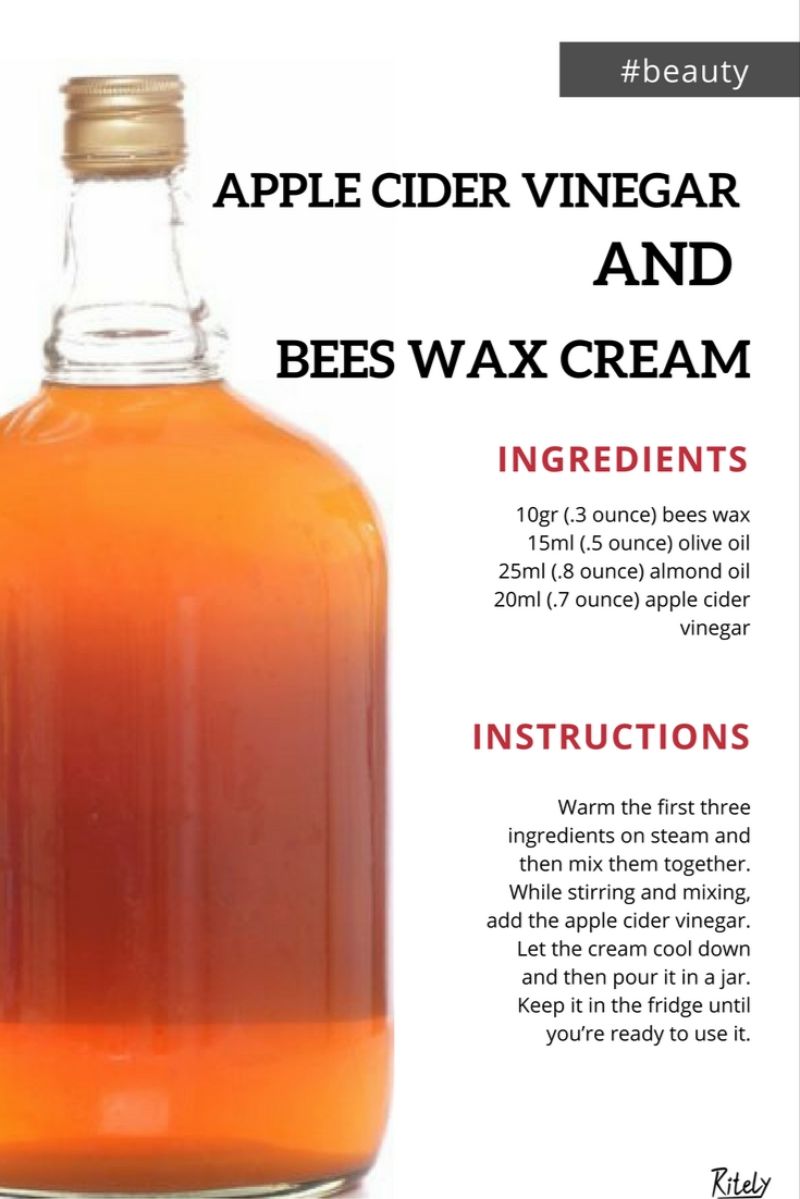 This is the best way to battle oily skin, as this solution will cleanse and refresh your skin. And you can use it to treat all those red and purple spots on your skin as well.
Ingredients:
10gr (.3 ounce) bees wax
15ml (.5 ounce) olive oil
25ml (.8 ounce) almond oil
20ml (.7 ounce) apple cider vinegar
How to make it:
Warm the first three ingredients on steam and then mix them together.
While stirring and mixing, add the apple cider vinegar.
Let the cream cool down and then pour it in a jar. Keep it in the fridge until you're ready to use it.
Protein Face Mask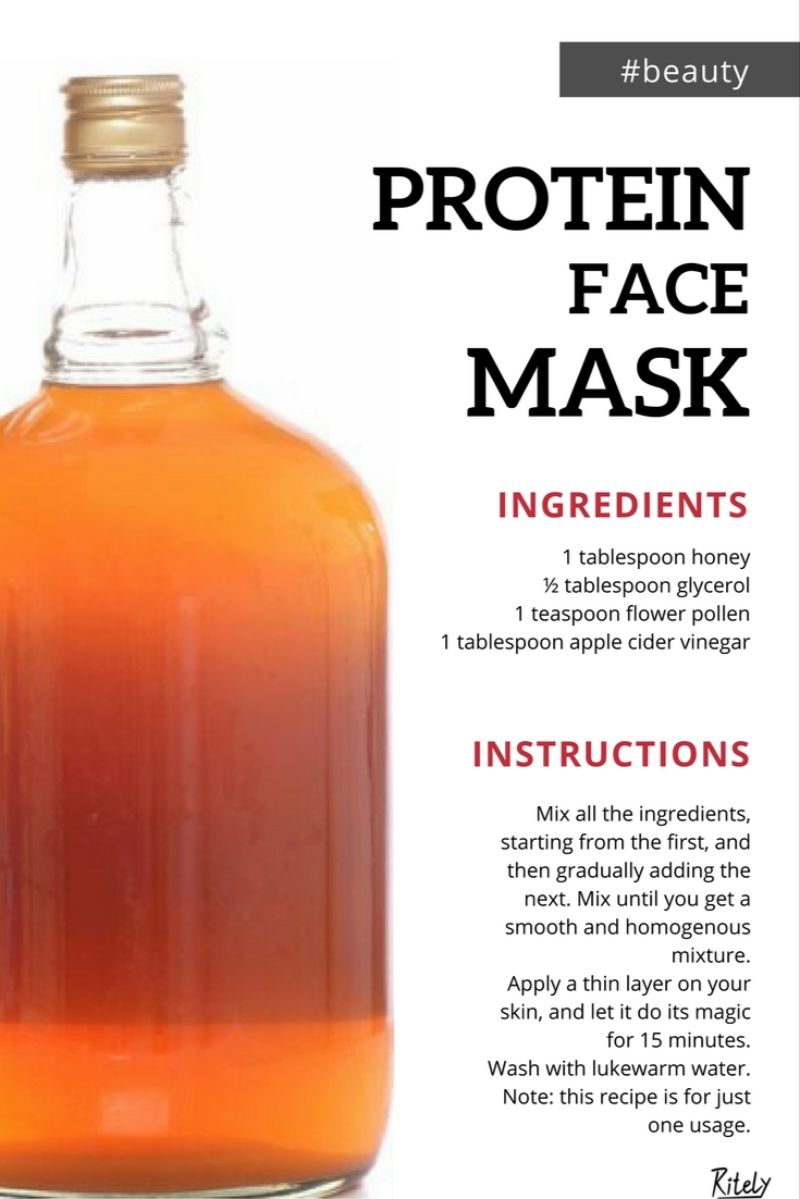 Protein is the essential building block of your muscles. But it's not enough just to eat protein; you need to nourish your face with a protein mask from time to time to keep the elasticity. Here is one mask that will help you do it.
Ingredients:
1 tablespoon honey
½ tablespoon glycerol
1 teaspoon flower pollen
1 tablespoon apple cider vinegar
How to make it:
Mix all the ingredients, starting from the first, and then gradually adding the next. Mix until you get a smooth and homogenous mixture.
Apply a thin layer on your skin, and let it do its magic for 15 minutes.
Wash with lukewarm water. Note: this recipe is for just one usage.
Extra Tips for Using Apple Cider Vinegar
There are many factors that contribute to the full potential and effect of ACV. Here are some quick tips to remember.
Make sure that the dishes you use for preparing the ACV solution are used solely for vinegar. Do not use them for anything else. Metal dishes are best.
If you store the solution in your fridge, make sure to place it on the lowest shelf.
Check if the solution works for your skin type. The best way is to apply some of it on the inner elbow (the inner elbow is just as sensitive as the skin on your face).
When you want to dilute apple cider vinegar, use distilled water, or any mineral water without CO2.