Angelina Jolie is a great example of a woman who is confident in her body, strong-minded and willing to experiment. Most women at her age would be ashamed to show their nude bodies, but Jolie doesn't suffer from such complex. Angelina just turned 41 years, but she has no intention of stopping using ink on her body. She has been a subject of controversy for several years now, but inking is one of her passions, and she does it with confidence. As with every tattoo, Angelina's tattoo have secret and hidden meaning, and most of them reflect her new believes and life philosophies.
1. Buddhist Pali Incantation
Angelina did this tattoo in order to protect herself and her son from Cambodia from bad luck and harm. Maddox is one of her adopted sons, and she wants to protect him at all cost. Noo, one of her favorite tattoo artists did the Buddhist Pali incarnation. The tattoo is written in Khmer script, which is the language of Cambodia. The translation of the tattoo is the following:
May your enemies run far away from you,
If you acquire riches, may they remain yours always,
Your beauty will be that of Apsara,
Wherever you may go, many will attend,
serve and protect you, surrounding you on all sides.
2. Know Your Rights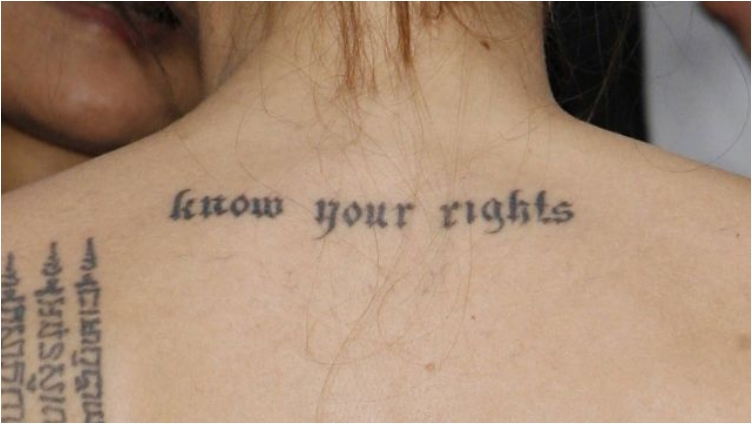 Angelina is very vocal when it comes to women's rights, and civil rights in general. In 2015, Angelina gave a powerful speech at the African Union Summit. But she is trying to voice her opinion all the times. And to show people that she is all business, she tattooed the words "Know your rights" on the back of her neck. Know your rights is also a title of a song by her favorite band, the Clash.
3.  Tennessee Williams quote: "A prayer for the wild at heart, kept in cages."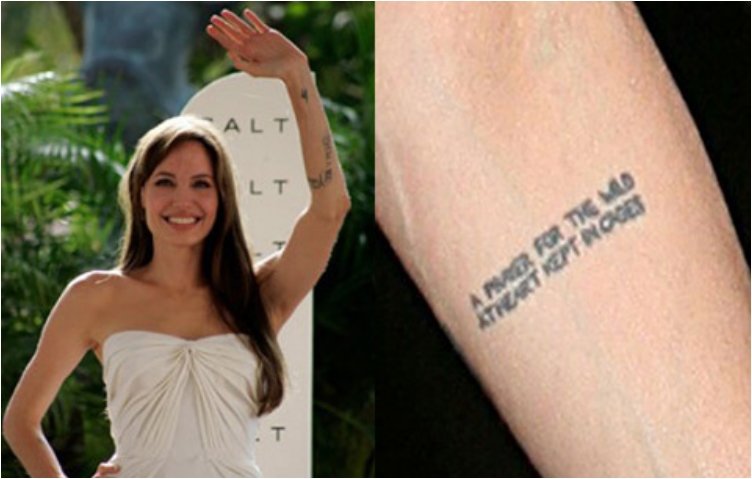 What is more important than the quote itself is what follows. Following the quote Angelina has on her hand, the Tennessee Williams poem continues "to run wild and free, to feel your blood pumping". The poem itself is a complete metaphor of life, how we are locked in cages, but we are trying hard to break free and release the chains holding us. You know Jolie is someone who opposes society's norms, which metaphorically are the chains holding us back. She did this tattoo in the presence of her mother.
4. Arabic Script Tattoo "Determination"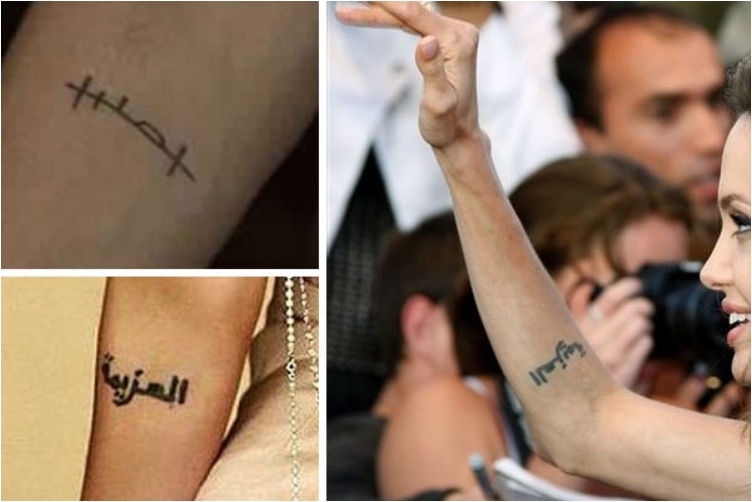 Angelina actually did this tattoo to cover a former tattoo she had done with her ex husband, Billy Bob Thornton. She and him had abstract lines tattoo on their arms. But once Angelina got together with Brad Pitt, she decided it is time to change the tattoo. So she made an Arabic script, which reads "determination". Some say that the translation is "strength of will", but that is not true. Determination is the better suited word for Jolie.
5. Roman Numeral Tattoo (13 May 1940)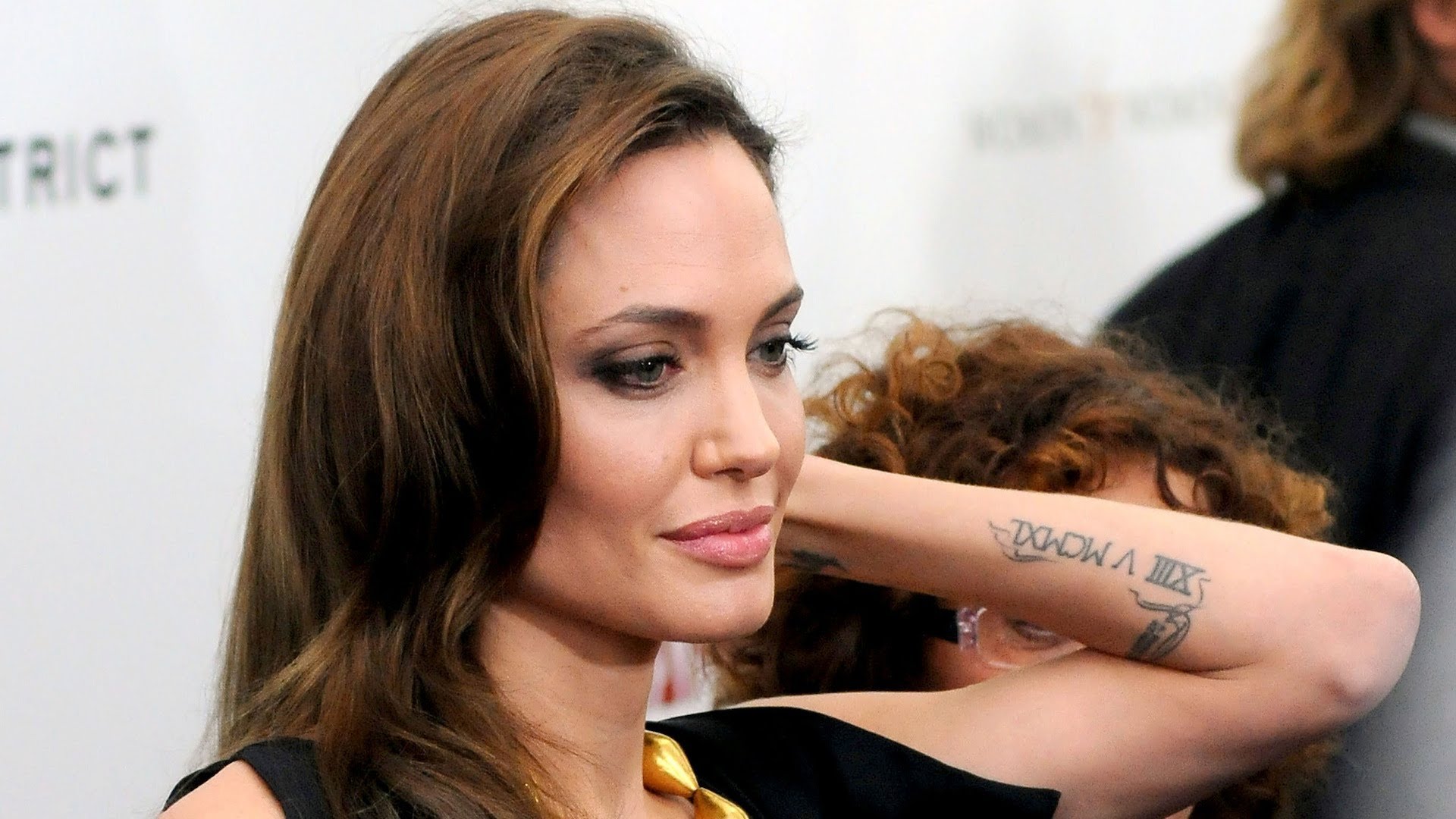 This tattoo started just as the number 13. Angelina did the tattoo because she doesn't believe in superstitions, and we all know what the number 13 signify. After a while, she added the numbers V MCMXL in Roman numbers, which is actually the date Winston Churchill gave one of his most famous speeches, saying "I have nothing to offer but blood, toil, tears and sweet". That date was May 13, 1940. Again, this is all in character of Jolie's mind and will in life.
6. Rune Style Tattoo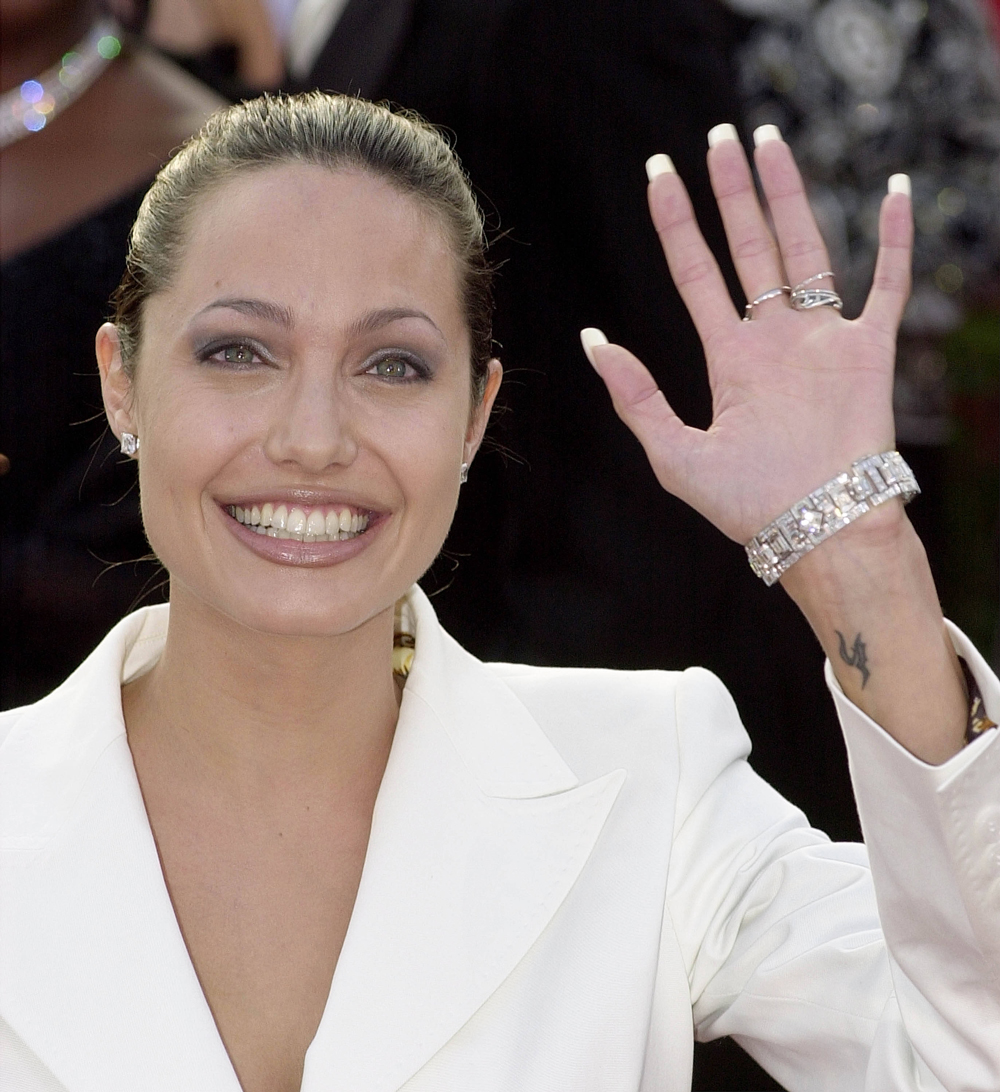 When translated in common language, the rune is actually the letter "H". There are different interpretations what this tattoo means. Some believe it is a reminder of her brother James Haven, while others claim it is actually a reminder of her ex boyfriend Timothy Hutton. Be as it is, Angelina has an "H" on her wrist.
7. The Tattoo For Brad Pitt  "Whiskey Bravo"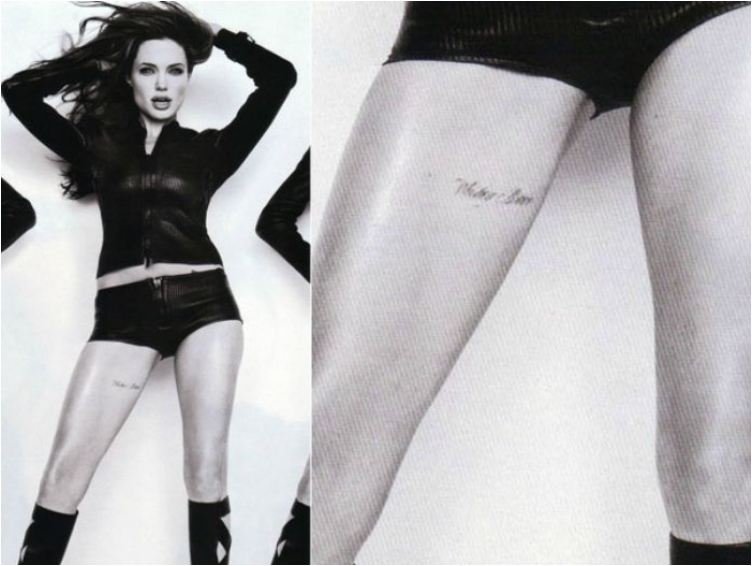 When you get a tattoo on your inner thigh, people start talking and asking. The "whiskey bravo" tattoo is actually something Jolie did for Brad. Some experts have found the meaning, in that "Whiskey Bravo" is actually civil aviation code for WB, and those two letters, WB, are also the first two initials of William Bradley Pitt. I am sure you didn't know that was Brad Pitt's full name.
8. Geographical Coordinates Tattoo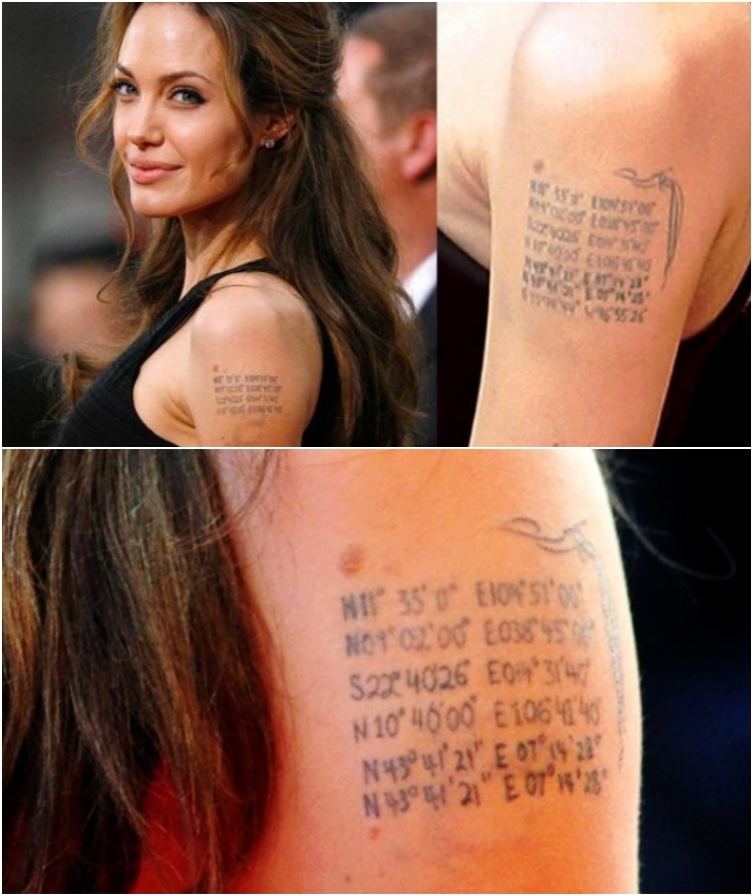 The geographical coordinates, or longitudes and latitudes are actually locations where she met her children for the first time. The coordinates are on the place where she used to have a dragon tattoo and the name of her ex, Billy Bob Thornton. But she got that tattoo removed by laser, and now she has the following coordinates:
N11° 33′ 00″ E104° 51′ 00″: Cambodia where she found her eldest son, Madddox
N09° 02′ 00″ E038° 45′ 00″: Ethiopia, or the place where her daughter Zahara was born
S22° 40′ 26″ E014° 31′ 40″: Angelina actually gave birth of her daughter Shiloh here, in a place in Namibia. The name Shiloh is Hebrew for "the peaceful one". Shiloh is a biological daughter of Jolie and Brad Pitt
N10° 46′ 00″ E106° 41′ 40″: Vietnam, the birth place of her son Plax Then
N43° 41′ 21″ E07° 14′ 28″
N43° 41′ 21″ E07° 14′ 28″: These two are identical, and the reason is because they are meant for the twins, Vivienne and Knox
The last, seventh line is actually coordinates for Oklahoma, the birth place for her husband, Brad Pitt.
9. Cross And Quote Tattoo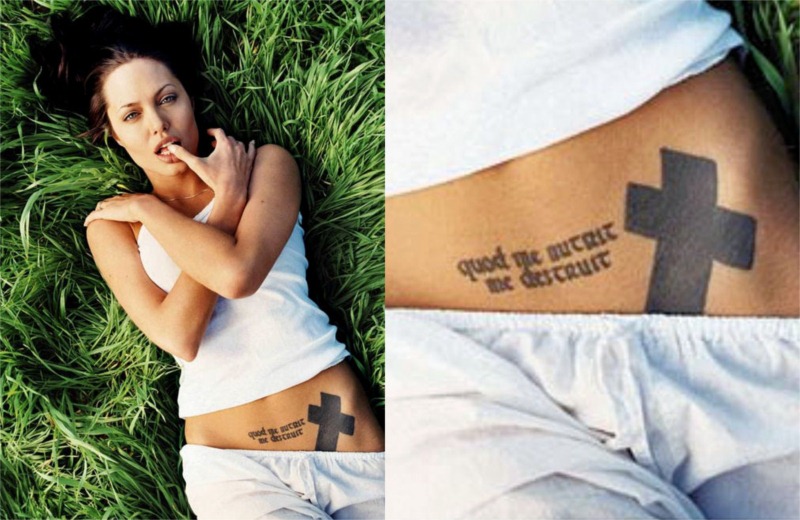 Some would say this tattoo is dark, but Angelina claims it is all symbolic. The cross is followed by quote in Latin, meaning "What nourishes me, destroys me". In Latin, the phrase reads "Quod me nutrit me destruit". Jolie did this tattoo in 1995, when she married Johnny Lee Miller.
10. The Bengal Tiger Tattoo
To celebrate her Cambodian citizenship, Angelina did a 12 inch long and 8 inch wide Bengal tiger. Placed on her lower back, the tattoo covers her blue window tattoo. Noo, or Sompong was also responsible for this latest tattoo .He also did her Khmer tattoo. The tattoo session lasted for two hours, as Sompong did the tattoo in a traditional Thai style, using a manual needle.
11. Cambodian Script On Forearm Tattoo
Angelina revealed this tattoo at the 2015 Cambodian film festival. She was working on a movie to honor the victims of the Khmer Rouge reign. The Cambodian script is done in Southeast Asian sak yant style, using geometric patterns, animal shapes and script lines.
12. Thai Buddhist Symbols And Mantras Tattoo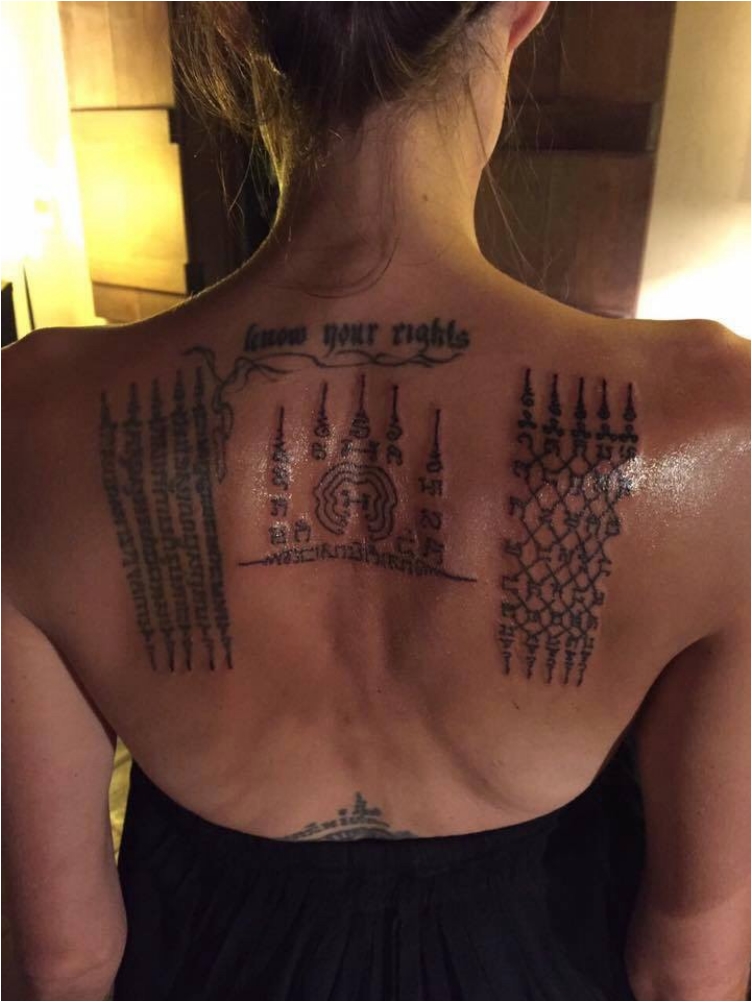 The Thai Buddhist mantras and symbols tattoo occupies almost her entire back. Located just underneath "know your rights" quote, the tattoos are symbols for love, prosperous life, peace and blessings. She showed the tattoo in 2015 when she was filming "First they killed my father" in Cambodia.
 READ NEXT: Discover The Secrets Behind 18 Of Rihanna's Tattoos