Look, celebrities have real life problems as much as we do. If you thought celebrities are not facing weight gain problems, obesity and similar, you are dead wrong. And same as we do, they are looking for answers and solutions for the problem. Most often than not, the solution comes in the form of a professional trainer, a special diet and weight loss regime. And they are often willing to share their results and the process with fans. So, let's take a look at some celebrities, and how they managed to lose weight.
1. Mo'Nique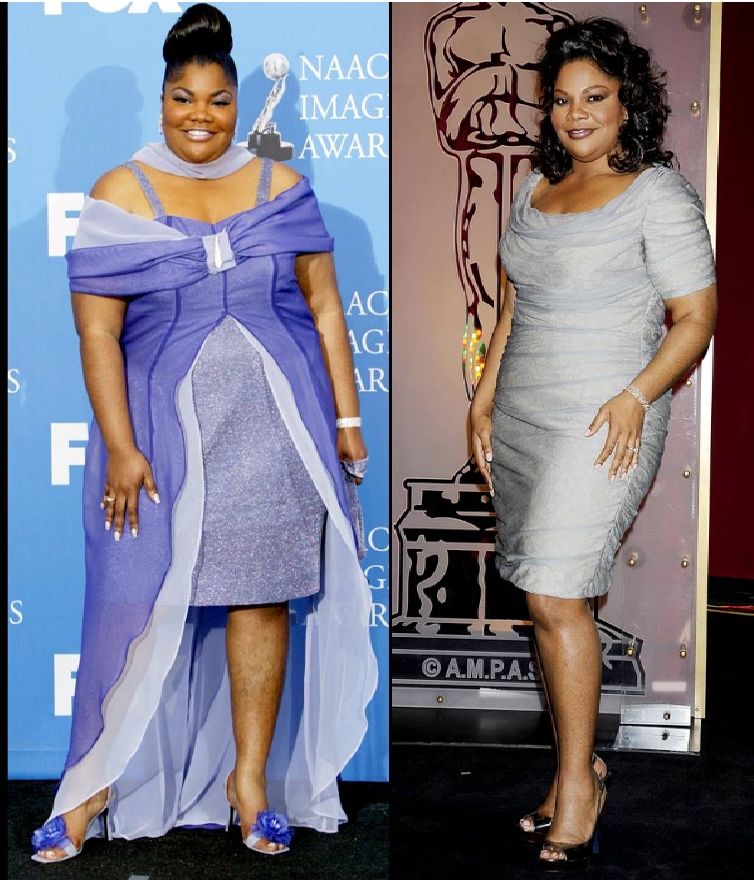 Mo'nique has said it time and time again, you need huge support in order to lose weight. For the award wining actress, that support came in the form of her family. She thanks them in every interview. Of course, the diet and the weight loss exercise program made it happen, but someone has to push you and help your focus and dedication to the goal. Her 90lbs weight loss plan is also available for fans to download and take a look at.
2. Zach Galifianakis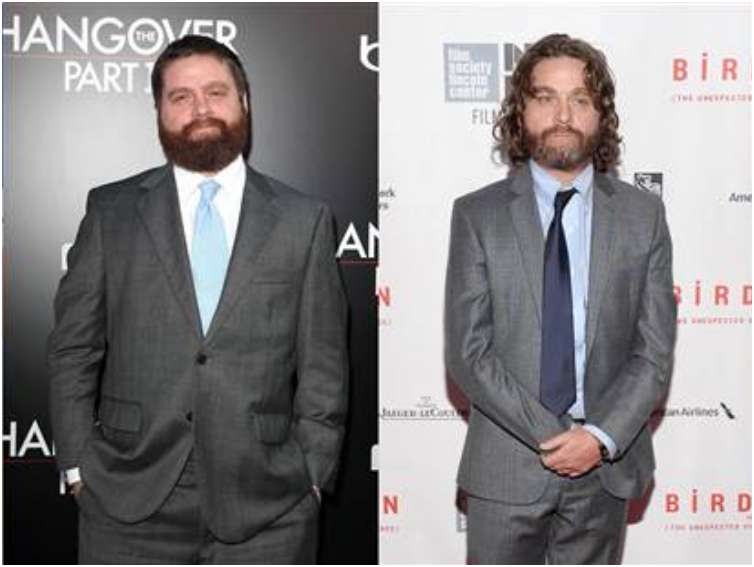 Zach had to shed some pounds for his role in Birdman. And he managed to do just that. His secret? Ditching alcohol. He said he stopped drinking and the weight fall off.
3. Wendy Williams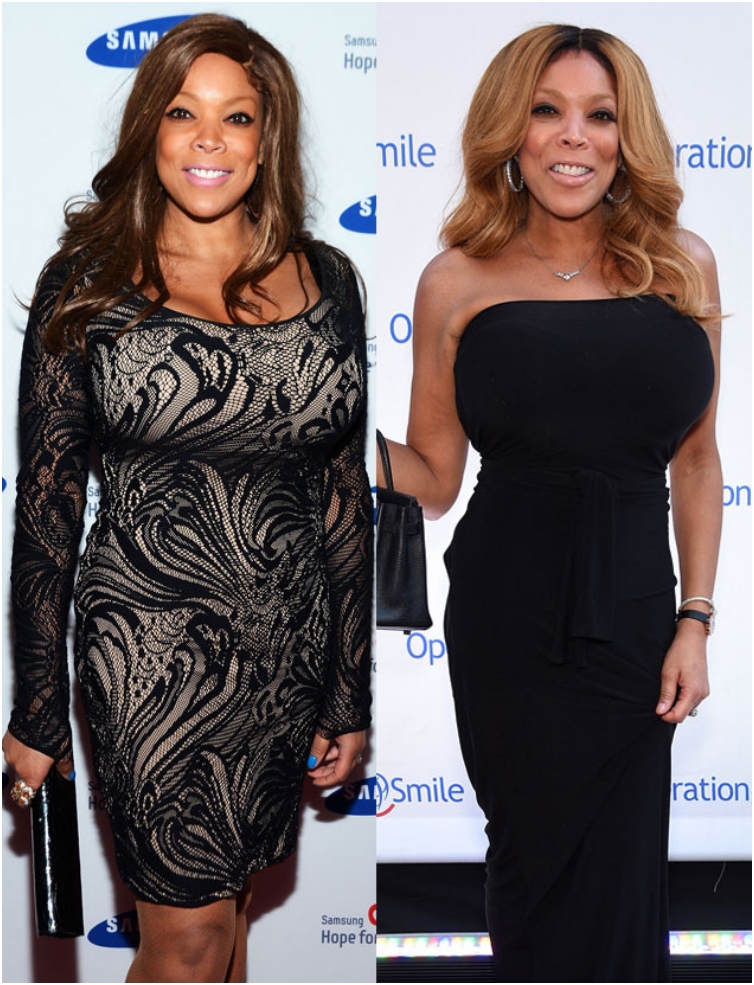 Wendy thanks pilates and cardio workouts for her weight loss. But in general, she stopped eating as much. She has been following several diets, but in the end, she decided it is time to stop eating as much. That doesn't mean you need to starve yourself. You still need three main and two side meals in the day. Just don't make them as big.
4. Michael Moore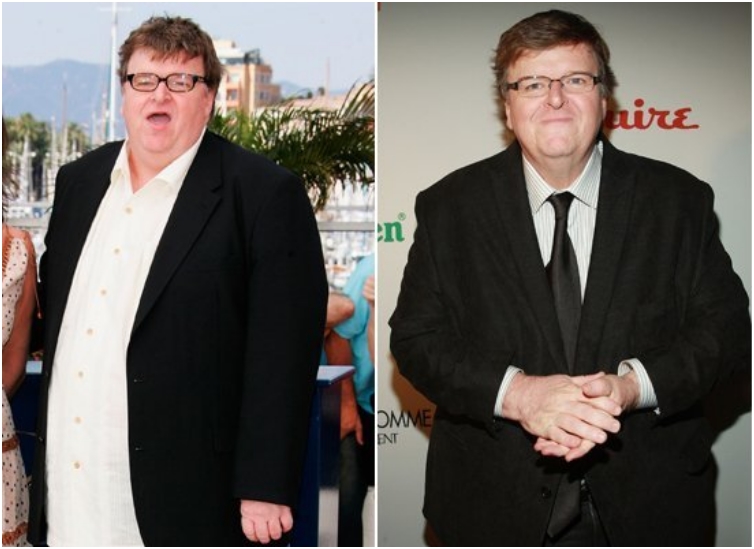 Not all of us can afford the weight loss plan of Michael. He spent several months in a luxury weight loss spa where the price is $4,500 per week. But hey, we can all dream. What you can take away is that Michael suggests most people regain their weight because they let their guard down and get loose. You cannot afford that.
5. Star Jones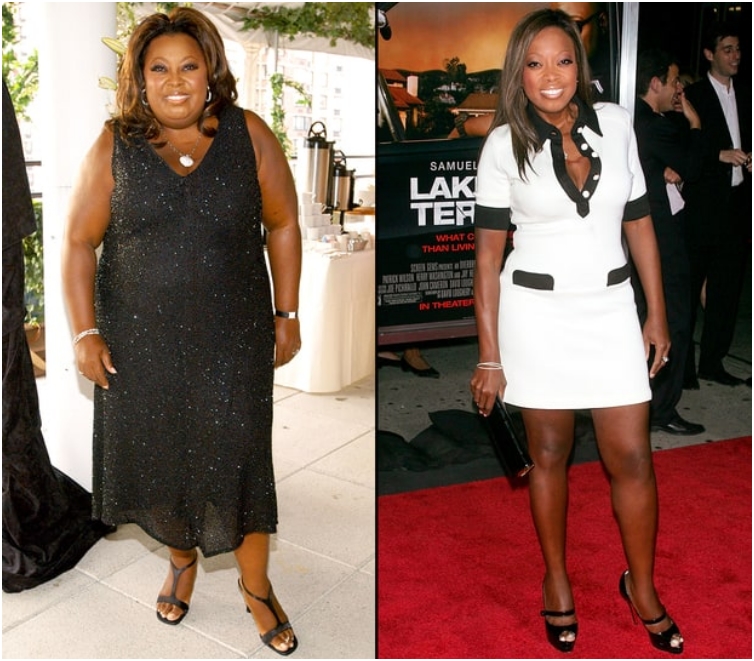 Star Jones was "morbidly obese" in her own words. And to solve the issue, she underwent a gastric bypass surgery. The surgery saved her life, but it was kept as a secret for a long time. Star Jones revealed the secret in Oprah's show. However, after the surgery, she has kept a relatively healthy life, with regular workouts and healthy diet.
6. Matthew McConaughey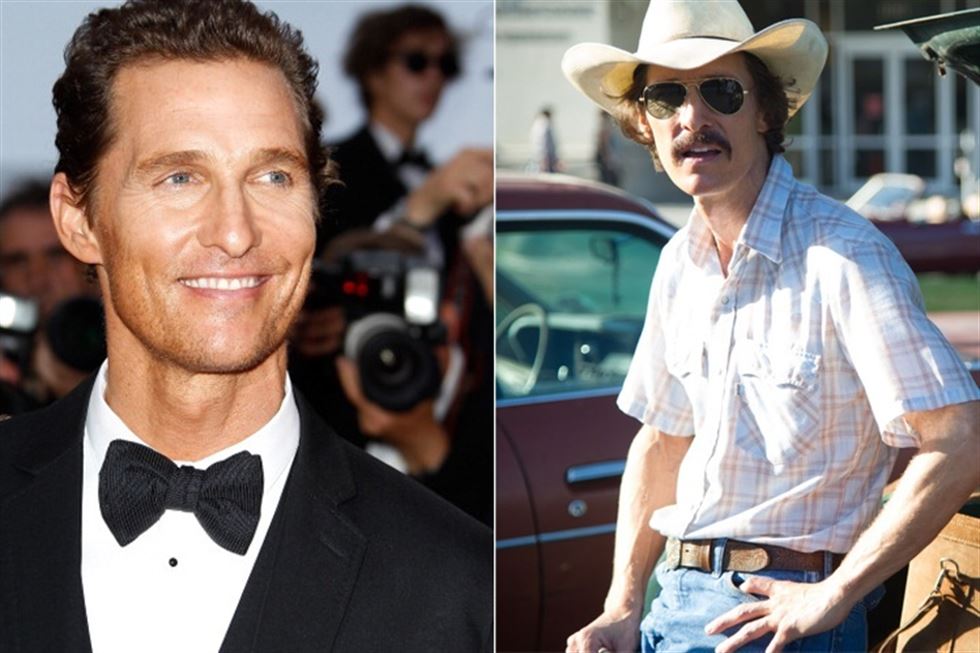 Mathew wasn't fat or anything. But he had to lose "three stones" for his role in Dallas Buyers Club. And what he learned in the process is that he had to be smarter and find new ways to entertain himself. Going to dinners was no longer an option. And if you are wondering how he did lose weight? A diet of chicken meat, eggs and diet coke!
7. Raven Symone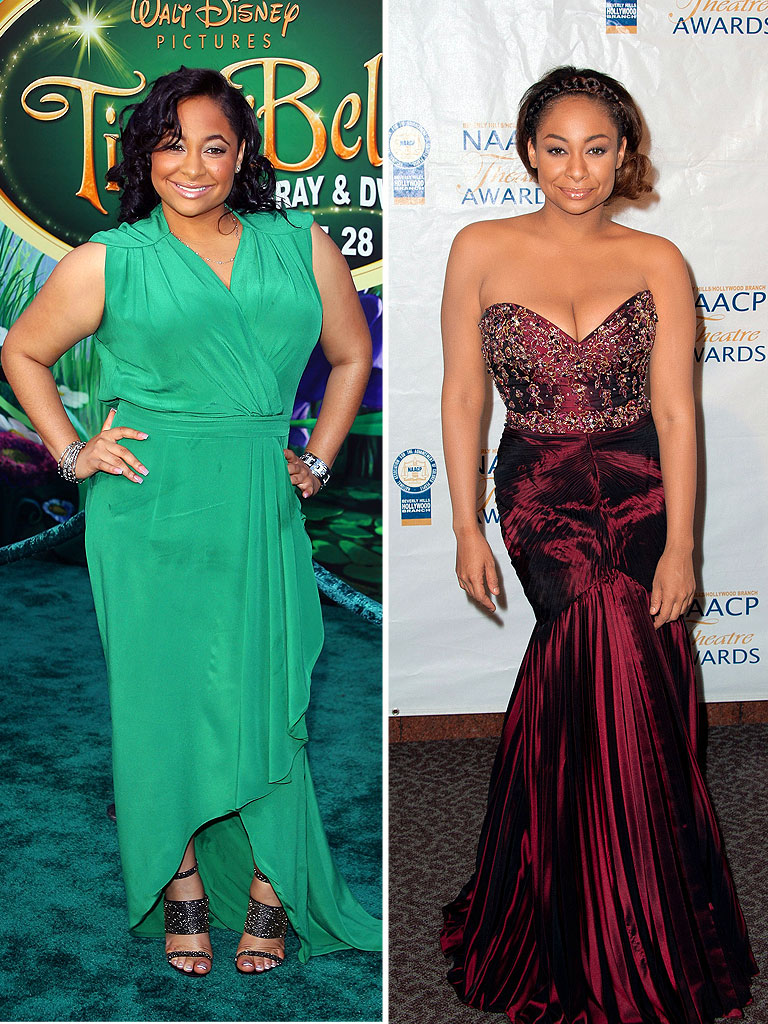 Executive producers and directors have been saying to Raven to lose some weight since she was young. But it was hard. What is important, as Symone puts it, is your confidence. She could look herself in the mirror and think of herself as a hot lady with 200lbs and now with 135lbs. She made a name for herself as this curvy beauty, and now she carves a new name.
8. Peter Jackson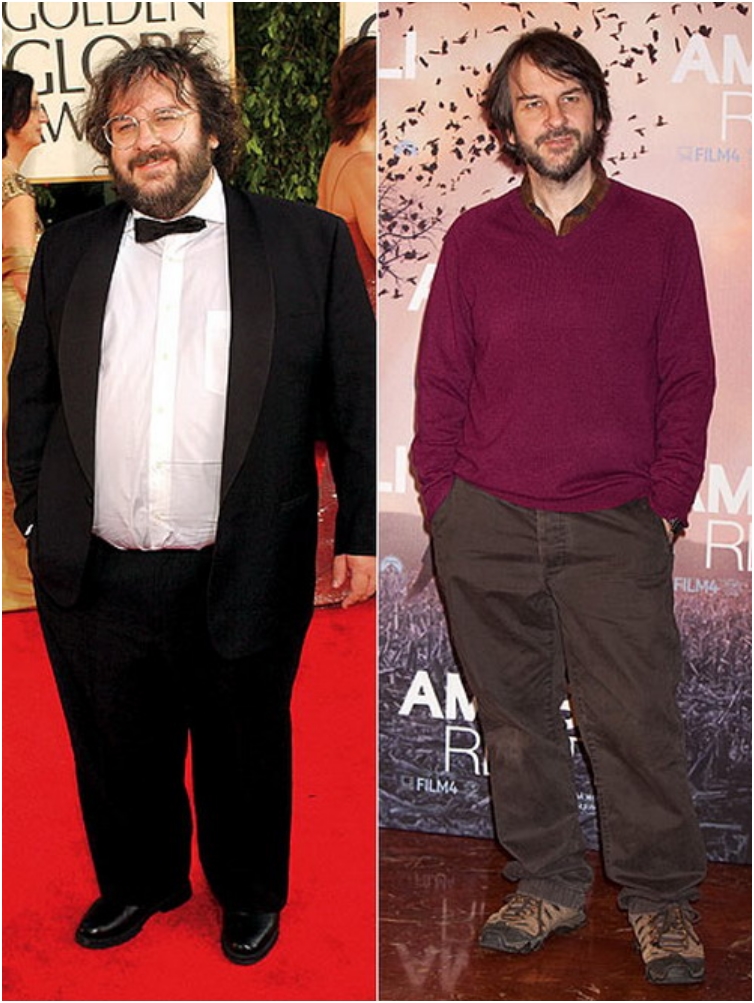 Jackson calls it the "Skull Island Diet". What he did essentially was to switch from burgers, to yogurt and muesli. A simple change can go a long way. Jackson started his diet in 2006, when he was filming "King Kong". And while he says he didn't exercise during the period, he recommends physical activity for better results.
9. Kelly Osbourne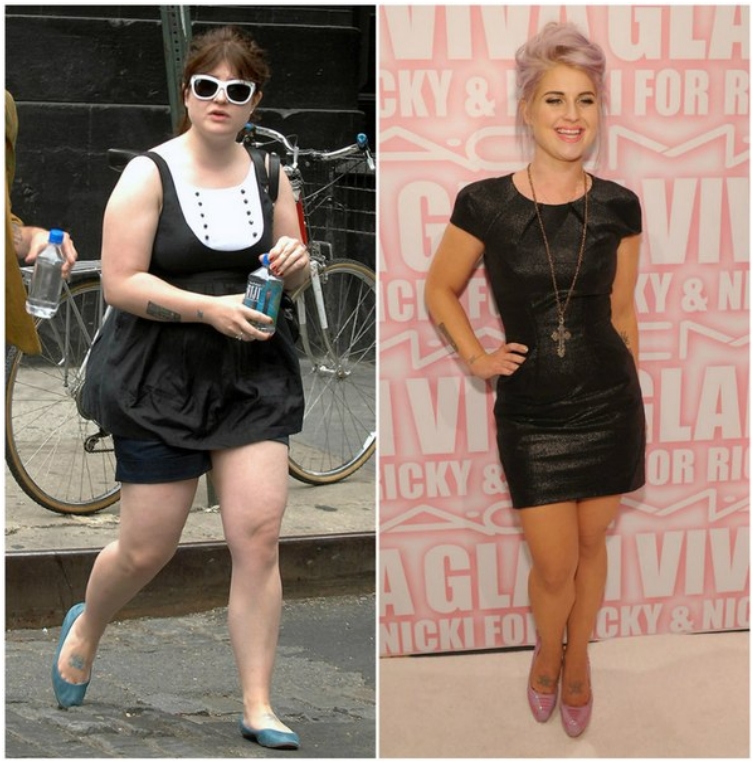 Up until 2009, Kelly was this chubby chick famous because of her dad. But she has gone a long way since, losing weight, and carving a name for herself. Her secret for success is having fun while losing weight. She was getting 30 minutes of cardio workout every day, but what she liked the most was the hula hoop. She used the hula hoop to have some fun, and it helped prepare her for the hard work she had to put in.
10. Drew Carey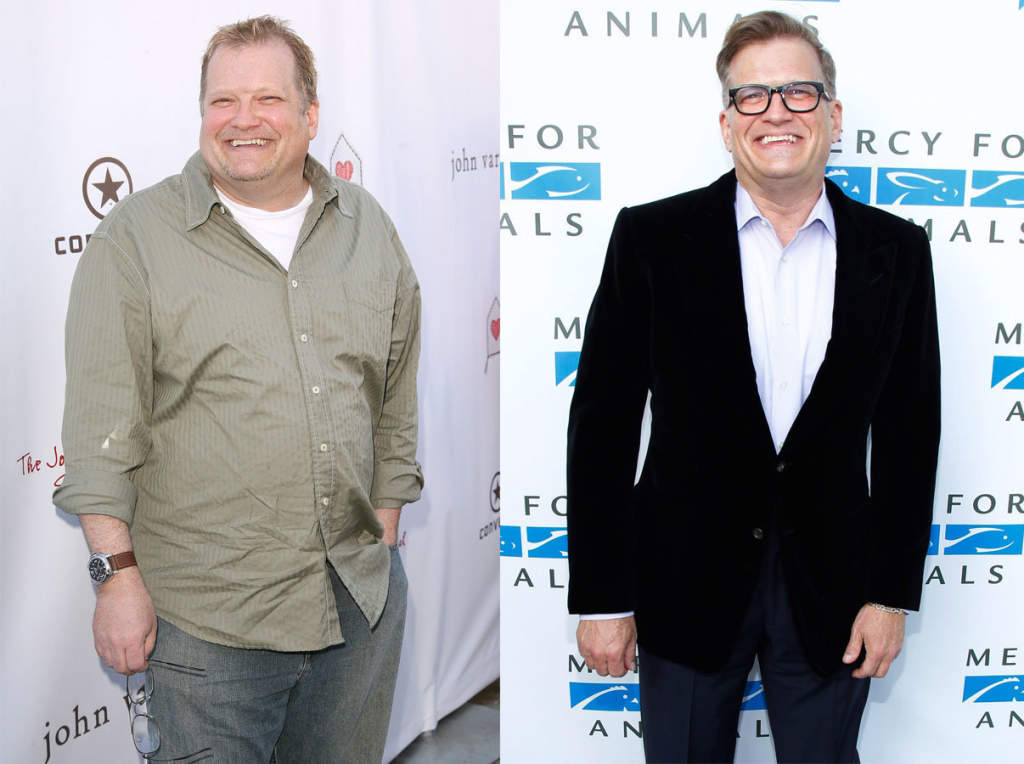 Drew managed to lose 85 pounds from January to September in one year. He was having problems with diabetes, and since his weight loss, he has been able to control his illness without any medication. The Price is Right host has even started a blog where he shares his secrets.
11. Jill Scott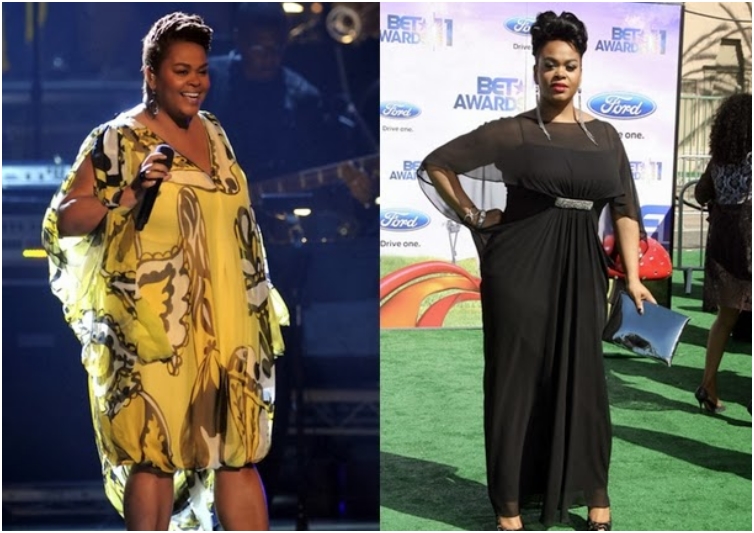 Here is another celebrity that had fun while losing weight. Jill put in some work in the boxing arena to lose weight. And while it sounds like a man's sport, boxing is actually great for women as well.
12. Chris Hemsworth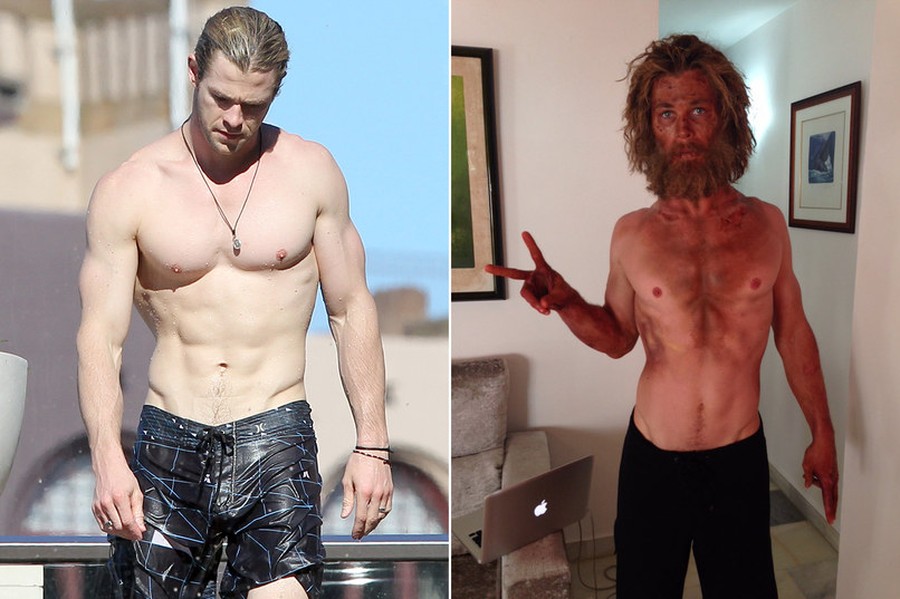 Fans know Chris as the mighty Thor, guarding of Asgard and superhero in Marvel movies. But while he is muscular guy in that movie, in 2015 he had to shot a movie that required him to lose weight. And how he managed to do it? A boiled egg, celery sticks, and some crackers. That was his meal. Well, if you think you are up for it, go for it.
13. Janet Jackson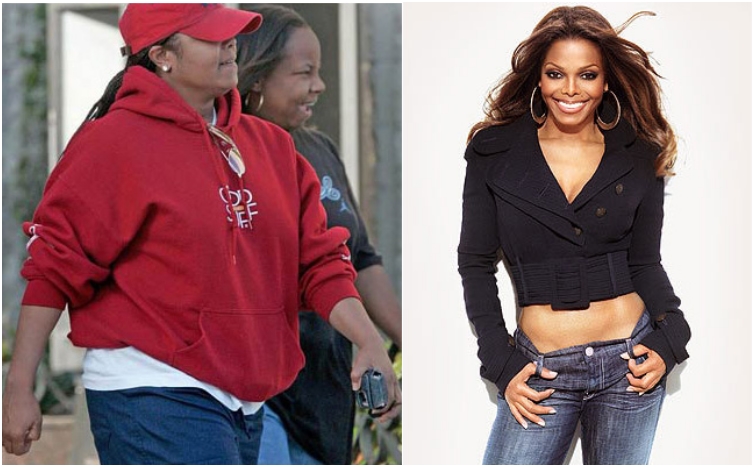 Janet was eating everything she could find, so she gained weight and lost her slim body. And then when she had to come back to reality, it was hard. She was older, and for the first month, she was not seeing results. But the results eventually came, and she managed to shed 60 pounds in four months. Her trick? A regular diet with four to five meals, but smaller portions. The portions need to be enough to satisfy your hunger and keep you moving.
14. Al Rocker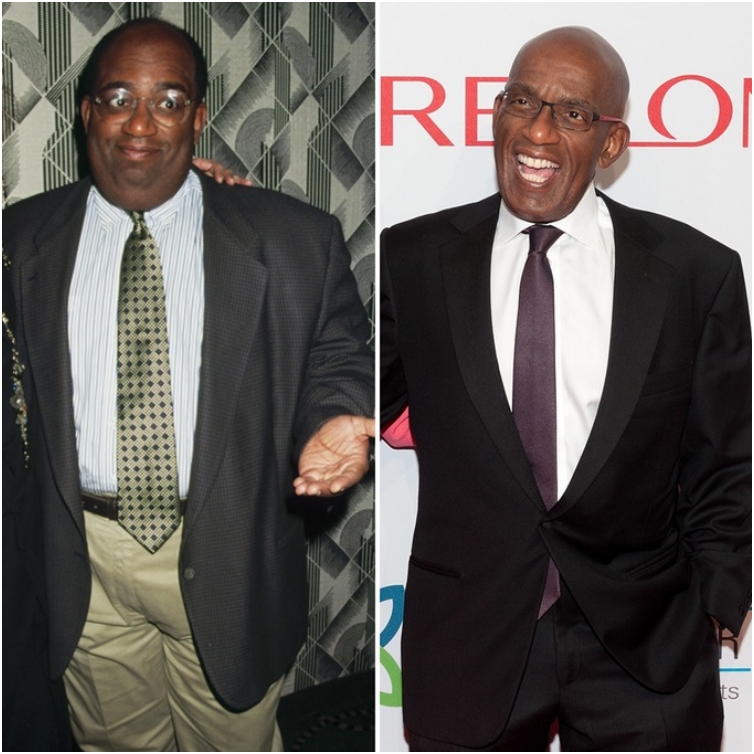 Al Roker is another celebrity that had to go under the knife in order to get his pounds down. But after the surgery, he has been following a low carb diet, claiming he will never allow himself to be fat again.
15. Snooki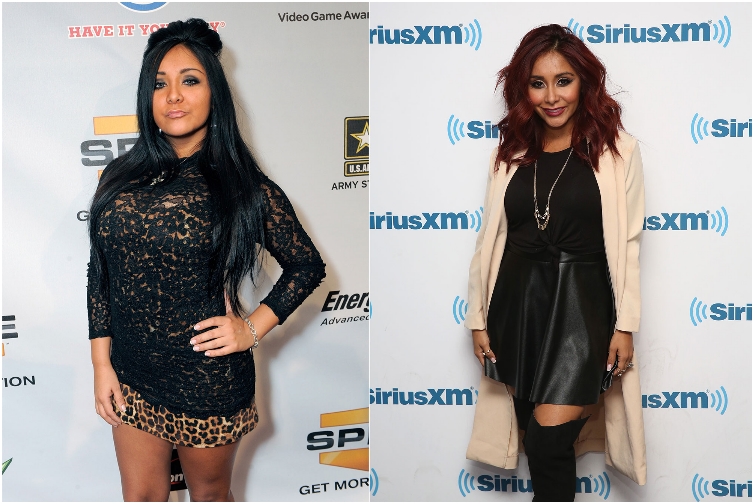 Snooki is probably your best motivator when it comes to weight loss. She lost 50lbs just months after giving birth. And when people ask her, she always says "If I could lose 50lbs months after childbirth, everyone can lose weight".
16. Randy Jackson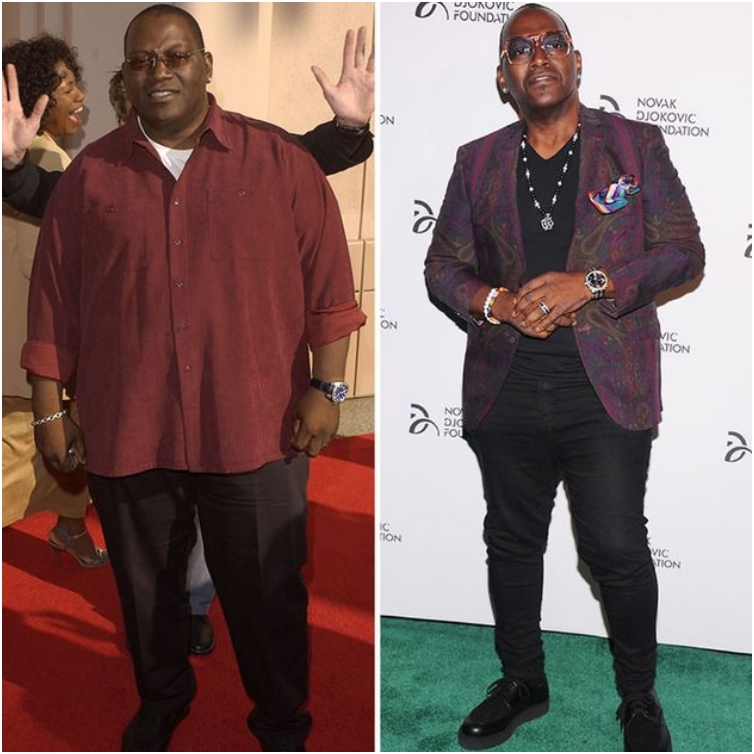 Count Randy on the list of celebrities that had gastric bypass surgery to lose weight. He shed 100 pounds with the surgery, but he is constantly trying to maintain the streamline body figure.
17. Missy Elliot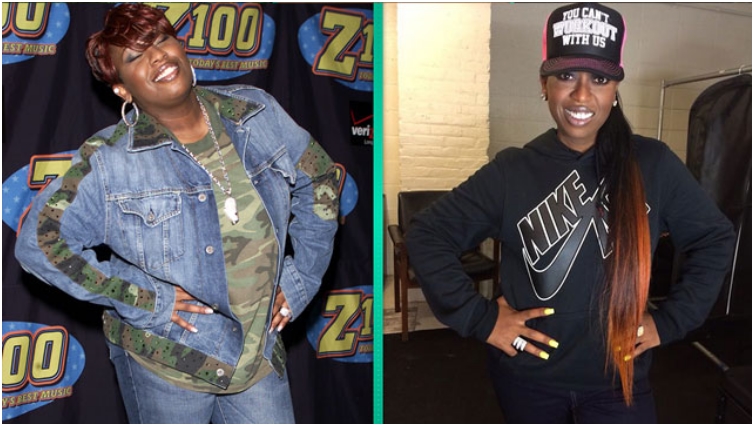 Doctors warned Missy that she could suffer a stroke if she doesn't lose some weight. So the rapper took it as a warning, and put in some drastic work. She hired a private professional trainer, but she also limited fried foods, bread and sugar.
18. Matthew Fox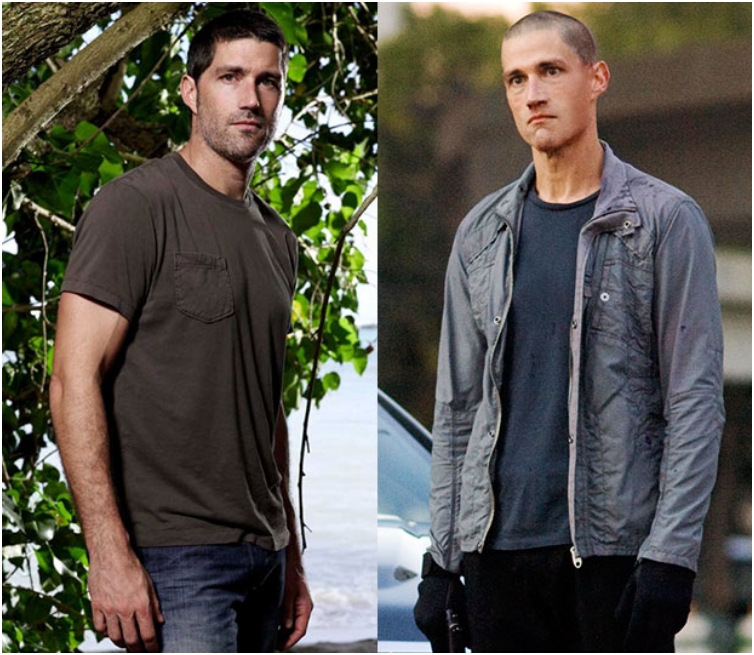 Hey, for celebrities in Hollywood losing weight for a movie role is mandatory. Matthew had to do it for the role of Alex Cross, a serial killer. He did it with circuit training, one of the best methods for losing weight and building muscles. Going from an exercise to an exercise without any breaks, makes you sweat really hard.
19. Jessica Simpson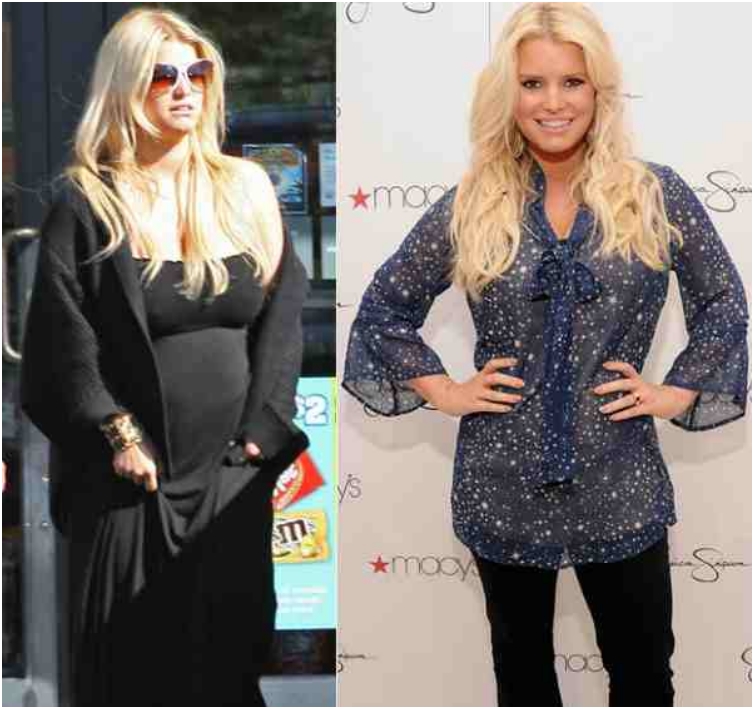 The number five is the magic number for Jessica. At least that is what her diet can be called. She has five small meals six days in the week for five weeks. And during that time, she throws in 25 minutes (5×5) of cardio workout each day.
20. Josh Peck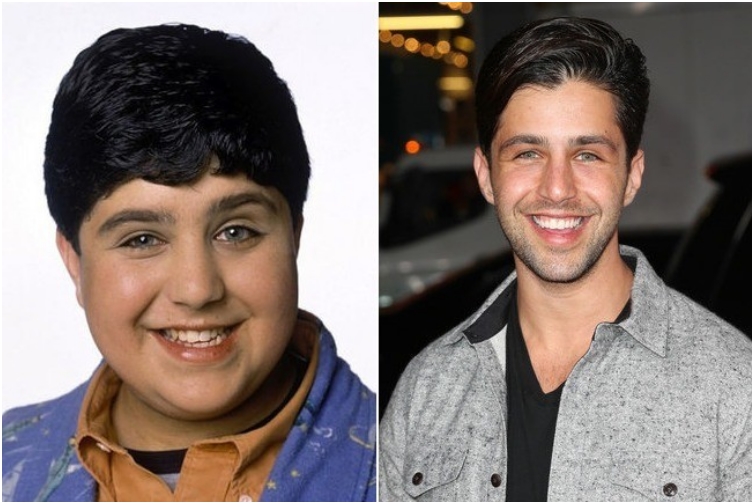 Josh is a living proof that you can lose more than 100 pounds without a surgery. But it requires dedication and lots of hard work. He started simply, by employing healthy diet and some workout. But soon after, he hired a private trainer to help him. One of the main changes he did is substitute soda with freshly squeezed juices from fruits and vegetables.
21. Rachel Frederickson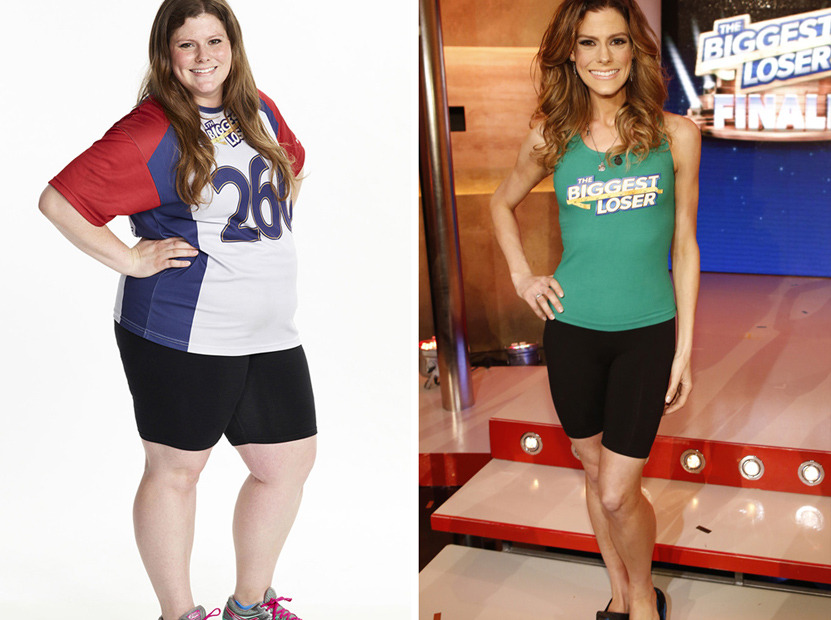 Rachel shocked everyone with her weight loss. And according to her, the most important thing to do is listen to yourself and have confidence. When she was young, she was listening to other people, and the voices got to her.
22. Jack Osbourne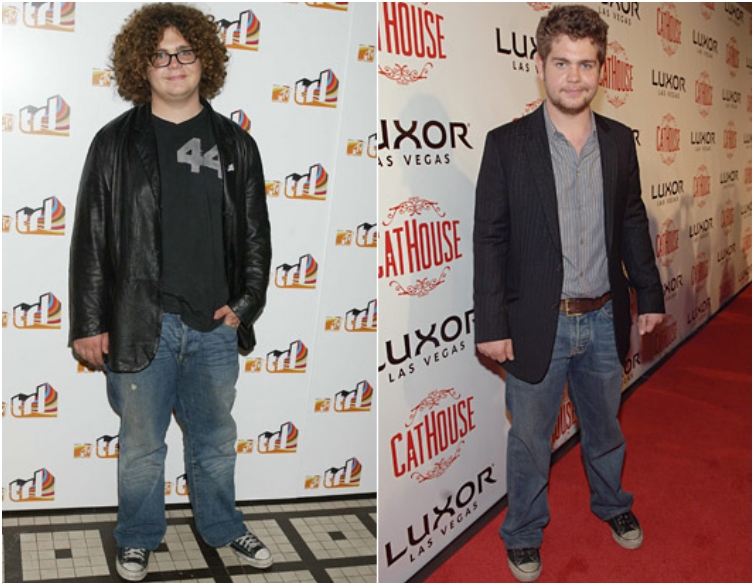 Jack juices his breakfast. As in, has a smoothie in the morning to start the day. His biggest advice is take everything in moderation. Another trick he does is he has a fitness band, and sets a goal he tries to hit at least four times a week.
23. Miranda  Lambert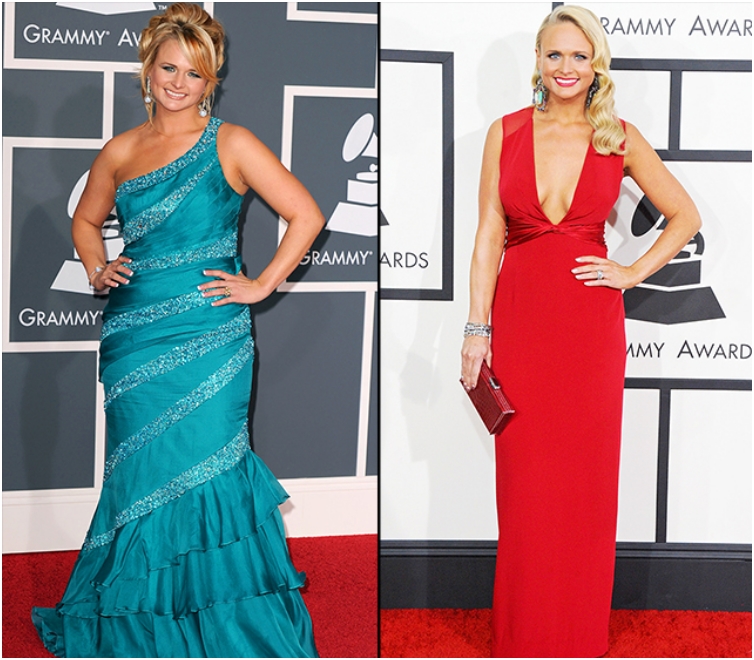 Her former husband jokes that people should try the "divorce diet". The stress helped her former husband to lose weight. But speaking of Miranda, the singer used a healthier lifestyle to shed some pounds. Touring for a long time helped as well, as it kept her active at all times.
24. Colin Farrel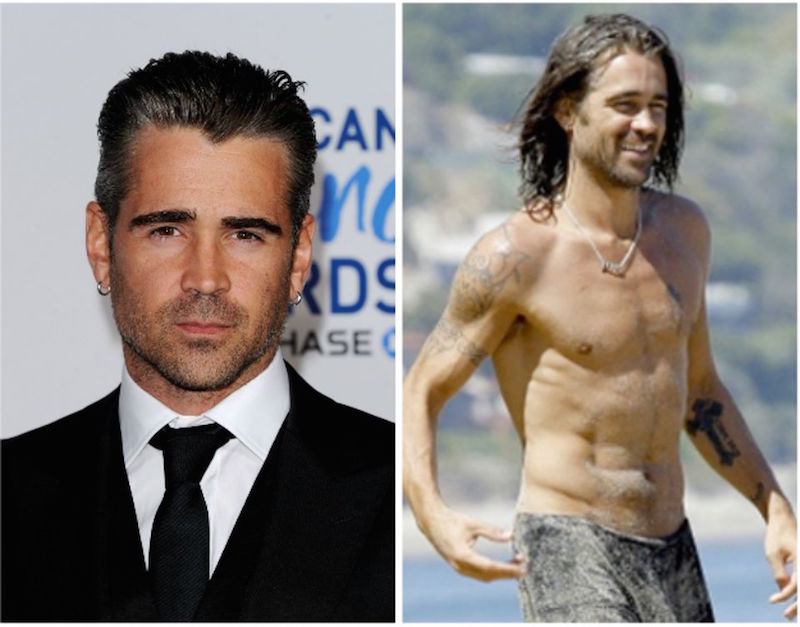 Colin has been on both sides of the story. He has had to lose weight for a role, and he has also had to gain weight for a role. When he gained weight, he ate everything he ate previously, just in larger portions. And then it took him two months to lose the extra weight.
25. Mariah Carey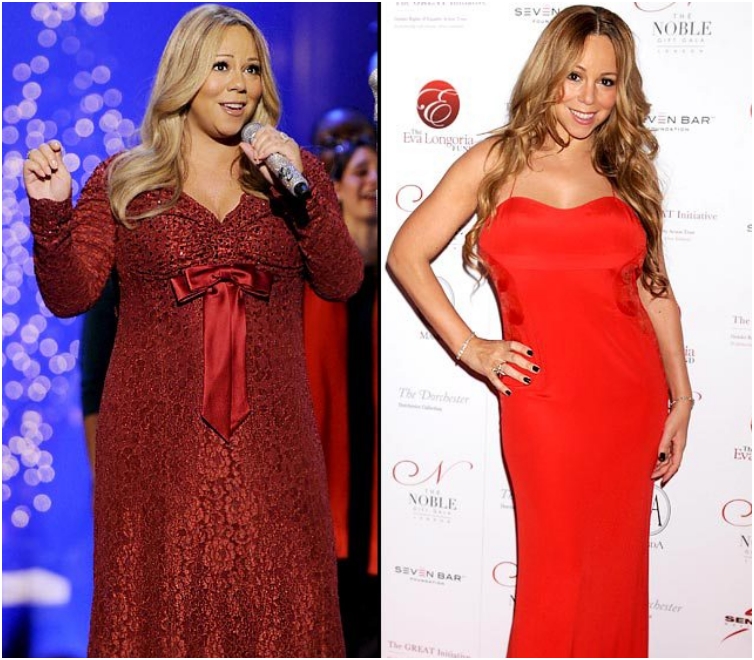 Mariah worked with Jenny Craig, a weight loss company that specializes in celebrities. This way, she managed to lose her baby weight in just two months. But one of the main changes she made was to eat small portions every hour or two to keep the metabolism going.
26. Chaz Bono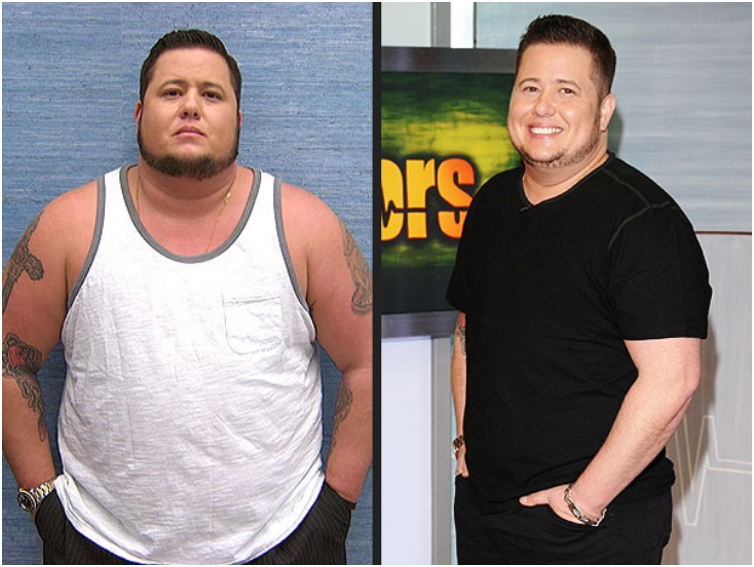 For Chaz, the main thing was not to look to photos from the past. He completed his transgender journey in 2009, and immediately after decided to lose weight to think better of himself.
27. Jordin Sparks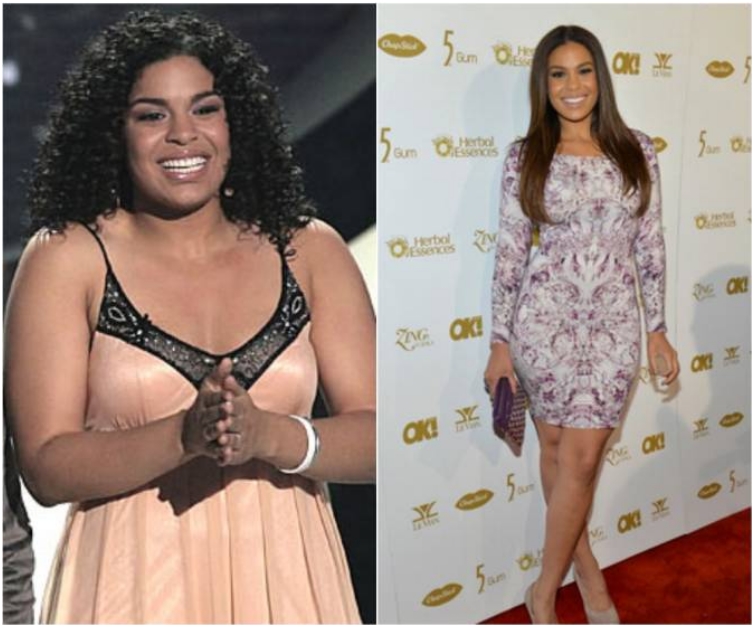 Jordin has been on a weight loss plan for 18 months now, it has become her personal lifestyle. She says that one should eat only when one is hungry. But in general, she removed junk food and limited sugar in addition to her constant training.
28. Adam Richman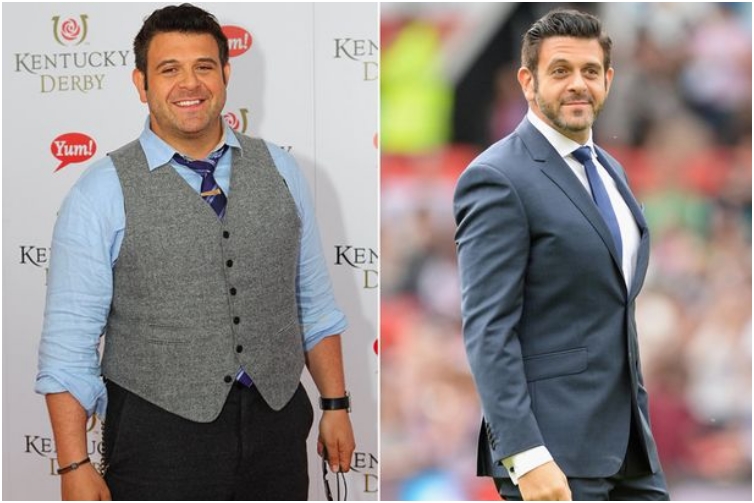 Adam called in the help, and it came in the form of good old fashioned soccer. The star has changed his diet with the help of a doctor and nutritionist, but few amateur games of soccer per week is what helped him shed the pounds.
29. Christina Aguilera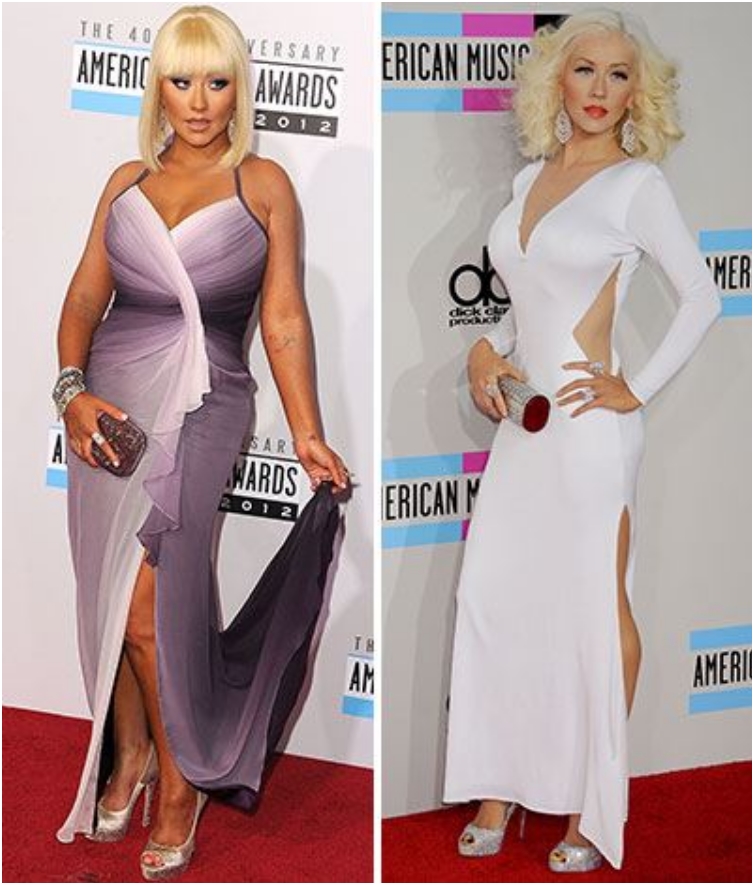 For Christina, life has really been a circle. She has gained weight, and she was considered obese for a time. Before that, she was a teen icon and one of the hottest singers. And now, she has lost weight again, thanks to her diet plan. Her main goal is to get healthy fats and protein for breakfast, and one thing she suggests is half an avocado, blueberries and turkey meat for breakfast.
30. Seth Rogen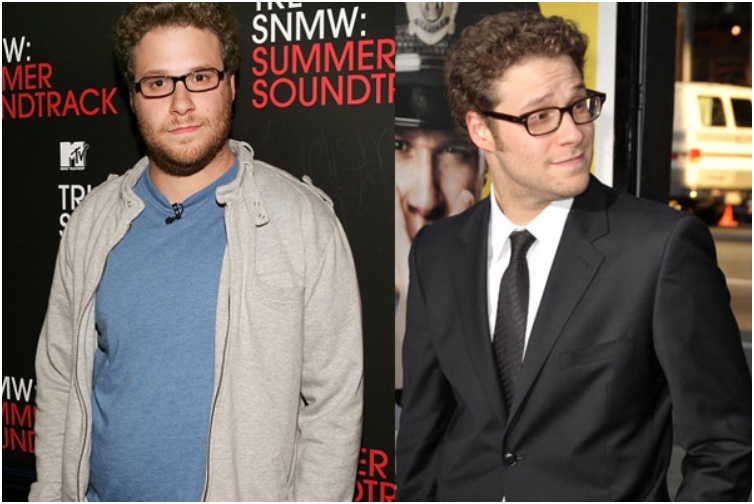 Seth had to undergo some hardcore exercises, but the laid back actor transformed into a muscular and very fit person for the role in Green Hornet. He also relied on the 5-factor diet to get his healthy nutrients.
31. Britney Spears
Britney is another celebrity that went full circle from being a hot, sexy and wanted lady, to obese, and back to fit and slim. She did with the help of a professional trainer. Her secret was doing non-traditional workouts, like walking backwards on the treadmill.
32. Jerry Ferrara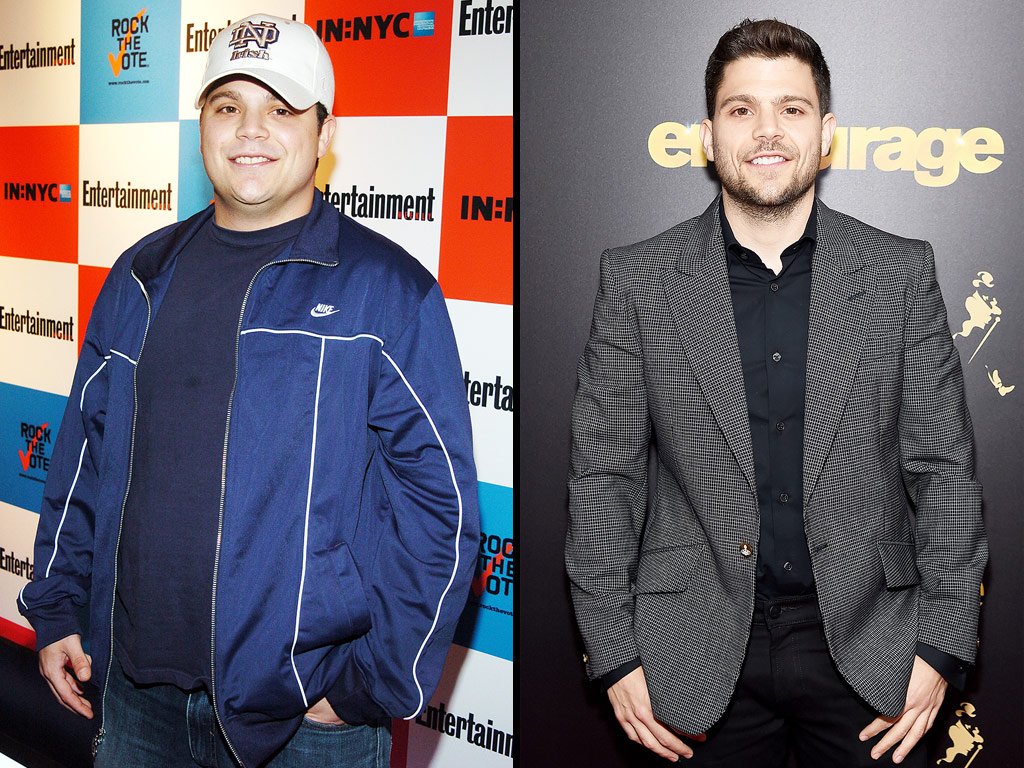 Jerry was given the red flag by the doctors, so he listened. They warned him death could potentially come to him unless he shed some pounds. So he changed his diet. But don't think there weren't bumps on the road. He gave up after three days, had a meltdown, and then started again for 20 days. All in, he followed the diet for 10 months.
33. Rosie O'Donnell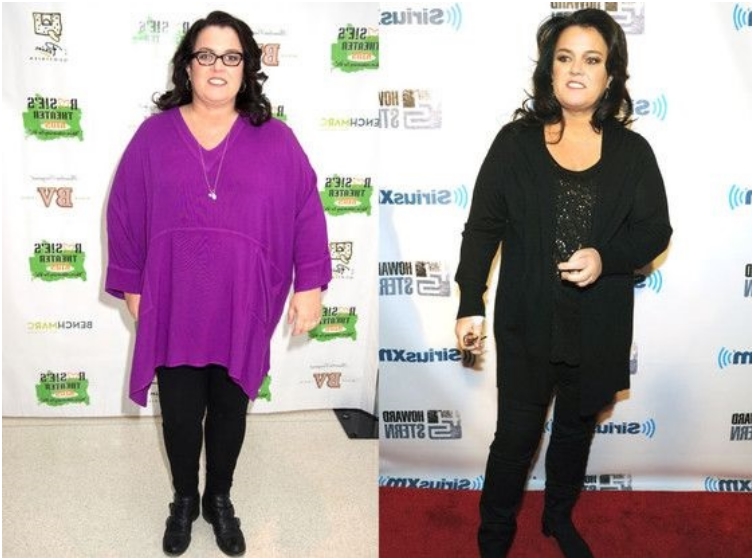 Rosie also took the fast way through surgery. However, after she lost some pounds with surgery, doctors recommend her shed some pounds the normal way. So she changed her diet and does routinely cardio exercises.
34. Graham Elliot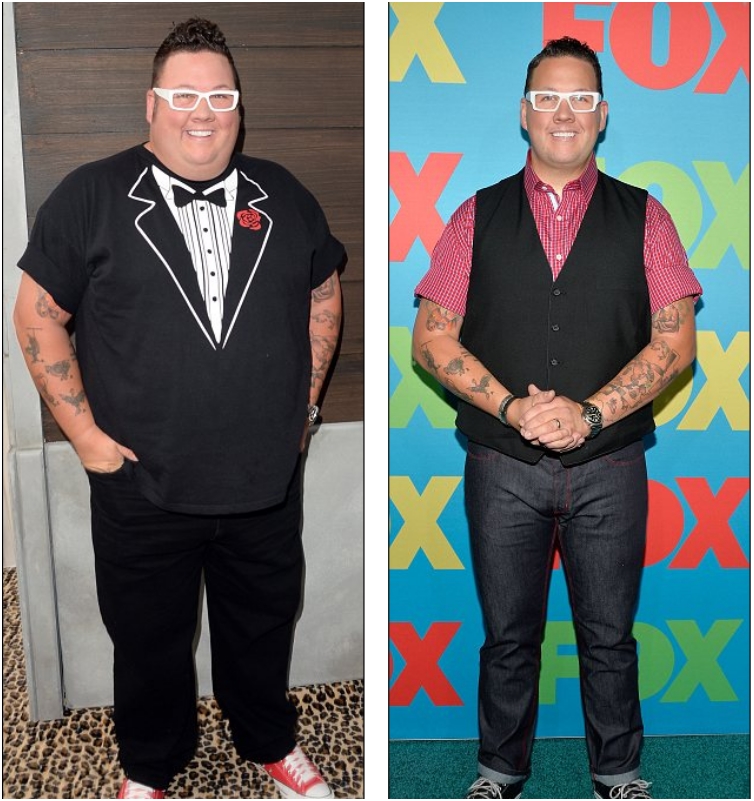 When you are cooking as good as Graham is, you are bound to get some pounds on. You just cannot ignore the delicious food you are cooking. But once the masterchef hit 400 pounds, he knew it was time for a change. He underwent a surgery, and then continued to shed pounds with running. In November 2014 he ran his first marathon.
35. Lauren Alaina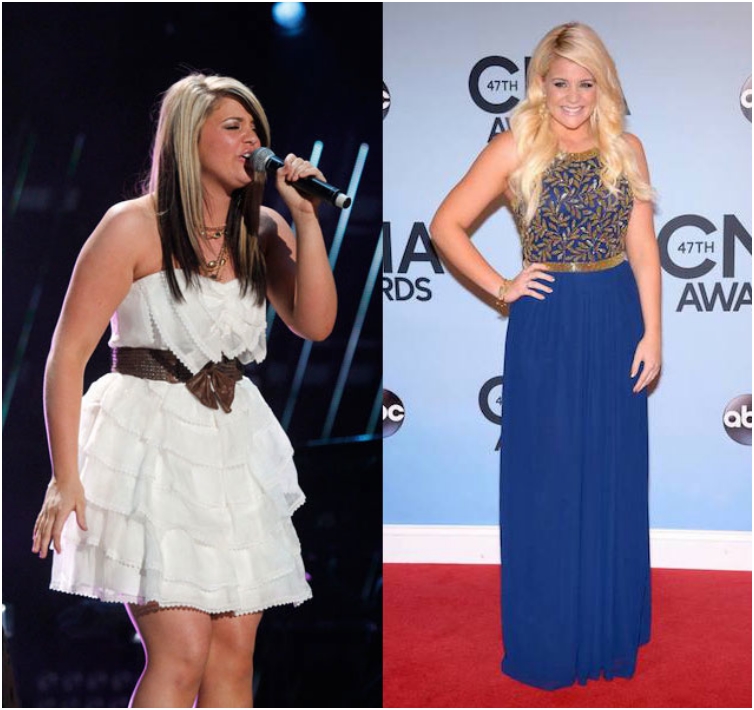 Lauren lost 40 pounds while being on the American Idol show. Some might say it was stress that caused her to lose weight, but it was actually a change in diet and workout regime.
36. 50 Cent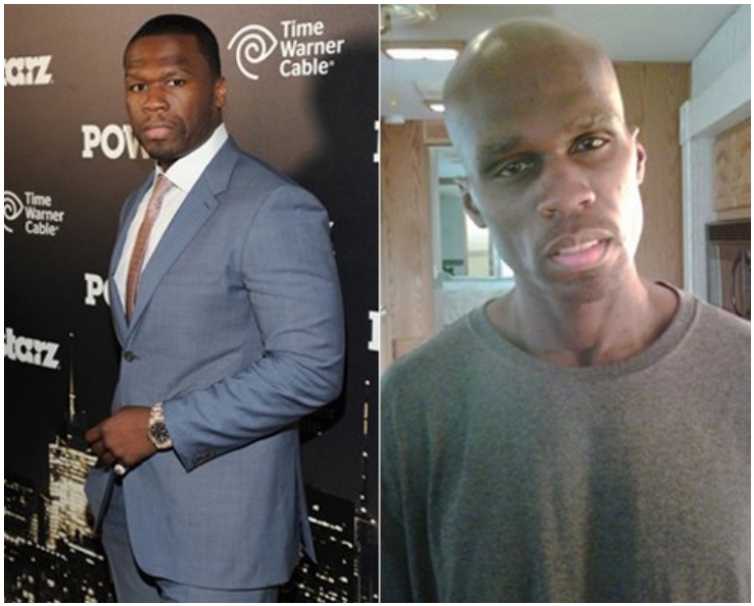 50 Cent was generally a fit man. He was looking good, but he had to lose "four stones" for his role in Things fall apart. And he did it by following a strict liquid diet for two months and hitting the gym for three hours per day.
37. Jennifer Hudson
Going from size 16 to size 6 is not an easy task. Just ask Jennifer. But the American Idol star hired a personal trainer, changed her diet, and managed to lose five dress sizes in several months. The biggest change? She threw the pancakes out of the room.
38. Tom Arnold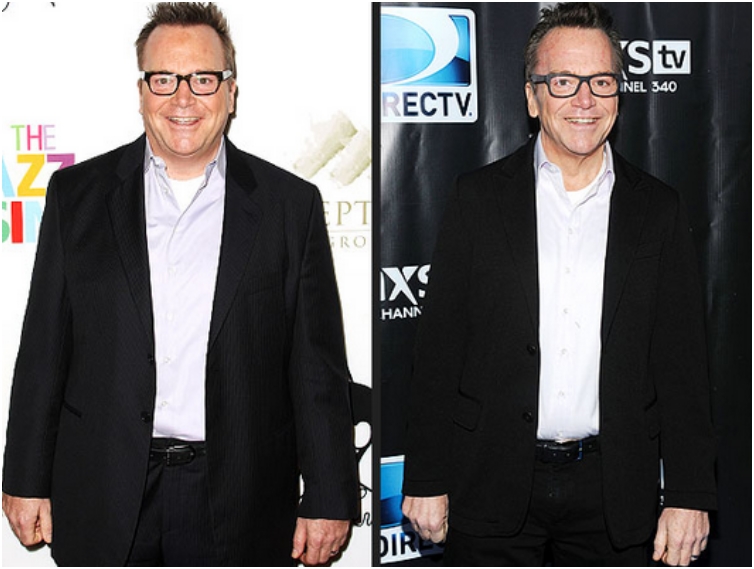 We all need some extra motivation for losing weight. For Tom, that motivation came in the form of his son. After the birth of his son, Tom knew it was time to shed some pounds. So he changed his diet, and he included lots of chia seeds in it.
39. Paula Deen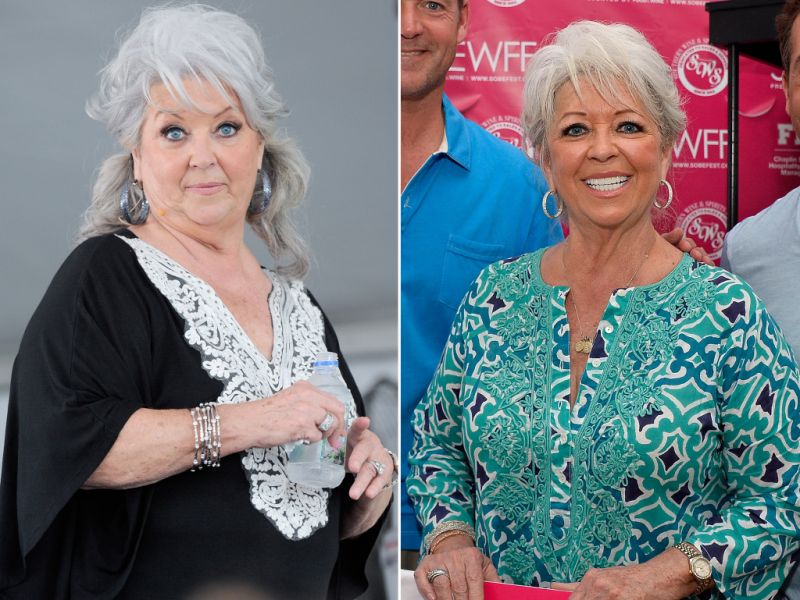 Paula hates the world "diet", so she has a different word for it. And that is healthy eating. She was inspired to join Dancing with the Stars. So, in order to be able to dance, she had to shed some pounds. As I said, it is all about motivation.
40. John Goodman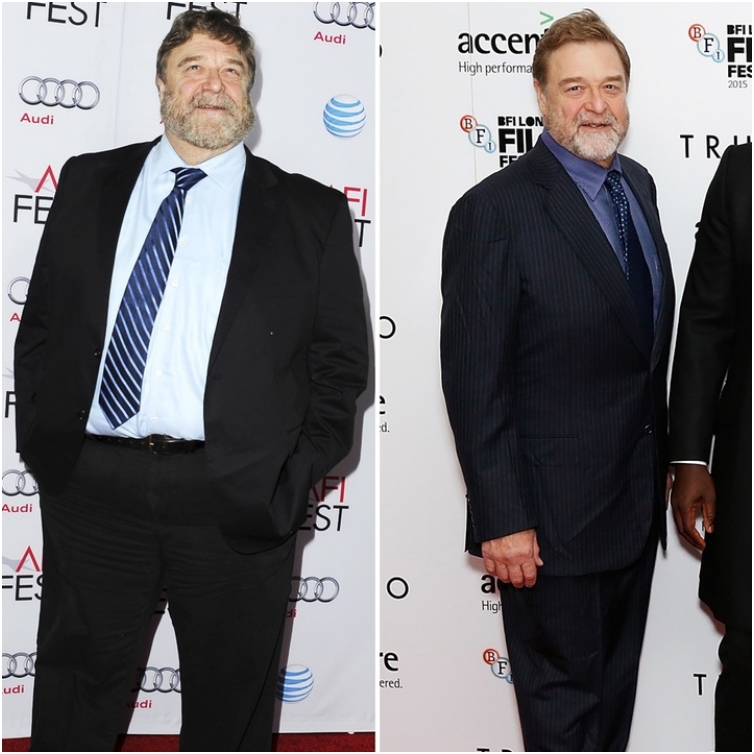 Like many other obese people, John was "stuffing food in his mouth every five minutes". So he decided to stop doing that, and the results came quickly after.
41. Gerard Butler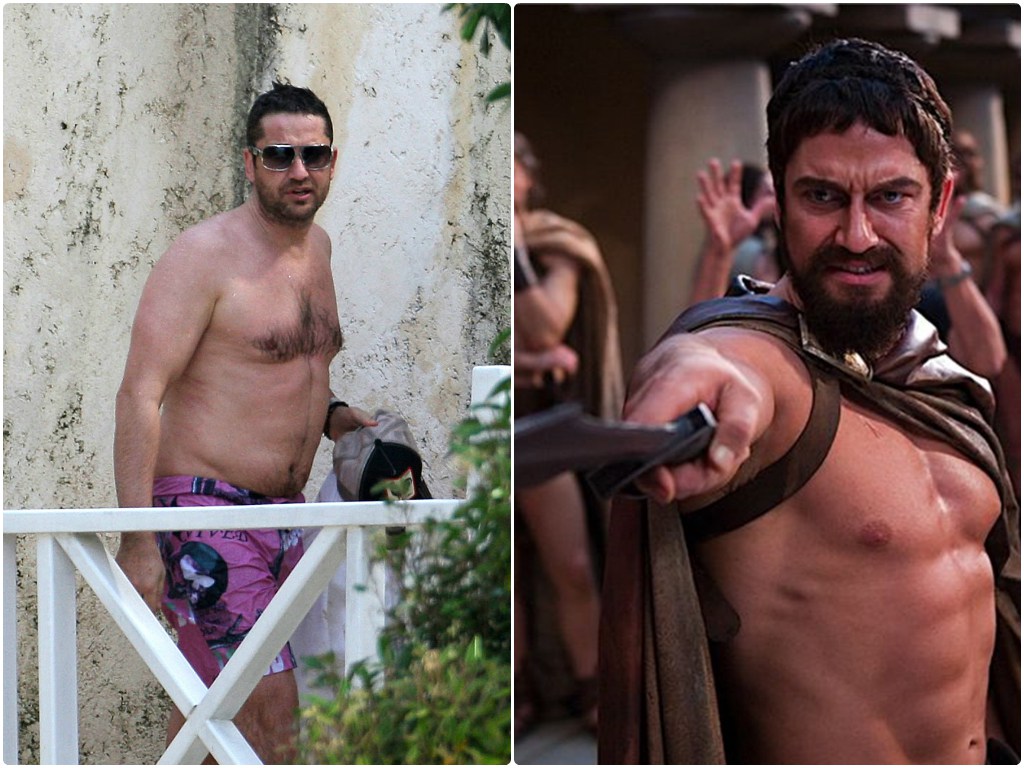 Butler had to lose some weight for the role in 300. And he did it following a rigorous diet and exercise routine. But hey, you don't have to go as far.
42. Christian Bale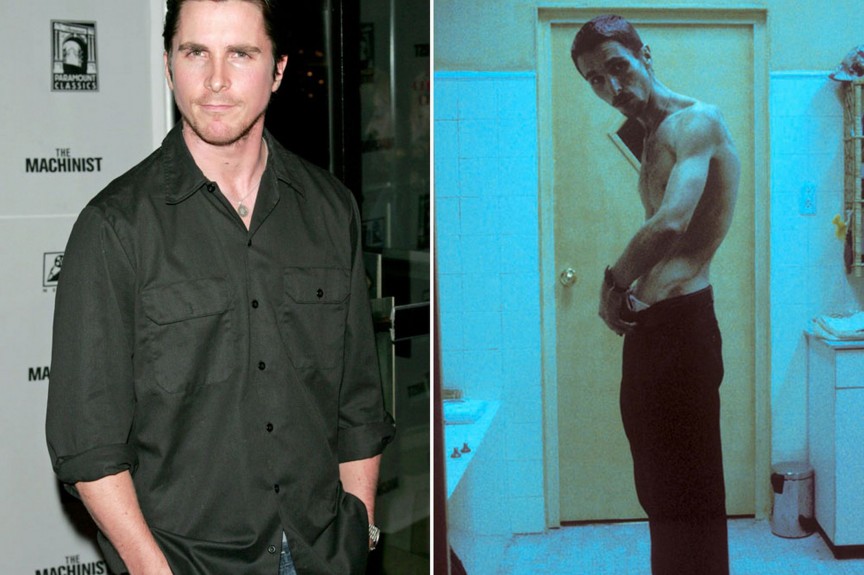 Most of you probably remember Bale for his iconic role in Batman, where he portrayed Bruce Wayne's alter ego perfectly. Many believe Christian was the best Batman there is. His physique in the movie was astonishing, and you probably remember how he was preparing to fight Bane in the third installment of the Dark Knight. But years before, in 2004, he had to lose 65 pounds for his role in the movie The Machinist.
43. Timbaland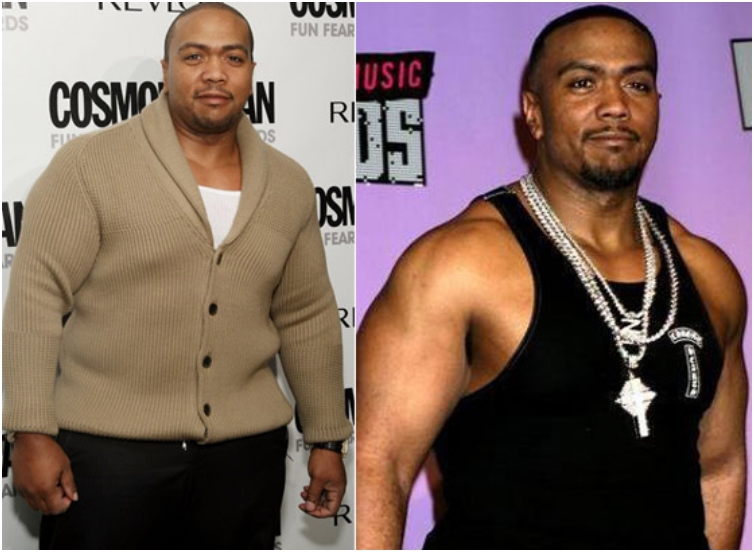 Timbaland needed eight months to shed more than 100 pounds. But he managed it, and it became possible thanks to his enormous motivation and dedication.
44. Ricky Gervais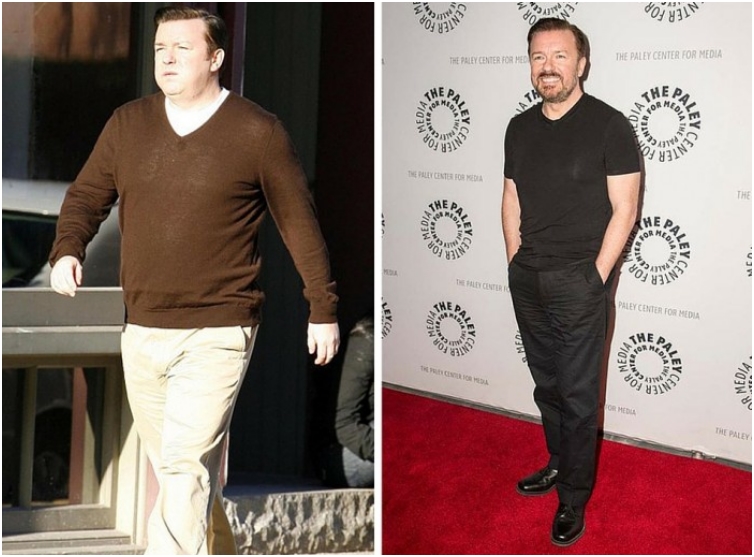 Ricky lose weight the old fashioned way, Rocky style. He was afraid for his well being, so he started running. Every morning, he takes a deep breath, has breakfast, and then goes running.
45. Perez Hilton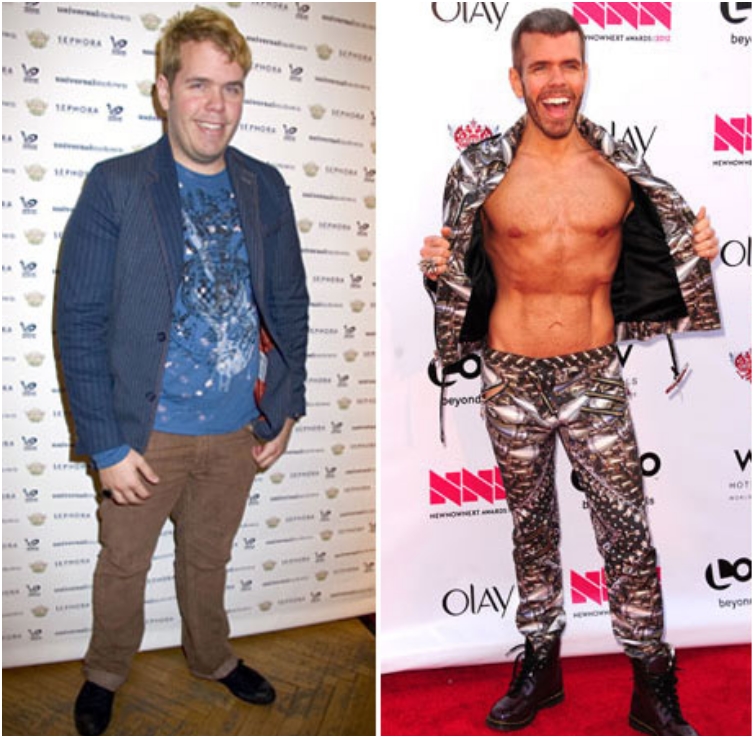 Perez needed four years to get where he is now. But he did it the old fashioned way, slow and steady. He changed his diet, and dedicated himself to regular training. He works out seven days a week, with Sunday reserved for some yoga exercises. In between, he does cardio and pilates.
46. Melissa McCarthy
Melissa jokes that one of the biggest secrets to losing weight is boring, as in having a boring life. She jokes that she went to bed in 7:30pm. Well, we won't go as far, but getting a good night's sleep is essential. And she also stick to other norms, such as high protein, low carb diet and lots of exercise.
47. Jonah Hill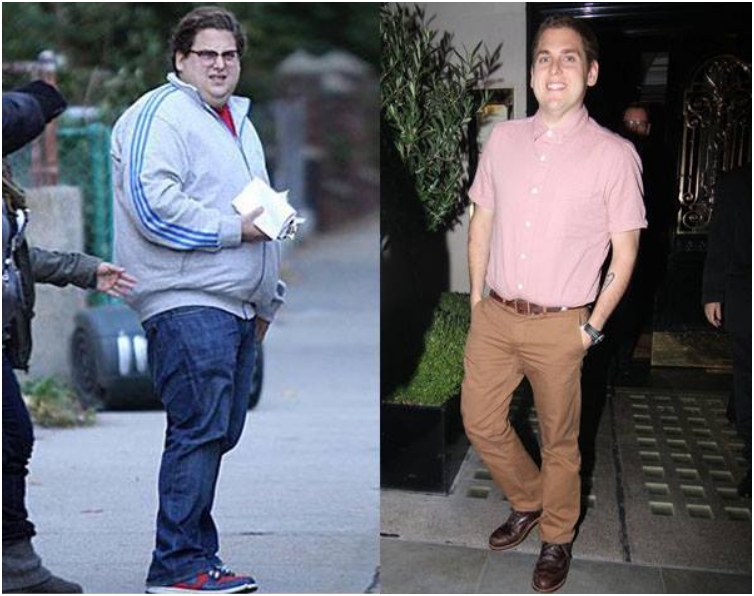 For starters, Jonah has changed his diet, ditching processed foods from the menu. But he has also spent hours of walking, especially walking his adorable dogs. Hey, walking is cardio as well!
48. Jason Segel
Jason's assistant was taking some photos of him in the morning, and once she showed him, he was horrified. His belly was not a sight you want to see. So he had to do something. And he says the way to lose weight is horrible, and it requires a lot of dedication in the gym, and restrain from certain foods.
49. Kirstie Alley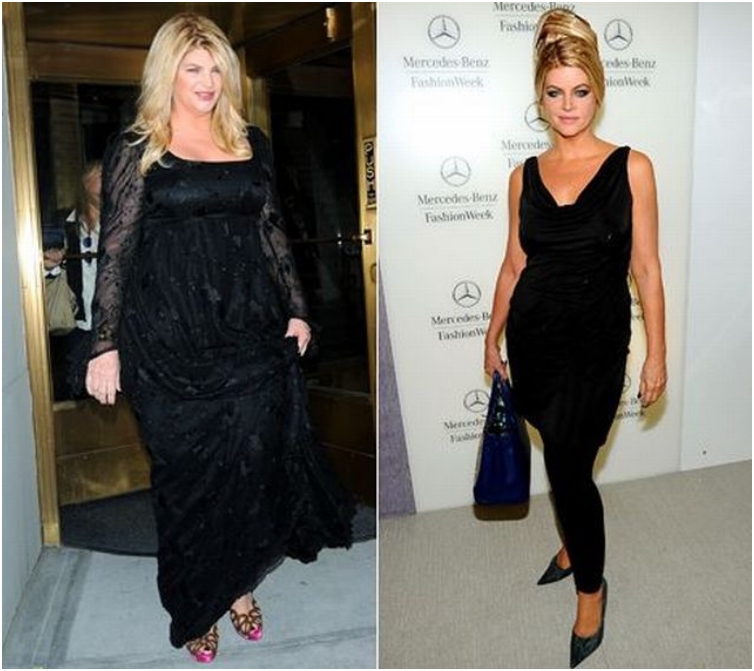 Kirstie deserves an award for the way she managed to shed 50 pounds at the age of 64. She says people need to be held accountable, and for her, she can go wild with food. So, restraint is crucial.
50. E.J. Johnson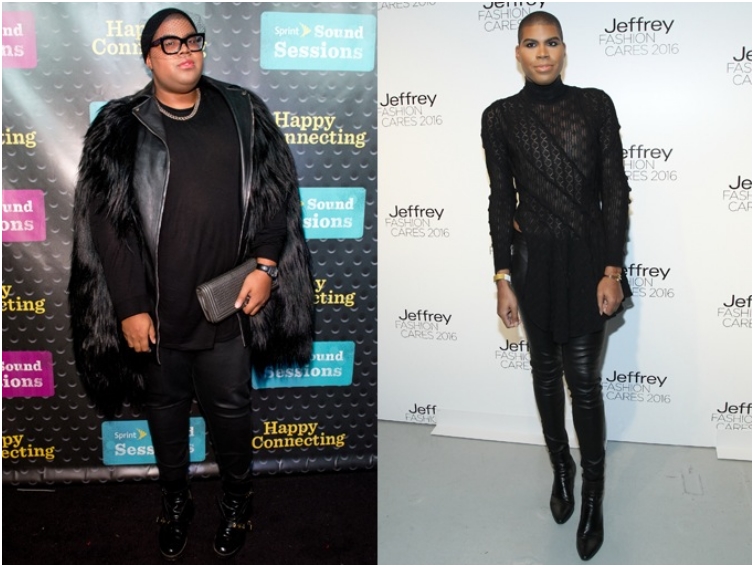 Johnson underwent a surgery in 2014, and has since lost 180 pounds. He does pilates four times a week, but he recommends you find something that is fun for you. For example, he enjoys dancing, so he tries to implement in his workout regime.
51. Anthony Anderson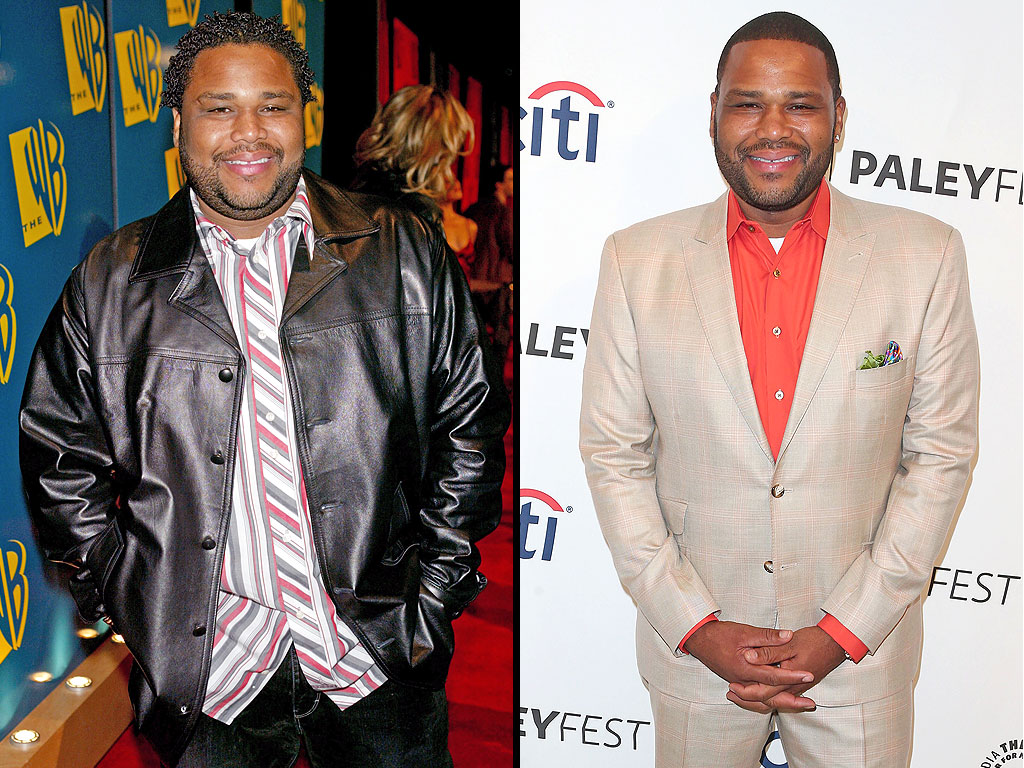 Anthony was diagnosed with diabetes type-2 in 2001, and since then, he has managed to shed 47 pounds. And he does that by maintaining a healthy diet, mostly reducing sugars from his diet.
 52. America Ferrera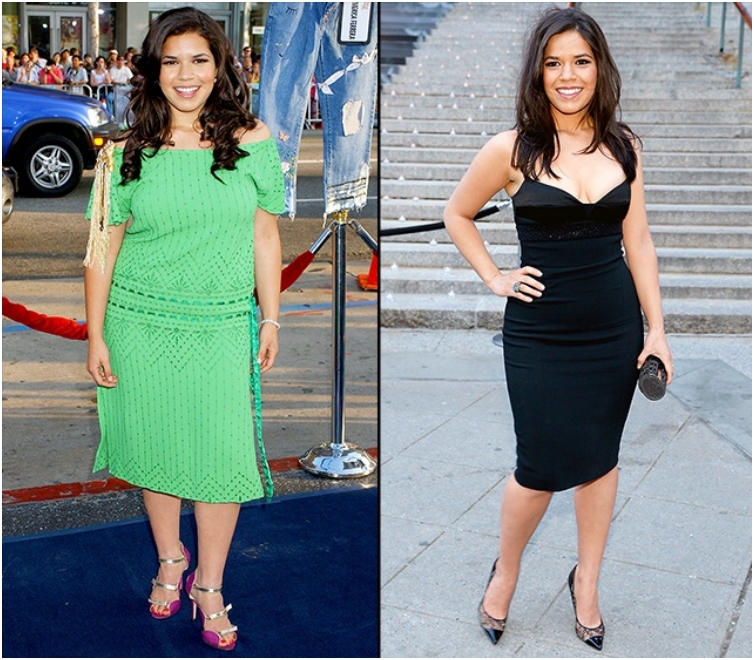 We all know her in her Ugly Betty role, but America has shed some pounds since. And her trick is never skip breakfast. But she also warns people out there that they should feel comfortable in their body no matter the weight. She doesn't want you to think she was insecure when she was 20 pounds heavier.
53. Chris Pratt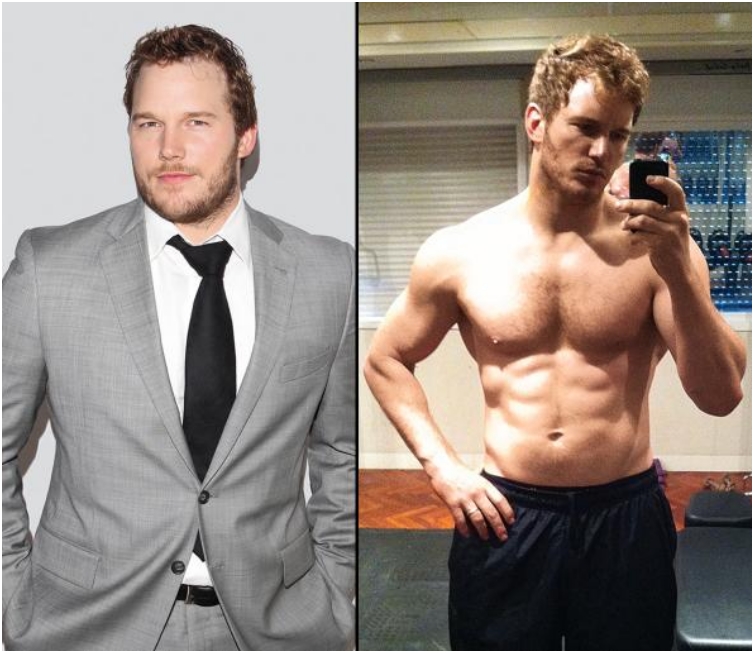 Pratt had to prepare for his role in Guardians of the Galaxy, and then followed that up with a sequel of Jurassic Park. And how he did it in six months? Well, according to Chris, the trick was "six months without a beer". But on a more serious note, his workout regime consisted of six days hard core, ass-kicking work. He trained for three hours per days, with workouts including swimming, boxing, running, kickboxing, and P90X. He even completed a triathlon.