Spoiler Alert: Everyone is going to die.
If you are not a heroic solider who saved many, or the former US President, the world will not probably mourn your death or recognize your life. Unless you get one of the funniest epitaphs and makes it viral online.
Here are 50 of the funniest tombstone statements that will make you regret not meeting these people while they were still alive and kicking.
True Democrat

Political values 'til the end.
Stylish Death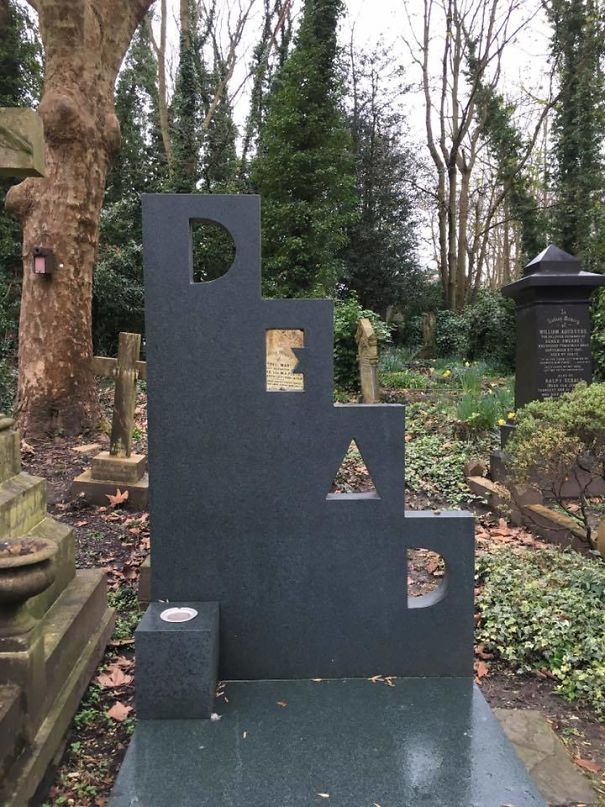 This might be a graphic designer's grave.
Died by Mistake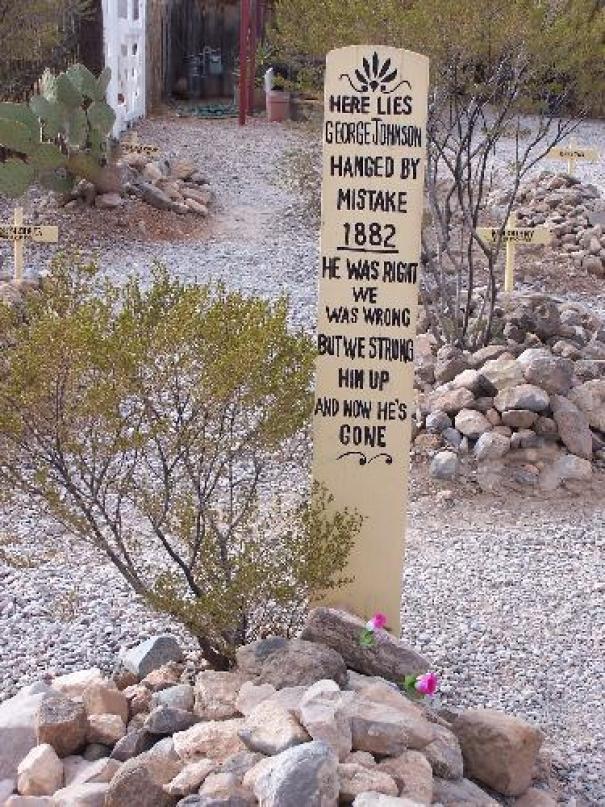 Greatest mistake of 1882.
Don't You Cry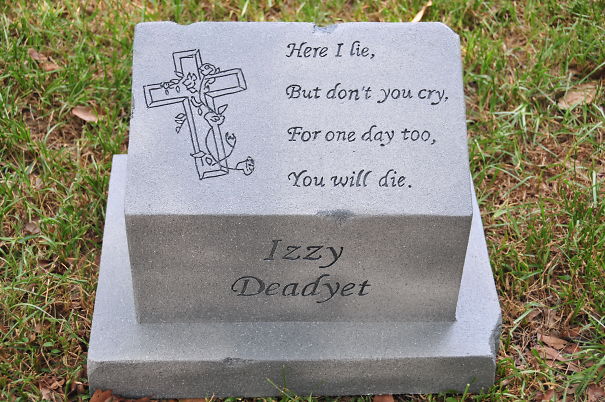 Her surname is more controversial though.
Too Bad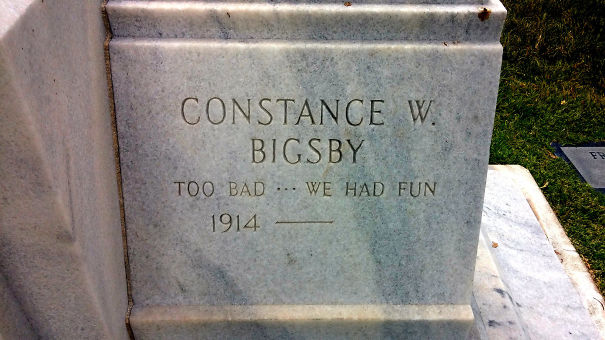 This is worse if they did not had fun.
Daddy's Own Language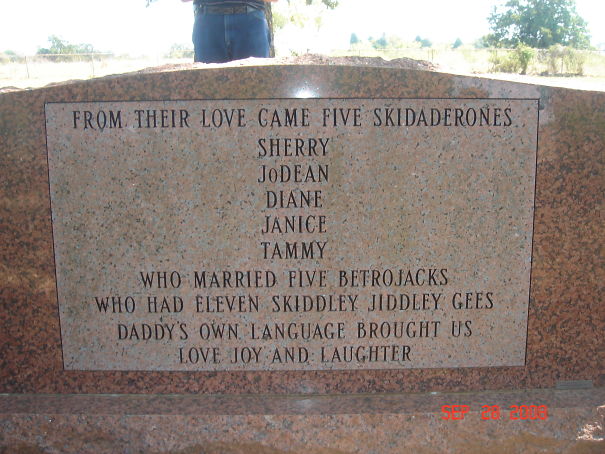 Reminds us of Ned Flanders from The Simpsons.
And So is He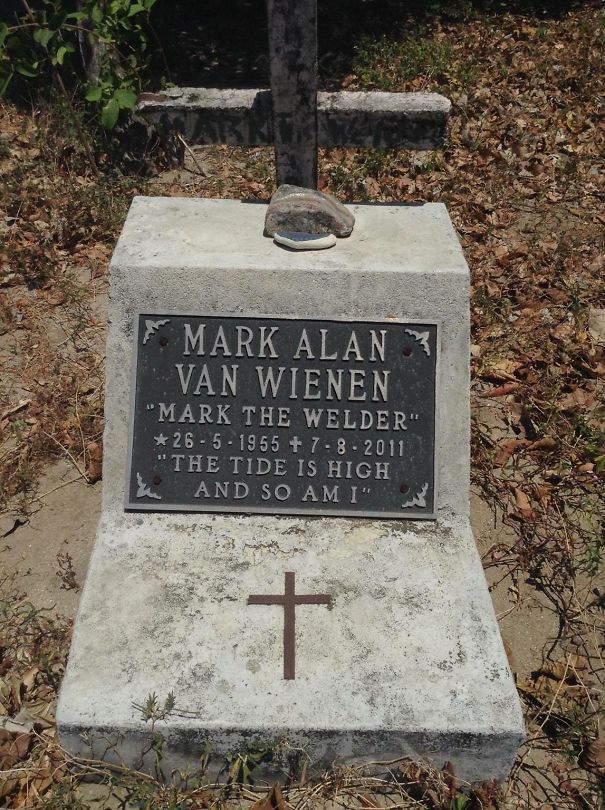 This is a gravestone by the beach.
The Best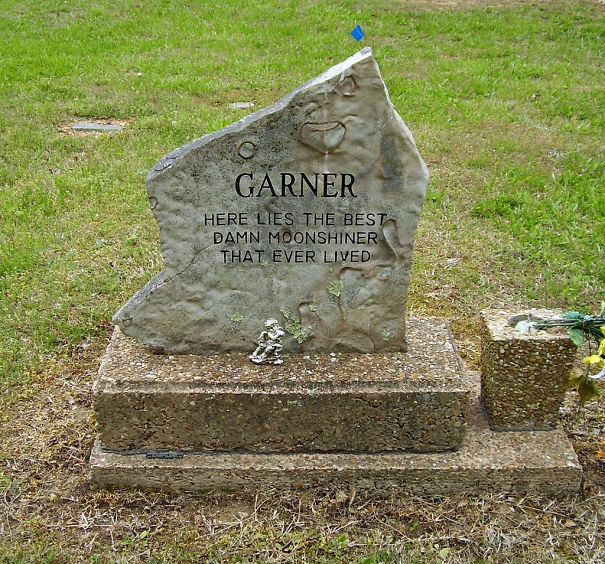 This is no doubt.
Have a Seat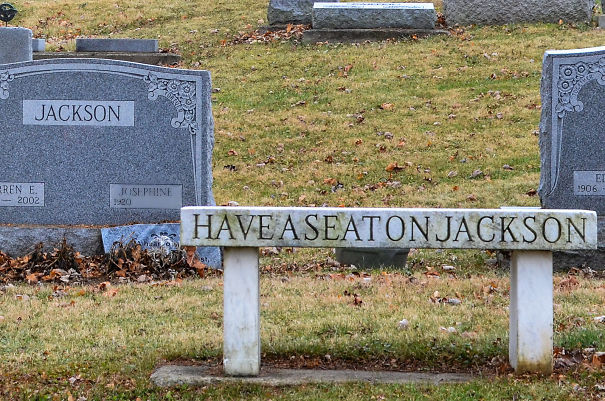 You can make memories with him again on this seat.
Funny but Sad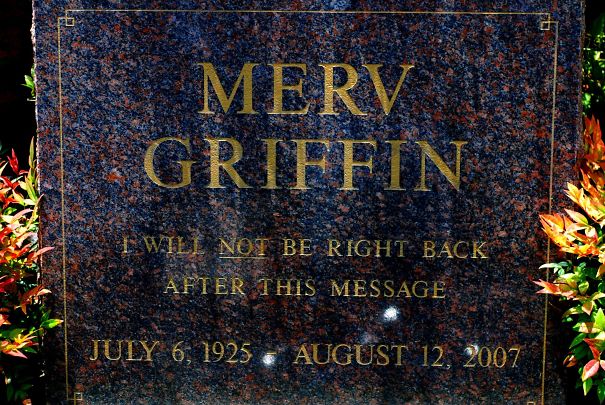 The thought of not having anyone back is haunting us in this one.
She Always Said Her Feet Were Killing Her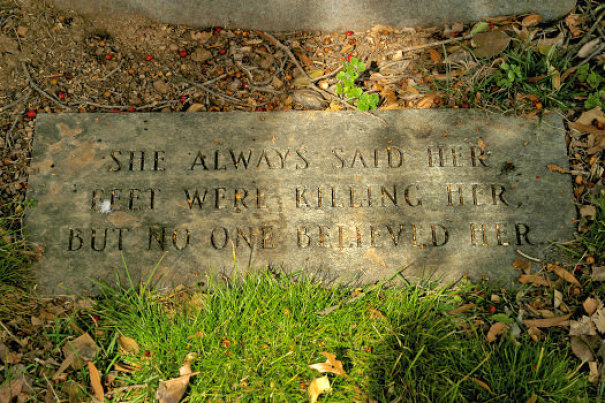 Or is it just her pair of stilettos?
Creepy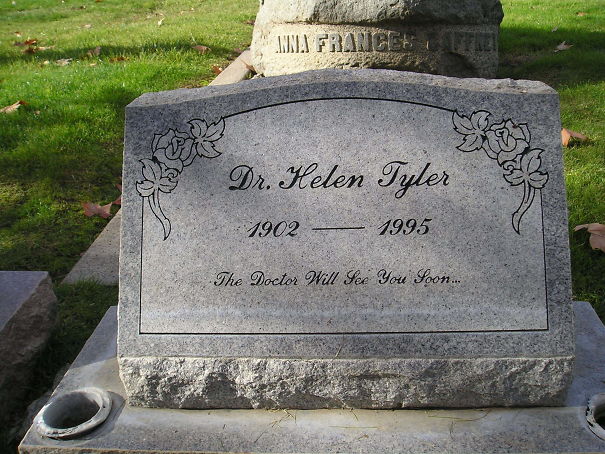 I hope not.
If You Can Read This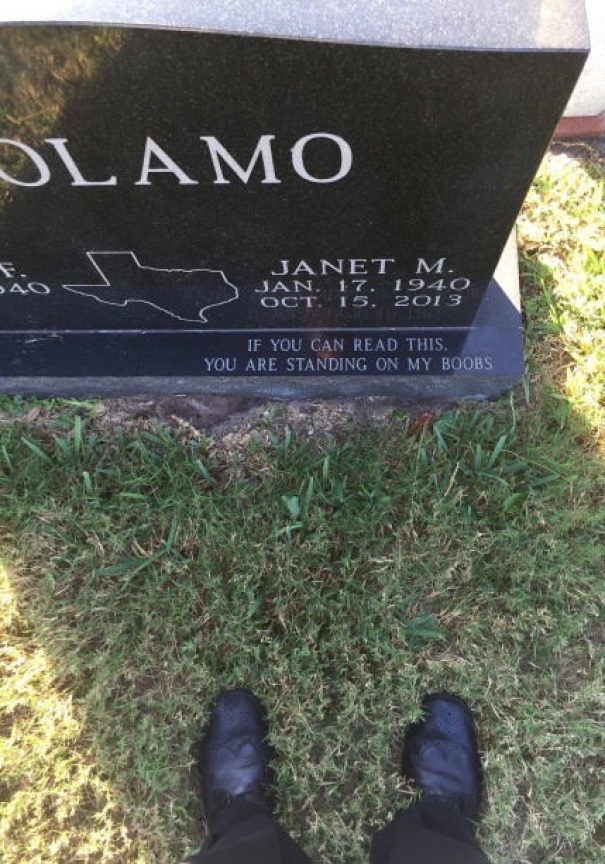 Back away, man.
Nobody's Perfect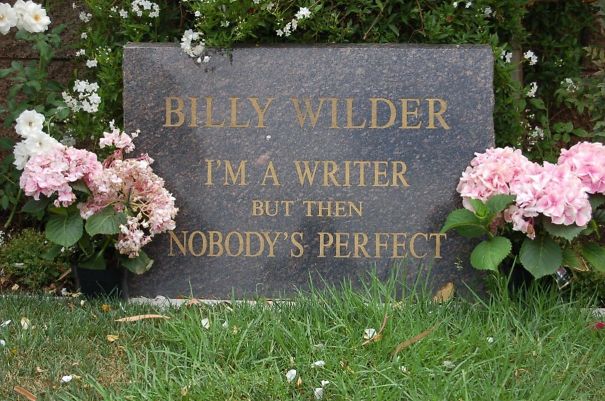 Billy Wilder directed a number of movies including Some Like it Hot with Marilyn Monroe. "Nobody's Perfect" is the last line of that movie.
Then You Die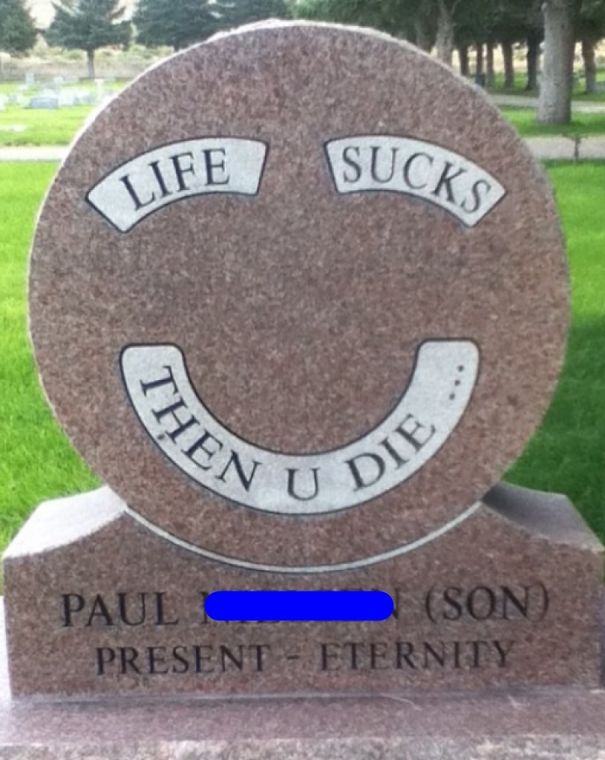 Life sucks then you die, but you're still happy.
He Knew.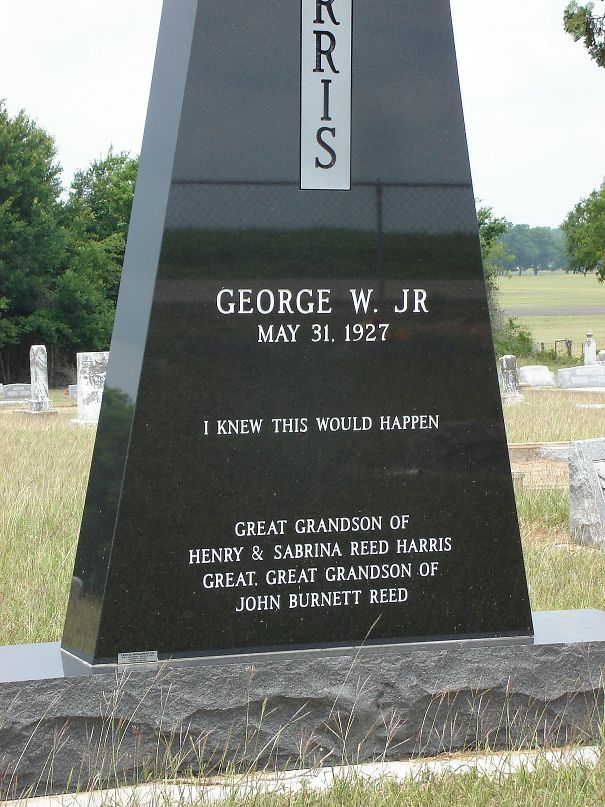 Everyone knew. They just didn't know when.
Pyramid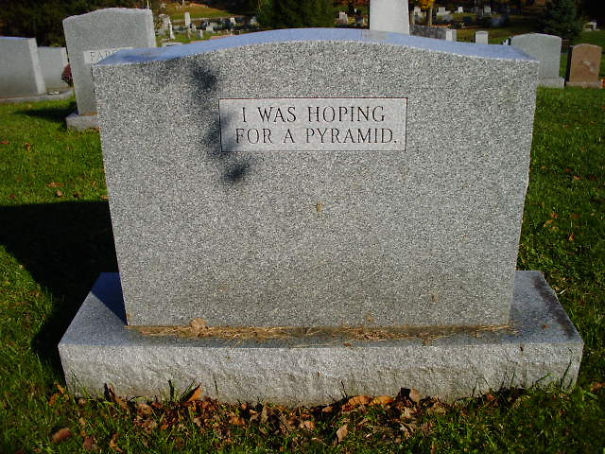 Please don't tell him it wasn't on the afterlife.
Recipe on Tombstone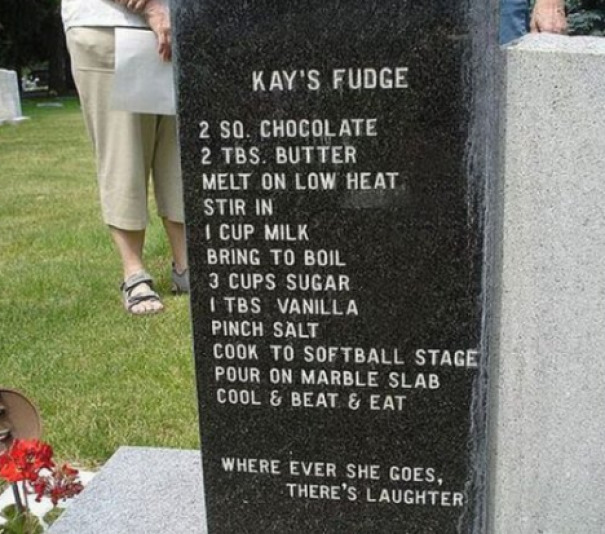 "You'll get my fudge recipe over my dead body."
Never Satisfied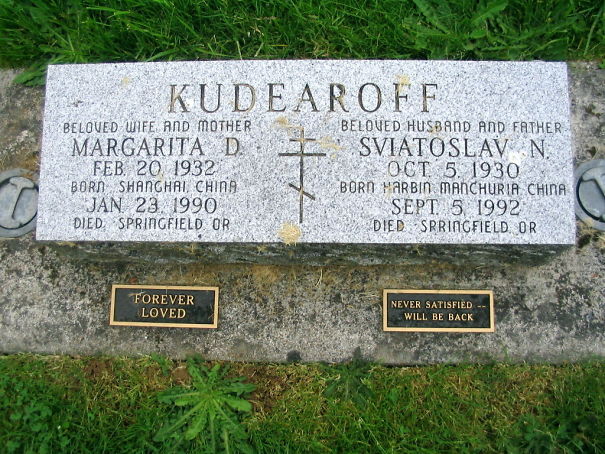 Be back soon, man. Bring your wife with you.
The Man of 1,000 Voices, Mel Blanc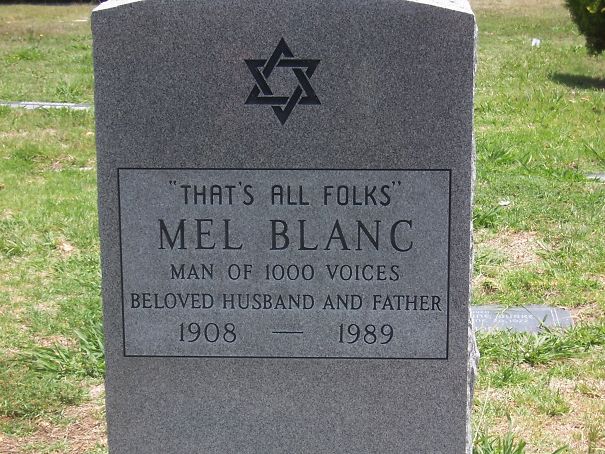 Ending his journey with his famous Looney Tunes sign off line, "That's all folks!"
Ouija Board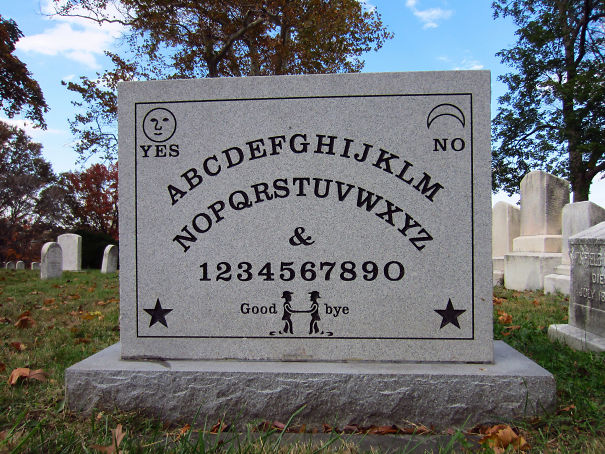 Creepy but cool!
98 Years of Ace After Being Beaten to Death at 80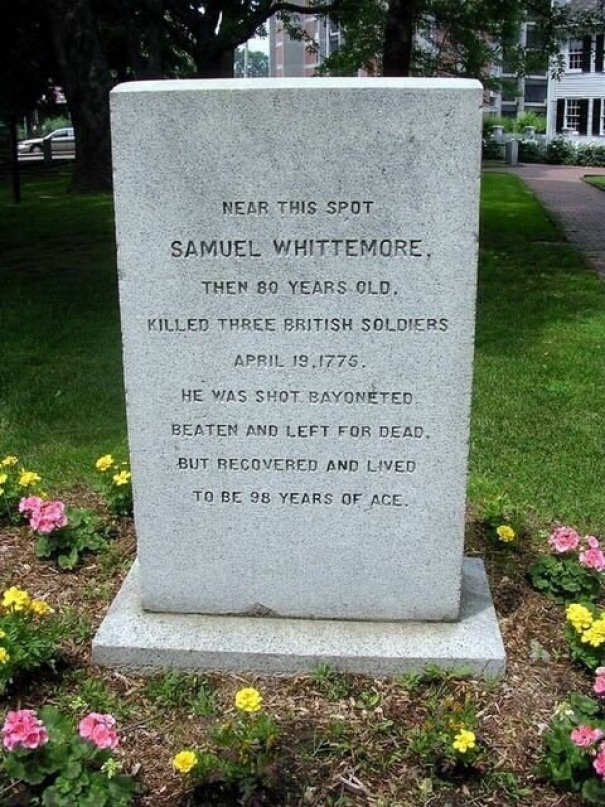 That's one tough hombre!
Cat Lover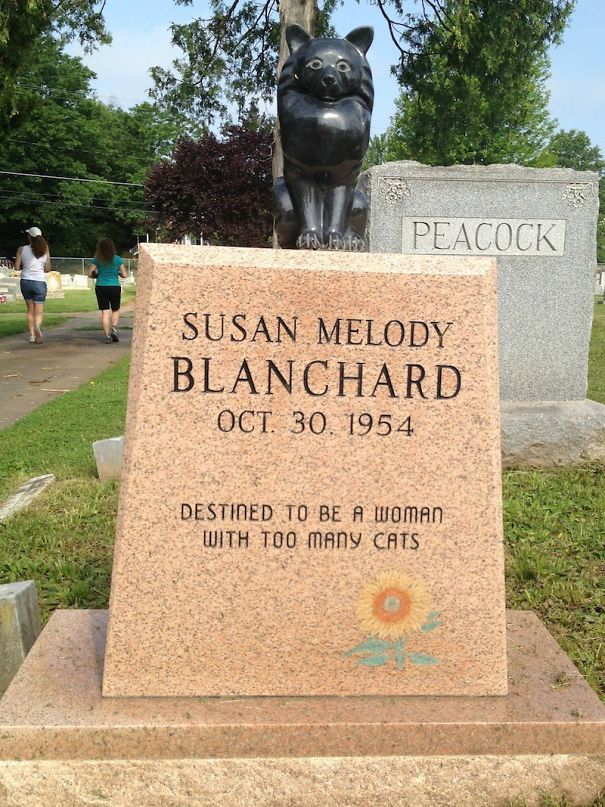 She had a great life then.
Blame's Not His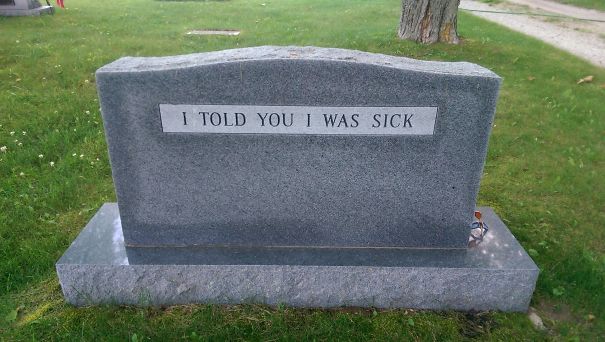 People should have listened.
Well This Sucks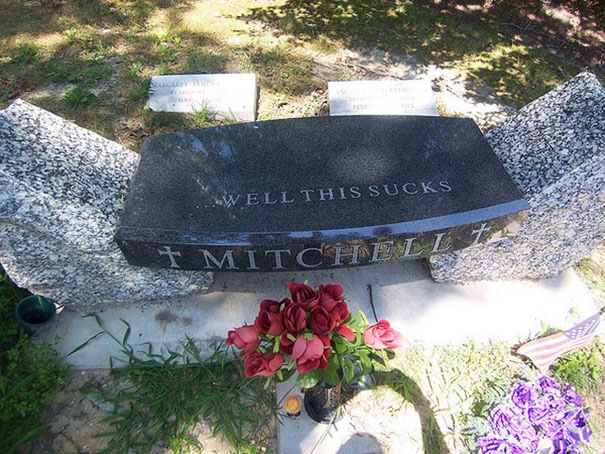 It does unless you knew where you're going.
Shit Happens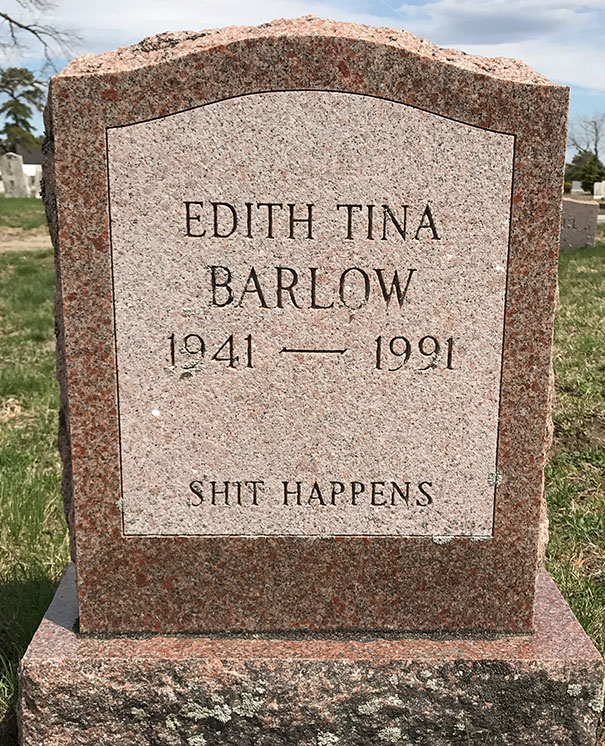 You mean like, dying?
Hidden Message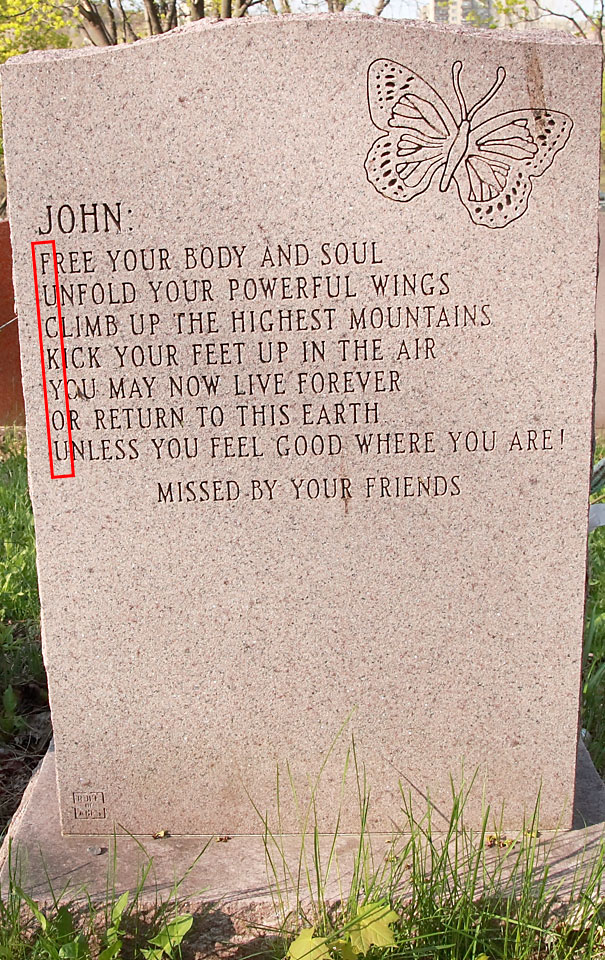 What a beautiful acronym for a tombstone.
He Never Killed a Man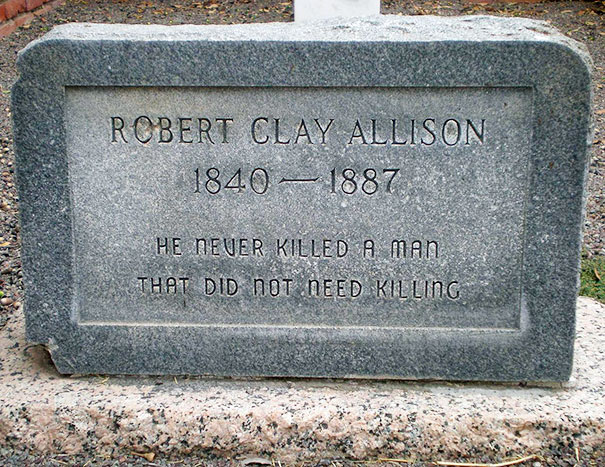 Well, that's reassuring.
Debts Until Death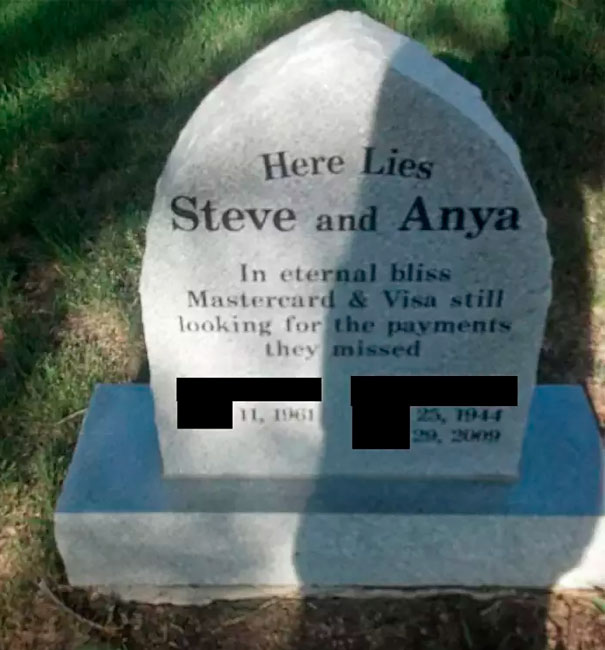 This is a permanent way to escape your debts.
Psychic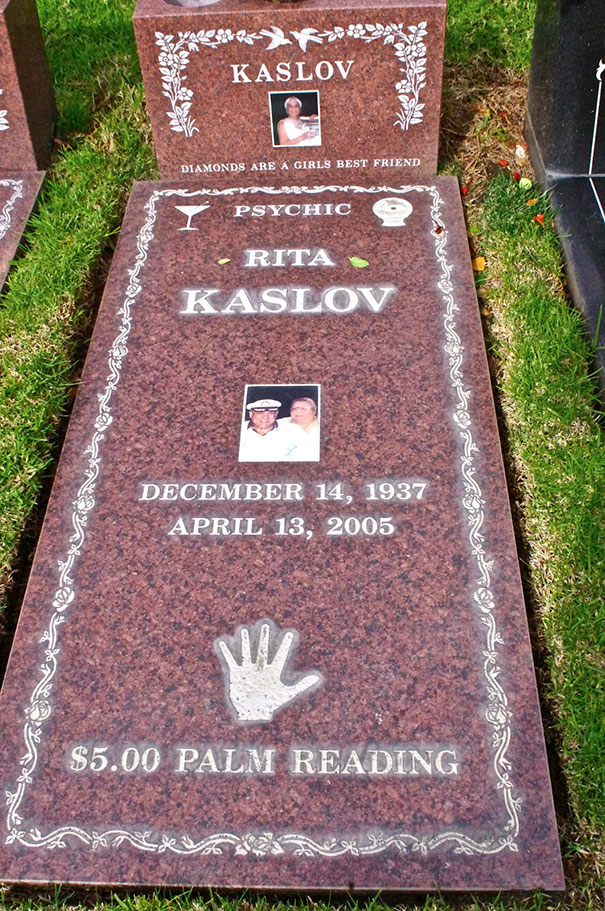 This explains why she even mentioned that diamonds are a girl's best friend.
Do Not Bother Her in Her Sleep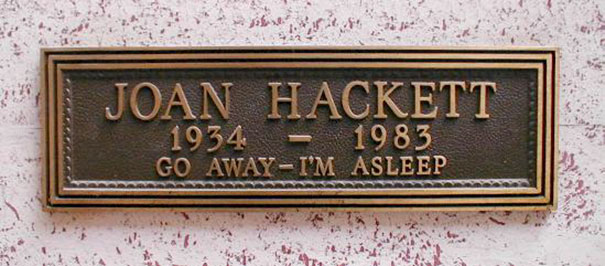 Well-rested.
Two Things in Life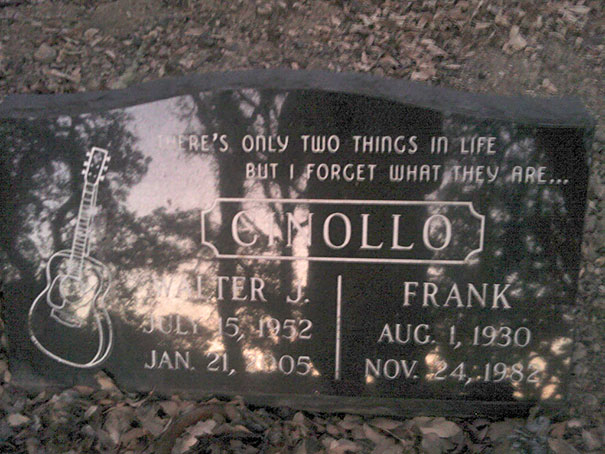 It's for you to find out.
Atheist's Tomb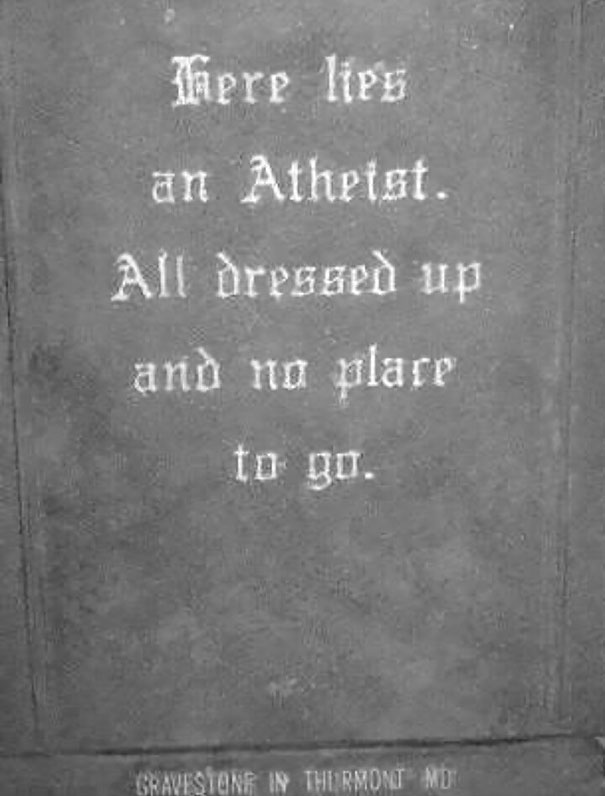 Here Lies Pa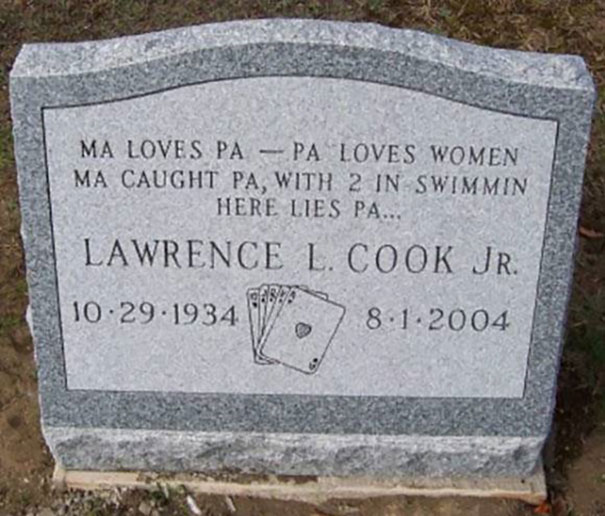 Mess with your wife or you'll end up lying here too.
Gay Veteran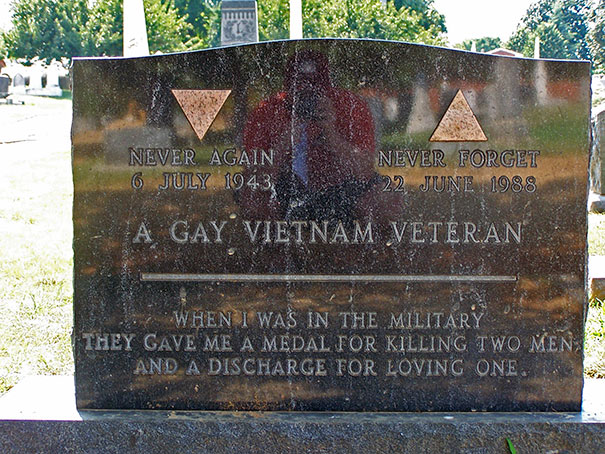 Humorously beautiful and sad.
Escape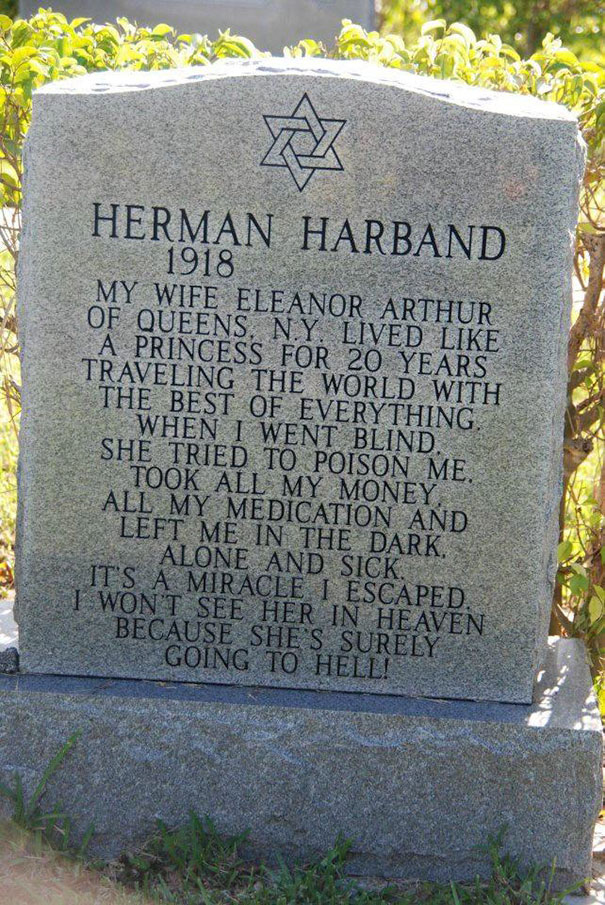 This is one angry dead man.
Do Not Enter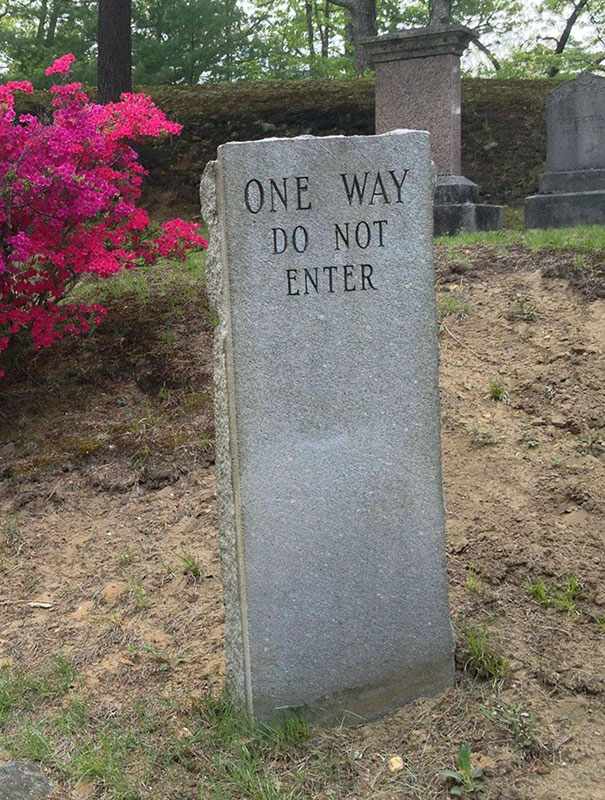 Surely a potter-head.
Mother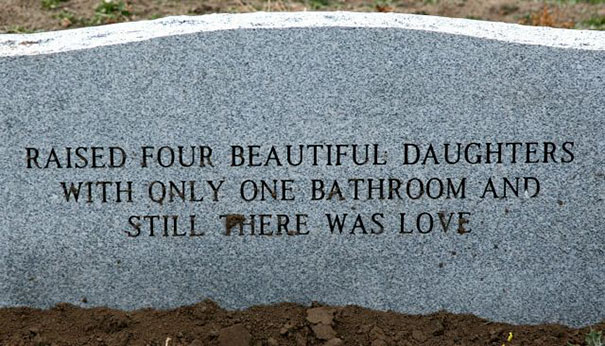 This was her greatest achievement.
Finally!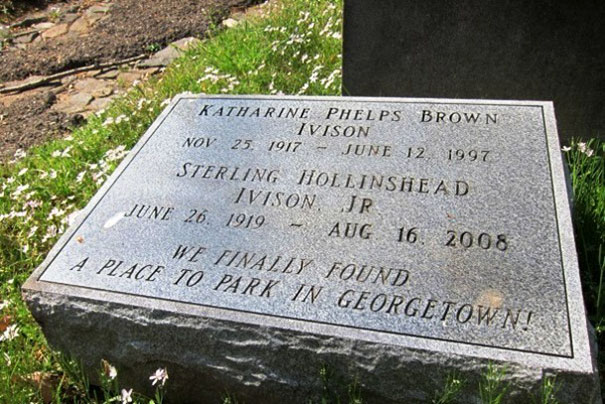 No one can take their parking space now.
Uncle Walter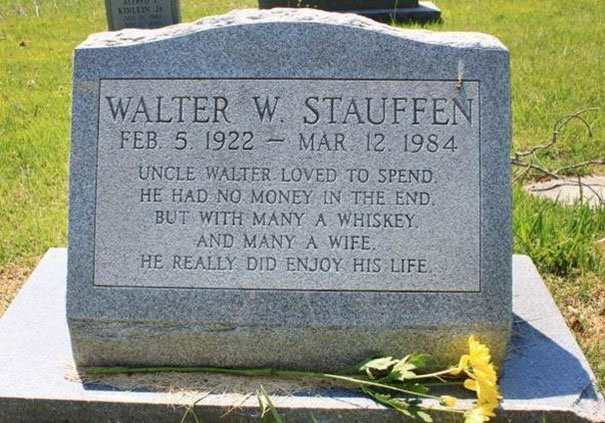 This is the briefest yet best biography ever written.
Can See Them Beyond the Grave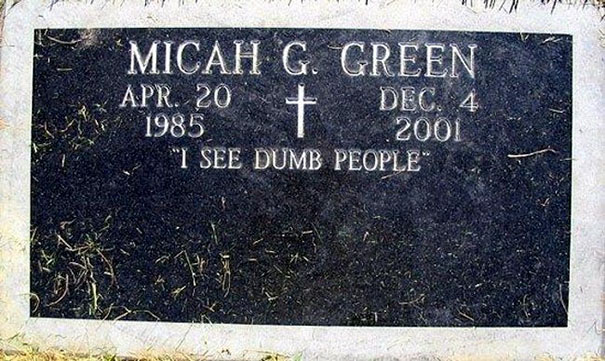 She probably hates them enough to do this.
Whatever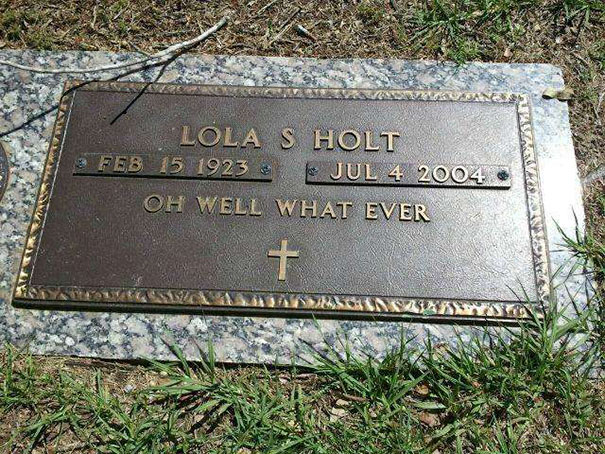 When you don't care about anything including death. "I'm dead? Oh well, whatever."
Kim Answered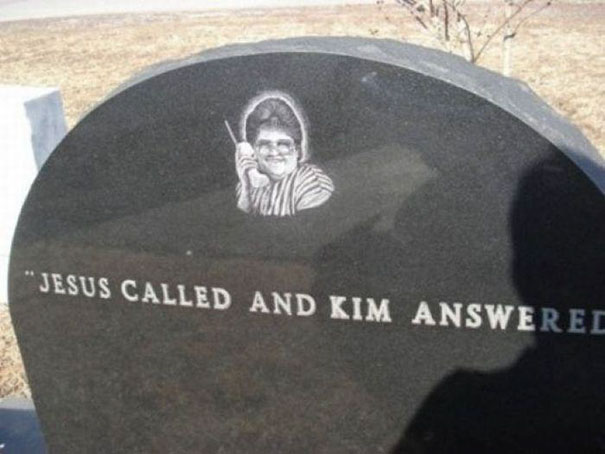 That's a good engraved photo of her conversation with Jesus.
Who's Gain?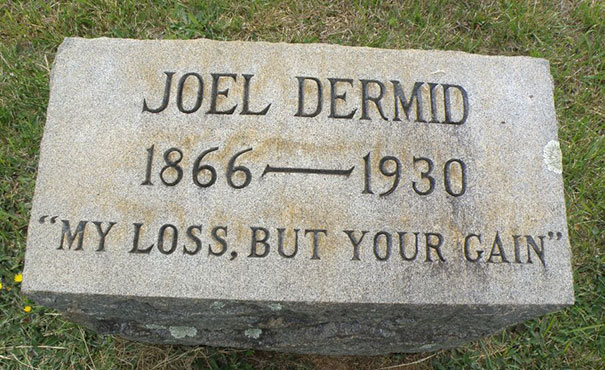 There must be some hidden story in this.
Pardon Him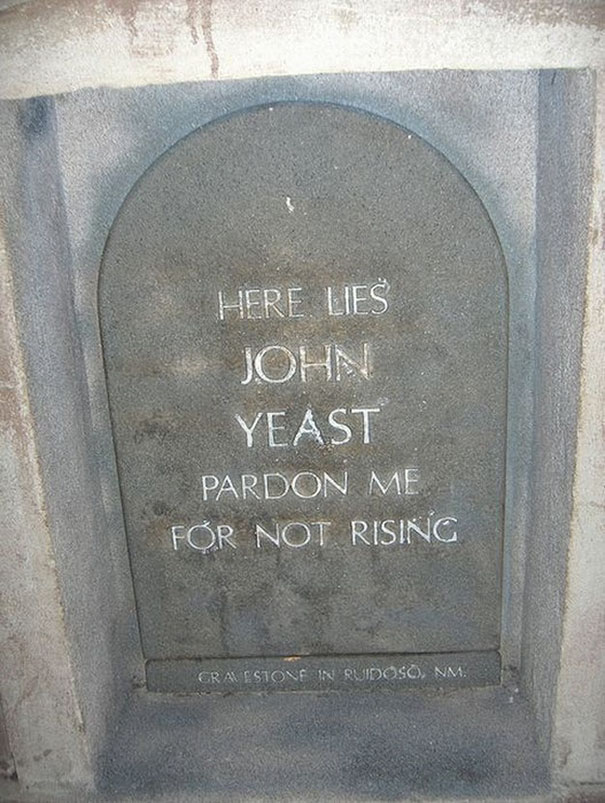 He has risen enough.
Cookie Recipe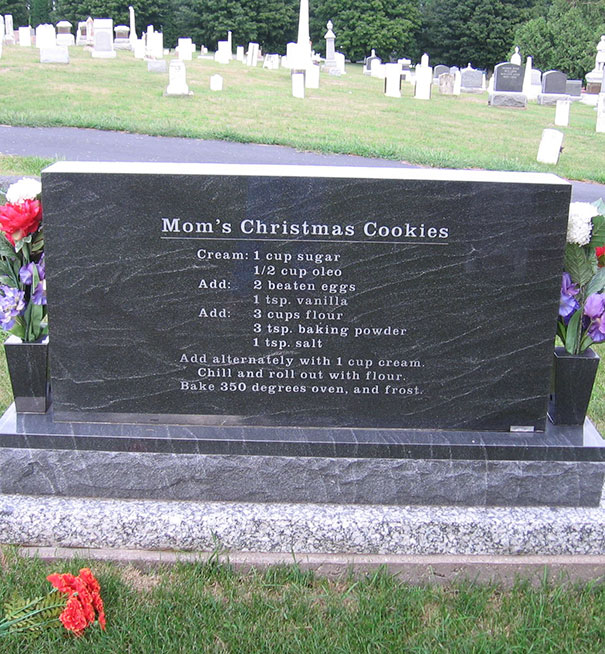 So people won't forget how her Christmas cookies taste like.
The Story of Arthur and His Wife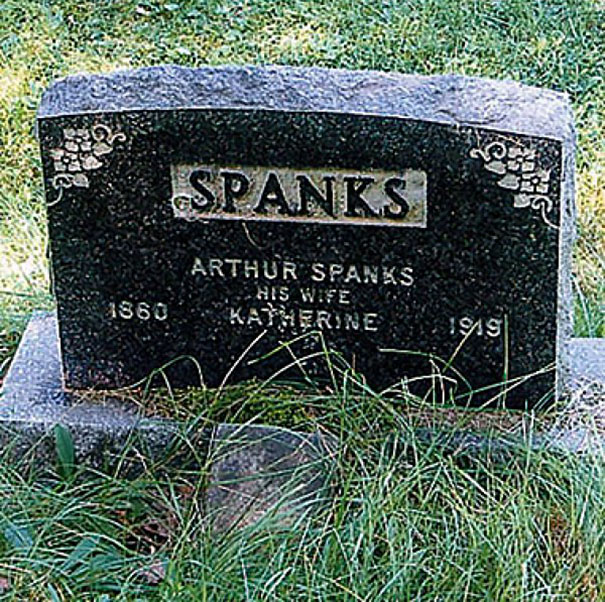 This is a cute Victorian naughtiness.
Sucks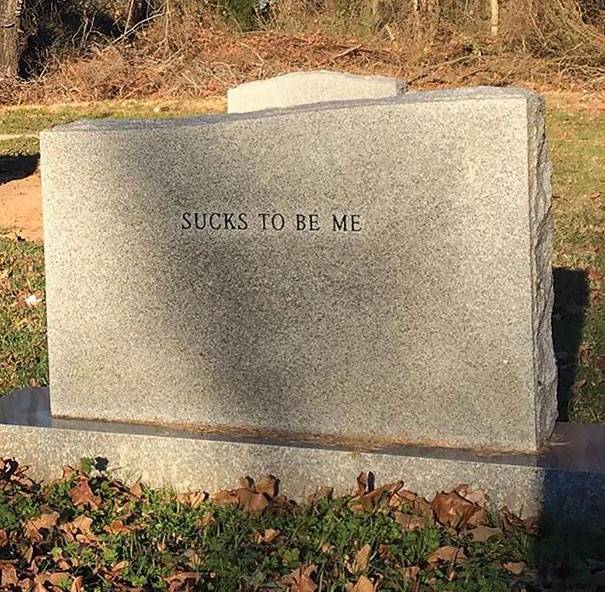 I beg to disagree whoever this is.
The Quick Brown Fox
So here is the story:
Dad wanted to update my grandparents' tombstone to include my uncle who died this year. He sent a sample text to show the font he wanted for the names.
Cemetery or Fast Food Chain?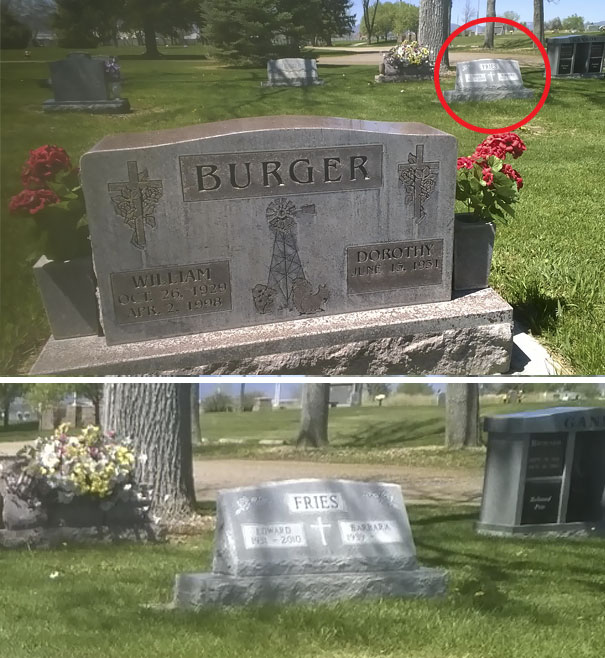 You'll Know It When You Get There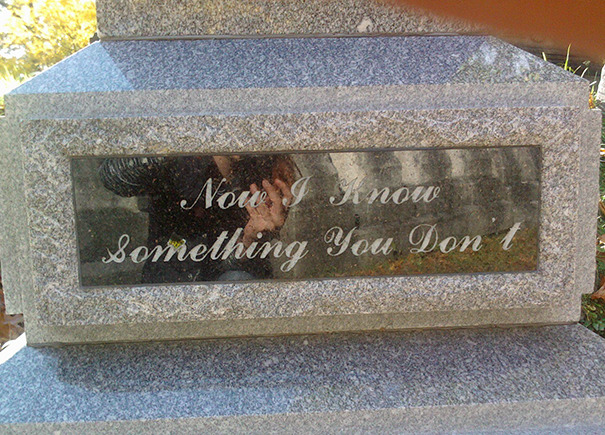 This is deep. Oops, 6 feet deep.
Think of Me and Smile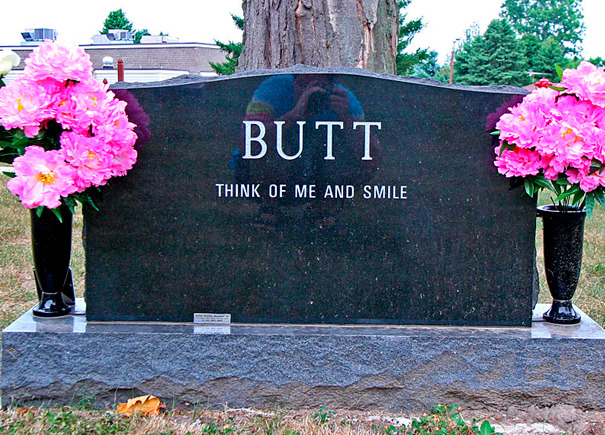 Butt no more.. Just thoughts and smiles.