A fair share of controversies 
Star rapper 50 Cent had a bumpy 20-year career with various controversies entering the picture.
To name a few, the man whose real name is Curtis Jackson has been shot, has been through a series of financial difficulties and has recently developed a trademark slogan allegedly advocating gun violence. Rumours even say he sold this three-word slogan to MMA promotion Bellator for a million dollars.
Remember a recent social media brawl he has with legendary boxer Floyd Mayweather? It made his social relevance called into question.
Also, an incident on one of his gigs surprisingly didn't break the news that much.
He was on the safety of the stage amid show when he leaned over to offer his hand for the audience to touch. He's expected to just hold it out for a few seconds and take it back again.
On the contrary, a crazed female fan went beyond that and aggressively pulled the star into the crowd. Imagine having your music idol beside you, it seems like a great experience right?
But not for this lady. When Jackson lost his balance and fell forward to the audience, his violent instinct chipped in.
He threw a punch to the woman just when his feet are about to touch the floor. The strike connected to her chest and 50's face immediately turned to a raging spirit.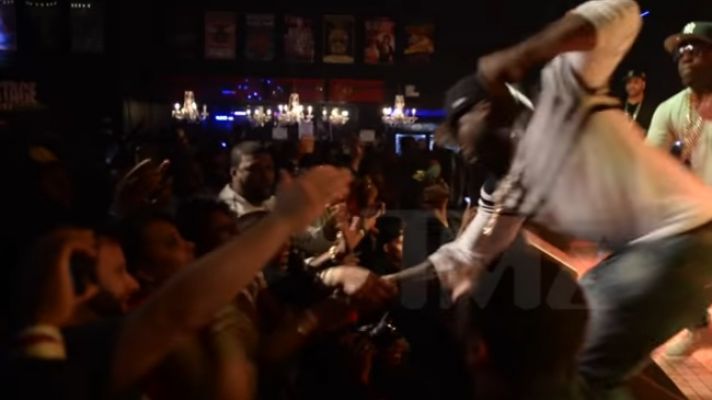 Punching her strong in an instant
His team of security then swarmed the area to prevent more assault. They put the fan away from Jackson to do so.
But before they can eject the woman from the venue, the rapper who has gone back on stage regretted what he did and invited her up.
Instead of remaining triggered, he invited the fan on stage to dance along to the show, which she did. In fact, she twerked and bounced around to 50's music, delighting the fans more.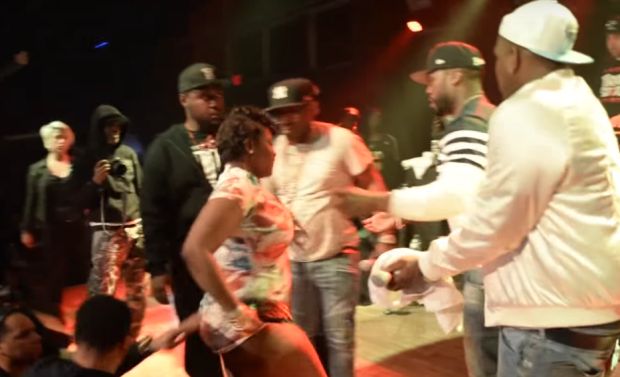 Dancing with her idol 
The rapper's hasty decision to punch the woman took place in the heat of the moment during this event in 2017. Fortunately, there isn't any ill-effect on the incident.
Watch the footage below:
At the end of the day, how many people can say they've been punched by 50 Cent?
Okay, probably a lot. But, spare this one to a great story.