Go big or go home, the premise many Hollywood celebrities live by. And when it comes to weddings, it cannot be more true. A Hollywood wedding is like a fairy tale movie, with big and glamorous gowns, princes, princesses and much more.
There isn't a bride that doesn't want to look her best on the big day. But when it comes to celebrities, wedding gowns are stunning, astonishing, and leave you breathless. Let's take a look at some of the vintage, modern, classic and slick wedding gowns of Hollywood's finest.
1. Michelle Kwan
The former figure skating champion wore a Vera Wang ivory dress to her wedding. Her husband, being a US military official, had an easy choice, a military suit for his wedding. Michele looked as lovely as ever in the laced dress.
2. Victoria Beckham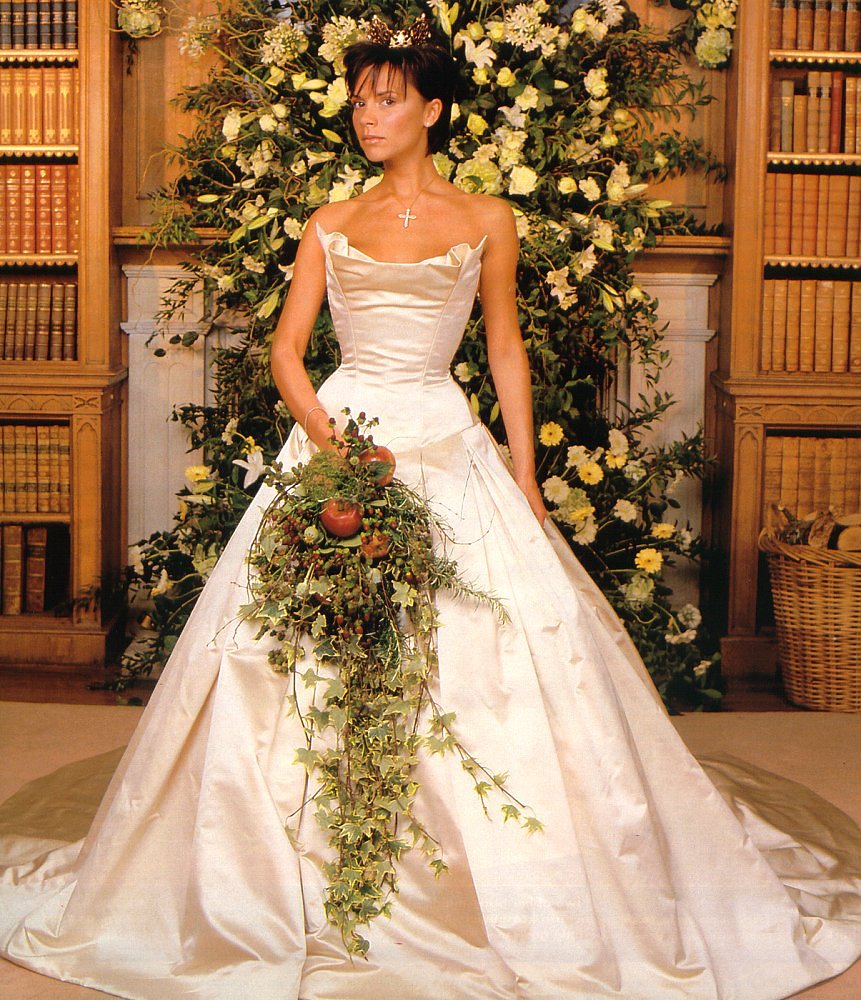 When Victoria Beckham married her husband David, she wore one of the most expensive and spectacular dresses of all time. But 17 years later, her wedding dress is a far cry from her current style. Back then, the Spice Girl wore a simple, satin dress by Vera Vang that completely hid her frame. Victoria had such a nice body, it was a shame she hid it. But we cannot say the wedding wasn't spectacular and star studded.
3. Alyssa Milano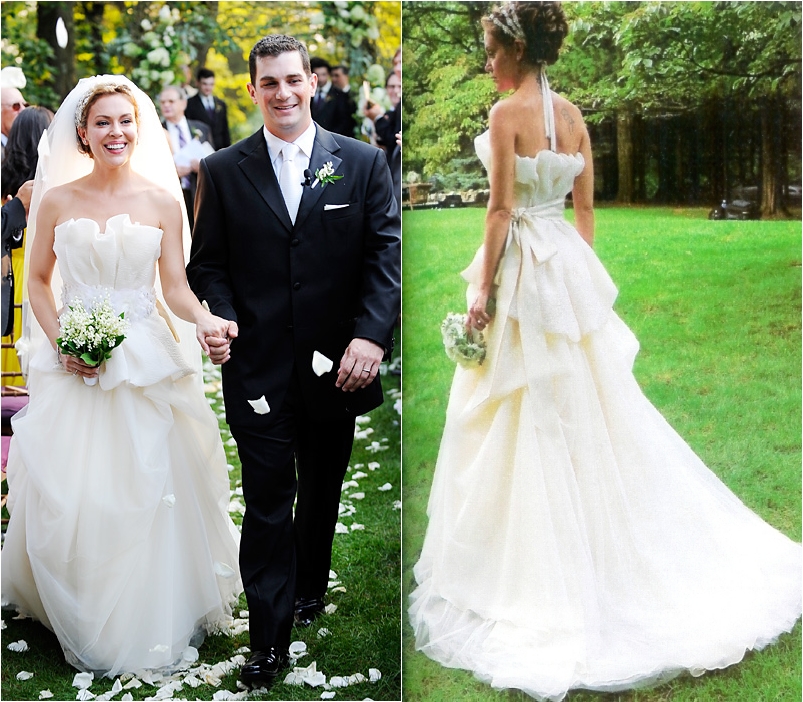 Spoiler Alert: this will be one of the many dresses Vera Wang has designed for celebrity weddings. In Hollywood, Vera Wang is the best choice when it comes to wedding gowns, and Alyssa looked stunning in the strapless dress Vang created for her.
4. Fergie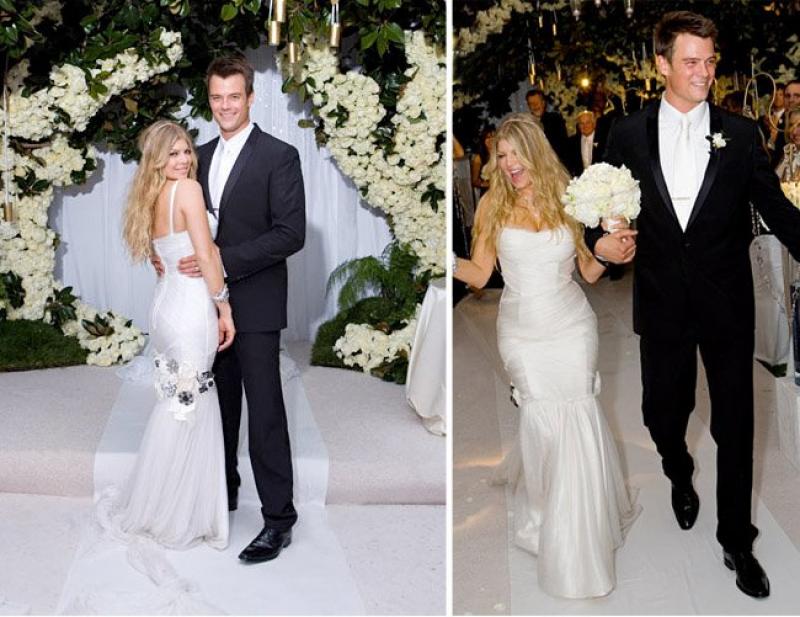 When Fergie tied the knot with Josh Duhamel, she didn't want to look like other celebrity brides. She wanted a simpler, elegant gown that emphasized her frame and body. And she tasked John Galliano to make it work.
5. Katie Holmes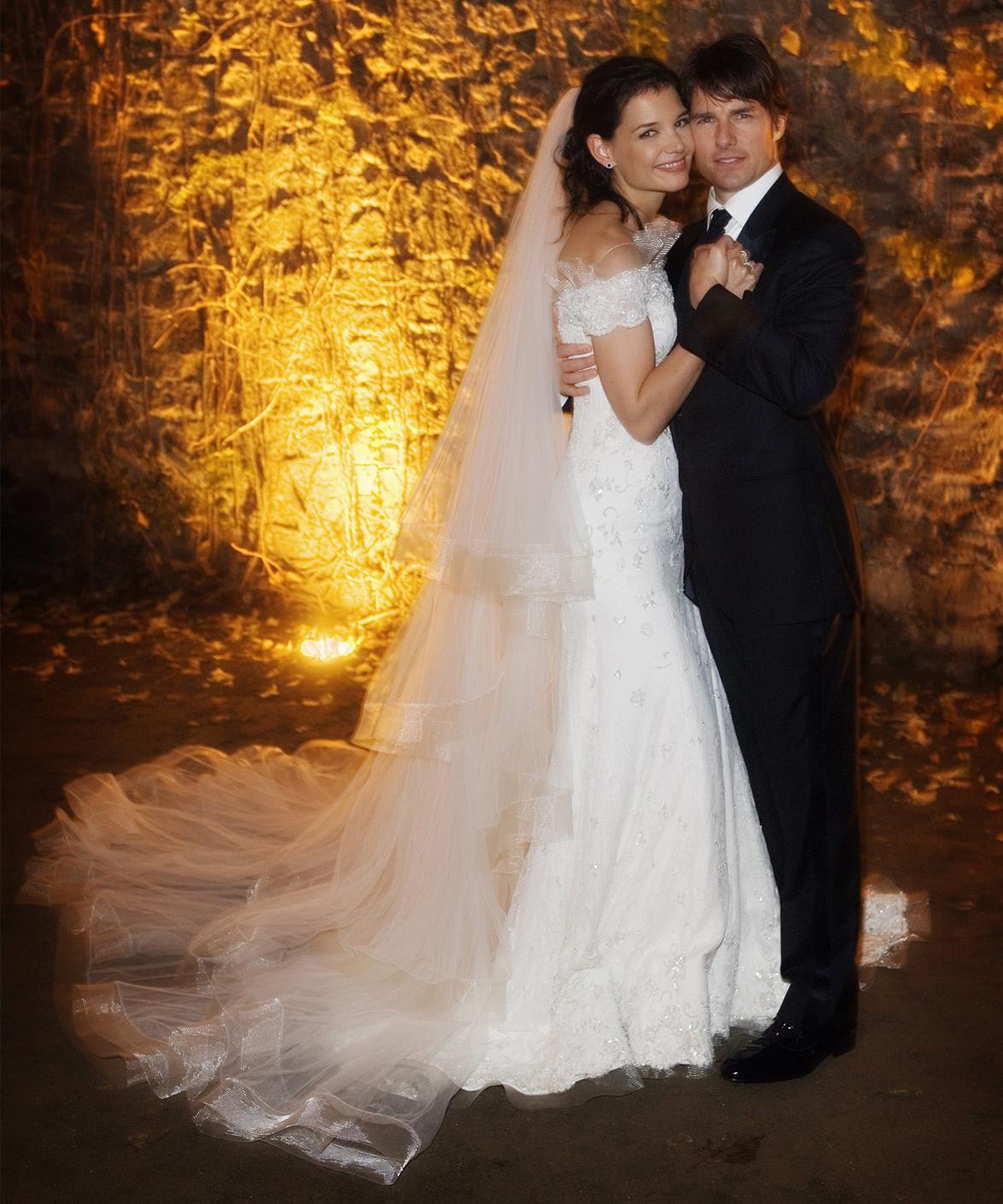 Katie hired Giorgio Armani for her wedding, and the Italian designer more than delivered. A stunning hand made white lace dress, her gown was also embedded with Swarovski crystals from top to toe. And just so she marries an elegant man, Armani also designed the tux Tom Cruise wore to the wedding.
6. Nicky Hilton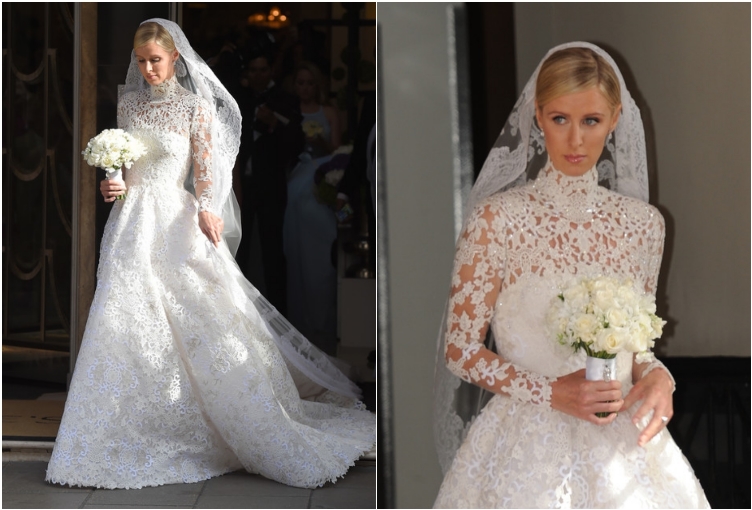 Your wedding dress is usually the best dress you'll ever wear, and Nicky admitted as much after the wedding. Valentino was responsible for creating this magnificent dress. Nicky wanted something simple, elegant and traditional, and of course, white lace. Being related with design and fashion as well, Hilton worked closely with Valentino and his team to get the dress done.
7. Amal Alamuddin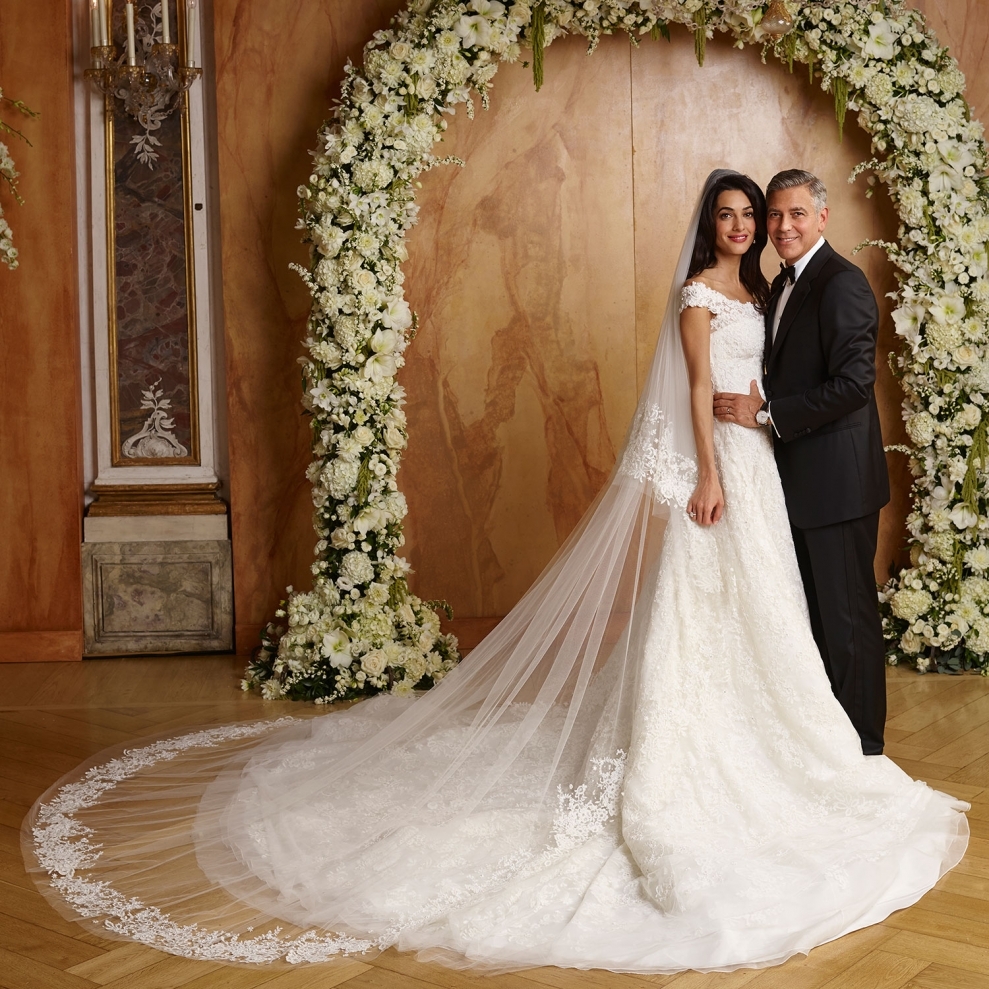 Amal said she wanted a wedding that was romantic and elegant, and Oscar de la Renta was the only one that could capture the mood in a dress. And the designer more than delivered. Speaking of Oscar, Amal said he is the "man every woman wants to hug". On the day of the wedding, she also wore floral daytime dress by Oscar.
8. Khloe Kardashian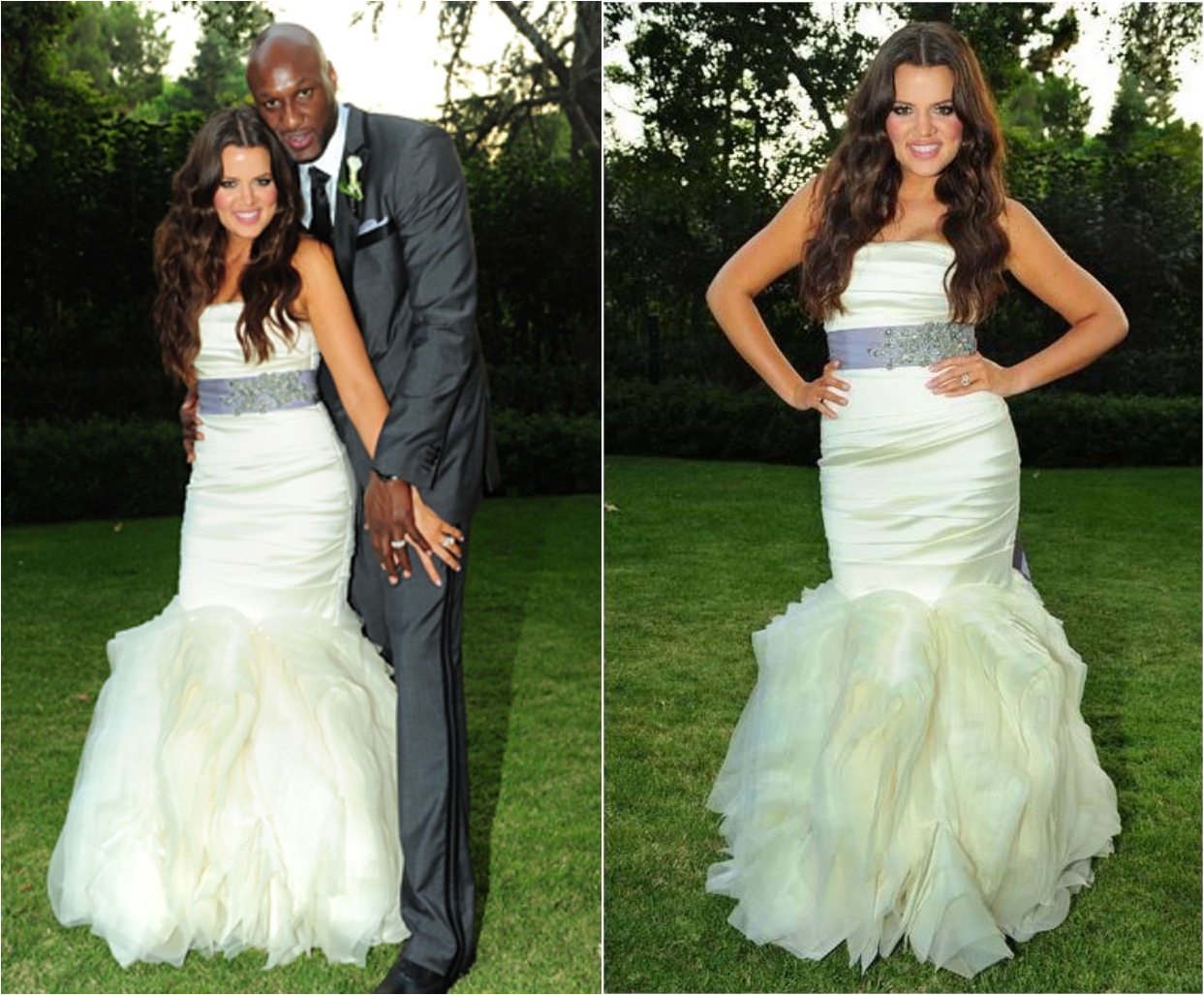 Welcome back to the list Vera Wang. When she married NBA player Lamar Odom, Khloe asked Vera to design her strapless, figure-hugging wedding dress. Because colors are huge part of her life, Khloe also asked for a lavender sash.
9. Anne Hathaway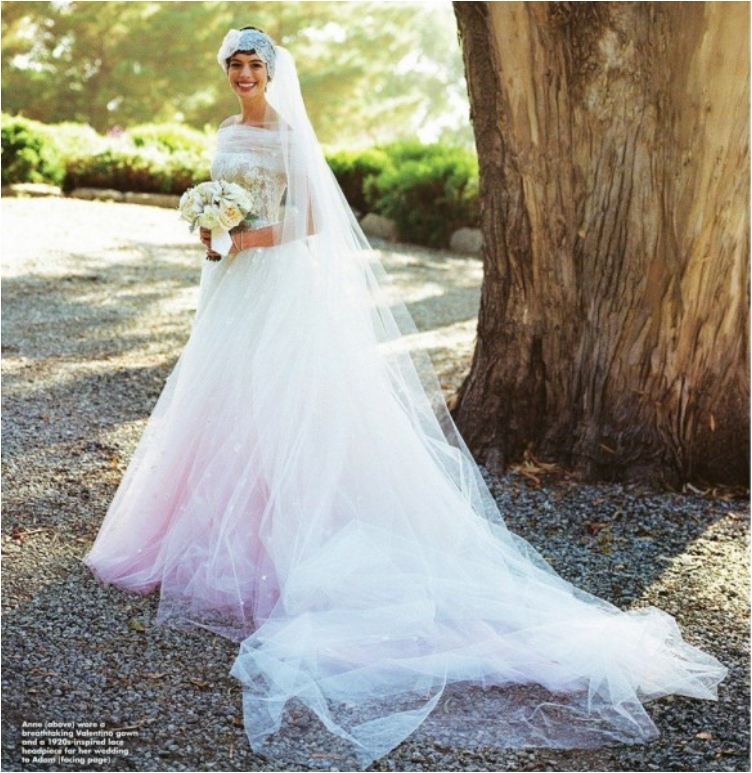 Anne made a stylish statement in a custom Valentino dress. But can you expect less from the actress? After all, she is one of Valentino's darlings, as the designer loves her "as a daughter".
10. Gabrielle Union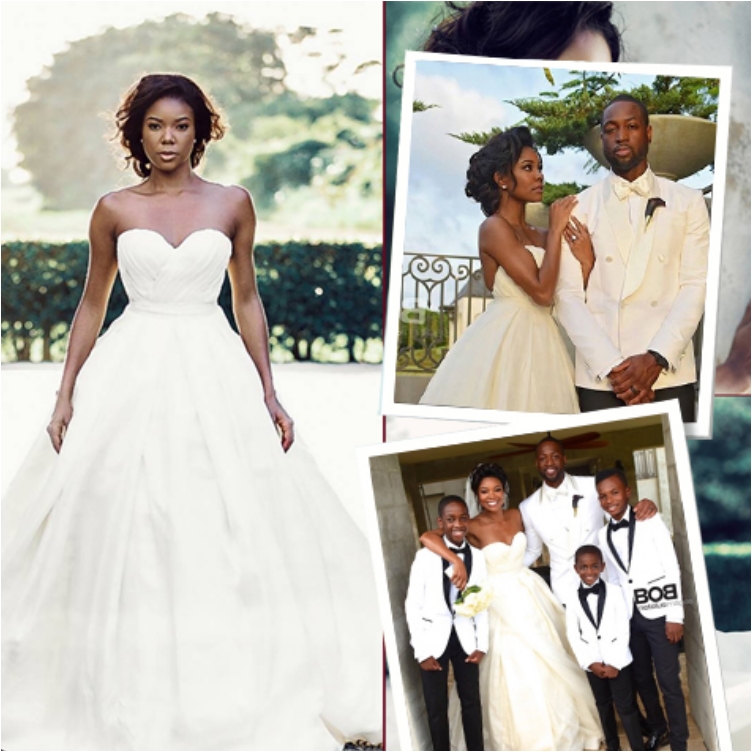 Dwayne Wade is one of the most stylish persons in the NBA. It is hard for anyone to top his style, but at his wedding day, his wife Gabrielle managed to pull exactly that. Wearing a gown by Dennis Basso, a designer mostly known for using fur in his designs.
11. Ellen DeGeneres And Portia De Rossi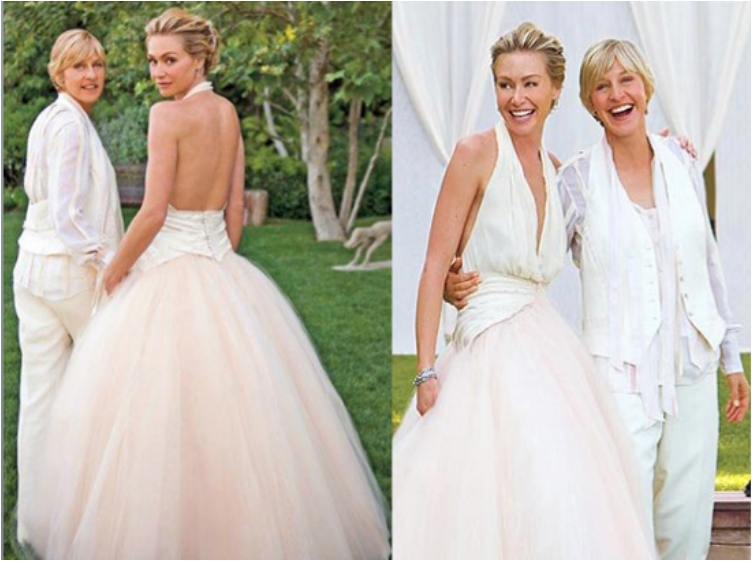 You can call this a cheat, but Ellen actually got married in pants, not in a dress. She wore grey pants, but her partner of 7 years was stunning in light rose princess dress.
12. Dita Von Teese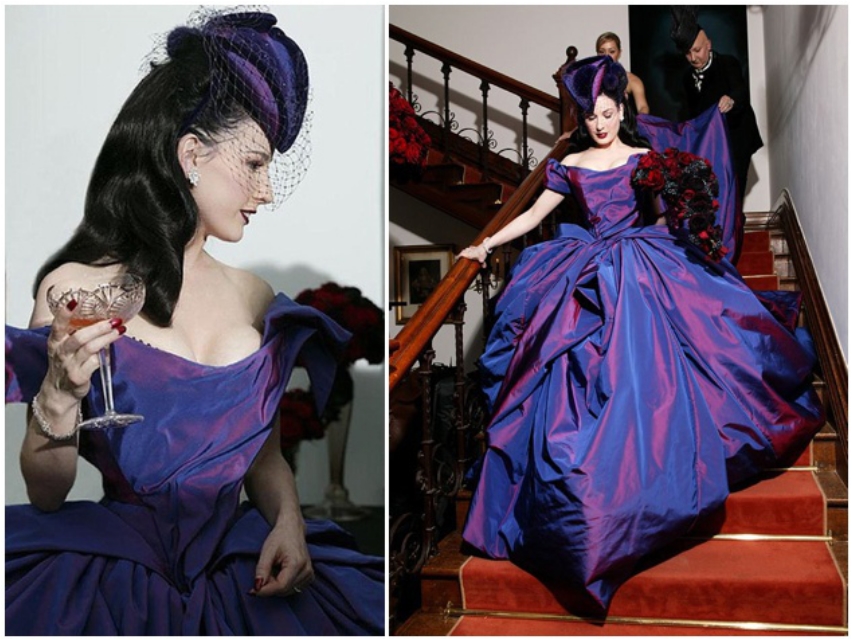 You can expect something spectacular and unique from Dita von Teese. After all, she choose a color that is far from white for her wedding. And she even named her dress. "Birds of Paradise" was designed by Vivienne Westwood, and was perfect for the style and character of Dita.
13. Alicia Keys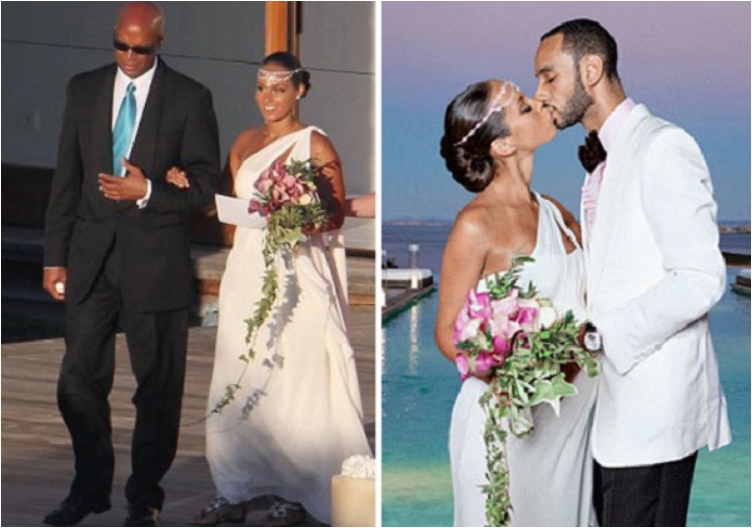 Vera Wang managed to hide Alicia's pregnancy perfectly with this Grecian Goddess style ivory silk dress. The dress perfectly portrays Alicia and her character of a strong, independent, elegant, sophisticated and simple woman.
14. Gwen Stefani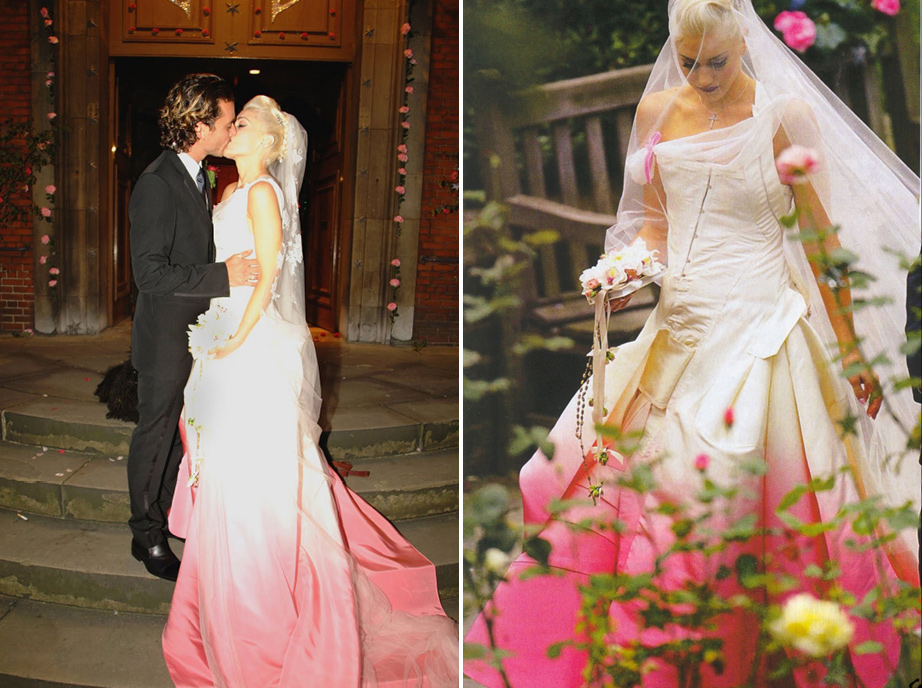 Stefani wore one of the most iconic wedding gowns of all time. Courtesy of Marchesa, the dress was as stunning as there could be. And 15 years later, Gwen wore the same dress while performing at the voice. Sadly, her marriage didn't last as long as her dress. Gwen and her husband split in in 2015 after 13 years of marriage.
15. Kim Kardashian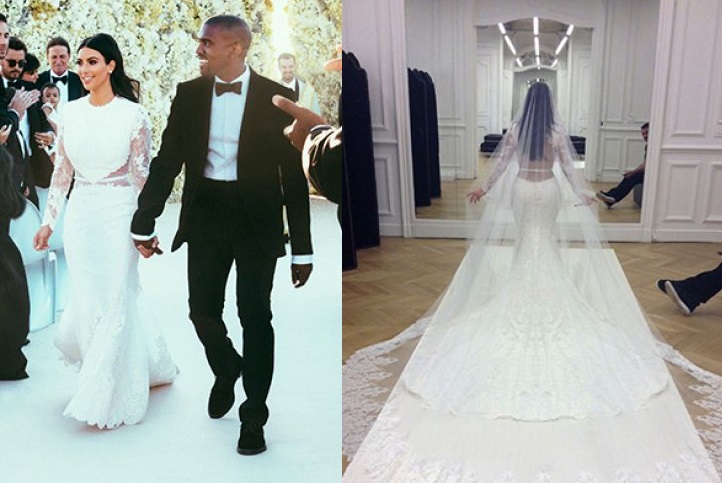 In her typical manner, Kim managed to make magazines speculate with months what would she wear to her big wedding day. But when she appeared, she didn't disappoint. The couple got married in Florence, and Kim and Kanye made sure everything is perfect. They even built a special wall with roses to match her dress's color. The dress itself was designed by Riccardo Tisci, who works for Givenchy.
16. Megan Fox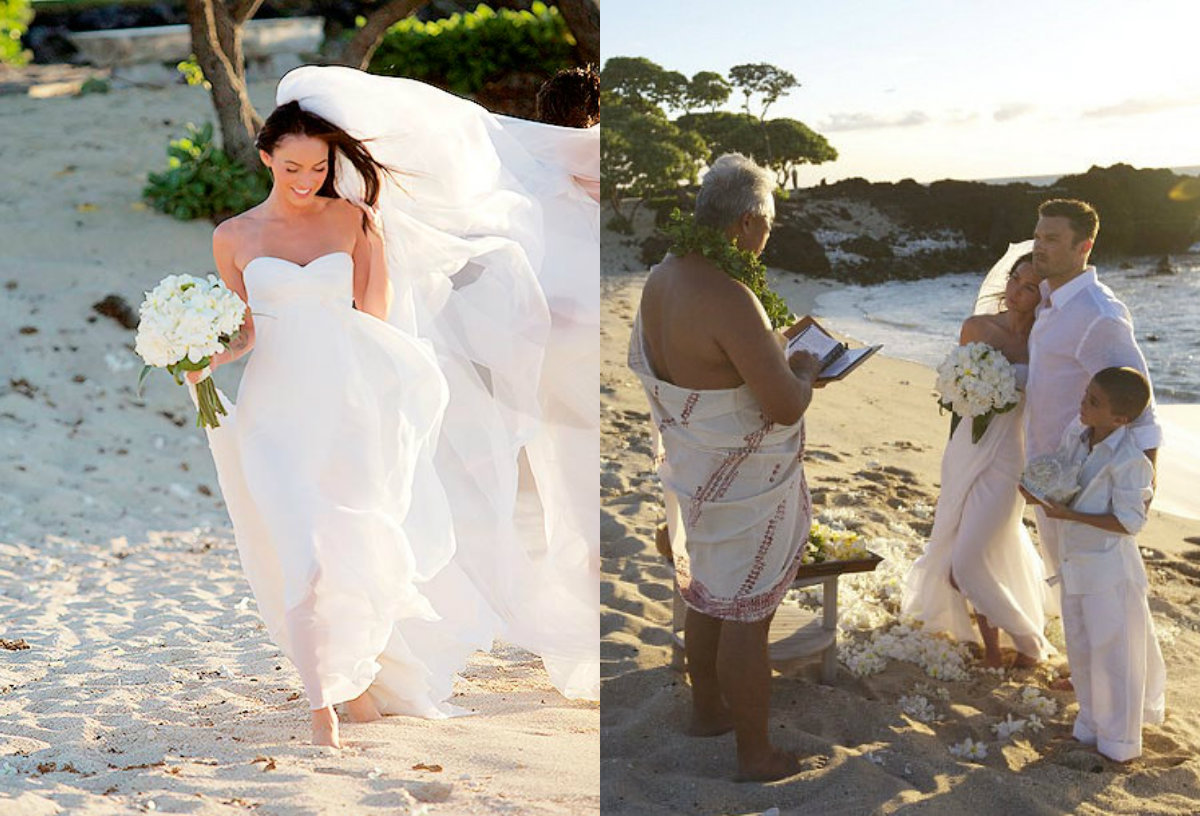 Megan Fox married on a beach in Hawaii, and she needed a dress fit for the occasion. So, she contacted Giorgio Armani, and he delivered her a custom Armani Prive flowing silk chiffon dress. The private ceremony looked beautiful thanks to that dress.
17. Salma Hayek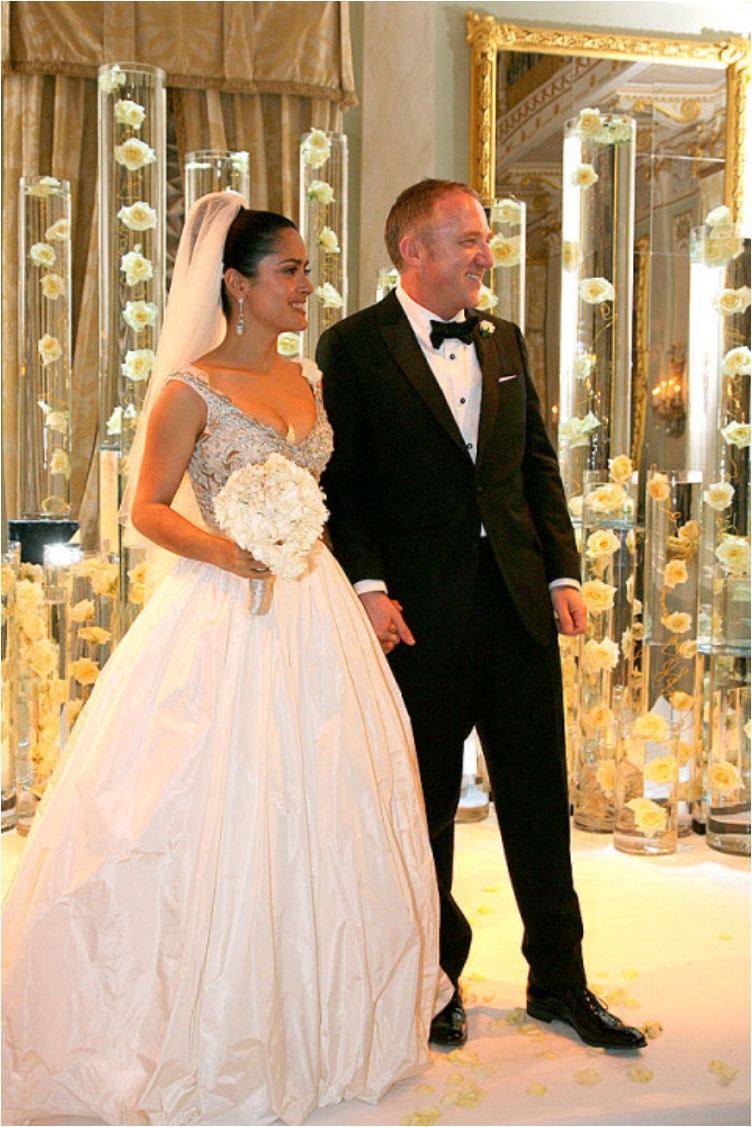 This was actually the second dress Salma wore for her wedding. She got married  with her husband in Paris. But that wedding ceremony was private, secret and with a different wedding dress. But when they organized a wedding party in the States, you knew Salma will deliver a billionaire 's worth dress. Her custom dress by Balenciaga is definitely one of the best all time.
18. Ashley Tisdale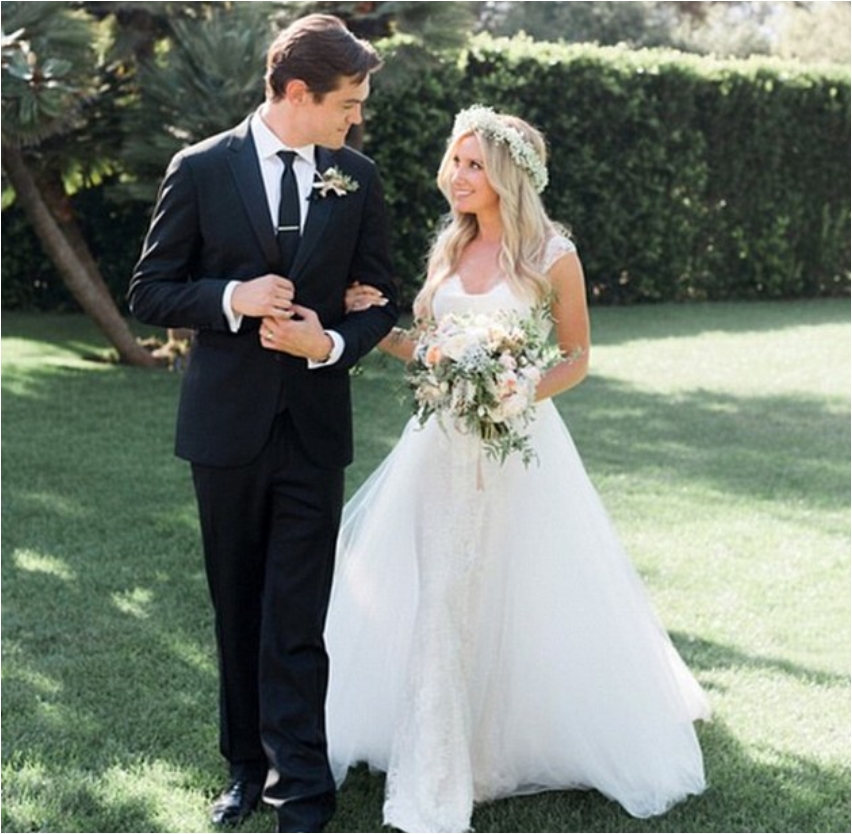 One would expect Ashley to ask help from a more high profile designer. But she opted for Monique Lhuillier instead, and one can safely say she didn't make a mistake. The incredibly figure-flattering dress looks perfect, stylish, yet simple.
19. Solange Knowles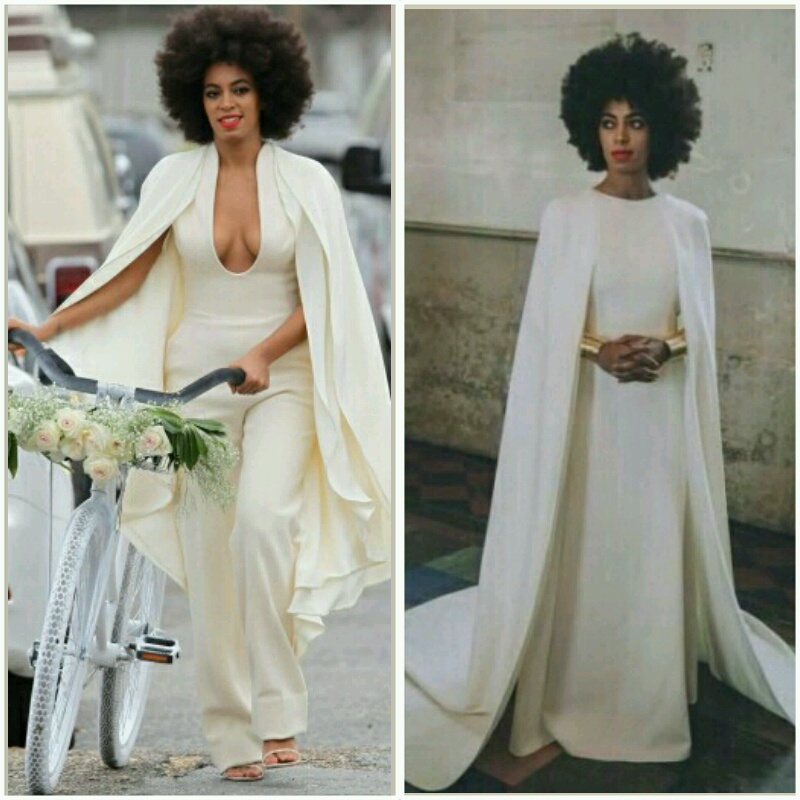 Beyonce's baby sister broke every rule in the playbook for her wedding. For starters, she wore a dress that looked like Cape, designed by Kenzo, a close friend of hers. But she also asked all her friends to get dressed in white for the wedding photos.
20. Princess Madeleine of Sweden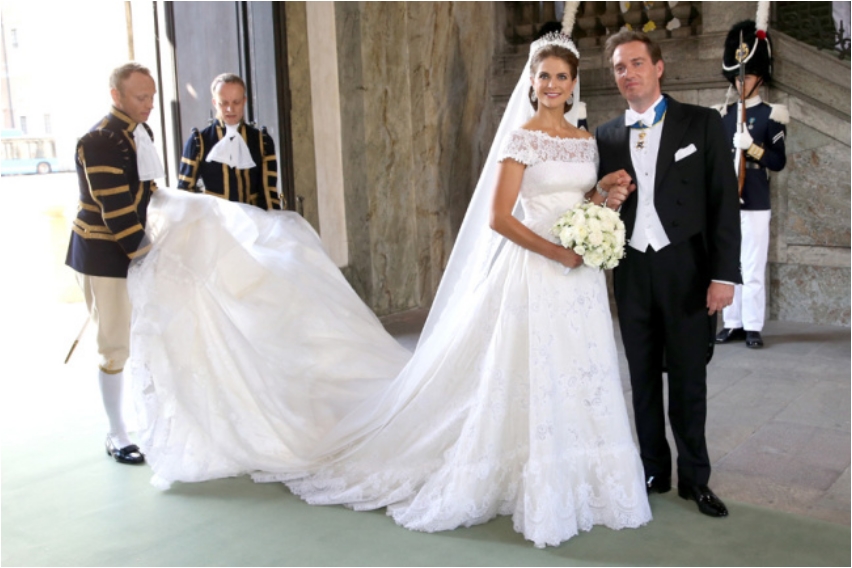 A dress fit for a princess, that was the order Madeleine placed when she called Valentino. And the Italian designer delivered once again, a custom lace wedding gown that took few people to assist.
21. Olivia Palermo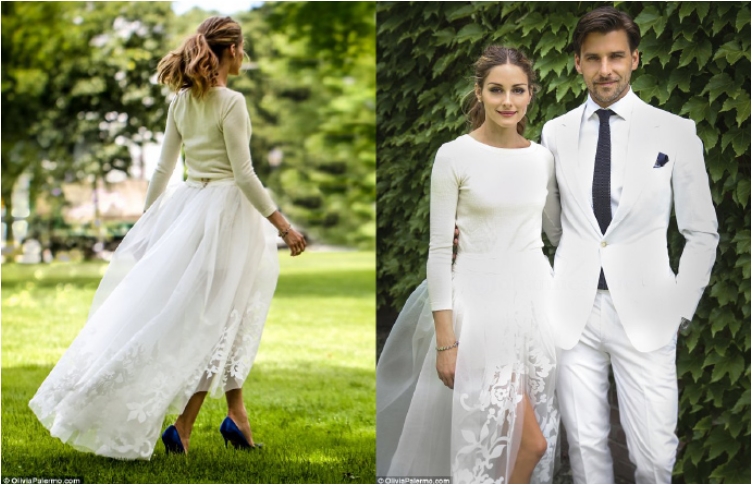 Olivia and her husband are considered one of the most stylish couples in Hollywood. For her wedding, Olivia opted for a Carolina Herrera wedding dress, with Manolo Blahnik shoes. The dress itself was a three piece ensemble, with shorts, sweater and skirt on top of the shorts all created by Herrera.
22. Avril Lavigne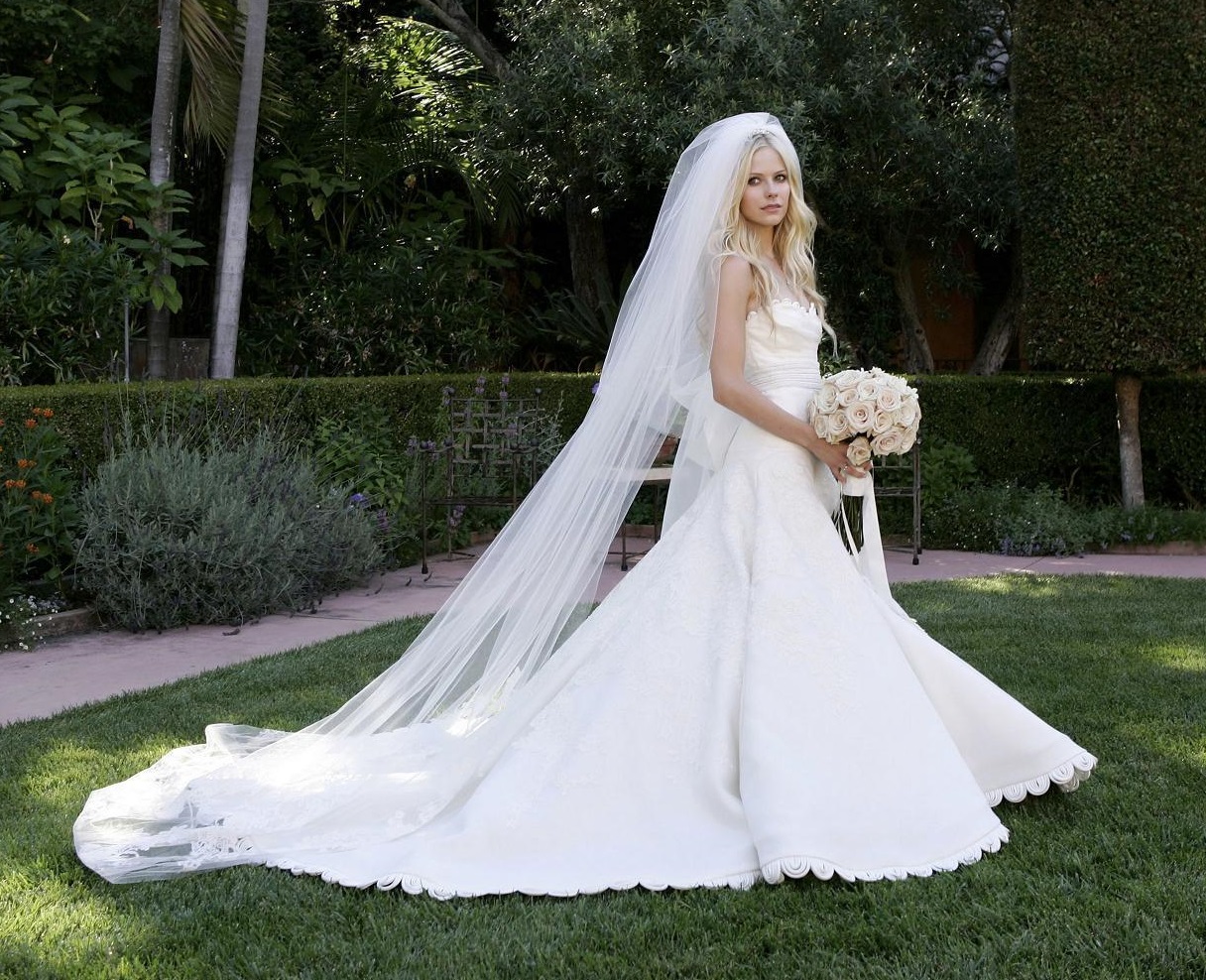 This was actually the pre-wedding dress Avril wore for the public photos. After that, she spotted a black Vera Wang gown that made the headlines. But can you expect anything less from a rocker like Lavigne?
23. Chrissy Teigen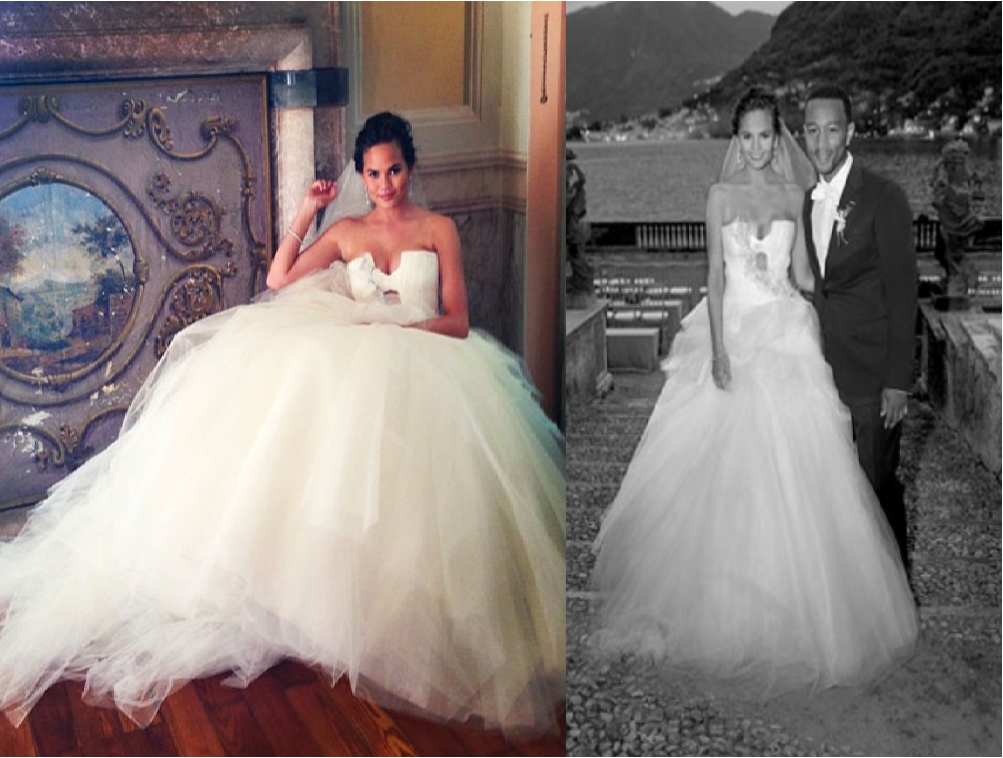 Chrissy married John Legend, and needed three dresses to get to the end of the ceremony. All three of them were designed by Vera Wang. One was for photos, one for the ceremony itself, and the third one was for the party afterwards. Spoiler alert: it was a red gown.
24. Milla Jovovich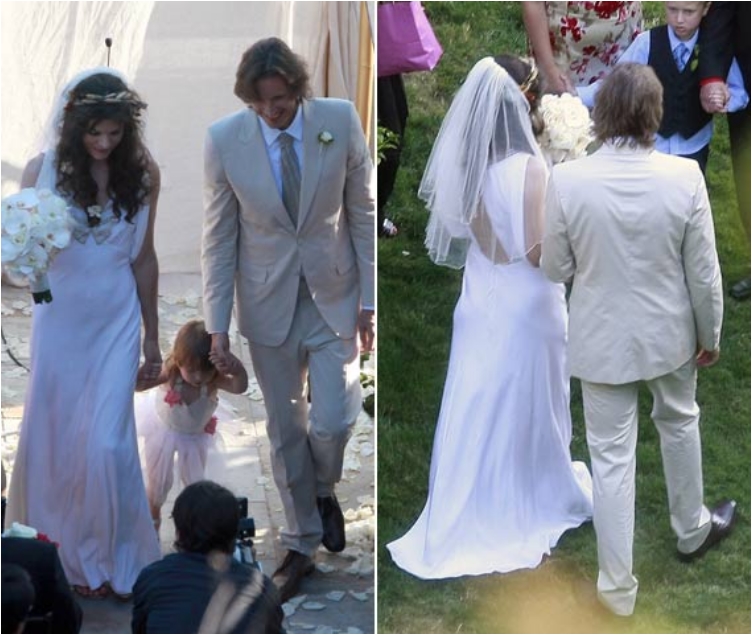 Soft, romantic, and feminine, that was the goal Milla was striving for when she hired Alice Temperley to design her dress. The actress turned model managed to pull it off, but she worked closely with Alice through the entire process.
25. Drew Barrymore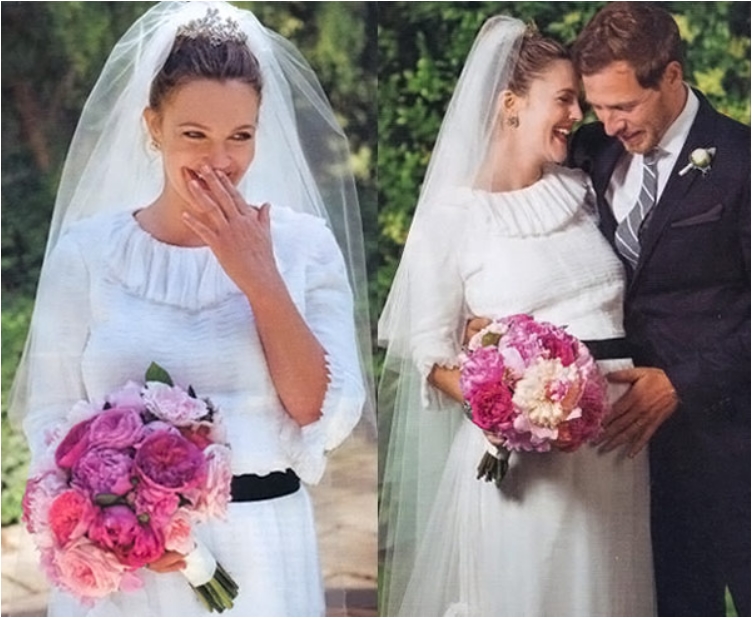 Carl Lagerfield is definitely one of the best in the fashion world, and Drew didn't hesitate to contact the Chanel designer for her big day. The designer delivered a beautiful and simple flower-embroidered dress, perfect for the romantic atmosphere of the wedding.
26. Tamera Mowry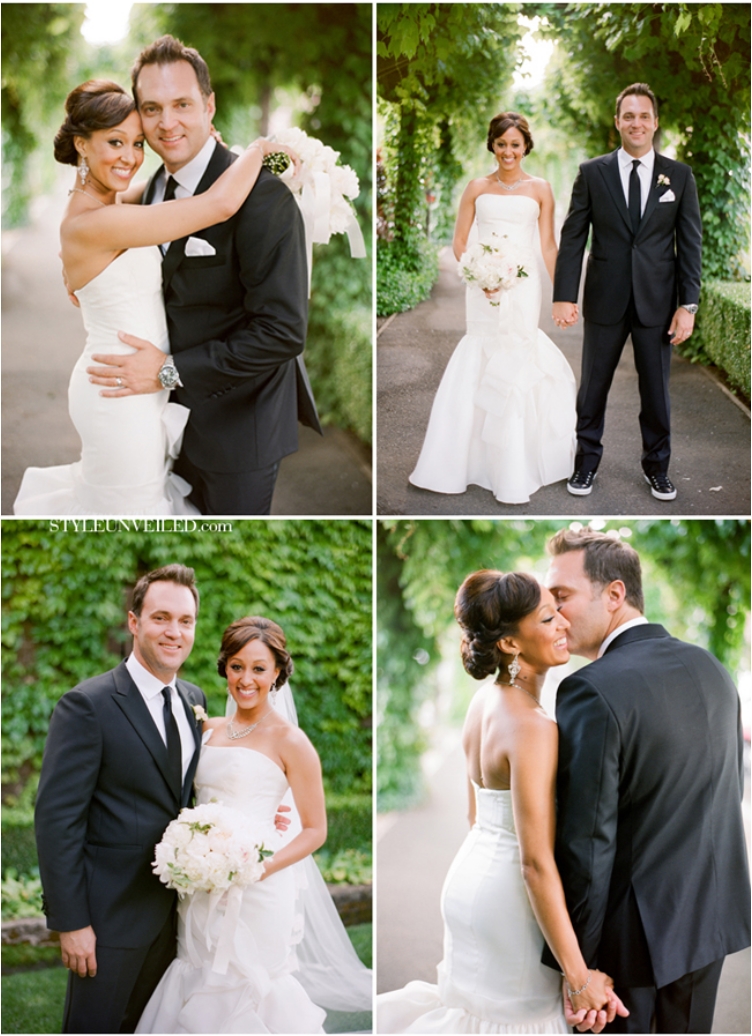 Tamara said after the wedding "I Looked pretty damn good". And we cannot argue with that. Her wedding gown by Carolina Herrera was perfect, and fit nicely with the outdoor wedding ceremony with lots of flowers.
27. Ivanka Trump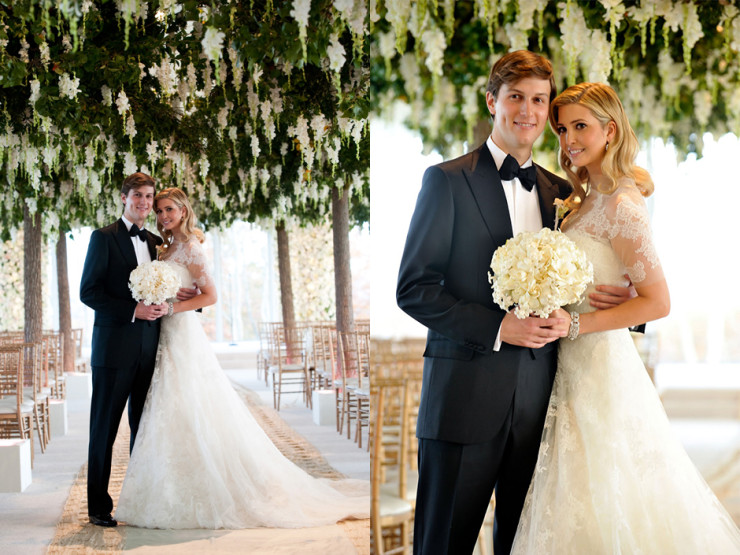 When your father is one of the richest men in the world, and you are as successful as a woman as Ivanka is, you know the dress has to be perfect. For her wedding, Trump's daughter chose a dress inspired by the great Grace Kelly. And we can safely say, she nailed it.
28. Renee Zellweger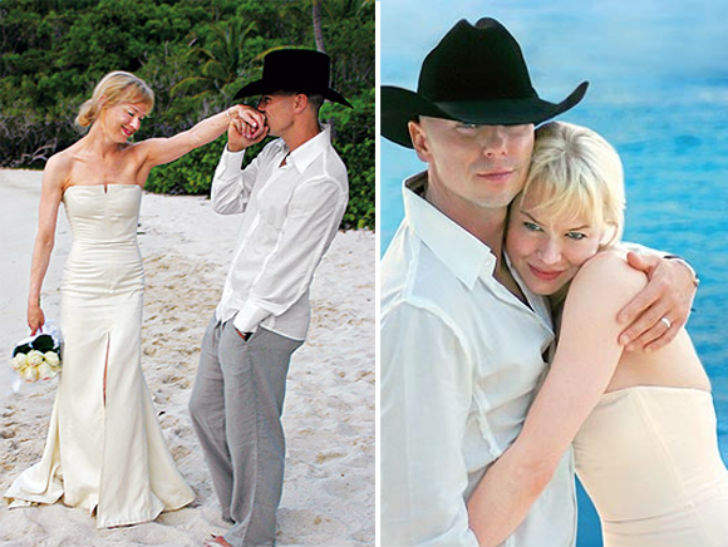 Renne has never been a flashy actress. She wants to keep things simple, yet elegant. And that was the case with her satin dress by Carolina Herrera.
29. Katherine Jenkins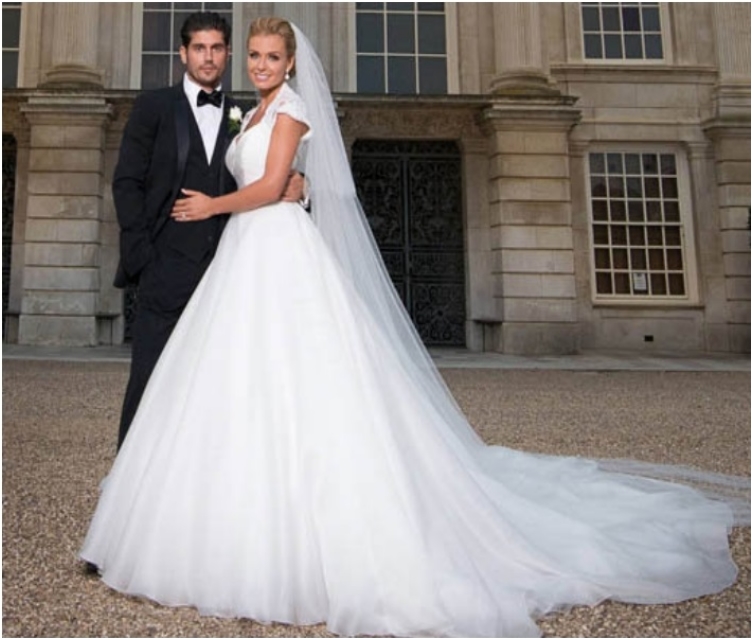 The opera singer opted for a traditional dress for her wedding. The dress was designed by Suzanne Nevilleand fit perfectly in the fairy tale wedding as the couple got married outside Hampton Court Palace.
30. Mariah Carey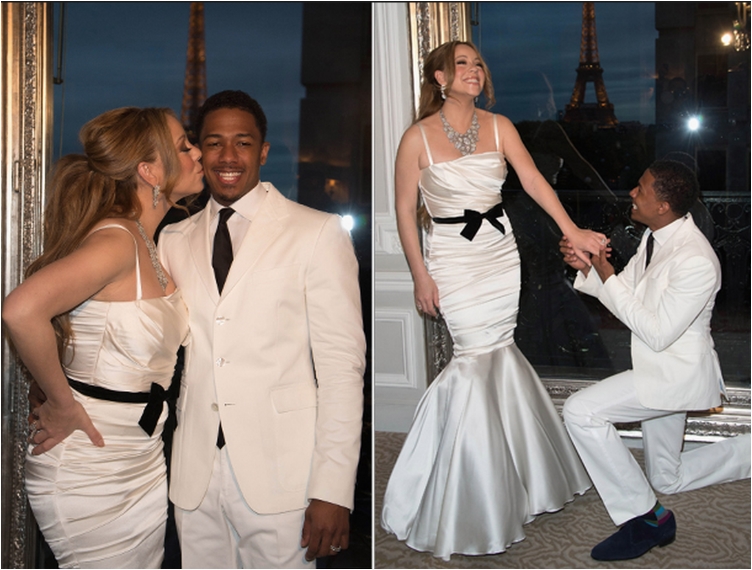 Mariah has been married three times, and every time she wore a spectacular dress. This one, in particular, is from her first wedding with Nick Cannon.
31. Kate Moss
Kate Moss and John Galliano have been friends since forever, so it was only natural she asked him to design her dress. The white vintage dress with lace veil perfectly fit her loose personality.
32. Jessica Biel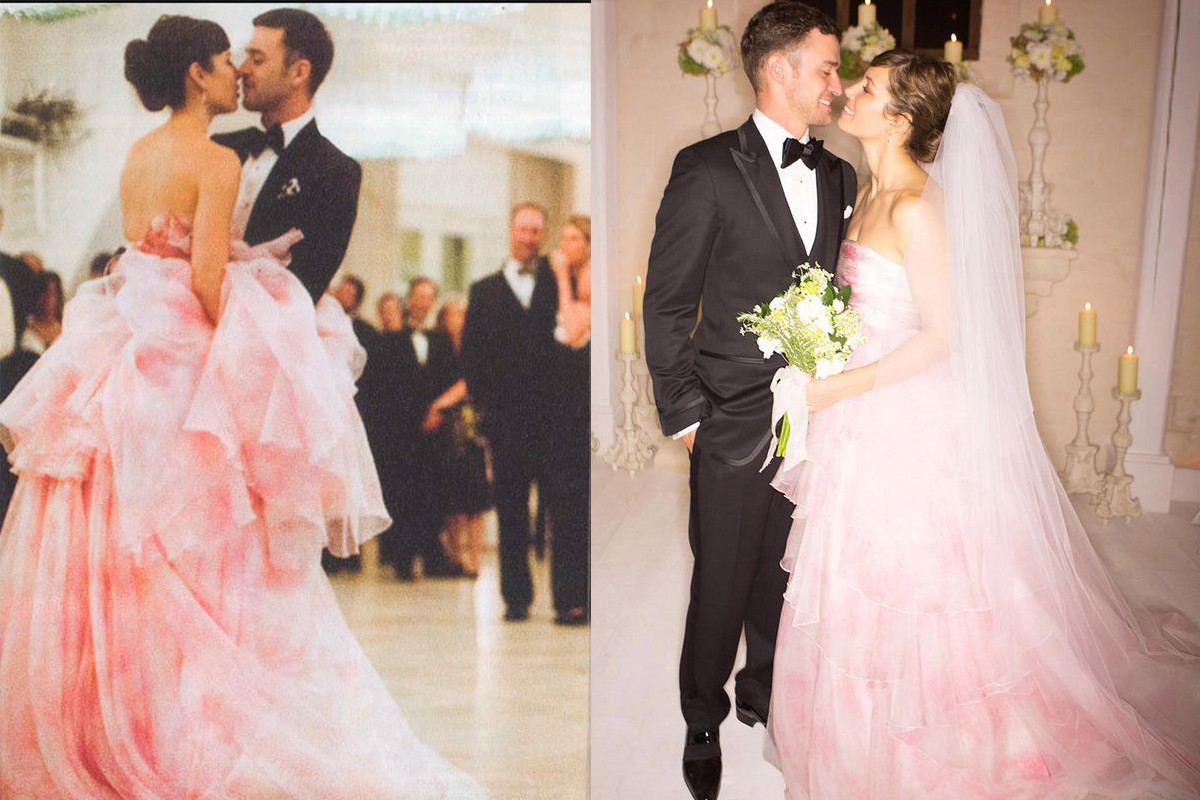 Jessica was never crazy about white wedding dresses. So she wanted something that is feminine, romantic, and a shape she rarely wears. She opted for a pink dress by Giambattista Valli. Fun fact: in 2012, pink dress was the IT trend in celebrity weddings.
33. Jessa Duggar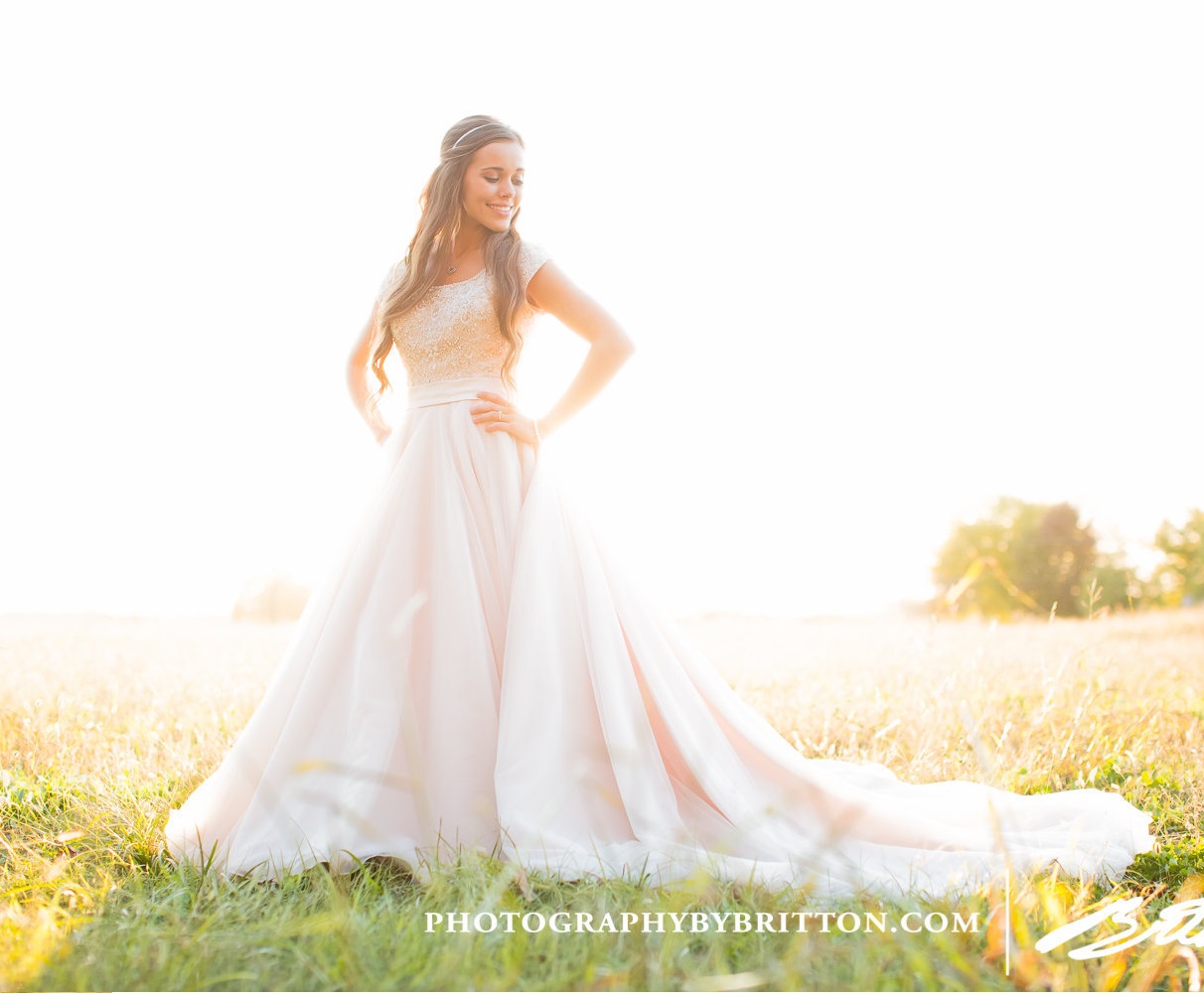 Jessa wanted something different than her sister who wore white wedding dress just few months before. So, she decided for a pink dress. It is hard to satisfy a 20+ family, but Jessa managed to do it.
34. Kate Middleton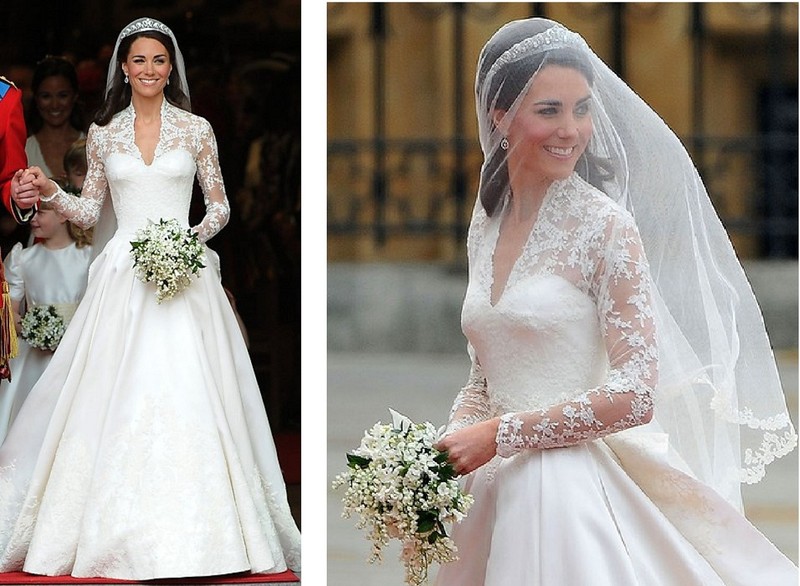 For the wedding of the century, Sarah Burton was tasked to design the dress. Sarah became head of Alexander McQueen fashion house just the year before the wedding, and many were surprised that Kate was confident to let Burton create the dress. While many expected Valentino or Vera Wang, the Duchess opted for Sarah, and she didn't make a mistake.
35. Megan Wollover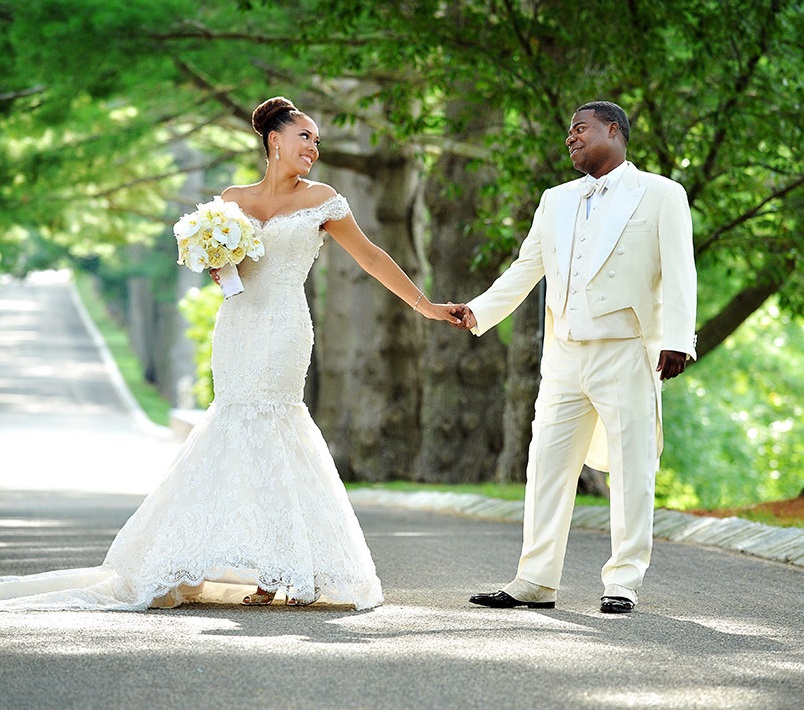 Megan wore Ines Di Santo gown for the ceremony, but then changed into another dress for the reception. And even the groom wore white, which is rare for a wedding. But their wedding was perfect, even though the couple had hard time getting there with everything that happened the year before.
36. Reese Witherspoon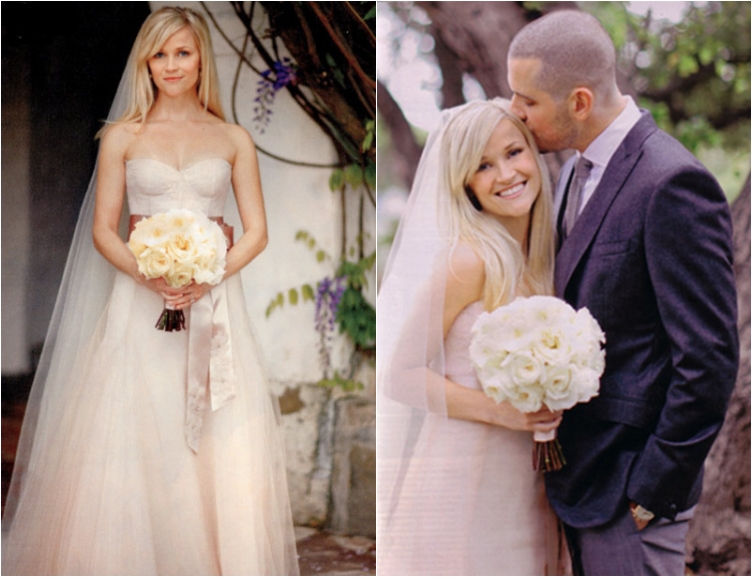 Some say it was Reese who started the pink wedding dress trend in Hollywood. No matter if that is true or not, she looked like a princess in a Monique Lhuillier wedding gown.
37. Kaley Cuoco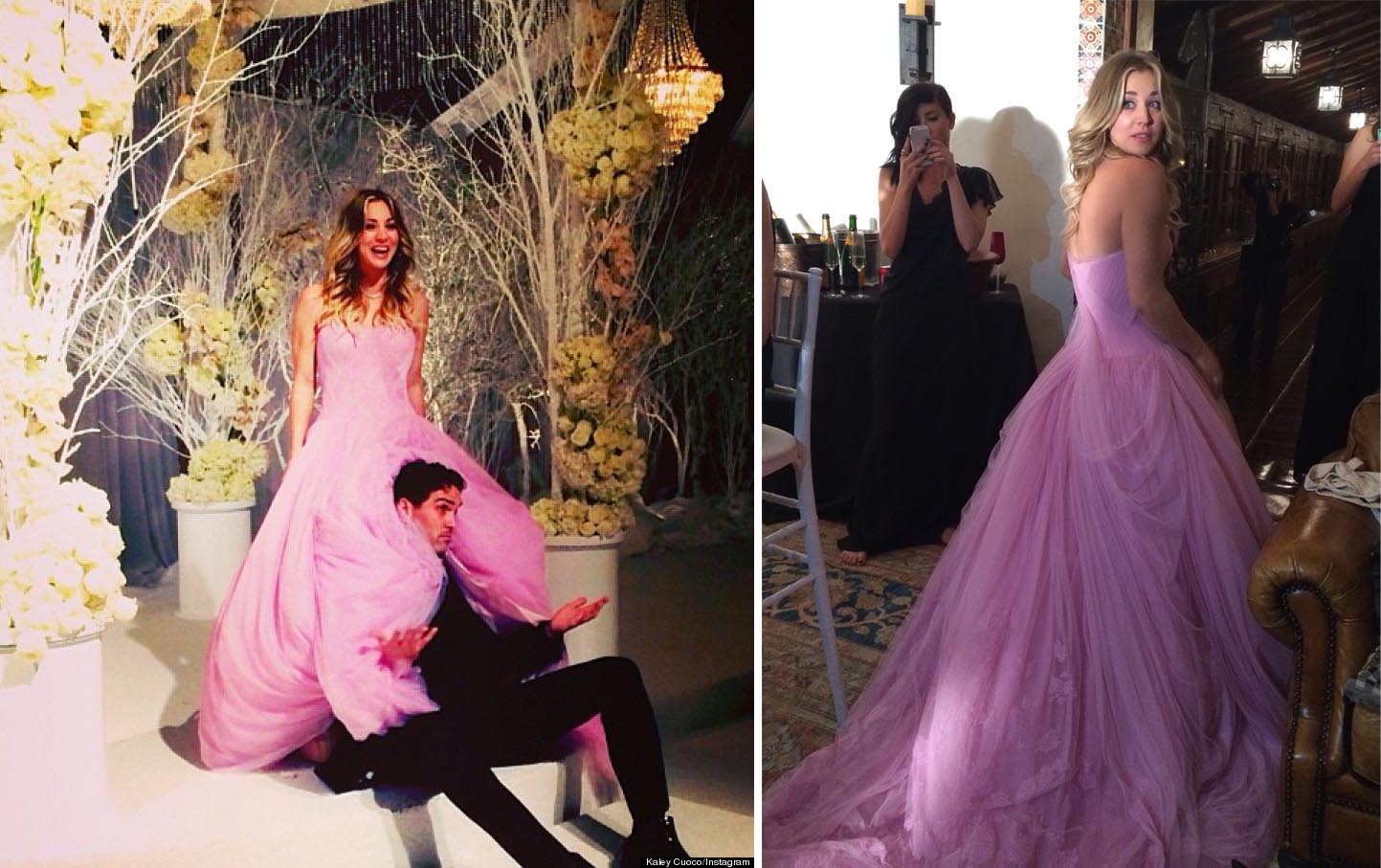 Kaley's wedding dress lasted more than her marriage. Just months after the wedding, she got to wear the beautiful Vera Wang gown for filming a movie, "The Wedding Ringer". Sadly, her marriage ended just one year later.
38. Lauren Conrad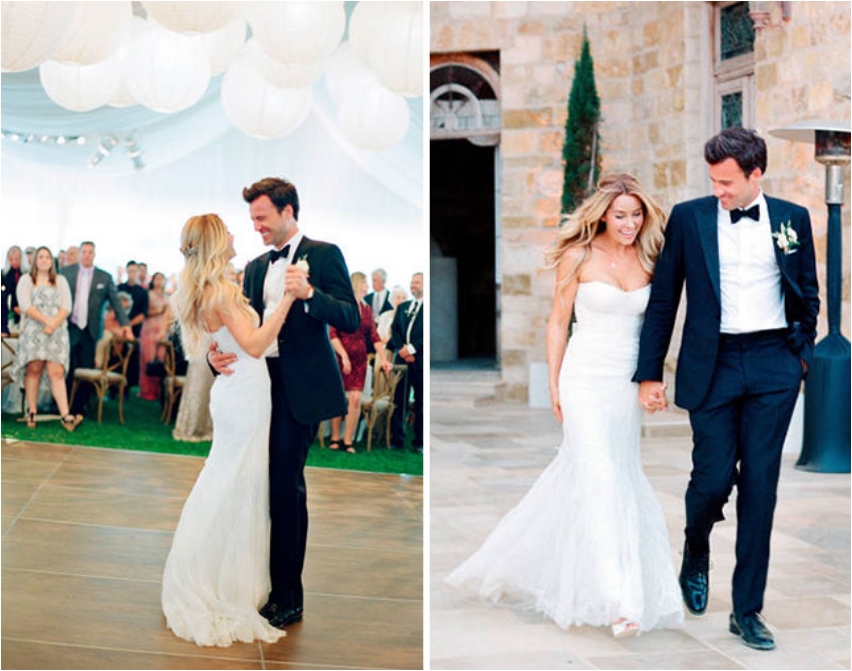 Lauren is a fashion designer as well, and you don't expect someone from the fashion world to have just one wedding gown. Her wedding gown was designed by Badgley Mischka, but she also had a Monique Lhuillier dress for the reception.
39. Hilary Duff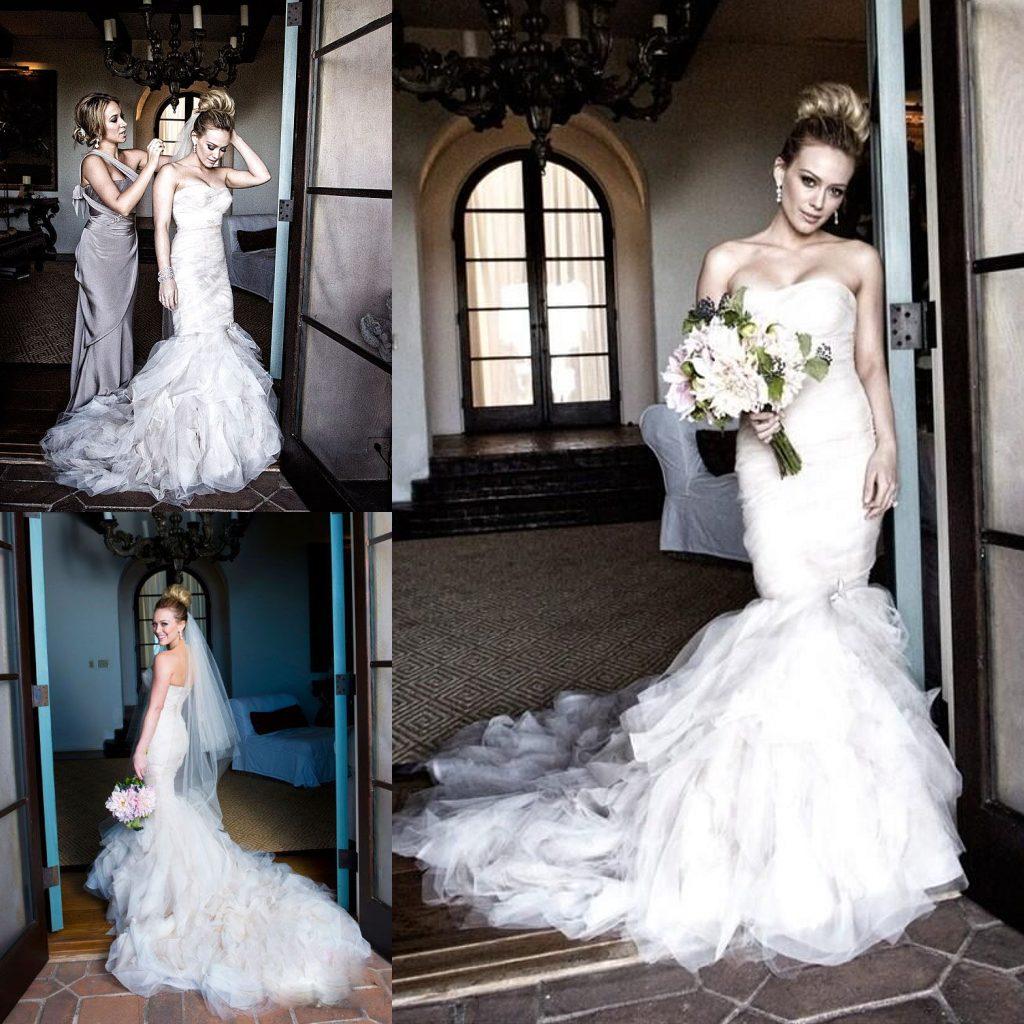 Her mermaid style wedding gown has been copied several times after the wedding. And you can expect as much when you get a beautiful dress by Vera Wang.
40. Kate Bosworth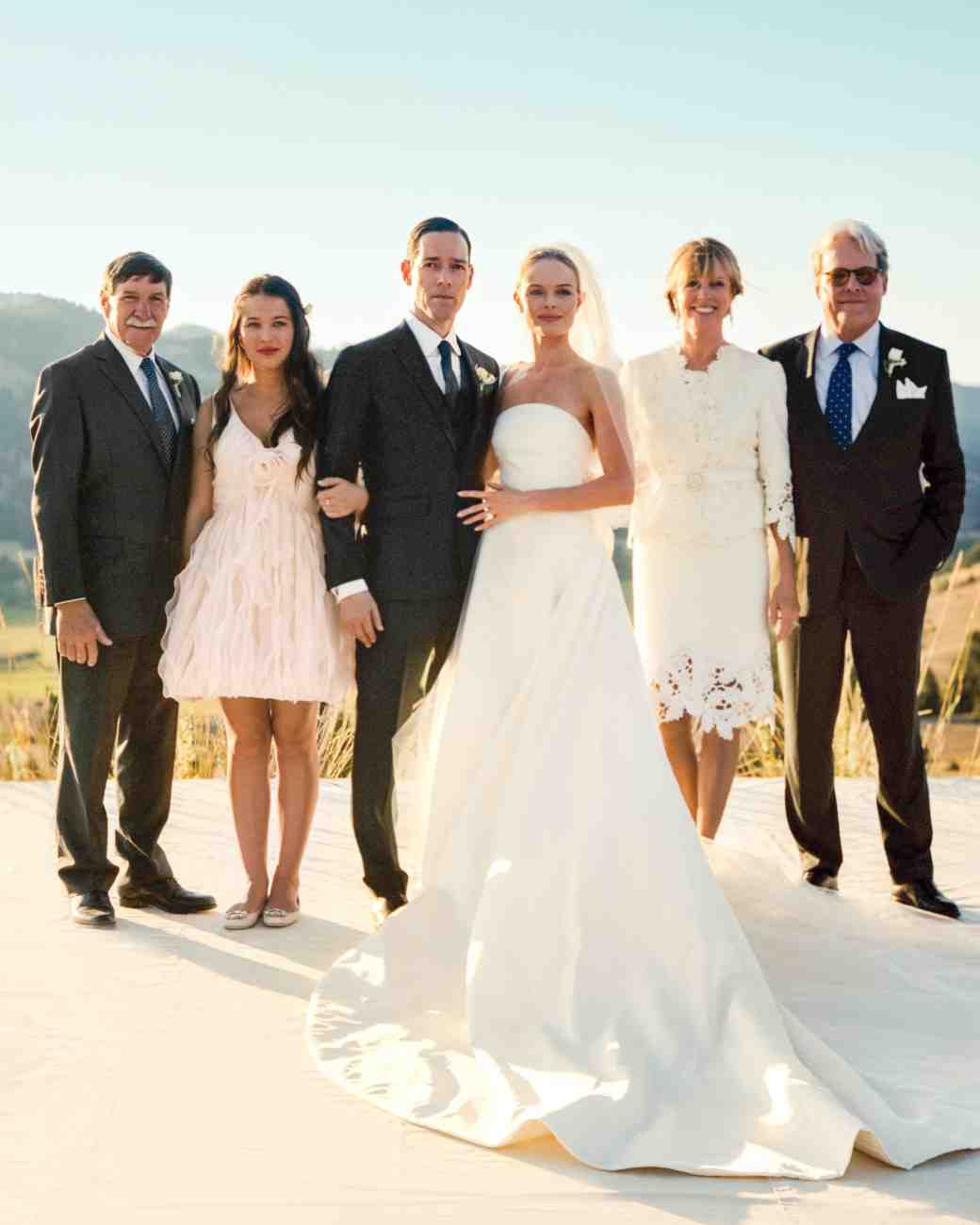 Kate is one of the most loved and best dressed people in the fashion industry, and for her big day she opted for a custom Oscar de la Renta wedding gown. She actually got two dresses, and one of them is archived. Kate said that Oscar really knows how to make a woman "feel beautiful".
41. Chelsea Clinton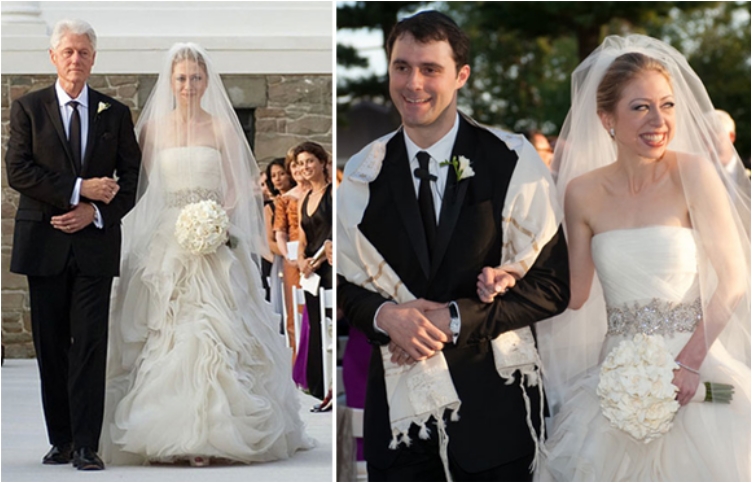 Vera Wang designed this strapless dress which had a number of yards of ivory silk, with tulle pleated on the bodice. Silvery embroidered waistband completed the dress.
42. Nicole Richie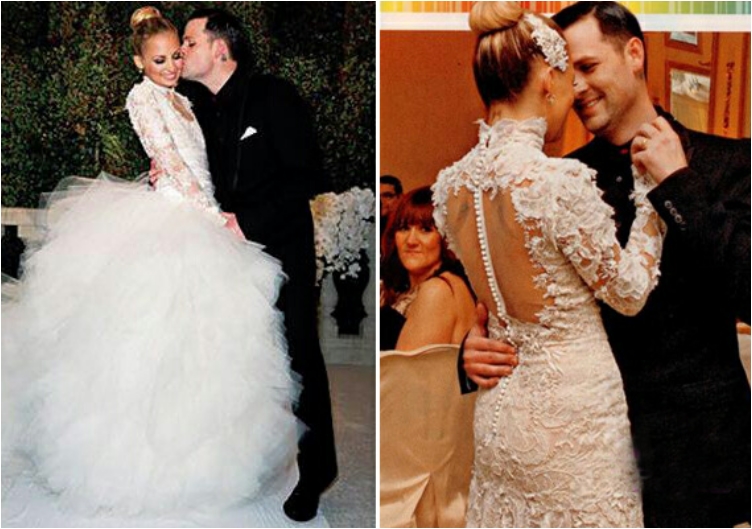 Nicole's wedding dress looked like it came from a Disney fairy tale. We can safely say that there is not a woman alive that wouldn't love to wear that on her wedding. But Nicole got the chance to show her Marchessa wedding gown inspired by Grace Kelly. She also got two more gowns by Marchesa for the reception and the party.
43. Keira Knightley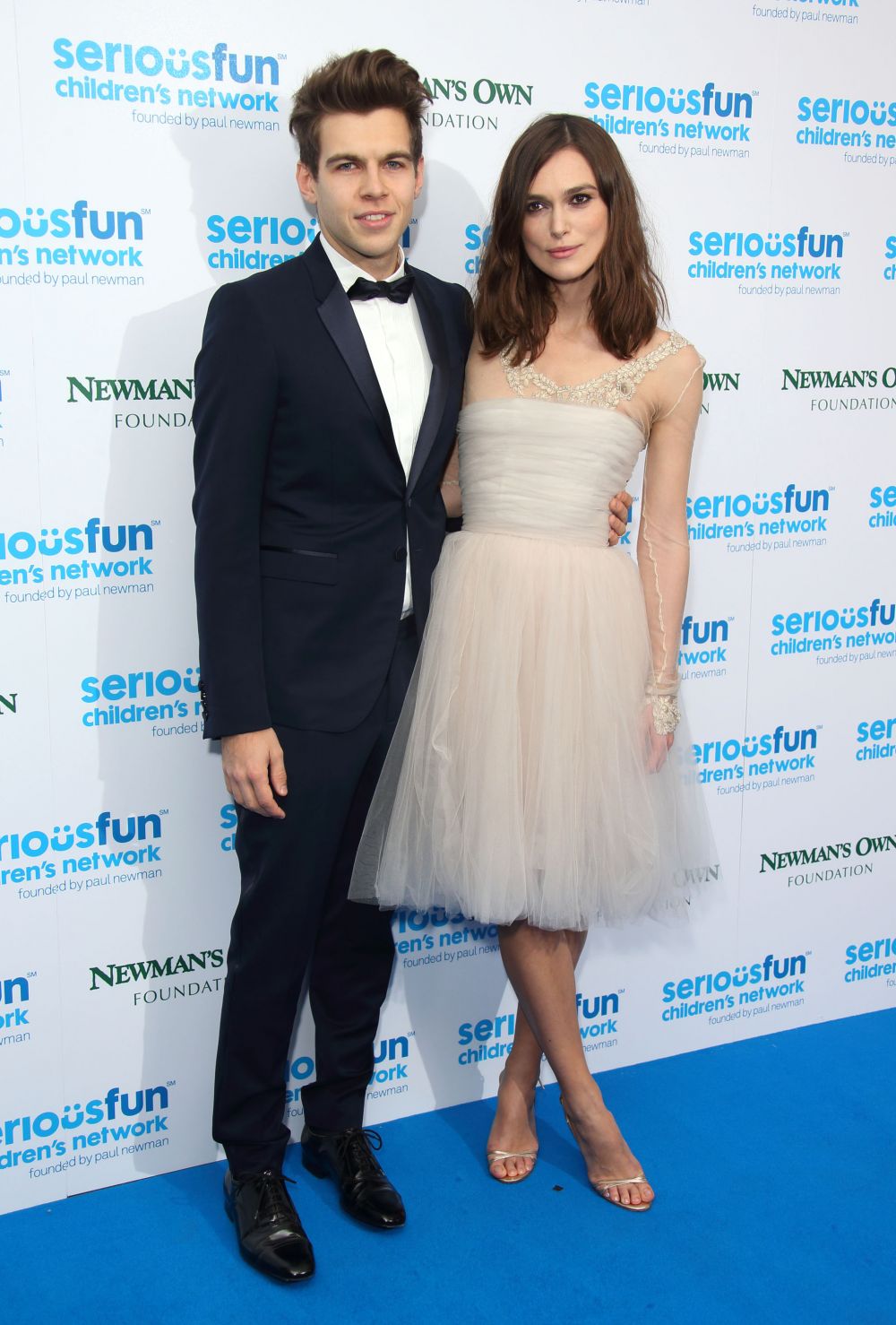 Keira was slammed for wearing a wedding dress she already wore previously. Her pink tulle dress by Chanel has previously seen the light of the day. And she wore it three more times after the wedding. But in an interview, the actress said she also had a custom Valentino gown for a secret ceremony. Of course, nobody has seen that gown since it was secret.
44. Angelina Jolie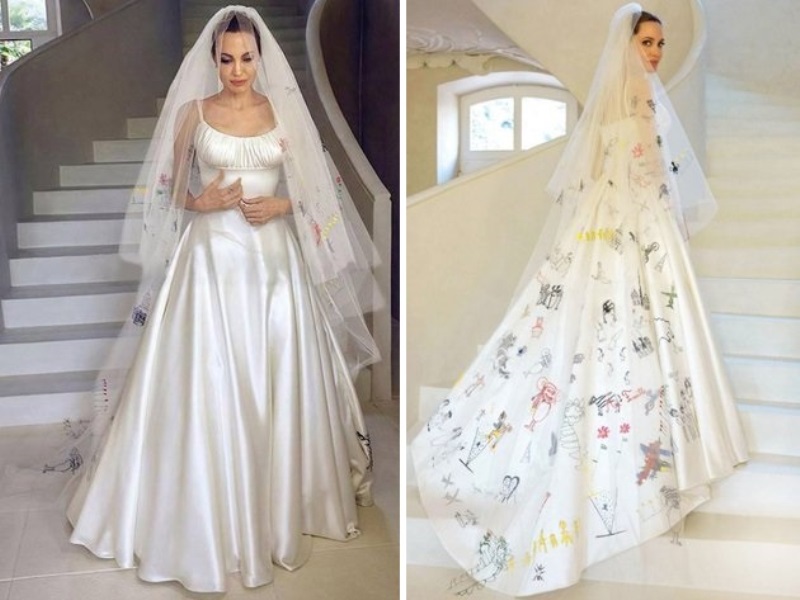 Brad Pitt and Angelina Jolie already had a few children before getting married. And the couple said they will get married once their children ask them to. So, for the ceremony, Jolie let her children design the gown. All of the pictures by her children were included in the simple satin gown by Versace.
45. Kelly Clarkson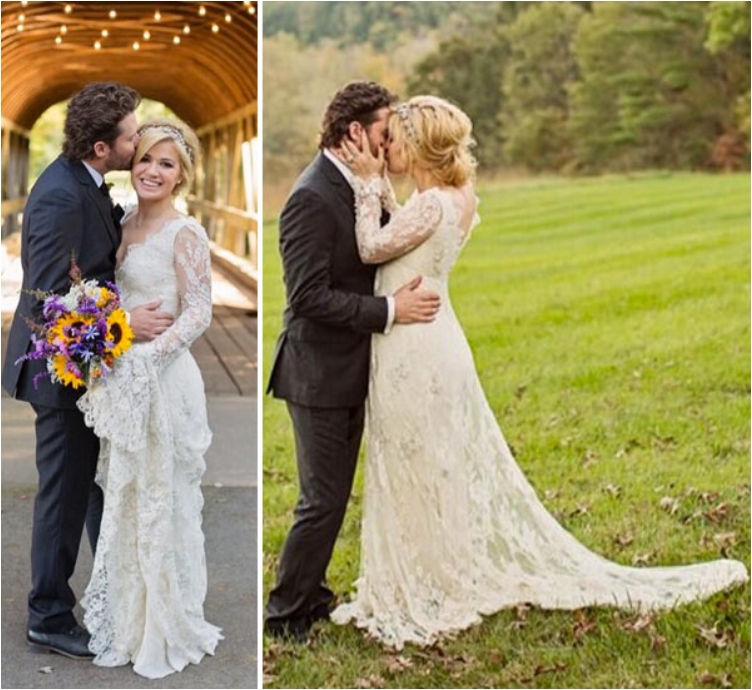 Clarkson wore Marchesa and Monique Lhuillier dress for the wedding photos, but then for the wedding itself, she chose a dress from Temperley, a London based fashion brand by Alice Temperley. She actually chose one of the dresses from the wedding collection, which is odd for a celebrity not to have custom made dress.
46. Christina Ricci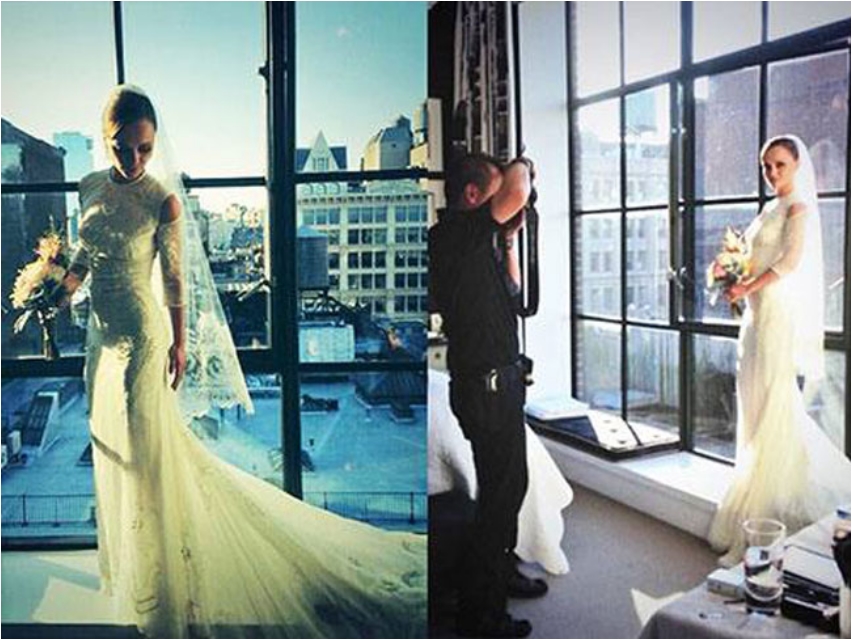 The dress Riccardo Tisci made for the child star was made from silk tulle, with elbow-length sleeves and unusual cut-out shoulders.