It is not easy being a parent. While it is one of the most rewarding experiences in life, it can also be one of the most challenging ones. That doesn't mean you should quit being a parent. Quite the contrary, there is nothing more fulfilling than having a baby. But, in order to make it easier for you, I've decided to share some parenting tips and tricks, just so you can enjoy your little baby, but also your life as well.
1. Feeding a baby can be messy. Attach a sticky hook to the back of a high chair to hang a few bibs so you never go without one.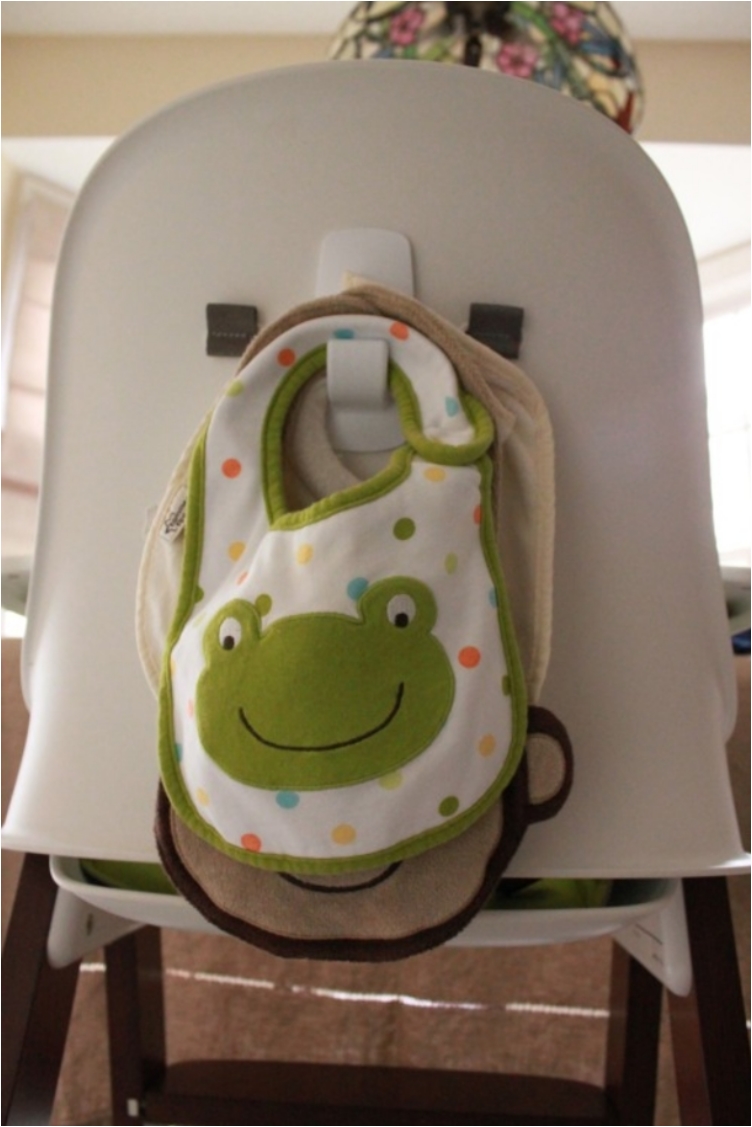 Babies throw up, they spit their food and truth be told, they can make quite the mess. I am a huge believed in being ready and prepared, so my advice for you: be prepared to feed your baby everywhere, anytime, by attaching some bibs to make sure your baby doesn't make a mess while eating.
2. When bath-time comes, keep the toys at your baby's reach at all times by placing the baby and the toys in a laundry basket and in the tub.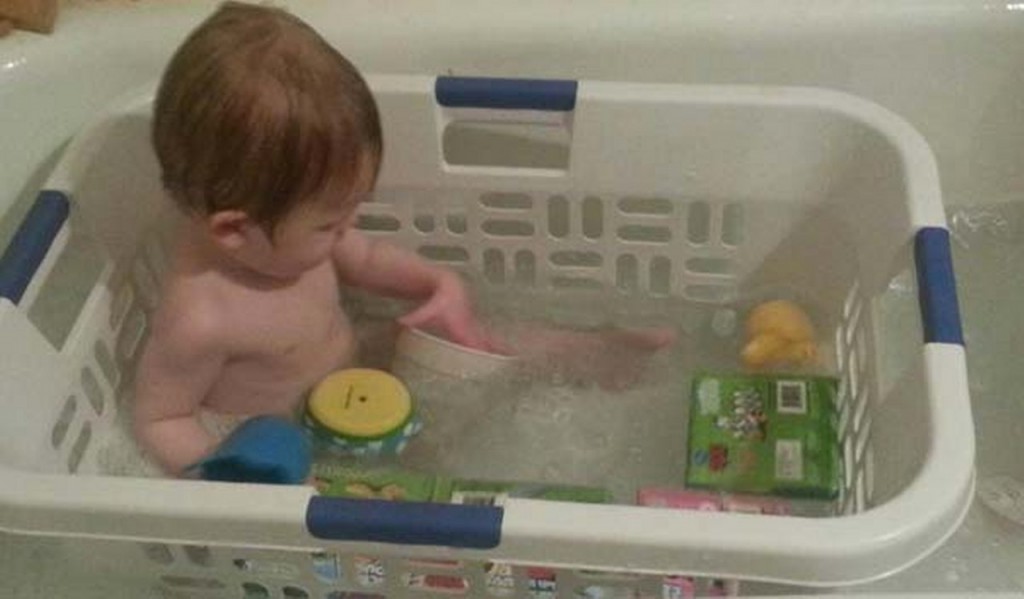 Toddlers love their toys. And when they are in their arms reach, they can get nervous and roam around the bath. But, if you place the toys in their arms reach, your baby will sit quietly and peacefully through the bath. And that is more  than we can ask for.
3. The little folds on infants' onesies serve to help you slip the whole thing down over their shoulders and off their legs if they have a diaper blowout, and the onesie is covered in poop. That way you don't have to pull the dirty shirt over the child's head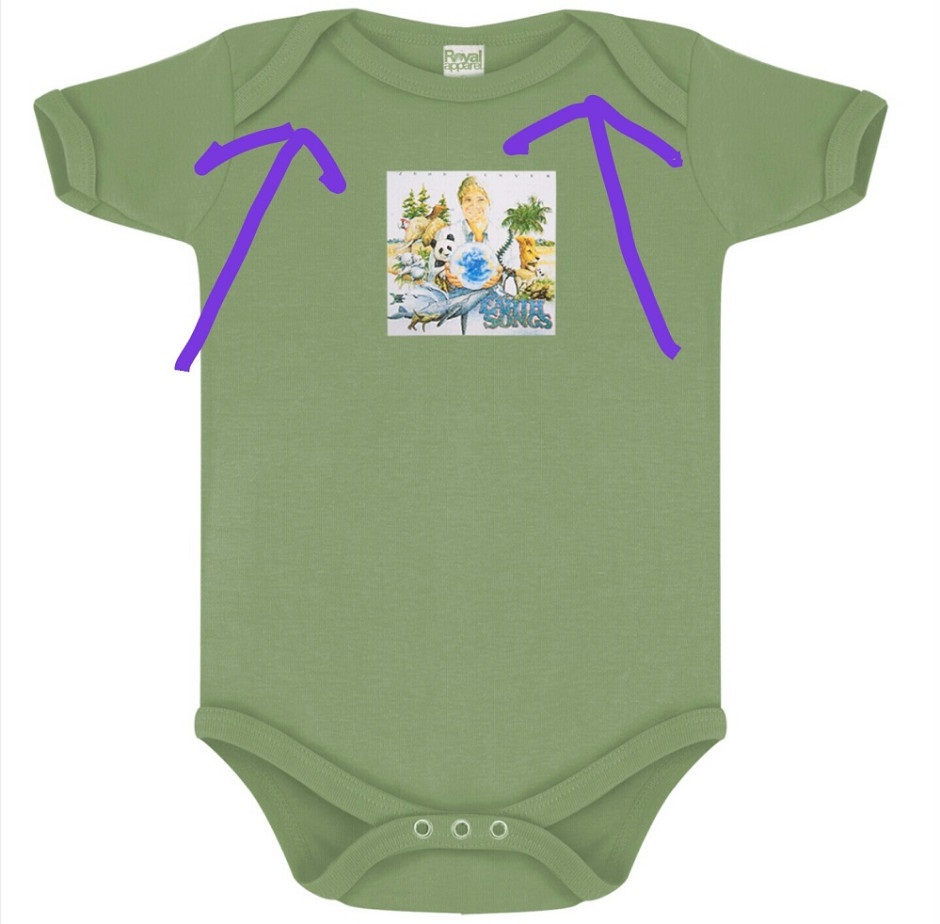 I am sure most of you already know this, but in case you didn't know by now, the mystery is now resolved. We all want clean babies. Who would like pulling a dirty shirt over our baby's head? Nobody!
4. Having trouble giving your baby medication? Snip a small hole in the pacifier and give the medicine through the hole.
Let's be honest, we all lie to our children. One way or another. But we do that in our baby's best interest. I remember my mother telling me there was no onion/garlic in my meals up until I was like 20 years old. I hated the taste, but my mother always found a way to feed me some healthy veggies. The same applies for medicine. Most babies are resentful towards medicine, but you can trick them into.
5. Prevent mold in bath toys by gluing up their holes before putting them in the bathtub.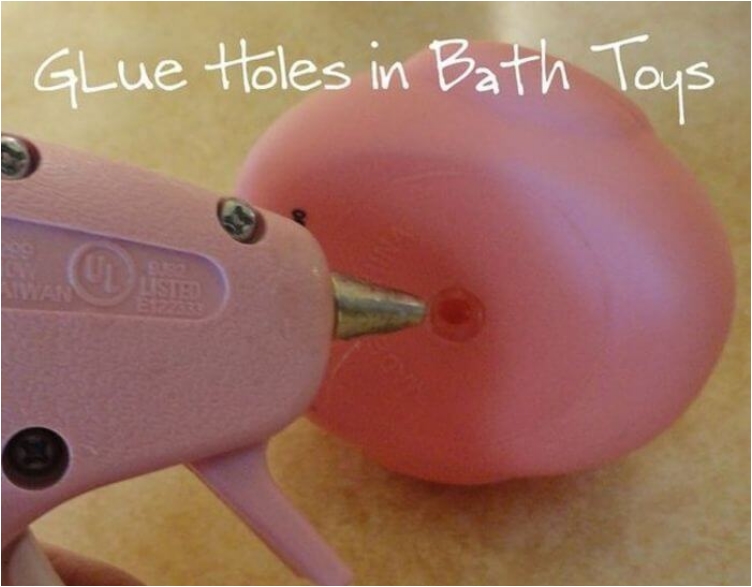 Toys don't last long because of mold. But even though your baby will outgrow most toys rather quickly, you want to save yourself some money by preserving toys in best shape possible. Case in point, toys in bath.
6. If the faucet is too far away for your child to wash his hands alone, use a faucet extender. You can buy one or make one from an old shampoo bottle. See instructions here.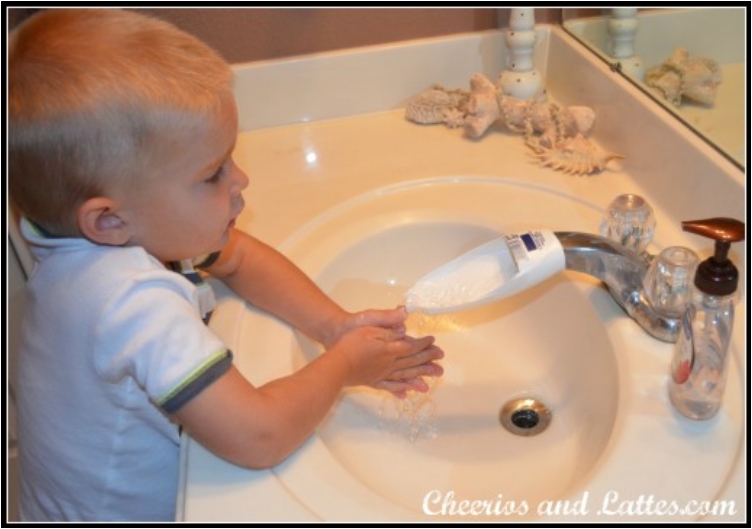 After your baby has two or three years, it is time to let them wash their hands on their self. But most kids do not reach the faucet, which in turn forces us to lift them up, and put them closer to the faucet. I am not saying that is bad, but we need to teach our kids to do things on their own. The sooner, the better. That being said, it is up to us to make it possible.
7. Keep your toddler occupied and hone his fine motor skills at the same time by cutting up pieces of fabric and placing them in an empty wipes container. Have your toddler pull the scraps out and then put them back in.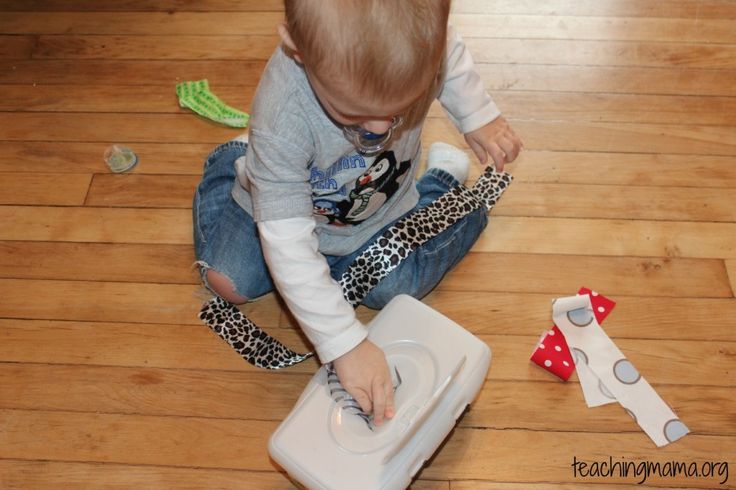 This is just one of the many ways you can keep your children occupied, home-made style. Some toddlers are more active than others, and no matter how hard you try, they will always have extra energy for romping and roaming around the house. This is one way I can help you.
8. No more slippery socks on the wooden floor. Just apply some puffy fabric paint to the soles of the socks and you're done.
There are many ways to make slippery socks not slip, and this is one of those. Don't worry about the paint, it won't stick on your wooden floor.
9. Make this woven wrap hammock and your toddler will have a nice and cozy place to hand and snuggle. See instructions here.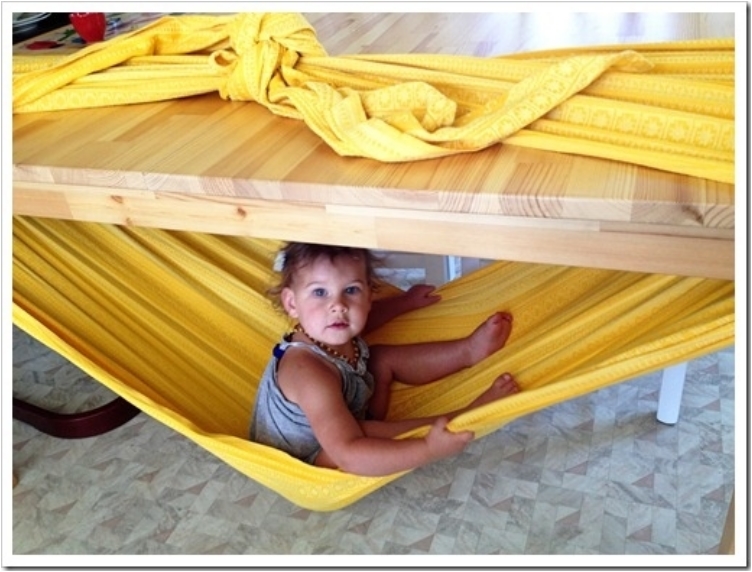 Some toddlers are extra active, others love to rest and enjoy themselves. If your toddler is in the latter group, he/she will love the hammock you'll make for him/her. Bonus points: you can even allow your toddler to help you in the construction process. As they say, "involve me and I'll learn".
10. Artistic kids are painting up the walls? Get yourself a cardboard box big enough for a child to fit in and give them some crayons. Your kids will have a field day, and your walls will be scribble free.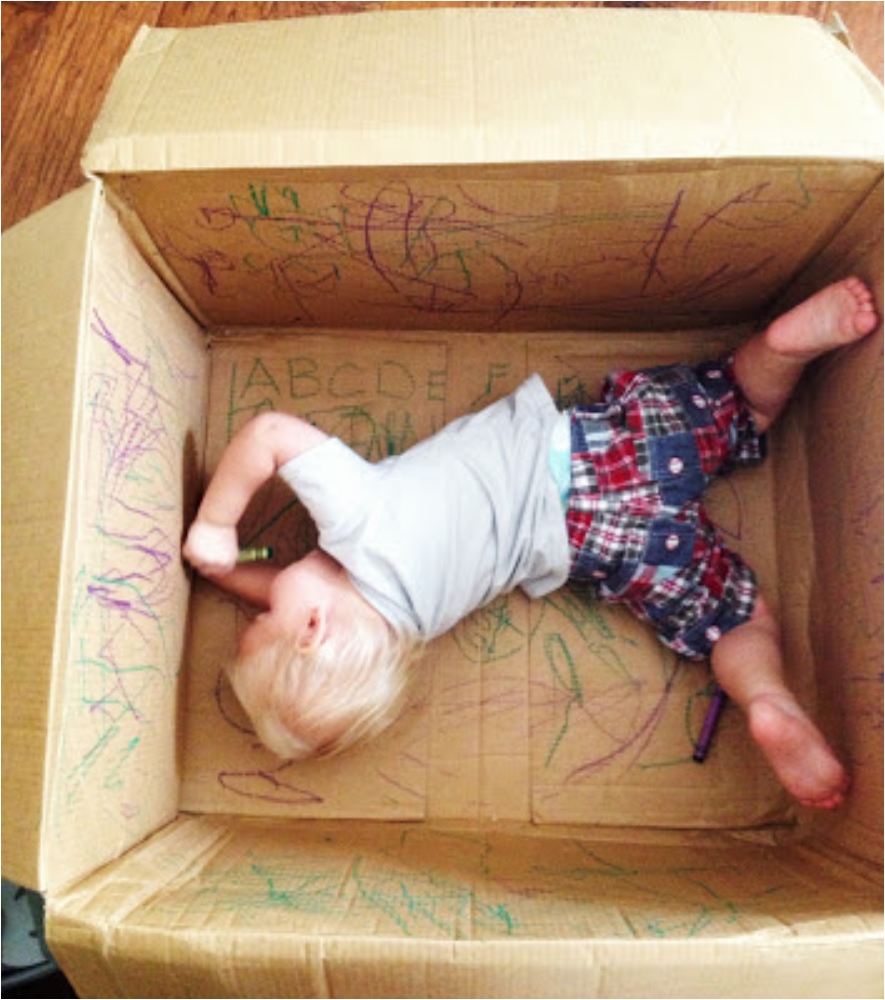 Well, we are now getting to the artistic group of toddlers. We've had the active one, we've had the lazy sleep all day ones, and now we are up to the artistic. You'll definitely save some money on painting this way. Instead of painting the walls two times per year since your toddler has scribbled all over them. And the best part is, your kid will be happy.
11. Limit how much soap your kids squeeze from the soap dispenser by twisting rubber bands around the pump nozzle.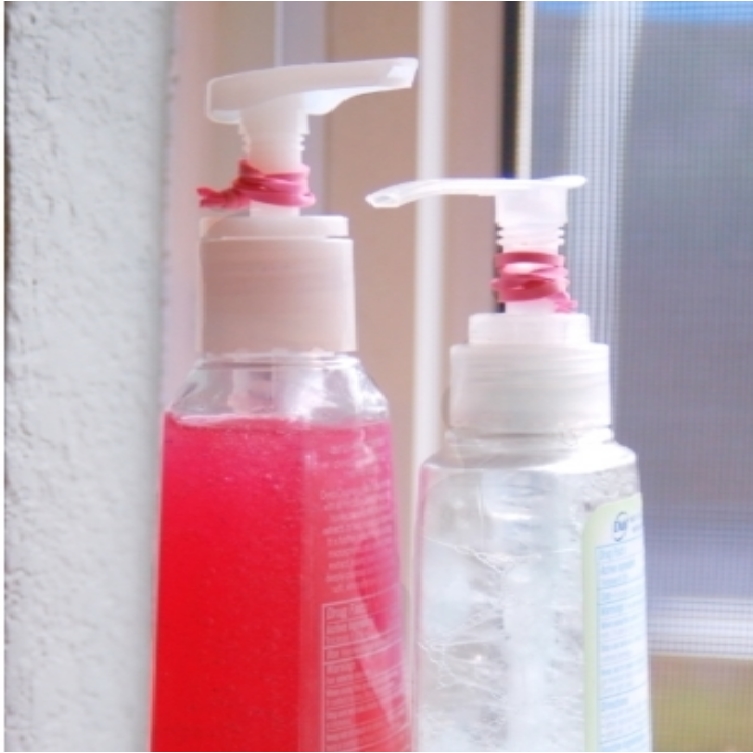 Look, it is not like we want to save and be cheap on soap. But the reality is that kids have no feeling or measure on how hard they press the soap dispenser. They just hit it. And they end up with excess soap, which usually ends up on the floor and on the walls. This way, you prevent that, and you save some soap in the process. I am never cheap, but sometimes you need to save. For the good of both you, and your toddler's safe.
12. An inflatable indoor pool makes a great and more affordable alternative to a playpen. It's safe and way more bouncy.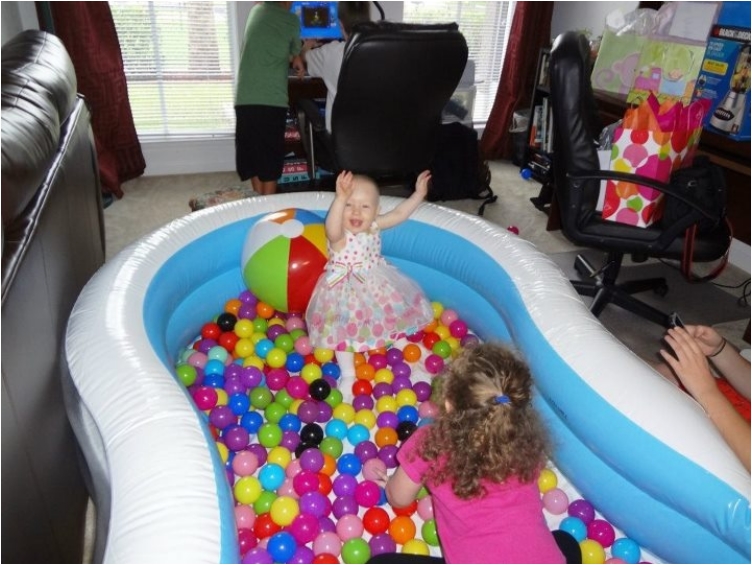 You accomplish two things: first and foremost, your toddler's toys are in one place, they are not flying around the house. And second, and maybe more important, you can leave your kid to play while you are doing something else, having a minute for yourself to take a breath for example.
13. Freezing pacifiers in milk or juice are a great way to soothe a teething baby. See how you can make them here.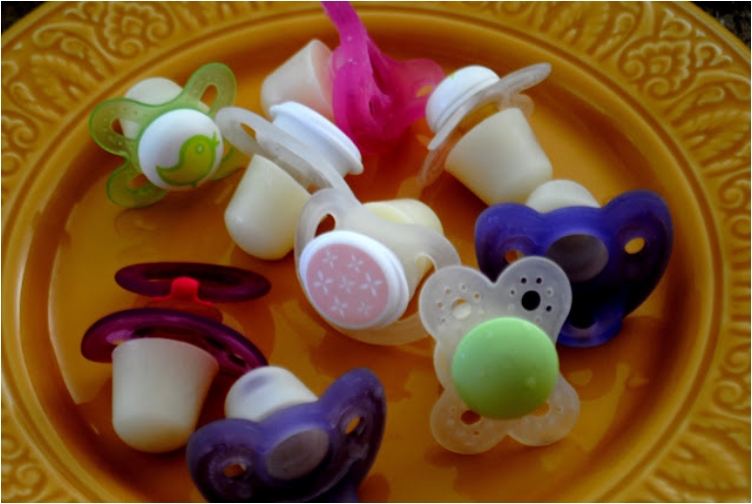 Teething is a painful process for both your baby and yourself. Your baby is feeling the pain, but because he/she is crying all the time, you are feeling it as well. This won't eliminate the pain all together, but it will reduce it well enough so your baby stops crying.
14. A crib sheet on top of a playpen keeps bugs out in summertime and provide extra shade.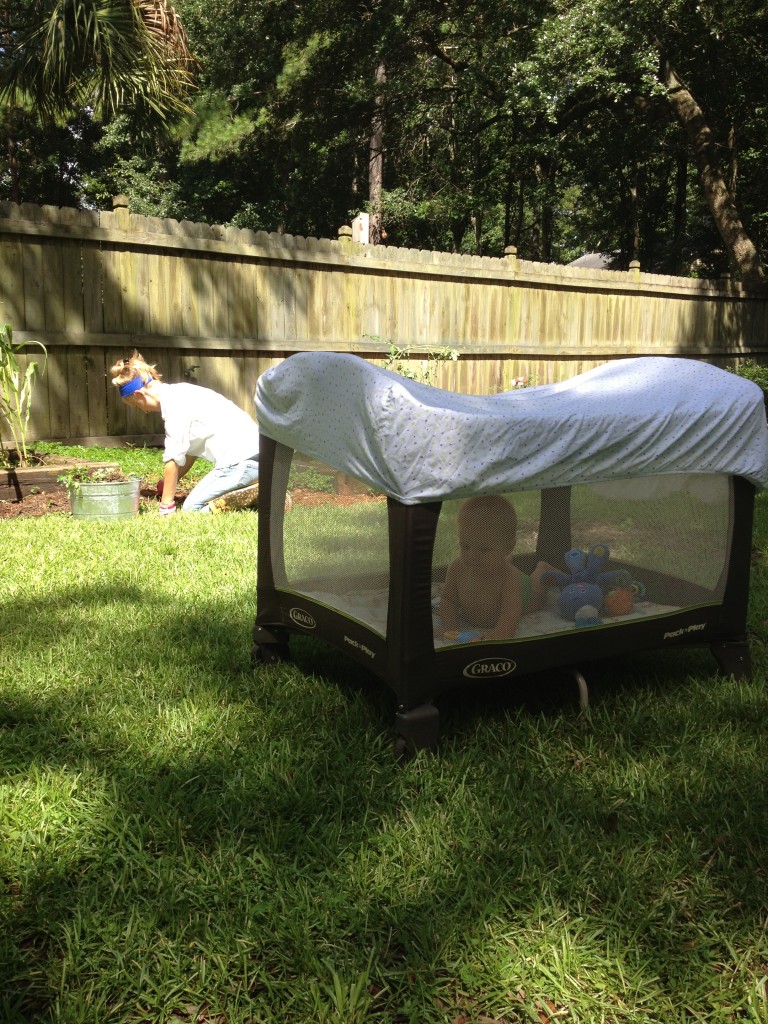 Two of the biggest fears parents have during the summer days are: sun exposure can be harmful for your baby, and god forbid some insect bites your baby. This way, you eliminate both those dangers with just one simple move.
15. Slice a pool noodle in half, and slide onto the edge of a door to prevent trapped fingers.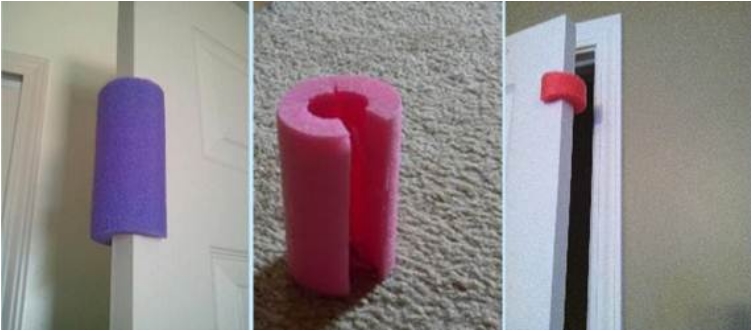 Accidents happen, they are part of life. But we can prevent many accidents, and one of the most common accidents in the home is trapped fingers. Children are not as careful as we are, and they can often trap their fingers when they are closing the doors. What follows is loud crying and screaming, and all that can be prevented with one simple trick.
16. Child coughing through the night? Gently rub some vapor rub on the child's feet and put socks over them before bedtime. The coughing will subside significantly by the morning.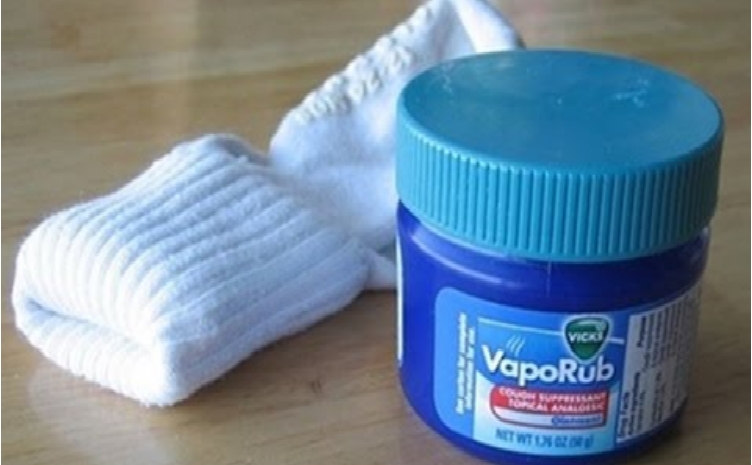 I remember even my mother used this trick when I was little. I must admit, I wasn't fond of it, but it helped. And I am sure your children might not love the idea of vapor rub on their feet, but they will appreciate the next day and when they get older.
17. Started potty-training? Put a coffee filter in the potty and you've got a quick and easy way to clean up poo.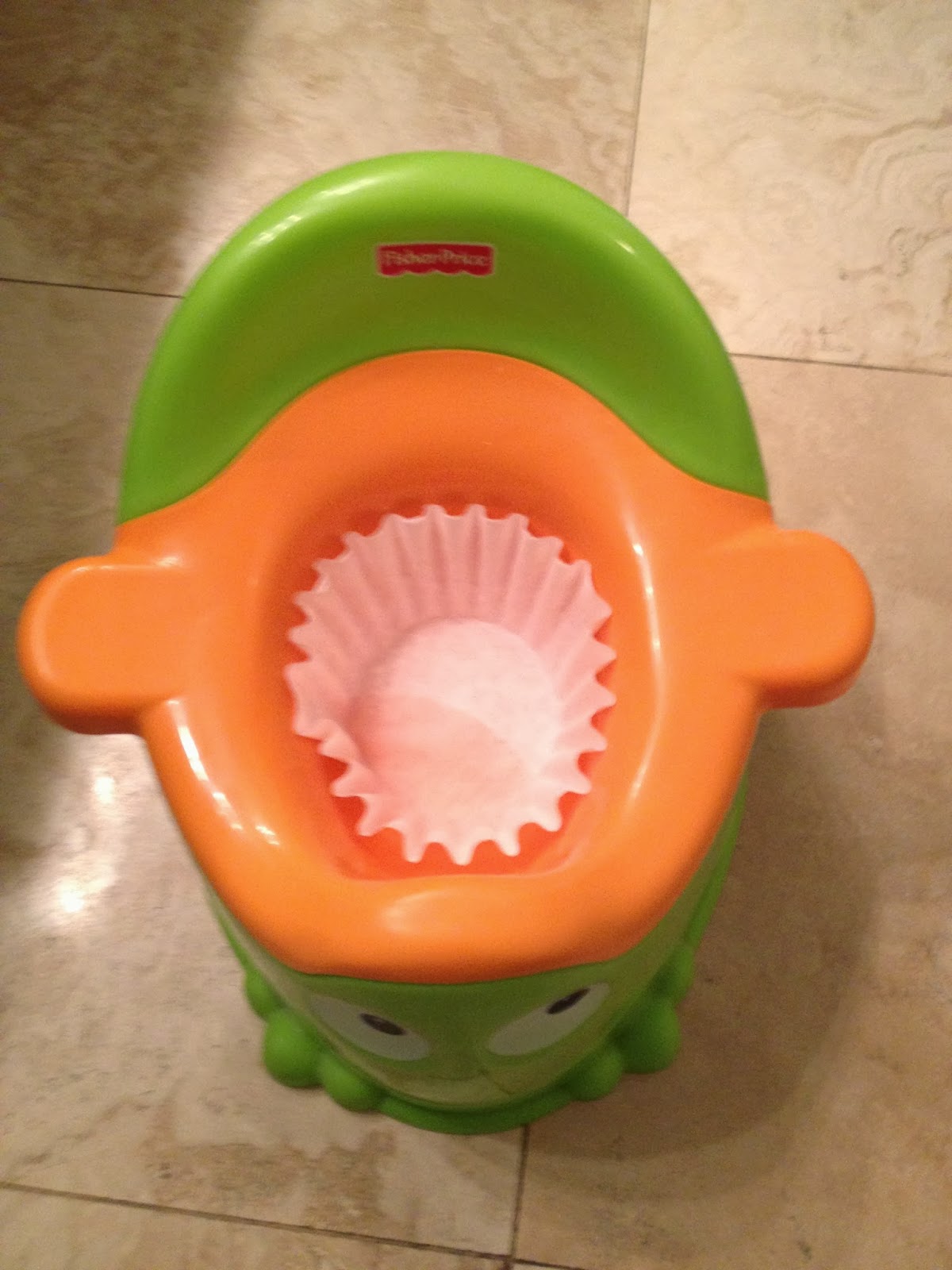 Cleaning after our kids can be overwhelming. What we can do is make life easier. And for potty training, a coffee filter will keep the potty clean and your free time intact.
18. Make your trampoline safer by replacing the old worn out pads on the springs with pool noodles. See instructions here.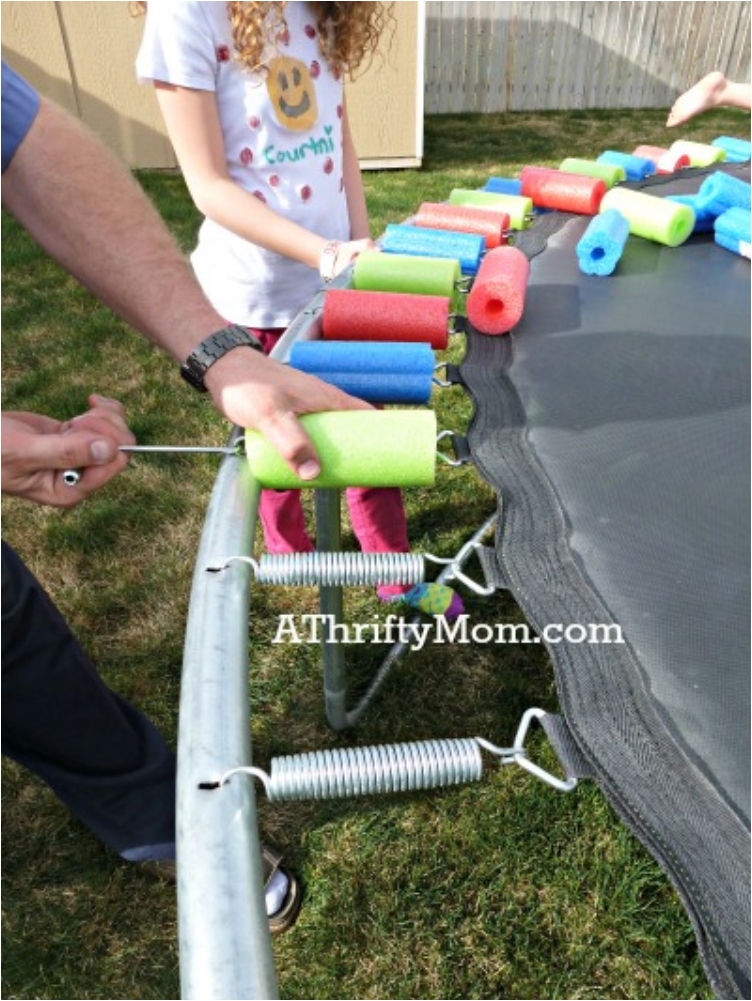 Trampoline springs have an expiry date. We often overlook this, thinking that our trampoline will last forever. But that is not the case, and it might crack at the worst possible time, just as your kids are jumping up and down the trampoline. What you can do is make it safer. We all try to make the life of our kids safer at all times, and this is another trick to achieve that.
19. Baby-proof your drawers by placing a large ruler over the handles.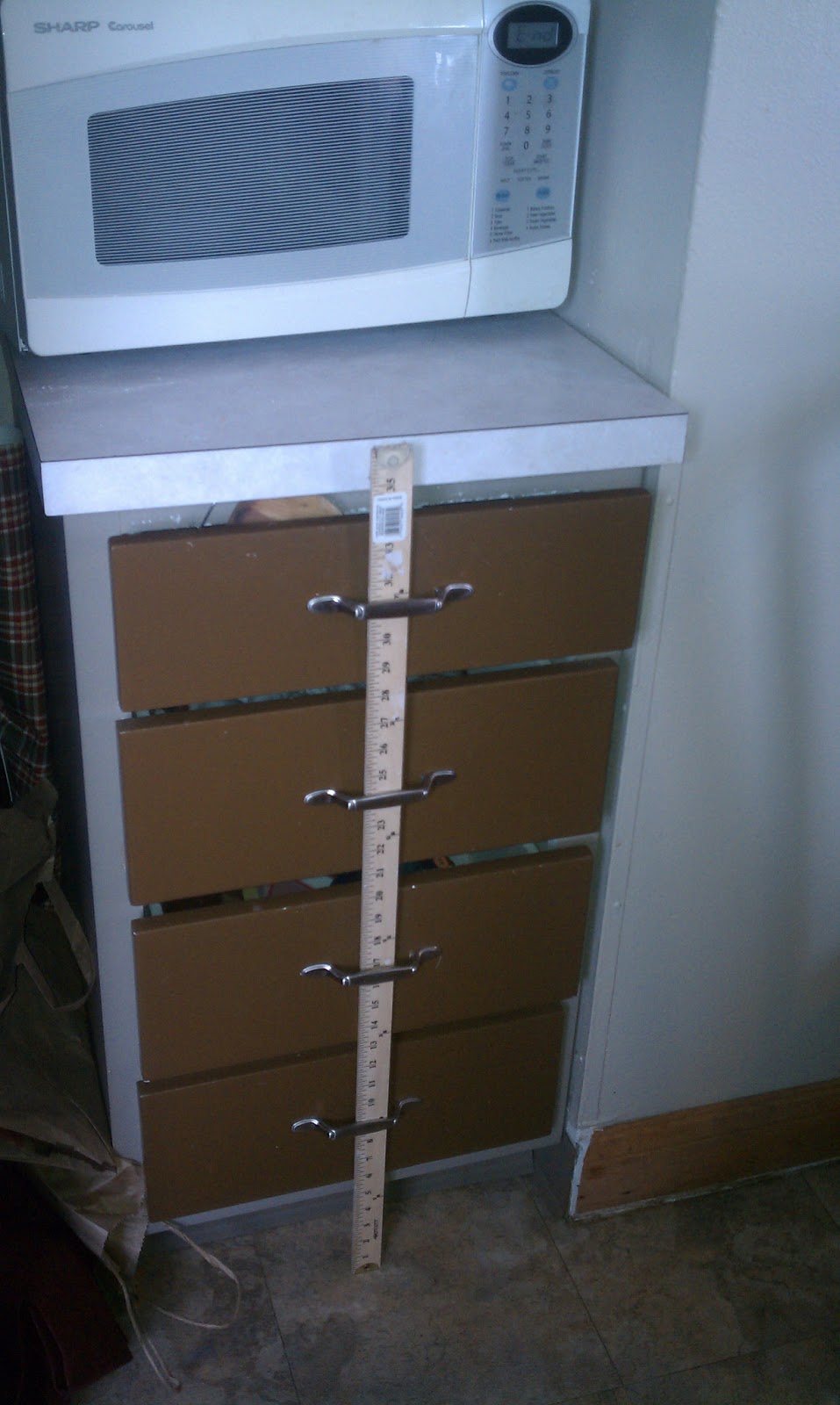 This trick works so effortlessly, and so efficient. Our kids are known to check the drawers from time to time, but in order to protect them from the drawers falling down on them, a ruler can do the trick. This is basically babyproof 101.
20. Make those slippery shoes safe by putting some glue on the bottom.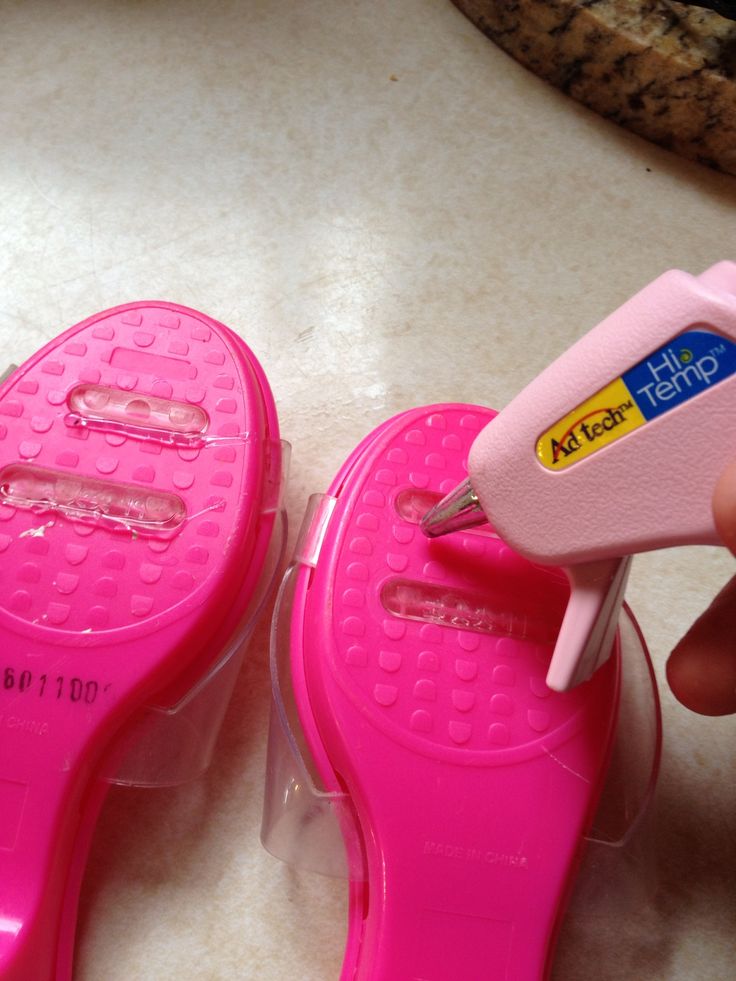 I gave you a trick for slippery socks, and now I have a trick for slippery shoes as well. Kids love to slope across the floor, but their game and slipping up and down can result in an accident.
21. Make a beaded bracelet for your child with number beads that show your phone number. It is a sure way to have some contact information on if your child gets lost.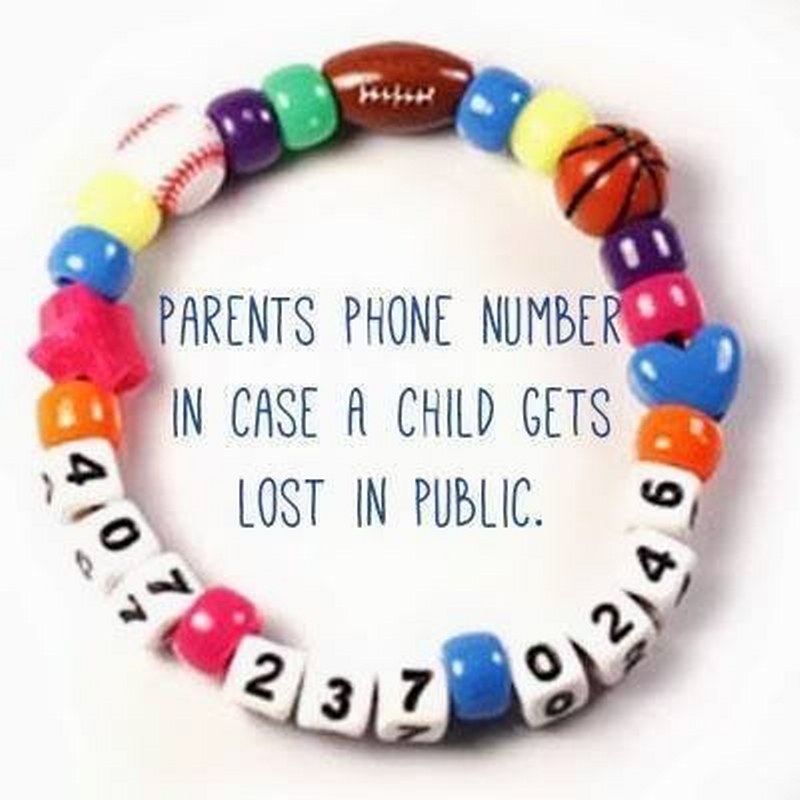 Look, I would hate if your child gets lost. Nobody wants to lose his child. But prevention is always good. This way, if you lose your child, you can be sure that the person who will find him/her will have a way of contacting you, even if your child has no idea how to contact you.
22. Another way for your child to have contact information son him is to give him a sticker tattoo. You can order one at tottoos.org or you can make one yourself by writing down the info on your child's body then covering it with clear nail polish.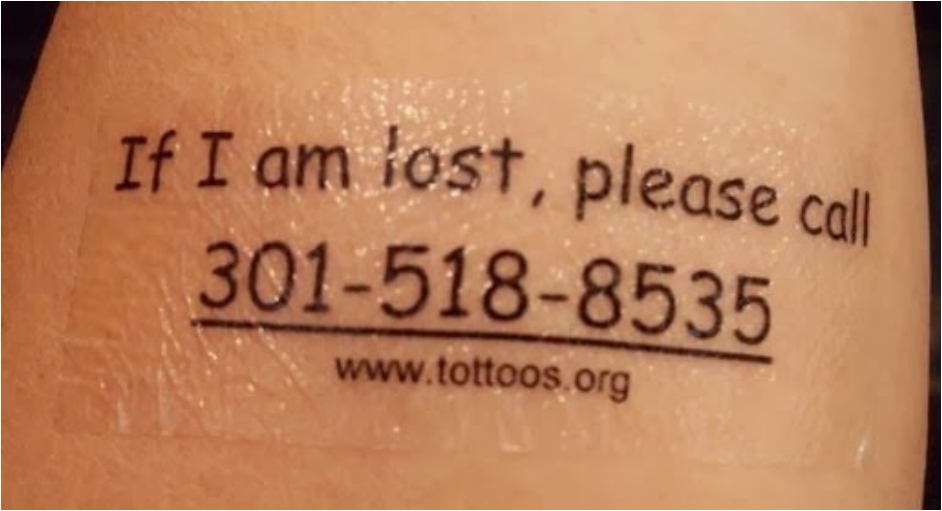 Yes, I know it looks funny. But what can you do? Would you rather have your child lost and without any contact information? I thought so!
23. Gum stuck to hair? No need to cut or shave it. Just apply ice cubes to the gum and chip it away when it hardens. See instructions here.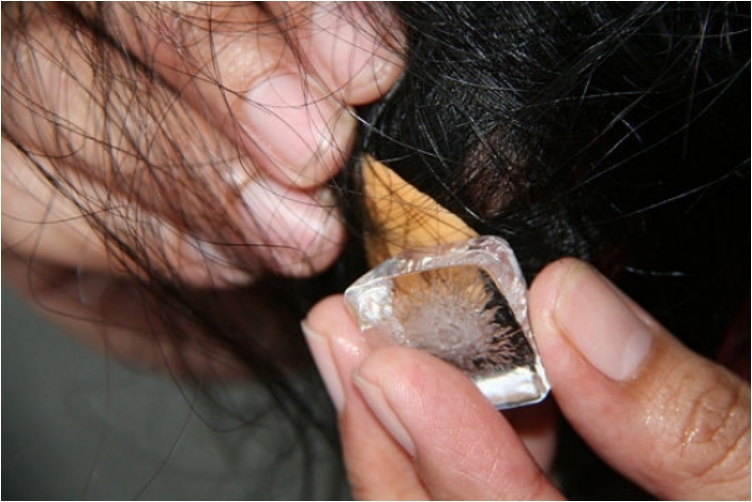 This trick works not only for children, but for adults as well. However, kids are those who usually wind up with some bubble gums in their hair. They can panic, and their parents can panic as well. But there is no need for panic. Grab some ice cubes and get the problem solved.
24. Prevent your kids from always using new cups and leaving the old ones lying around the house. Put some magnets on a few cups and keep them stuck to the refrigerator door.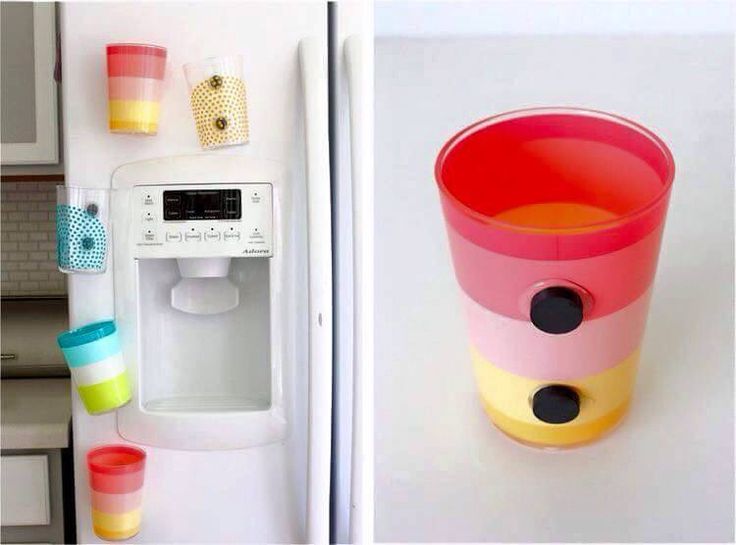 We all hate clutter, and we all hate when there are cups around the house. It can get really messy, because you cannot expect from children to be tidy and methodical. But you can help them learn, and hope for the best.
25. Monsters under the bed? Add monster stickers to a bottle and fill with water to create a "monster spray". When your little one gets scared in the night you can get rid of all monsters by spraying them away.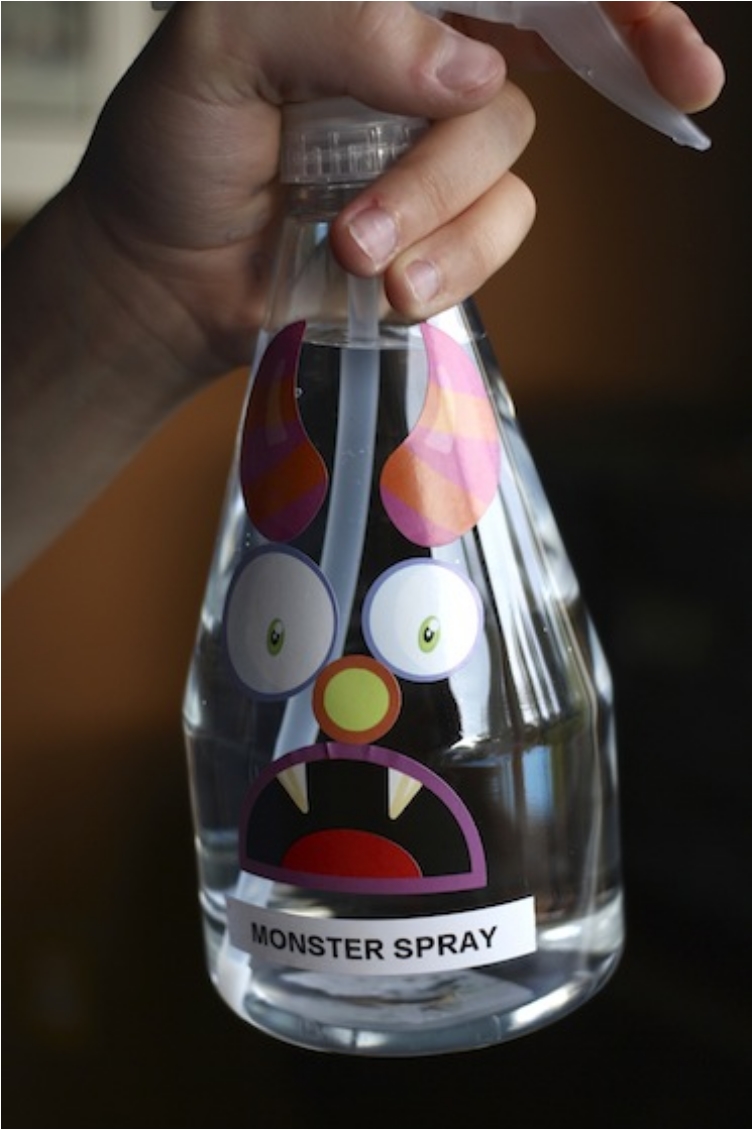 Your child will feel safe, secure, and sleep well. Your carpet, rug, floor might get a little watery, but that is the price we pay for our children's happiness and well being. The trade-off is something we can swallow.
26. A fun way to teach your child which shoe goes on which foot. Cut a sticker in half and put each half inside the shoe.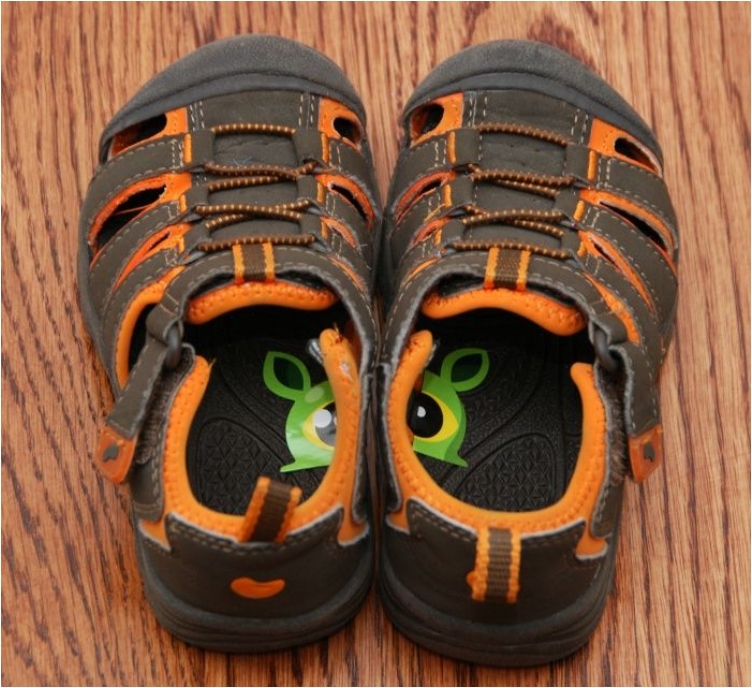 We all have troubles with orientation, sides and everything related. Children even more. This is actually a rather fun way, no matter if your child is putting on shoe by himself/herself, or you need to do it. Even if you are doing the dressing up, your children will know which shoe goes where.
27. Lego's and other small plastic toys can get very sticky and dirty. Put them all in a laundry bag and into the washing machine. Add some soap and then simply take them out and let them dry.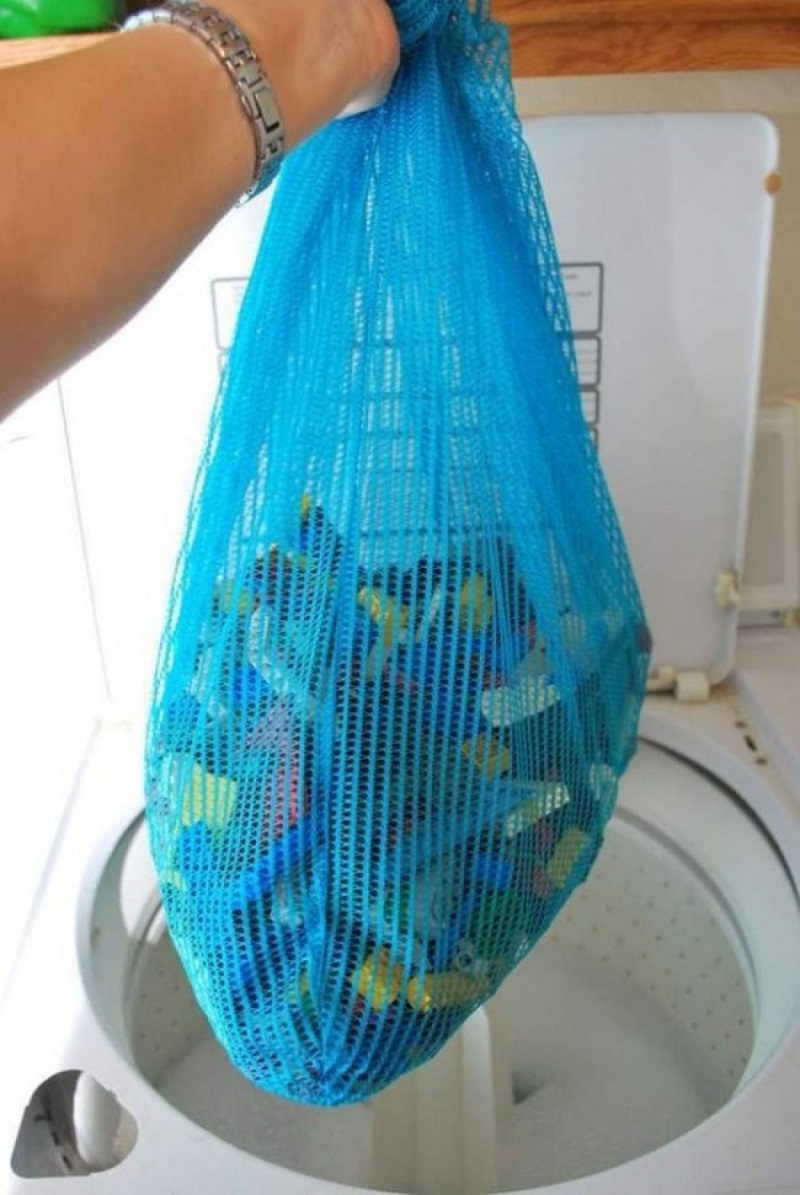 Toys get dirty from exposure to dust. I would recommend washing them once a week. Especially those puffy toys. But legos are even more dangerous, as kids are known to put their legos in their mouth.
28. You can't wash dirty and smelly shoes in the washing machine without damaging them. But, you can wash them safely in the dishwasher. It will not only cleans the shoes but attacks nasty foot odor too.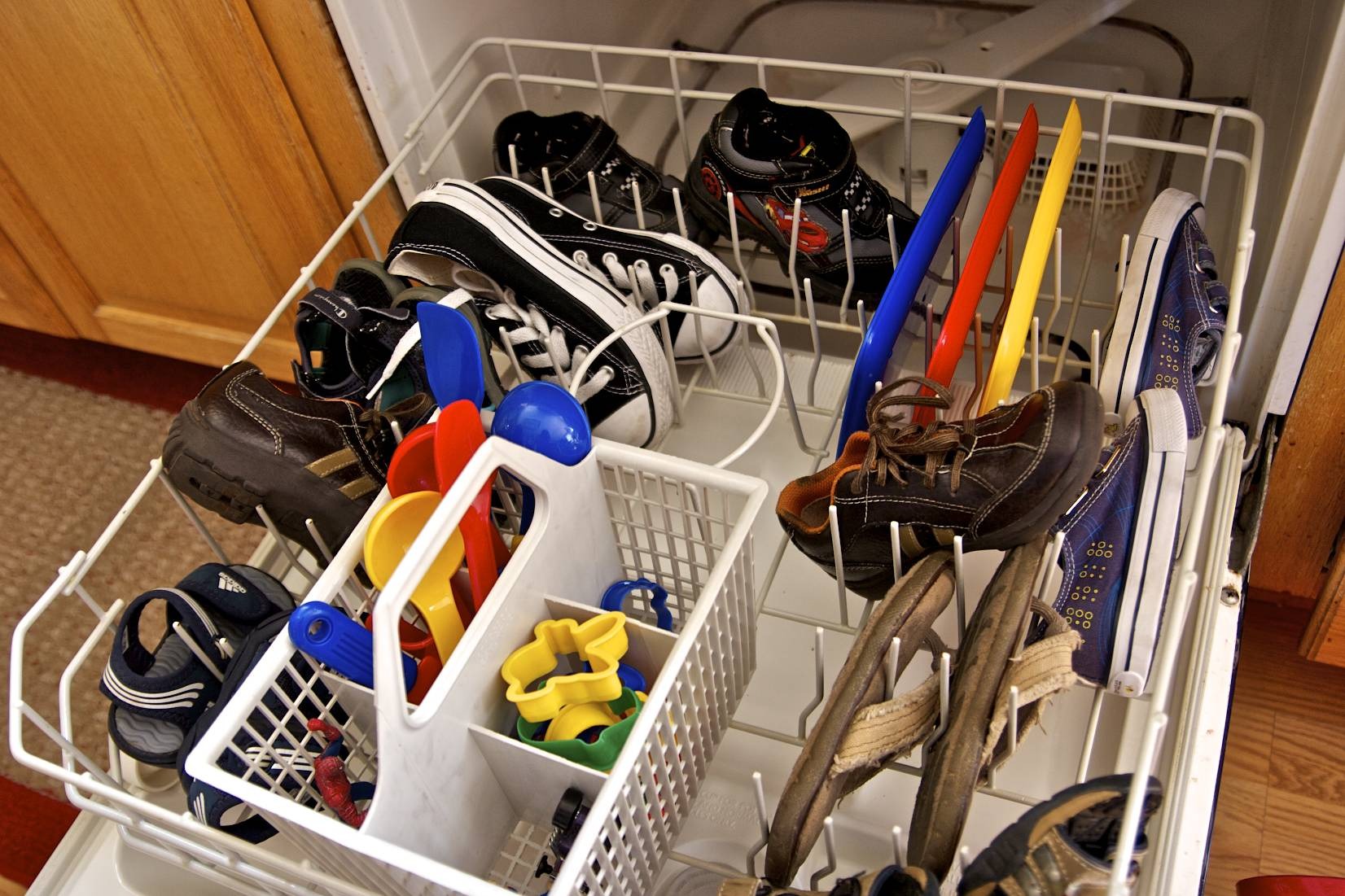 You cannot expect shoes to stay clean for more than one month. Washing shoes is essential, as your child walks inside the home in them all the time. Even if he is wearing shoes only inside, they get dirty from time to time. And the odor can be repealing. The washing machine can damage your shoes, and leave some marks on them.
29. Getting out a splinter from a wriggling child is almost impossible. Luckily, there is a sure and painless way to do it, with only baking soda and water.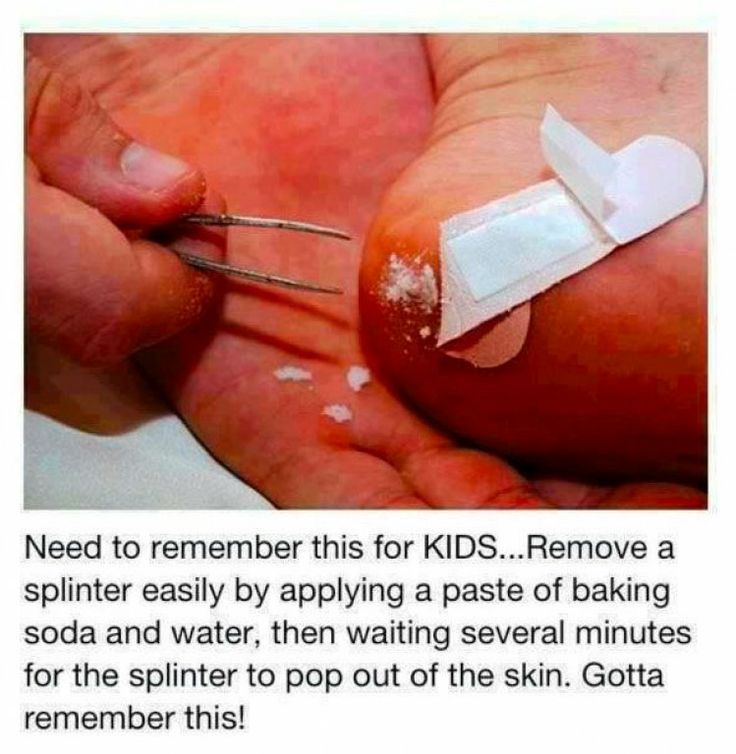 Even I use this trick nowadays. It is painless, and easy. Children can get anxious when you are trying to remove splinter from their skin, and can go all out crying. This way, you can use a gentle and safe way to do it.
30. No more slipping and sliding away of rugs.  Putting Velcro straps on the floor and the bottom of the rug, you can secure them safely and baby can crawl undisturbed.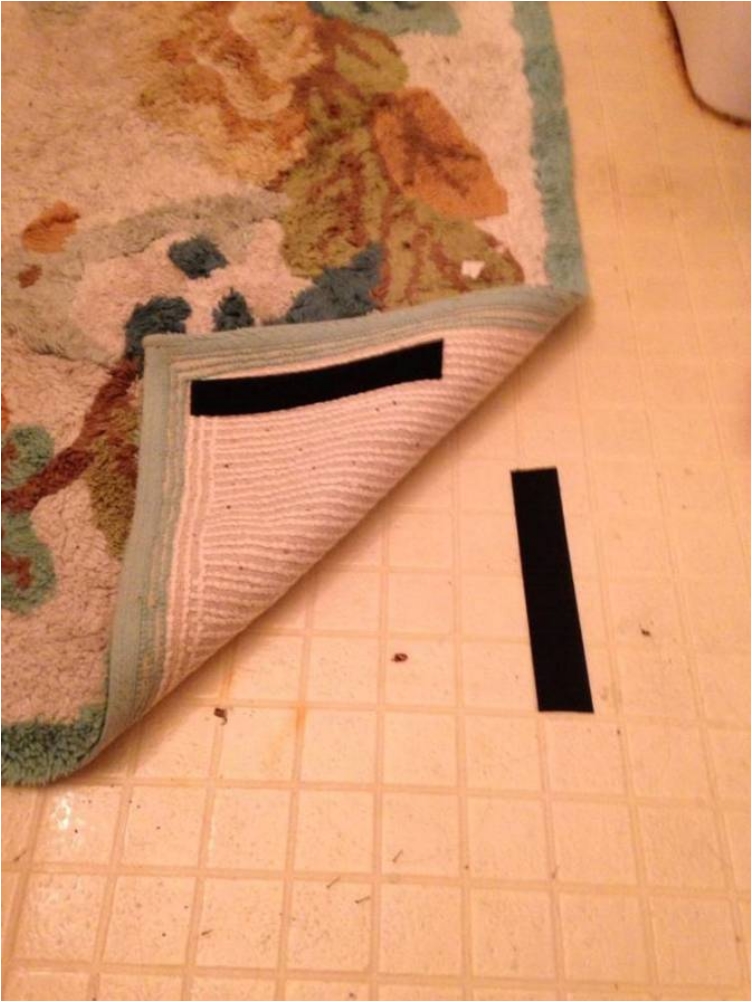 I know that you probably hate that you must do many of these things, but that is the price for babies in your home. You need to baby proof your home, and make it more conveniently for them as possible. You want your baby to crawl stress free in the living room? Strap the rug!
31. Rather than frozen peas, putting a bag of marshmallows in the freezer makes a great ice-pack for any small injuries that need soothing.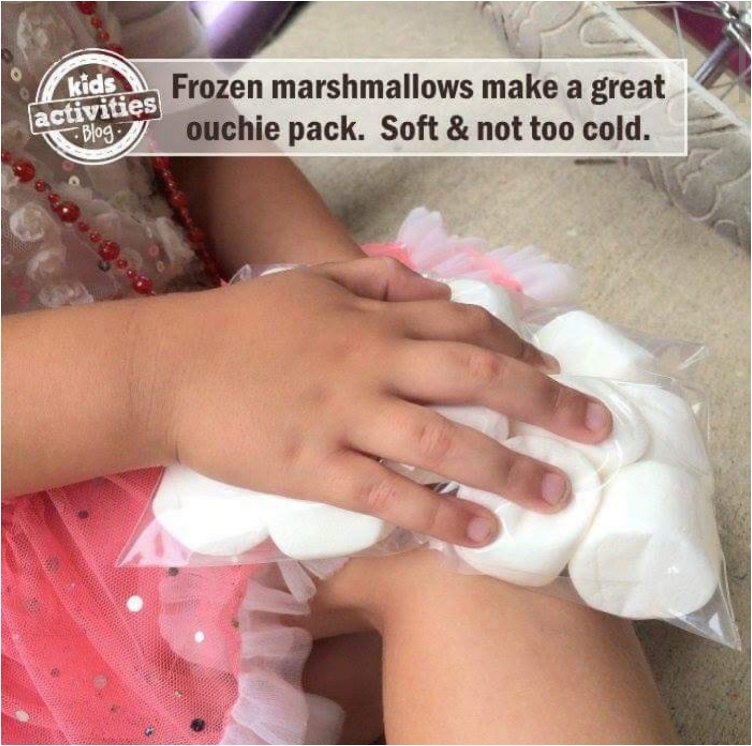 Unlike peas, marshmallows are gentle, and they do not melt when you put on your skin. Peas and other veggies can melt and become all watery on your child's skin. Marshmallows won't do that.
32. Empty pump dispensers are great way to fill water balloons. You can even make a great water balloon station with the simple DIY instructions here.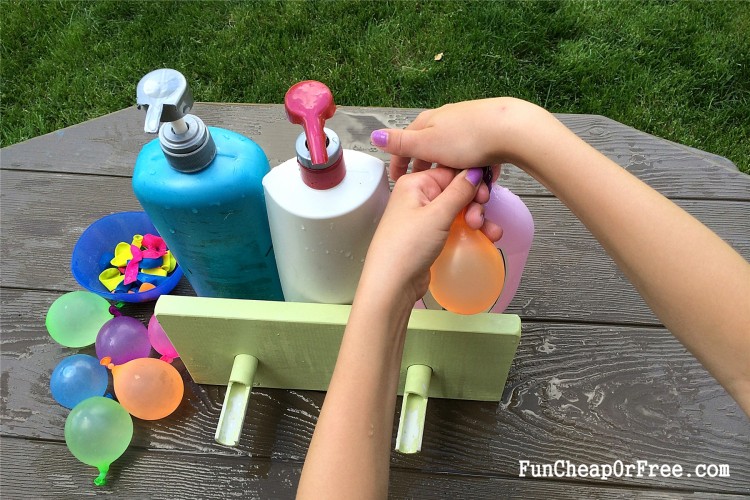 This is balloon 101. Basically, an easy and simple way to fill your balloons with water. And if you are asking why you need water balloons, it is all for fun!
33. Toothpaste will remove permanent marker from your wood furniture. Just use toothpaste, an old toothbrush and some elbow grease.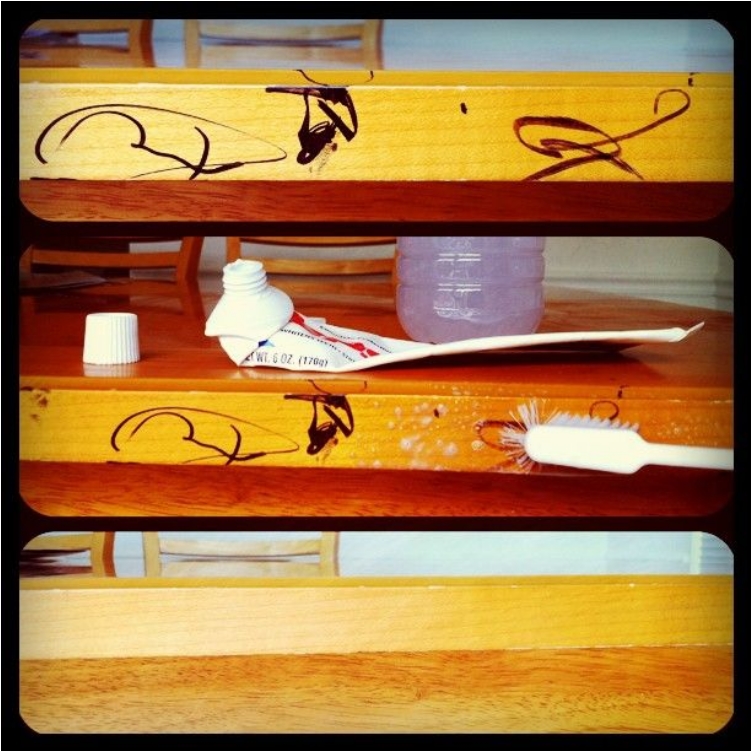 When you kid draws something on your furniture, do not panic. I know the temptation is there, to panic, scream and yell at your kid. Take a deep breath, clean up the mess, and then talk with your kid. Or, even better, you can make him/her clean it up. Much better punishment than yelling and screaming at him/her.
34. Put dollops of different colored paint into a ziplock bag, put some extra duck tape at the opening and you have a bag full of fun. Your child will love mixing of the colors and enjoy the sensory play, all mess free.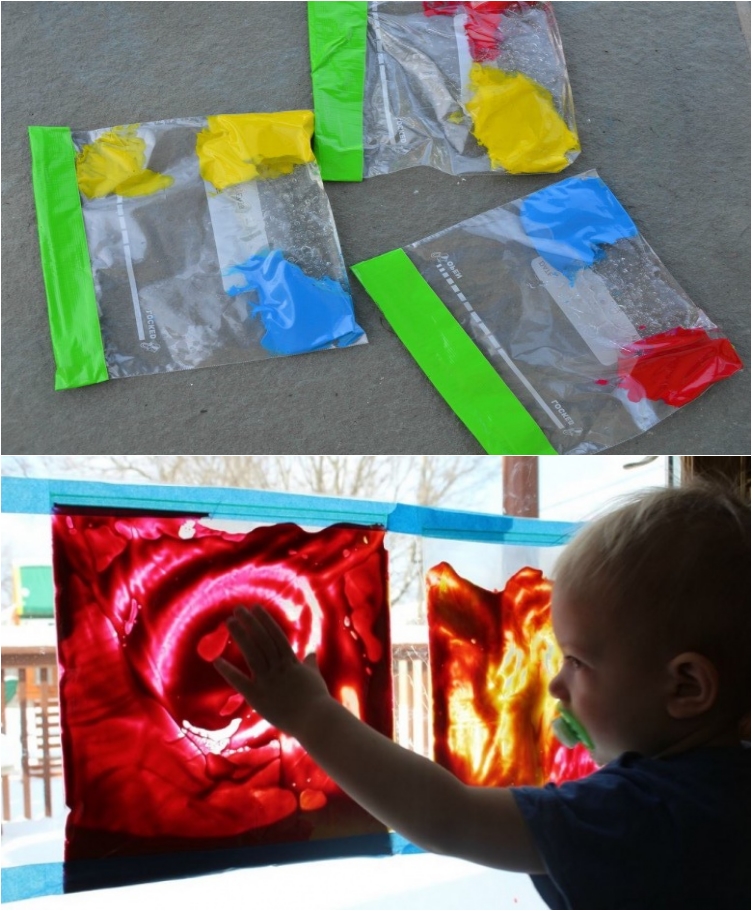 Colors are always a fun way for children to be entertained. The problem is colors can get messy. But this is a safe environment, as long as your child doesn't crack the ziplock bag.
35. Teach your kids to pick up the juice box by the side flaps to keep juice from squeezing out.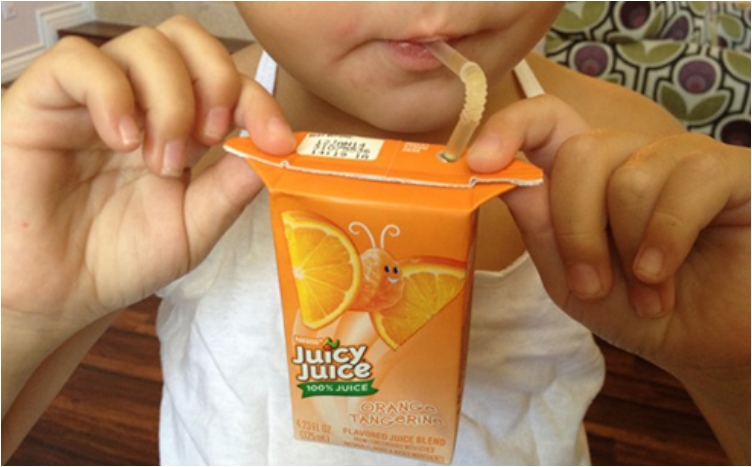 If you don't want to wash your child's shirt every time he/she opens up a juice box, teach them this trick. Believe me, children love to learn, as long as there is someone to show them the way.
36. Thread cupcake liners through the bottom of the popsicle stick to create a catcher that keeps drips in the liner, not on your child.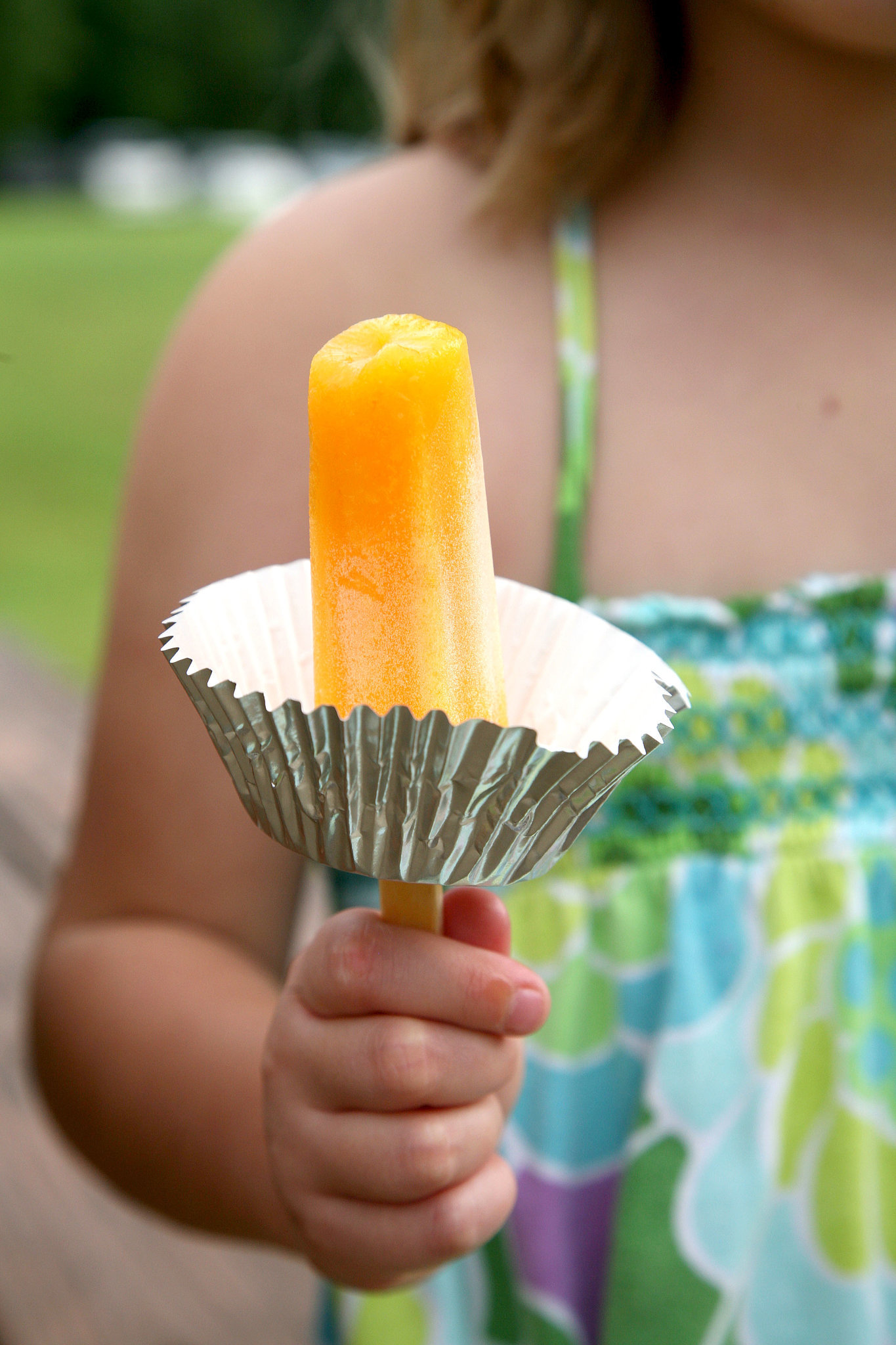 This is another trick that will keep you from washing clothes. In most cases, popsicle dips go on your children's arms. But in some cases, when they are sitting, the dips might ruin their clothes, and you will end up washing that. Prevention is the key to success!
37. Kid's room a mess? Make cleaning it fun for your kids. Play race the clock with an egg timer. Who cleans up the most gets a reward.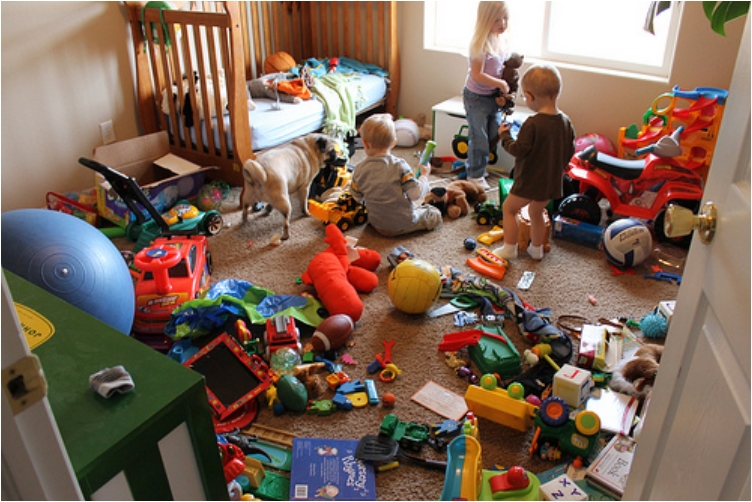 The key with children is to make everything fun for them. Even tasks like cleaning the room, which in most cases are repulsive for children, can be made fun and entertaining. My mother was looking for different ways to make me "love to clean my room" when I was young, and I am sure you can find many more ways. Just remember to share the tricks with the rest of us.
38. Child lost a tooth? Put some glitter on money, even better if it's tooth-shaped and your kids will be sure that the Tooth Fairy visited.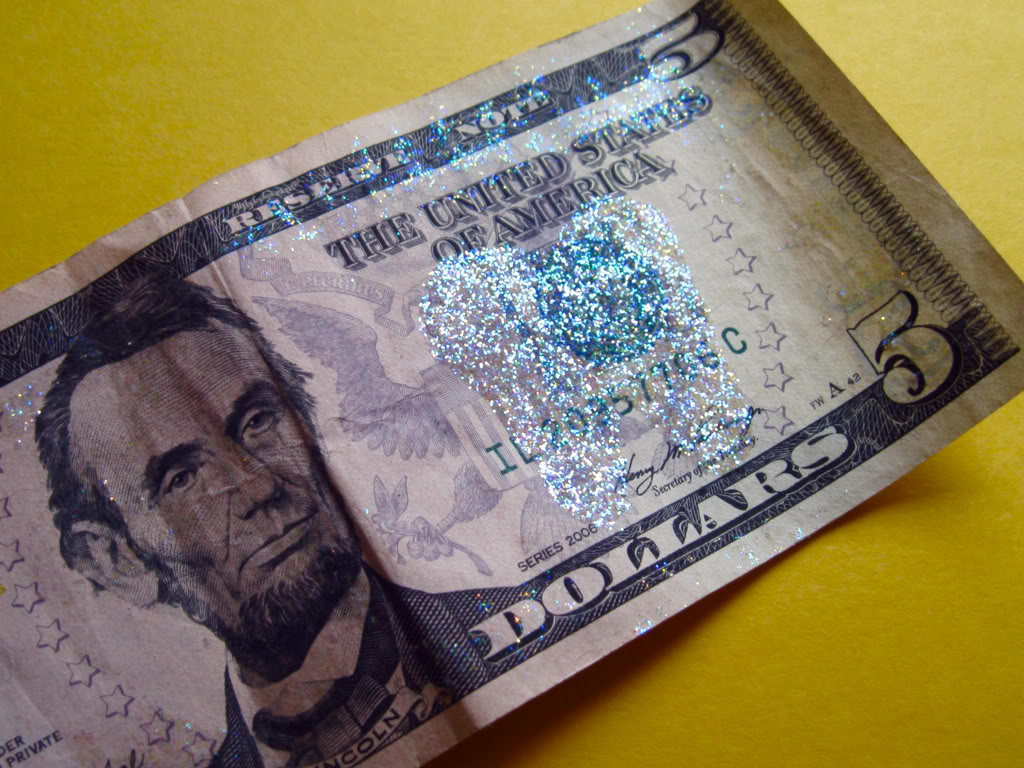 Just remember, use a dollar bill or five dollar bill. Children are visual human beings, and they are attracted by spectacular and colorful things like glitter. Even better if you have daughters. They will start imagining the fairy at once.
39. When blowing bubbles kids always manage to spill the bubble solution. Unless you want to be in charge of holding the bubble container, you can avoid the mess by duct taping it to the house.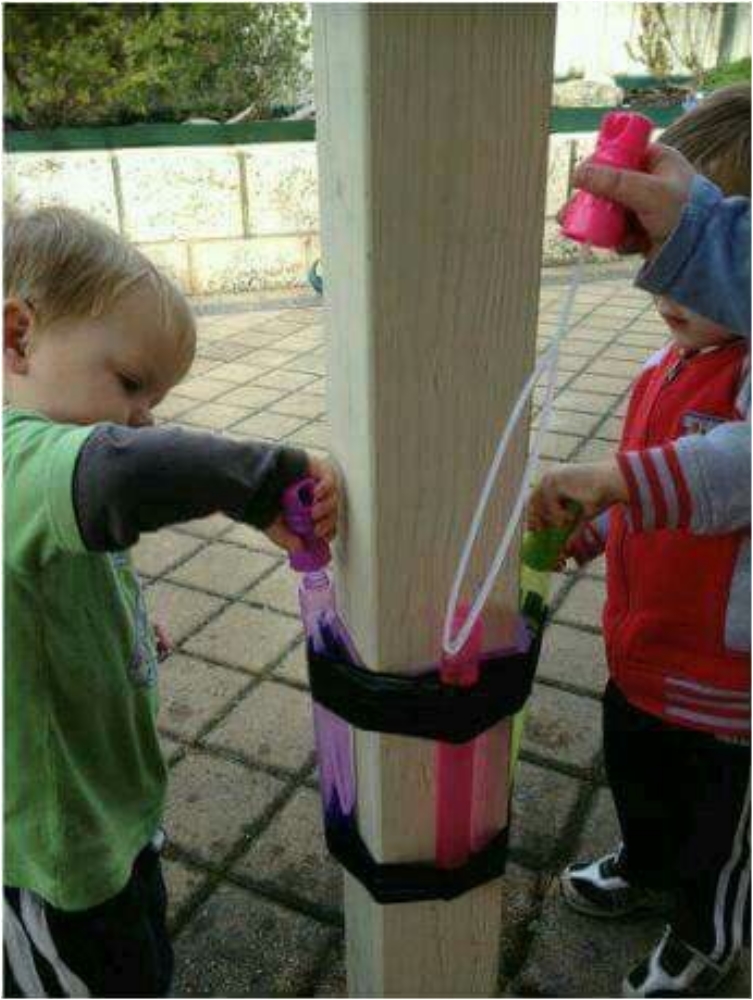 You might have noticed by now, but most of the tricks here are for your convenience. As I said at the beginning, the trick is to prevent a disaster, rather than clean up after.
40. Put these clever stickers on your car that tell children where to stay at the parking lot.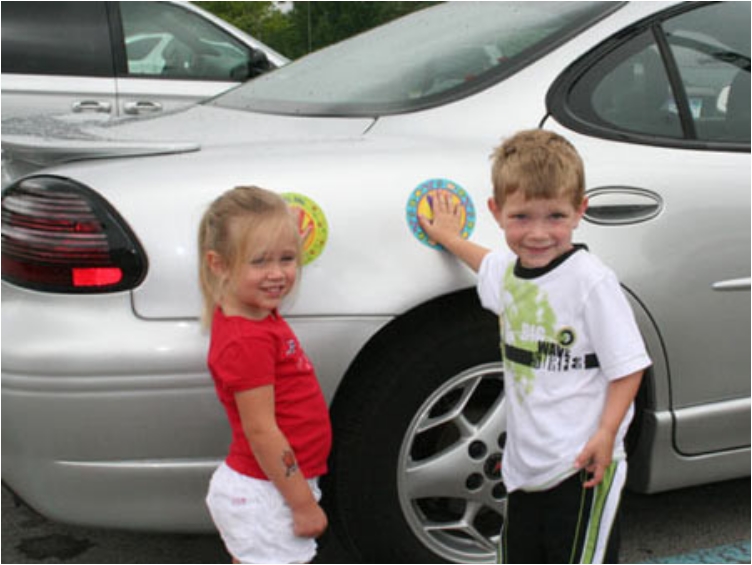 Your car will look fun, and your children will be happy to stay at the stickers area. It is just a matter of making things interesting for them.
41. Playing with sparkles is fun, but can be scary for kids. Poke a hole through the bottom of a plastic cup and place the sparkler through before lighting it. The child's hand will be protected inside the cup.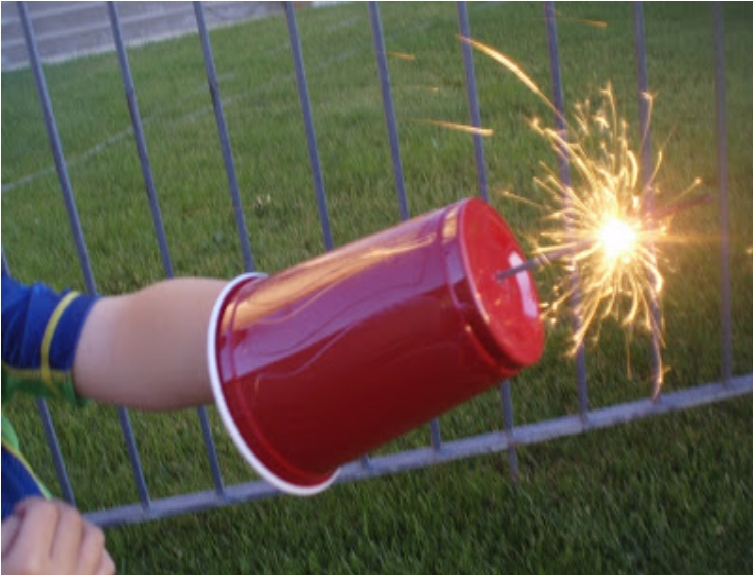 I would recommend this trick to everyone who has a little child. But, for safety precaution, I wouldn't recommend sparkles for children younger than five years. There has to be some limit.
42. Use a fitted bed sheet and secure each end with bags or other items to keep sand off when on the beach.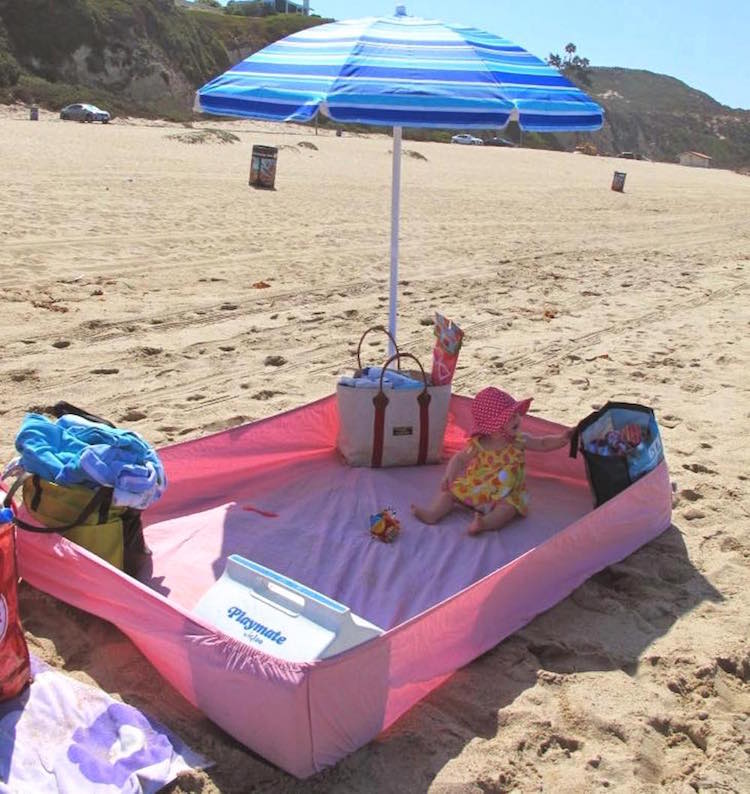 The beach is a synonym for fun for children, and they can get all messy and sandy. Look, I am not telling you to kill their fun and playtime. But some shade will be welcome addition, especially in the warm and hot summer days.