One can safely say that cats are among the most popular pets and animals in the world. Cats memes have become extremely popular in the past few years. From invisible kitty, hipster cat, grumpy cat, happy cat, chemistry cat, and of course, the most acclaimed web cat, the Nyan Cat. For those of you that do not know, the Nyan cat won the Meme of the Year at the Webby Awards in 2012.
With that in mind, today, we will look at different cat memes. Or more precisely, tweets about cats that owners use to show how creative, intelligent, or funny their cat is. Let's get straight to it.
1.Cats love pancakes as well

Parents usually remind each other to feed their kid. Well, owning a cat is similar in a way as being a parent to a kid. So, when your partner is out of town, you can expect reminders about "feed the cat". But this woman just goes a step further: feed the cat whatever you eat.
2. When you love to hate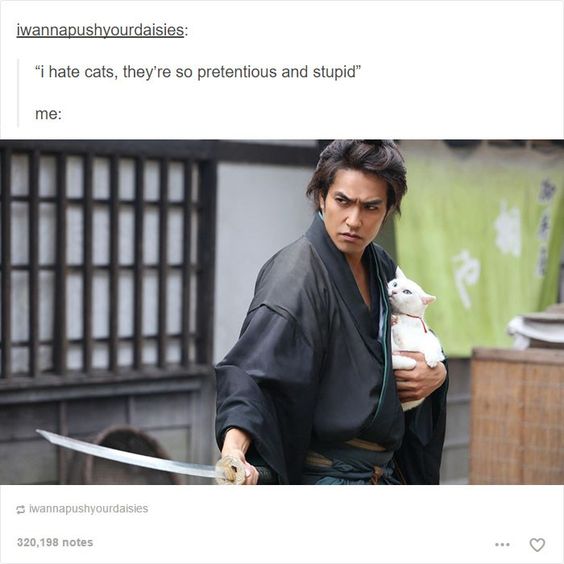 Cats are animals that you love to hate. That is the best description for our feline friends. Even though they can be a handful at times, they are also great to have around.
3. Cat in the shower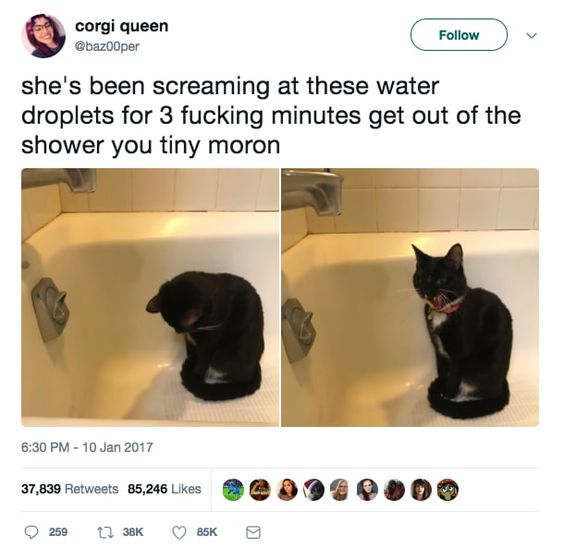 It is well known that cats do not love bathing and water. But every now and then, comes a cat that just loves to play with water. Exhibit A, ladies and gentlemen.
4. When your cat is in your hairstyle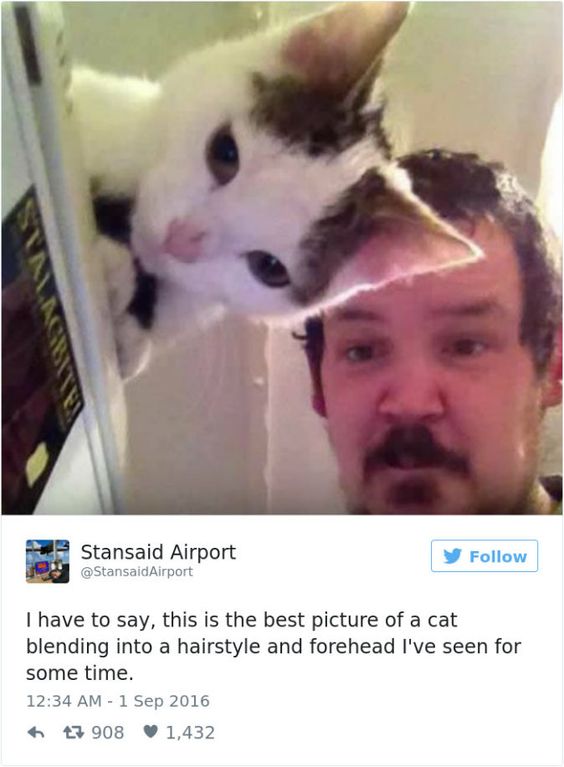 Cats are playful, and they are funny. While they do not love to spend as much time with their owners as dogs, every now and then, they can come and do something funny. Well, this is a cat that loves to photobomb her owner's pictures.
5. The truth spoken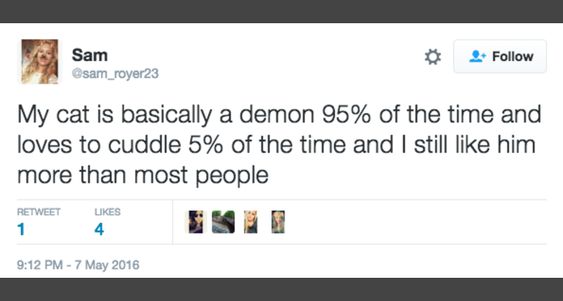 This is the best and truest description of all cats around the world. And while most owners do not admit it, this one is definitely glad to be honest about her cat.
6. Who is the boss in the house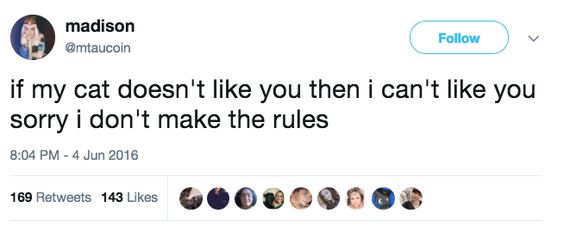 Cats are strongly independent and strong-willed animals. And you simply cannot make them love someone. If they do not love you, they do not love you. You can trick dogs with treats, but cats? Not so much. And they are usually the boss in the house.
7. Cats playing around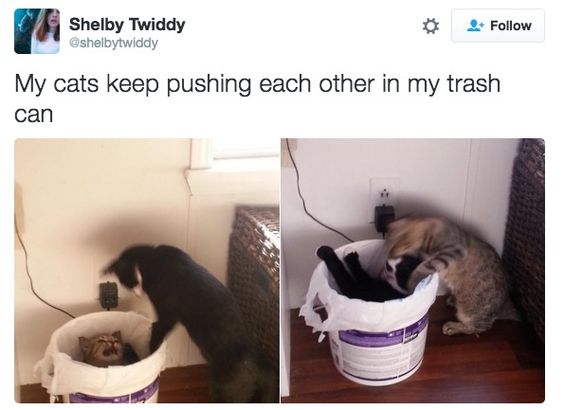 One cat is a handful for most people. But two cats? Now that is another set of problems. But do not worry, most of the time, they will play something like this. Cats love to establish hierarchy in the home, be it with the owner, or between themselves.
8. Fit in everything cat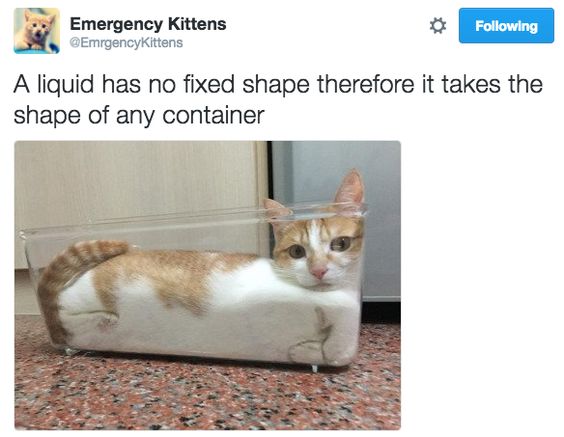 Another common thing about cats, they can fit in almost everything. Any box shape, size, or volume. If a cat wants to get into something, she will get into it. Think of cats as liquid, they have no fixed shape.
9. You cannot escape your cat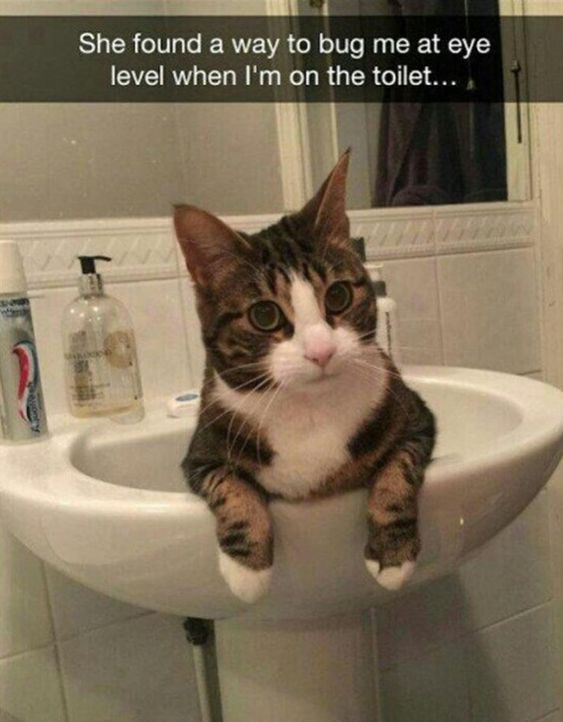 Unlike dogs, cats can climb to higher spots. Therefore, they can bug you at eye level, no matter if you are siting, standing, or anything in between. If they put their mind into it, cats will find a way to bug you.
10. That pose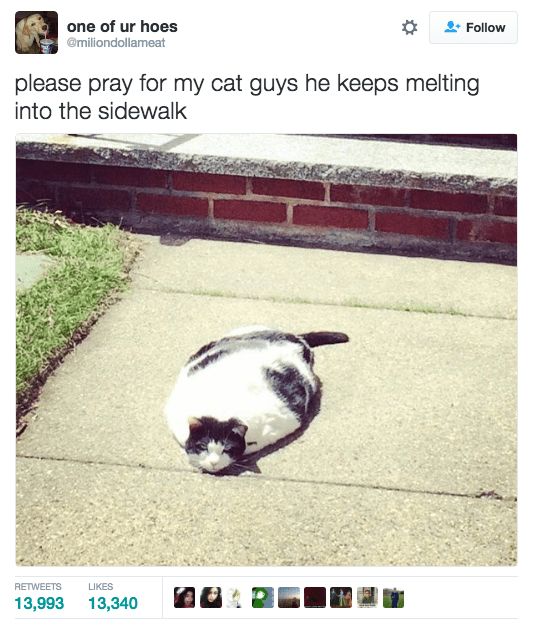 As mentioned previously, cats can take any form, shape, and size they want. And that is what makes them one of the funniest animals to be around. Just look at that pose. Any other animal can do that? Of course not!
11. Photo bomb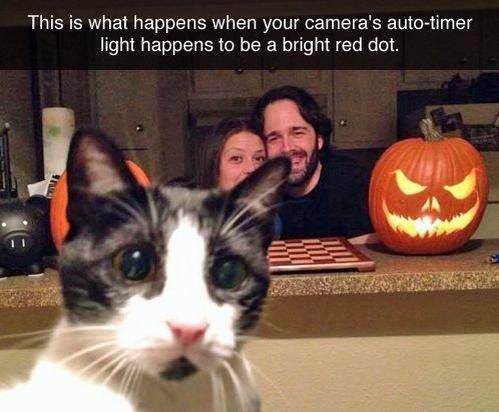 Cats love to chase bright red dots. That is why laser toys are some of the best toys for cats. But what happens when you try to take a selfie, and your camera's light is also a bright red dot? Well, you have a cat in the picture, of course.
12. The man in the house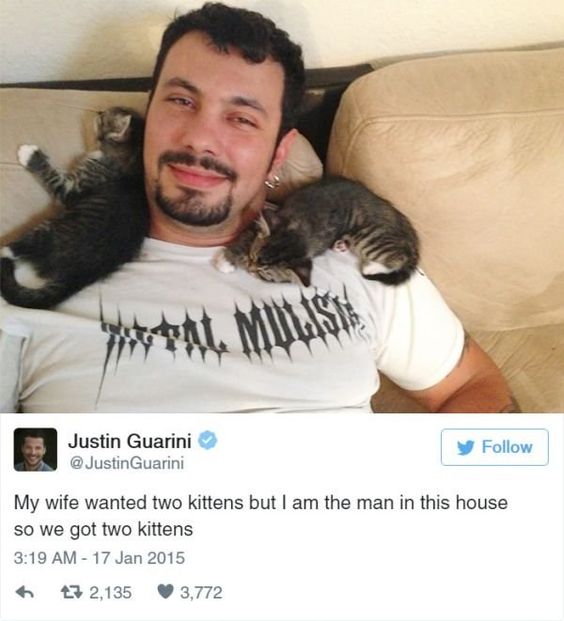 Well, there is a reason why women love cats. For one thing, they are just as strong willed as cats. And this shows you just exactly who is the man in the house. Even the kittens know it.
13. YouTube tutorials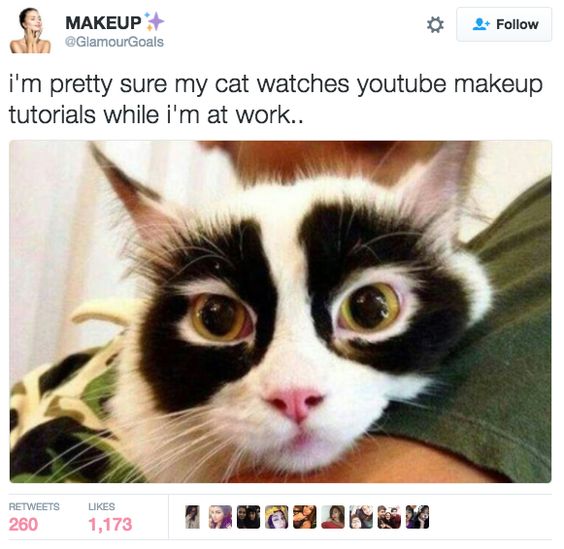 In the past few years, YouTube tutorials for hair, makeup, manicure, and everything in between are getting more and more popular. But who's to say they are only for humans? Our feline friends could use some makeup as well.
14. This is how you trick a cat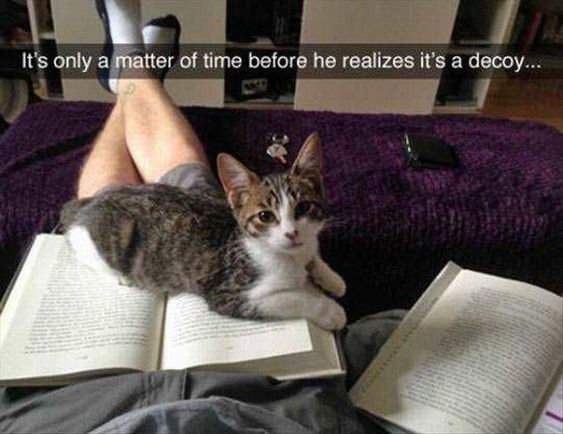 When a cat wants to interrupt you in your business, she will do it. So, if you want to read peacefully, you'll have to employ a trick or two. This one definitely comes in handy.
15. How to keep a cat busy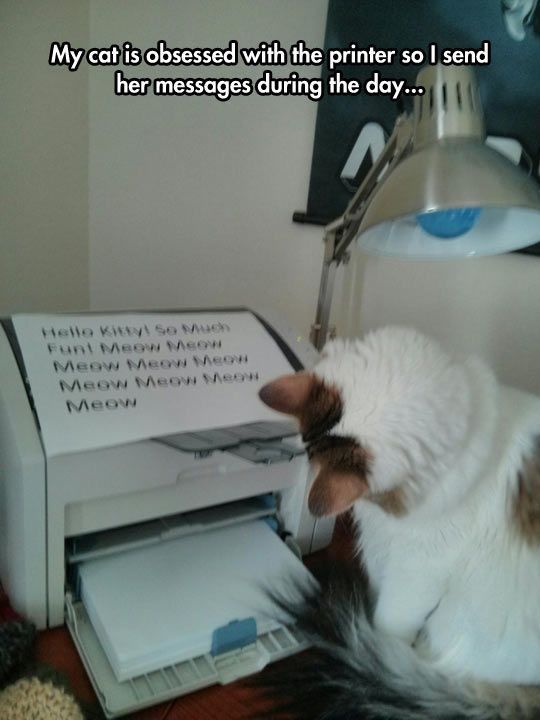 We do not know if cats can read or not. But they will definitely be interested in what you send them. And whenever you are not home, you have to send your cat a message to show her you love her.
16. An intelligent cat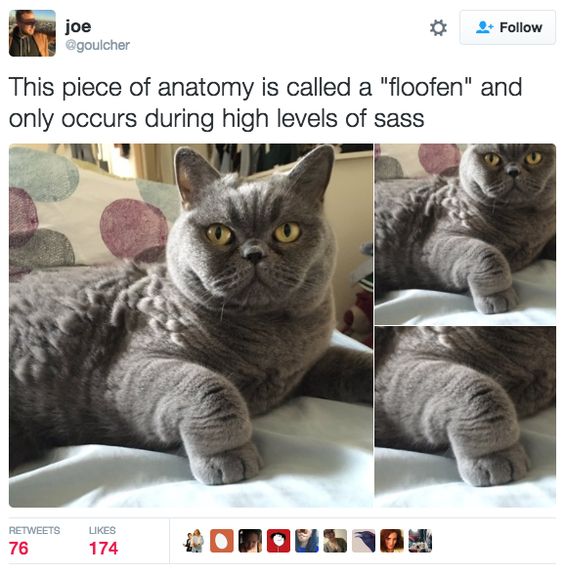 So, there are times when you cat can lecture you about anatomy. Of course there are. Of course, you need to have an intelligent and sassy cat for that.
17. Funny cat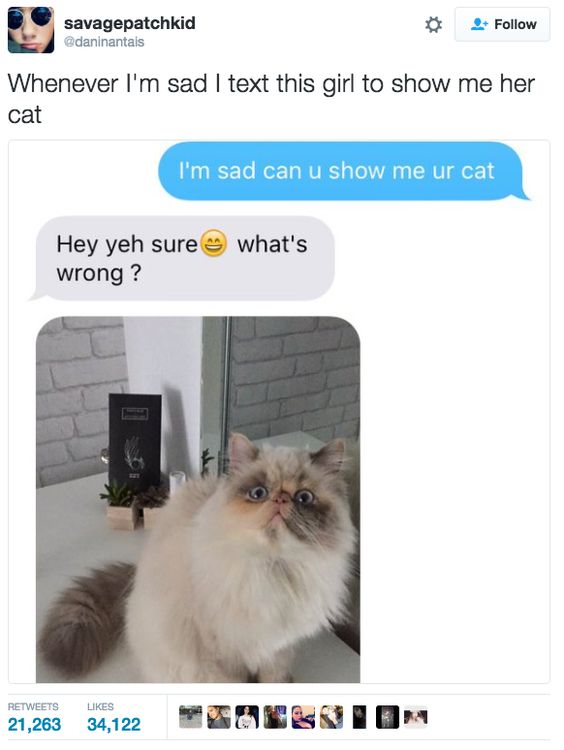 Of course you will look for a cat picture or a cat meme when you are feeling down or sad. We established that cats are some of the funniest animals. There is just no way a cat cannot make you bring up.
18. Where is my owner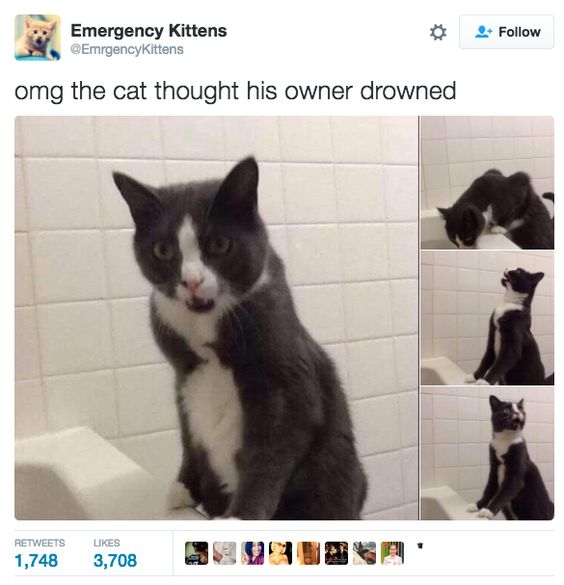 They say cats are not as loyal as dogs. But this picture shows that even strong-willed animals as cats care about their owners.
19. Can you keep a cat busy?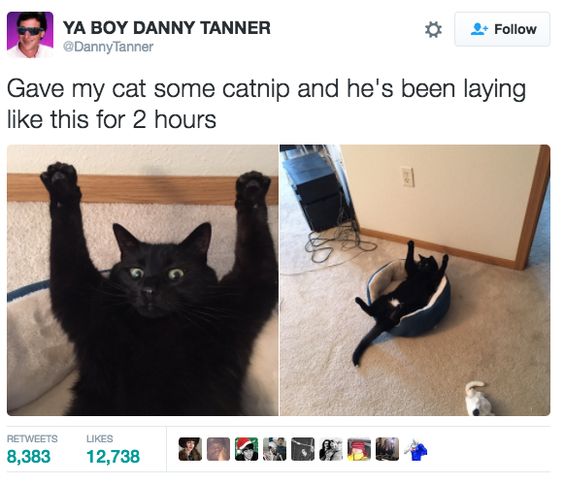 We talked previously how you can make a cat busy. Sometimes they will play for minutes, but sometimes, you can make them busy for hours.
20. Handsome boy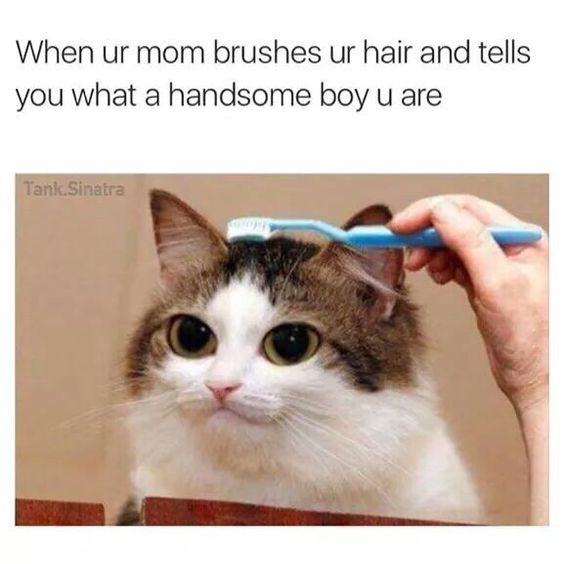 One of the things we love about cats is that we can make a lot of analogies between cats and humans. After all, we have similar behavior traits. And this is definitely one of the examples where making an analogy is just easy.
21. Love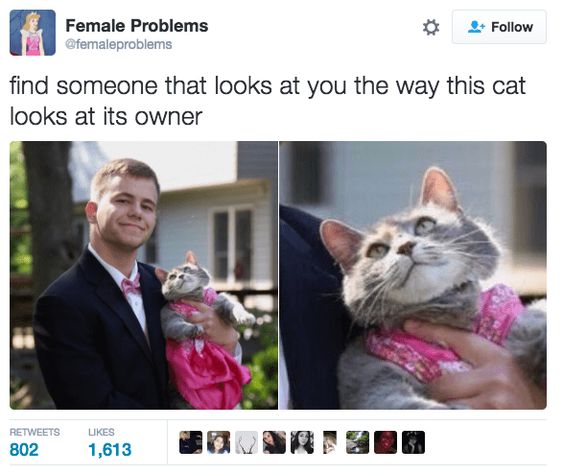 If you want to know what love is, just look at this picture. The way that cat looks at its owner, that is something you can rarely find.
22. Date night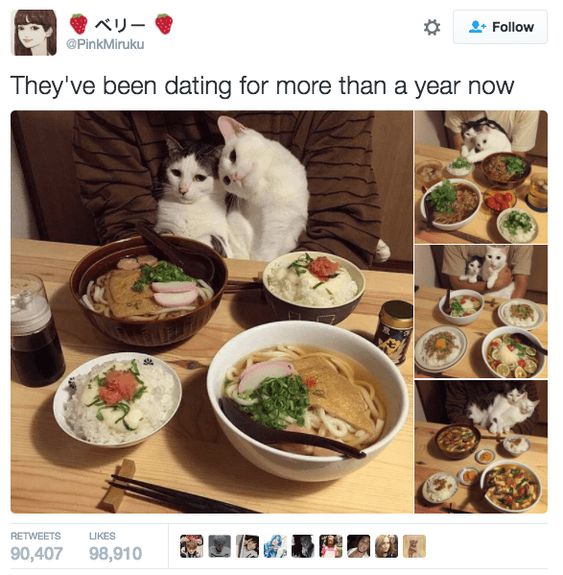 Let's finish with a picture of cats dating. It is a rarity in the world of cats to find two cats that get along so good. Being that they are so strong-willed and independent, they do not usually co-exist with other cats. But this is an exception to the rule.