There is a reason why the caption of Wendy's Twitter account is "We like our tweets the same way we like to make hamburgers: better than anyone expects from a fast food joint".
Wendy's is an American international fast food restaurant chain, founded on November 15, 1969 in Columbus, Ohio. On January 29, 2006, the company moved its headquarters to Dublin, Ohio.
While the fast food chain is named after a sweet girl, you should not be fooled by the quirks of its Twitter account.
When you look at Wendys twitter, you might be fooled by the seemingly innocent exterior. But beneath the sign lurks a sassy social media management that is just pure evil in some cases. One thing is sure, Wendy knows how to roast both hamburgers, and trolls on twitter.
1. Someone cannot stand Wendy's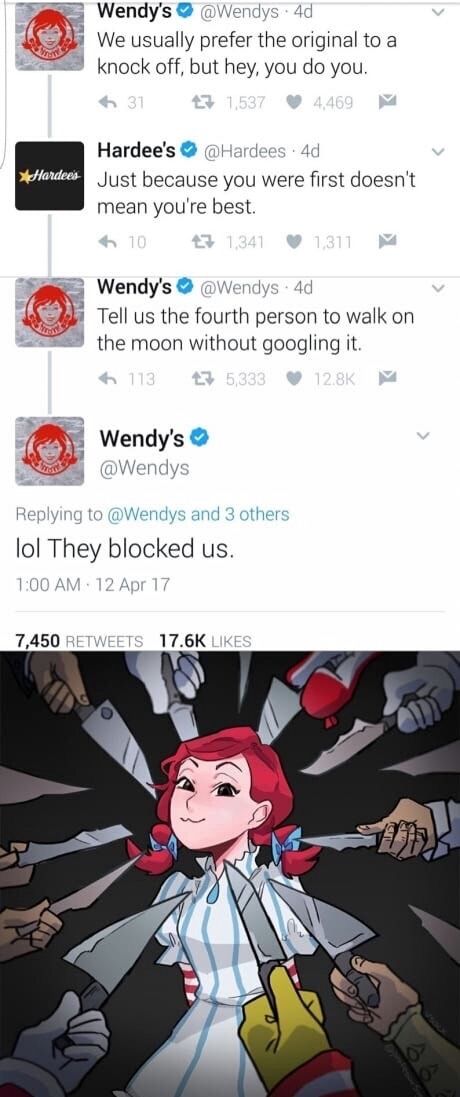 Some people just cannot bear with the sassiness of Wendy's. On a discussion about the 4 for 4 deal, Wendys twitter asked the user to answer a simple history question. And that resulted in a block.
2. National Roast Day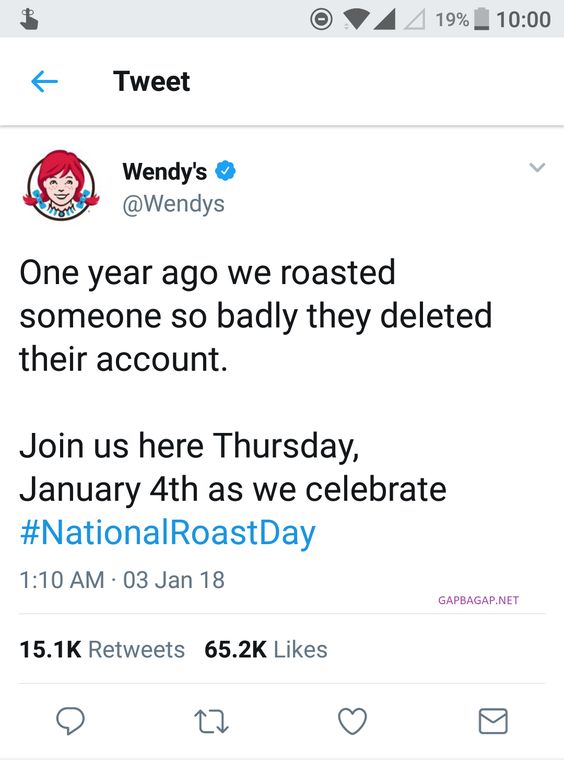 Wendys Twitter goes on fire on the unofficial NationalRoastDay, which is January 4. Sometimes, they just want to celebrate a milestone they achieved.
3. In the Zone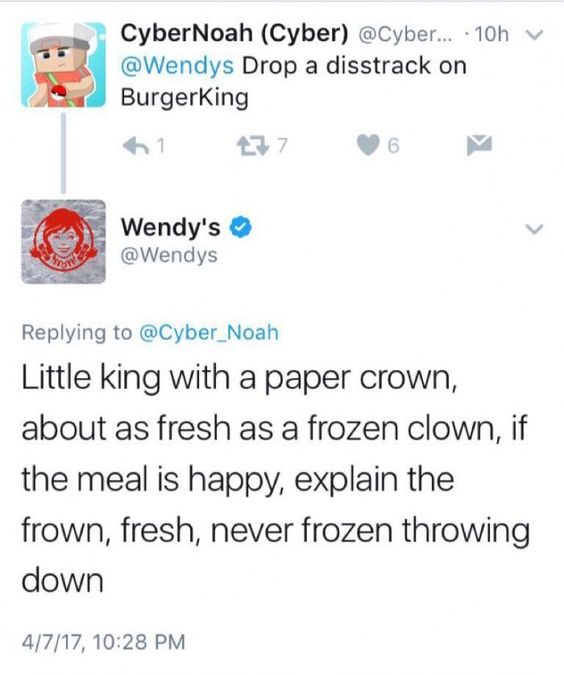 One of the reasons why Wendy's is so great, is that the company's Twitter account can answer anything in mere seconds. Freestyle dissing is something we always love, and Wendy's excels at it. Ask them any question, and you'll receive a diss.
4. Gordon Ramsey or Wendy's
Wendy is constantly bragging about their "fresh, never frozen beef". But they do not sell the fancy beef like Beef Wellington. That is what Gordon Ramsey does. And Wendy's want people to remember that.
5. Trolling McDonald's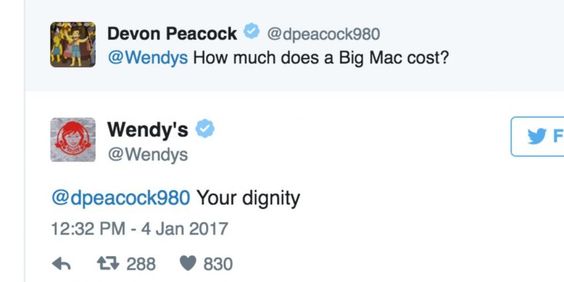 Wendy is constantly trying to diss McDonalds's. And people continue to throw salt at the wound. So, whenever someone tries to bring McDonald's as a topic, Wendys Twitter reacts to it. Some would think there are probably 100 people employed at Wendy's with a single task: Roast McDonald's people.
6. McDonald's again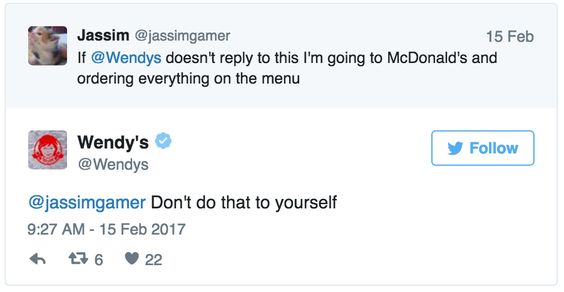 Someone would say that ordering the full menu at McDonald's is just plain stupid. No matter if you want to do it in order to prove something, or just for fun, just do not do it. Even you know it, and Wendy's sure knows it.
7. Never swing at Wendy's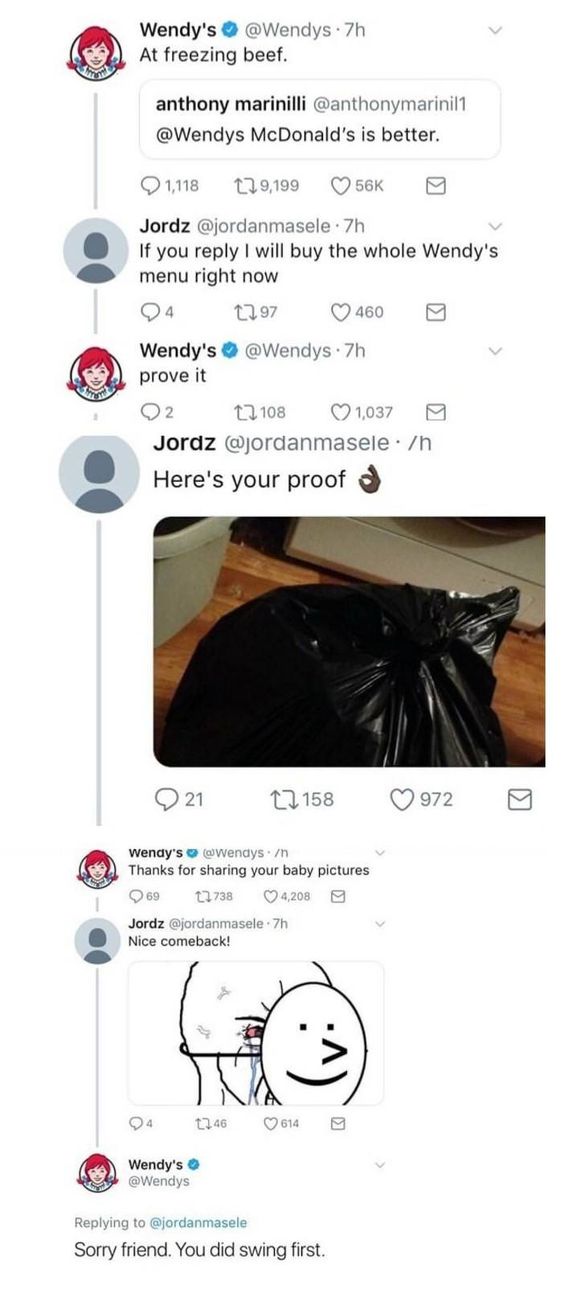 This will teach the trolls a lesson not to try and swing at Wendy's. Because unlike many people, Wendy swings back at you. And you won't like it.
8. Always honest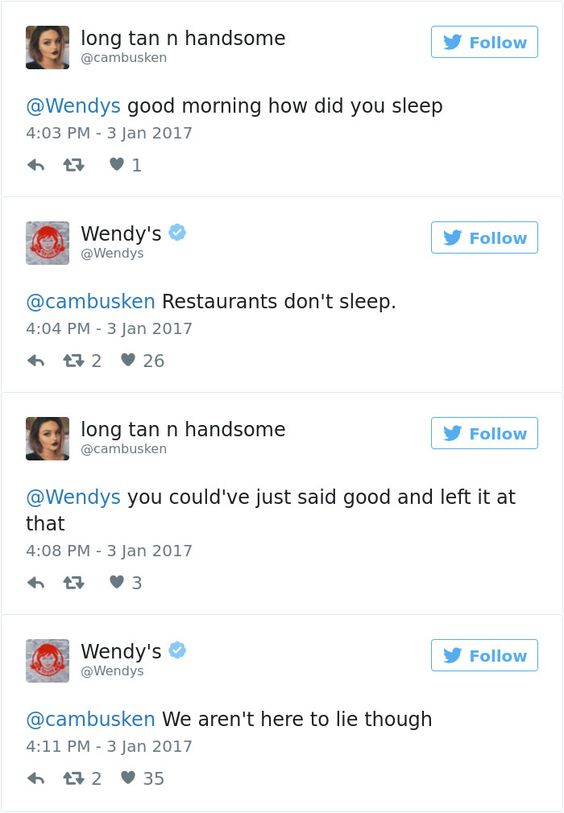 Some people say that Wendy is trolling because of answers to simple questions like this one. But that is what makes Wendys twitter that much fun and entertaining. No matter the question, Wendy will come back with a sassy answer.
9. Wendy is not Google Maps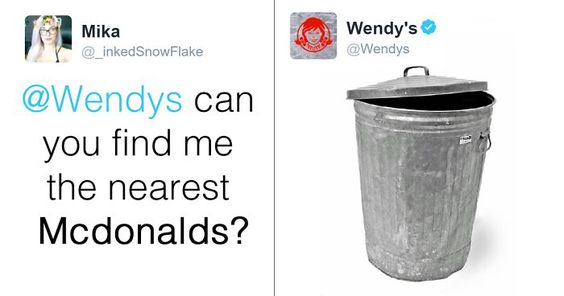 If you ask politely, Wendy will surely tell you where the nearest Wendy's is. But if you are trying to ask something that is not in their range, they will surely tell you they are not a maps application. And if you ask about McDonald's, you'll get a sassy answer as a bonus.
10. Wendy cares about your health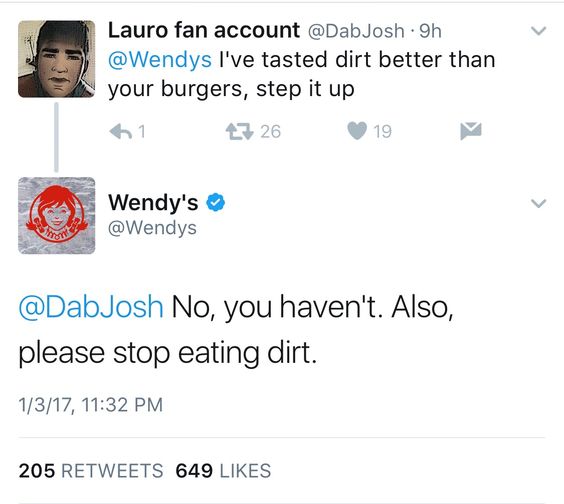 One of the reasons people love Wendys twitter account is because at times, Wendy can give you an educational answer. We all know eating dirt is not healthy. So why trying to do it anyway?
11. Question on a question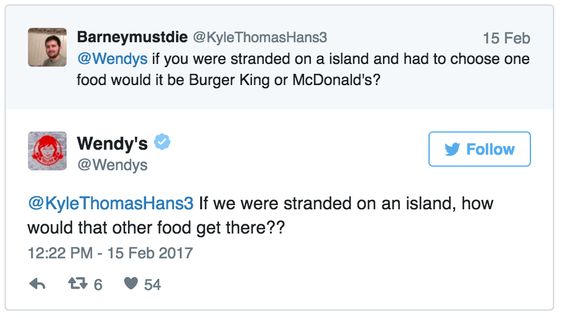 One thing about internet trolls. They surely do not use logic. No matter if it is Wendy's or someone else, asking a stupid question will produce a stupid answer. Like this one, where is the logic here?
12. If there is no Wendy around you, try moving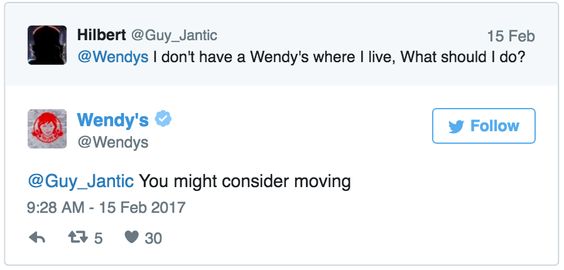 Truth be told, there are more than 6,500 Wendy's restaurants in America as of January 2016. If there is not one near you, you probably live in an abandoned city. And of course, moving out of such city should be mandatory, not an option.
13. The exit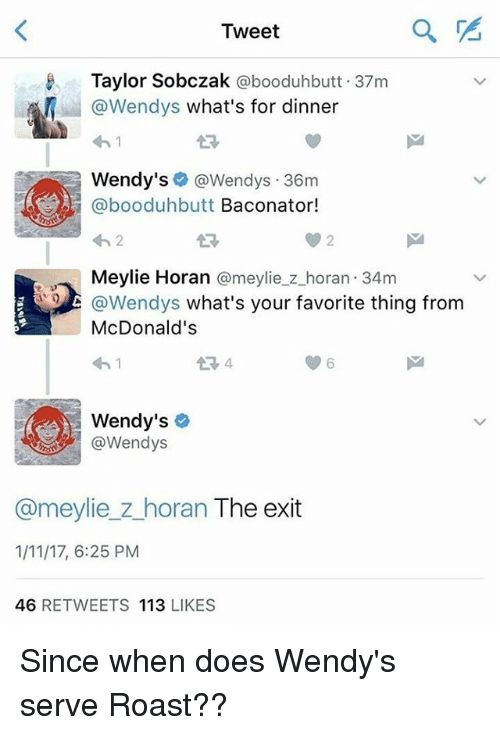 We all have our favorite dish or menu at a restaurant. Turns out ,Wendy has something else on mind. Especially if it is coming from McDonald's.
14. Asking for a friend
At one time, asking for a friend became an internet meme. So, Wendy's jumped up on the bandwagon. And they did it in style.
15. Wendy Checks your Twitter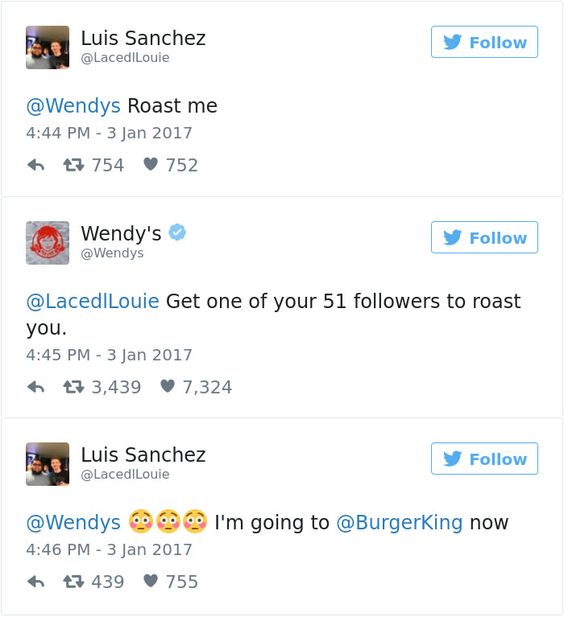 One reason why Wendy is sassy and savage in the same time is they actually think what to reply. And they check your profile, and hit you in the low spots. With that in mind, Wendy is always in advantage, as you will hardly have more popular Twitter account than theirs.
16. You are what you eat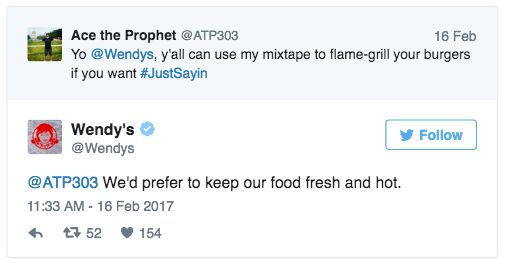 Even rap artists try to get into fight with Wendy's. Especially since the fast food chain restaurant is known for releasing mixtapes. But unless you are a really quality artist, just do not try it.
17. Even Wendy has had it enough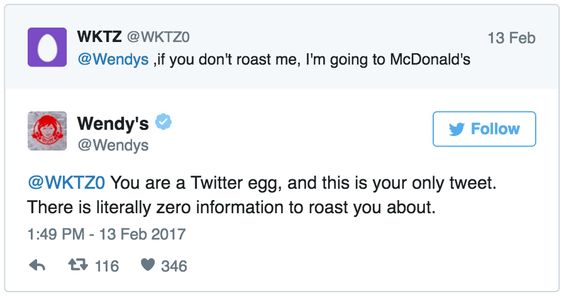 At times, even Wendys twitter account cannot find something to roast you about. Well, there are such rare cases. What can you do?
18. Tweet to popularity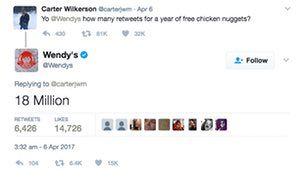 Sometimes, all you need for popularity is one single tweet. The 16 year old Carter Wilkerson got to Ellen's show, but he still has a long way to go get his 18m retweets needed for free food. His plea for free food became one of the biggest tweets ever.
19. Rivals use Wendy as well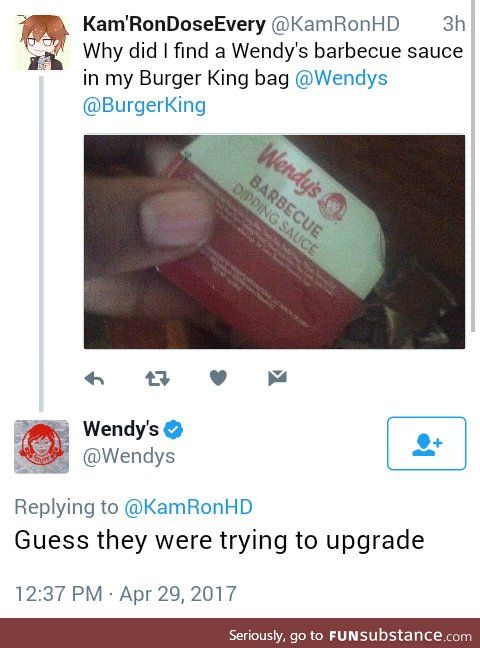 When your rivals use your products, you know you have a quality product out there. And Wendy is sure proud of that fact.
20. How cheap is cheap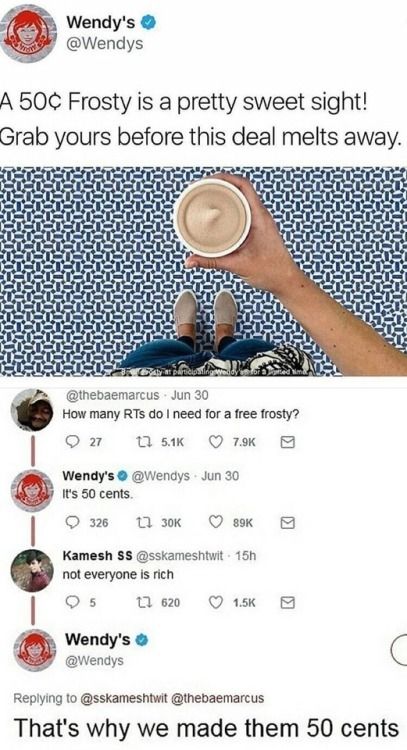 Let's be honest for a moment. A price tag of 50 cents for a drink is surely cheap. But some people just want cheaper than the cheap. Well, you deserve a roast.
21. Send your friends to Wendy's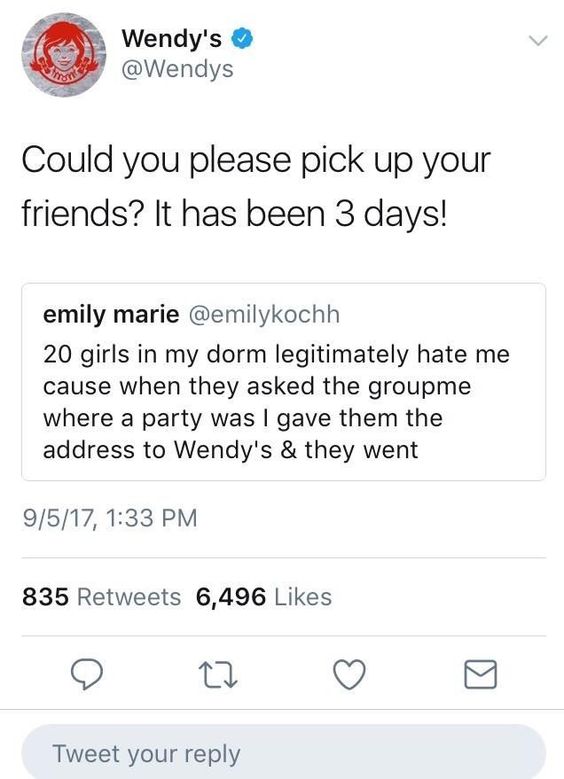 This girl probably wanted to joke around with her friends. But she got the joke on herself.
22. Wendy loses a battle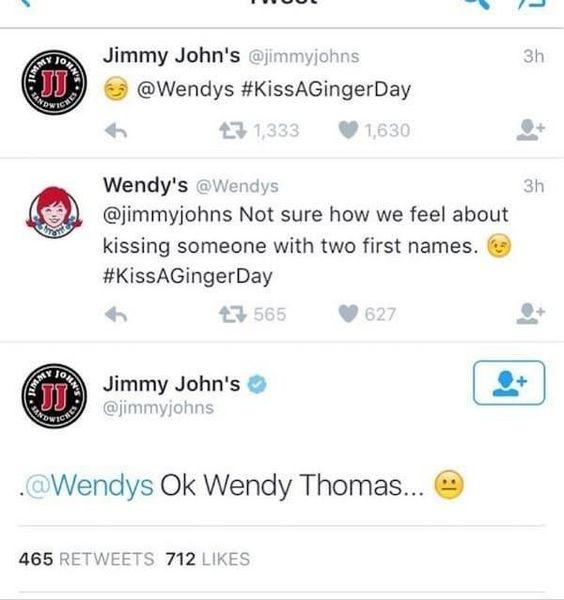 There are those rare occasions in which Wendy is on the losing side of a Twitter battle. Those are rare, but they do happen. Let's end the list of Wendys twitter trolling with that.
Bonus: Wendy's Mixtape
Last, but not least, listen to Wendy's latest mixtape. The fast food chain took it to the old school level, back in the days of hip-hop artists trashing between each other.