We must admit, that it took many years to fight off sexism and chauvinism. If you look back few generations, you'll understand that there were times women were considered nothing more than "someone who gives birth to a child".
But over the years, we've improved gender equality. That fight is not yet over. With that in mind, we also have to admit that we live in a world created by marketers. Since the early 20th century, advertising became a powerful force shaping our attitude and behavior.
And as it is in many other cases, with great power, comes great responsibility. Even today, advertising does not always conform to moral standards. Back in the early 20th century, morals were almost non-existent. Taking a closer look at some of the ads that were popular back then, they would be easily banned today.
You can easily see that these vintage ads are discriminating, and full of lies. With that in mind, let's take a look through some of the old ads.
1.Marijuana anti-drug commercial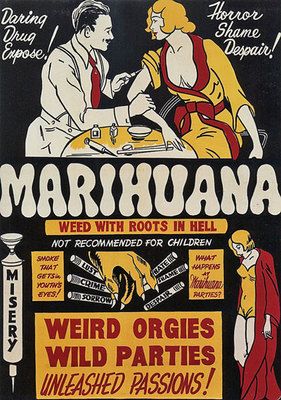 Nowadays, some countries have even legalized marijuana for recreational purposes. In many countries, marijuana is legal for medical purposes. But back in the early 20th century, people thought of marijuana as something "sent from hell". You must understand, that was a period when celebrities and regular people were dying from drug overdose.
2. Camel sexist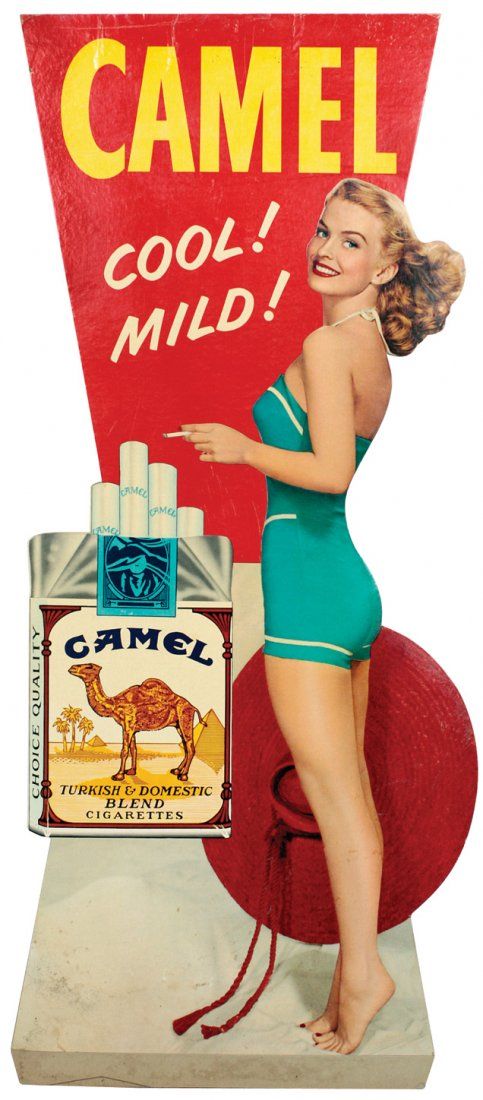 As mentioned previously, a lot of the vintage ads are sexist towards women. And that was even more true in the cigarette industry. Companies used women just so they attract attention to their product.
3. Prozac advertisement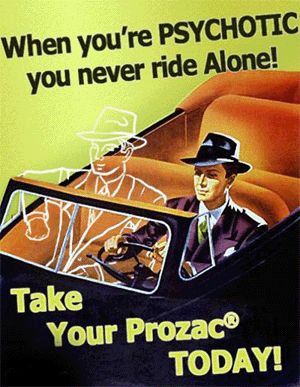 There are a lot of studies showing the side effects of Prozac nowadays. The drug used to treat depression and anxiety has gone through its fair share of adversity over the years. For example, like this vintage ad.
4. Vintage sexist ad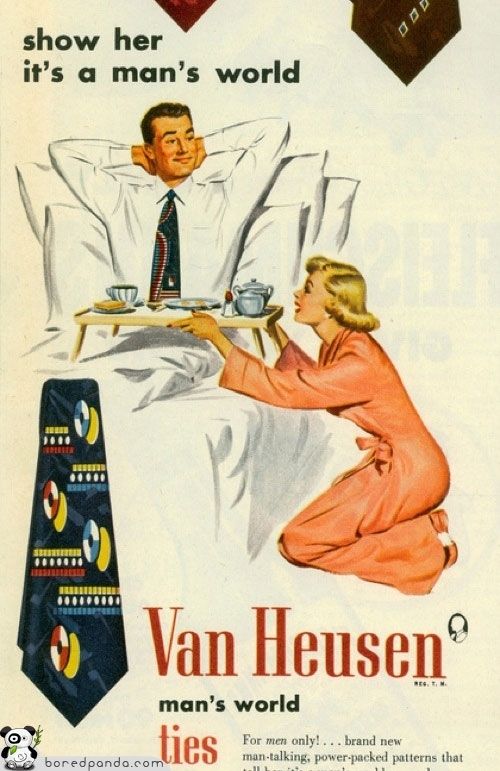 We mentioned that vintage ads were very sexist. It is a man's world is more than just a quote. James Brown had a song with that title. Christina Aguilera as well. Back in the early 20th century, being a boss and a leader was often seen as something "man-only".
5. Heineken and babies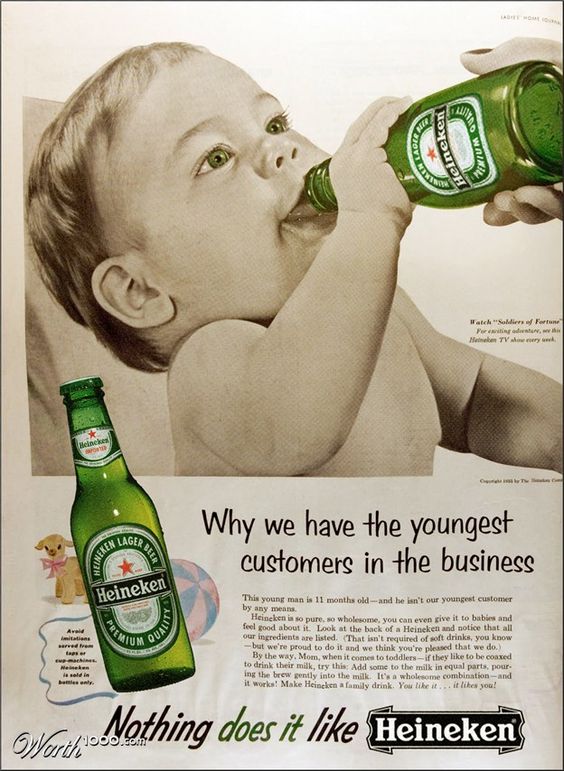 Nowadays, Heineken has some of the best marketing campaigns and ads. But back in the day, Heineken was not immune to would be banned today vintage ads. Just take a look at this one with a baby on the picture? How it is normal that babies drink beer?
6. Skinless wieners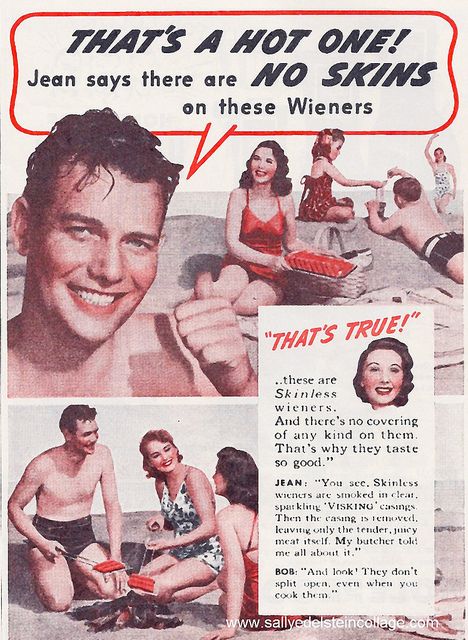 We all know what the term "wiener" means in the urban dictionary nowadays. We can safely assume it meant the same thing back then. But marketing experts used it to attract attention. Of course, without any moral standards.
7. Is it illegal to kill a woman?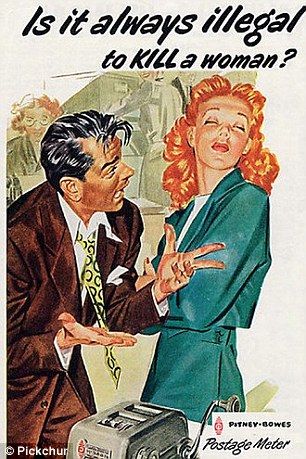 Looking at some of these vintage ads, you can safely say women were treated horribly in the early 20th century. How can you even ask such a question nowadays? It is never legal to kill a woman, period. Or any human being for that matter.
8. Creepy mother and a child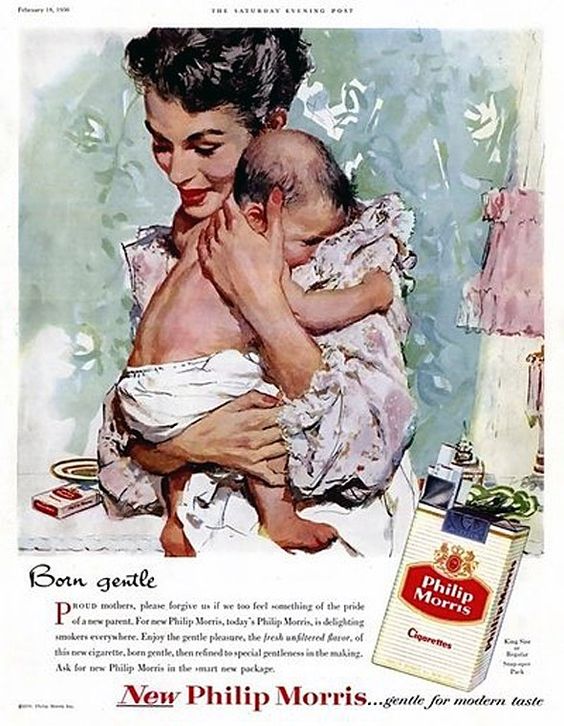 There is no other way to describe this vintage ad than "creepy". How can a mother and a child belong in a campaign for a cigarette company?
9. Camel and doctors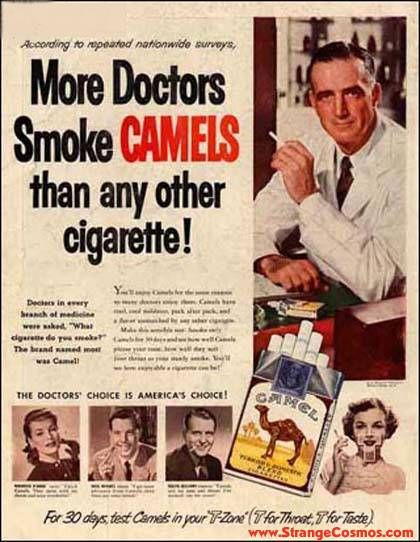 Camel is one of those companies that is at the heart of controversial vintage ads. The company tried almost every other angle to sell its product. Just try typing "camel controversial ads" on Google, and you'll get hundreds of results. And that is all you need to know about Camel.
10. A big boner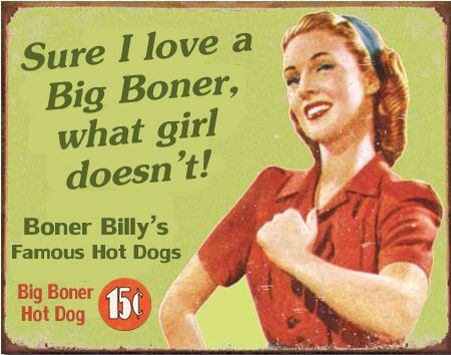 As you can see, a lot of jargons we use today as a joke, were part of an advertising company. That goes for wiener, and boner as well. And the worst part is, these jargons were used in a very sexist way.
11. A Gay ad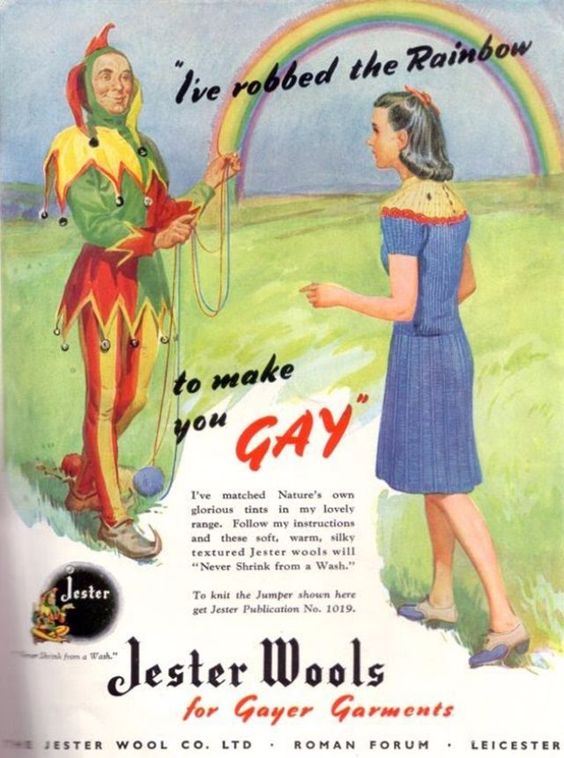 In addition to many sexist vintage ads, there were "gay ads" that weren't actually about homosexual people. Imagine the scrutiny these ads will face in today's world. Back then, homosexuality was actually considered a disease you need to treat. Nowadays, we've accepted homosexuality as part of our life.
12. The game is broomsticks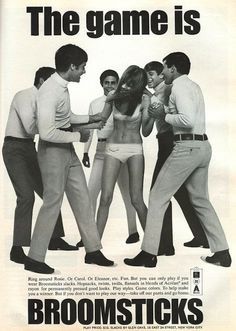 We are sorry that you cannot read the text on the image, as it is a small resolution. But you get the point. A couple of men trying to grab a half-naked woman? How can that be normal and good in any situation?
13. Even bicycles ads were sexist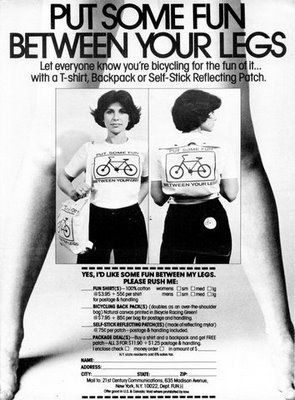 On the flip side, this advertising has a good message. It is designed to promote bicycles as a transport. But that doesn't mean you should "put something fun between a woman's legs". Today, we live in a world where more and more people are driving a bicycle to work, even politicians. But this ad would be banned by the very people riding a bicycle to work.
14. Action pants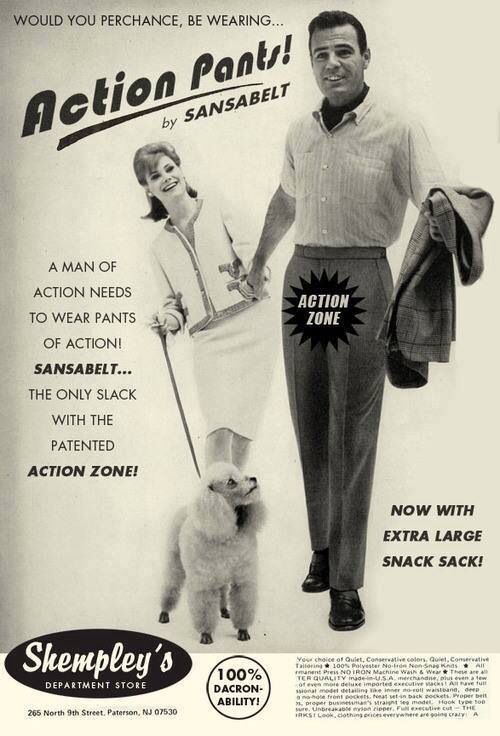 This brand of men's trousers manufactured trousers with a wide webbed elastic band sewn into the waist. The intention was to make a belt or suspenders unnecessary. But the company sure had a sexist way of marketing their trousers.
15. The ultimate sexist ad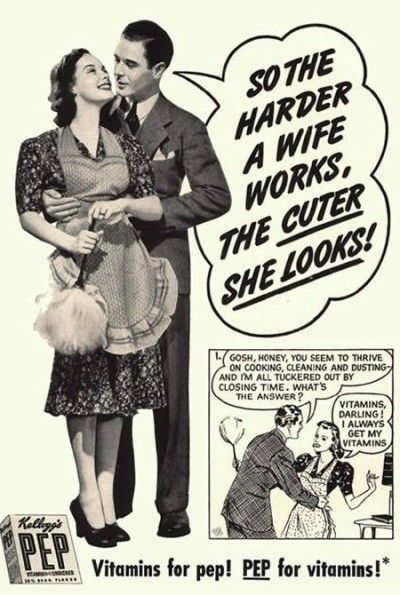 As we mentioned previously, back in the early 20th century, woman's tasks included working and taking care of the home, and giving birth to babies. Nowadays, the roles are shifting and changing. There are even stay at home dads, and women in high ranking positions.
16. Weight loss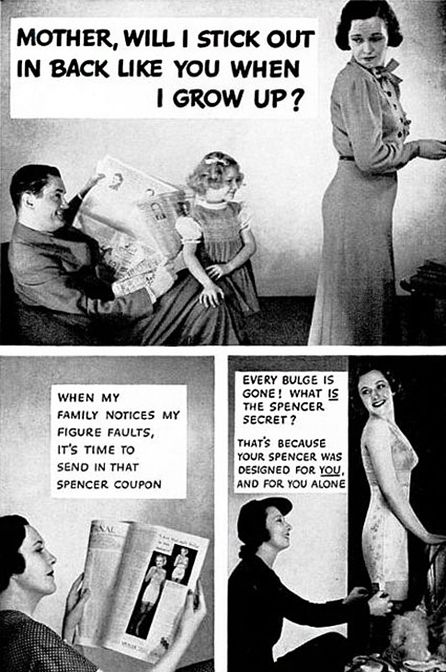 The topic of weight gain and weight loss was popular in the early 20th century as well. Women were expected to be slim and thin. It wasn't until Marylyn Monroe came to Hollywood that curves were socially acceptable.
17. Kisses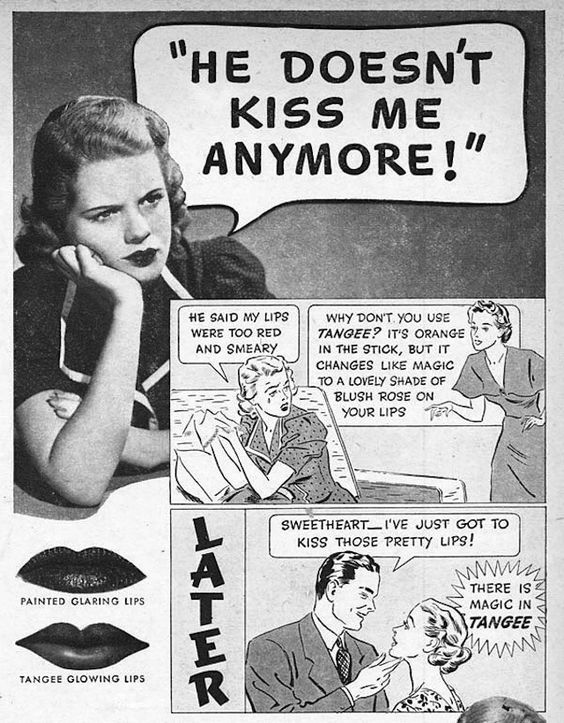 Many of these vintage ads were designed to show women they need to look absolutely perfect for their man. It was their biggest responsibility. What is scary is that they teach women that if they do not look pretty, a man is in his right to avoid them and not kiss them.
18. How to trap a man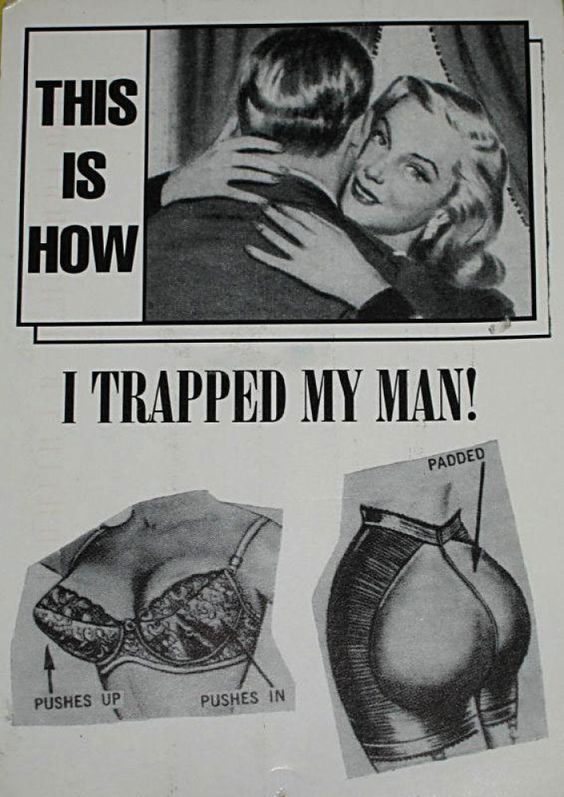 As mentioned previously, women had to look sexy and at their absolute best. And the message is loud and clear: provide good sex when he wants, and he will stick around.
19. What is marriage?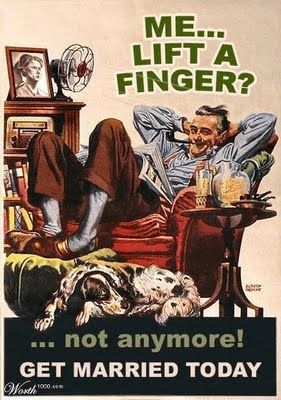 What is marriage? And how are tasks divided? Is the woman doing all the work? Or should men help in the household as well? You can see how far we've gone in evolution by these vintage ads. Being helpful in the home and helping your wife was at times seen as sign of a weak man.
20. Coca Cola vintage ads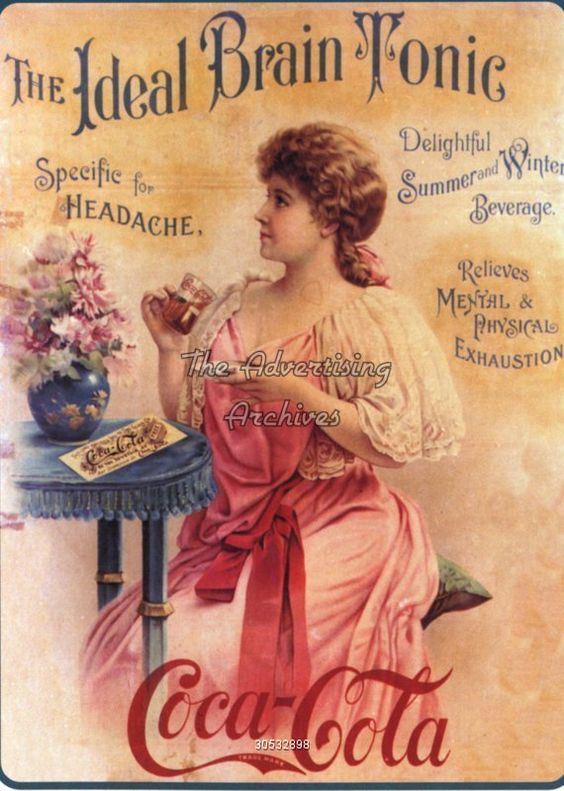 Coca Cola is one of the most successful advertisers. Their advertising and marketing campaigns are legendary. But even one of the most successful companies in terms of advertising fall victim to weird vintage ads. This campaign is from 1910.
21. Wake up Gay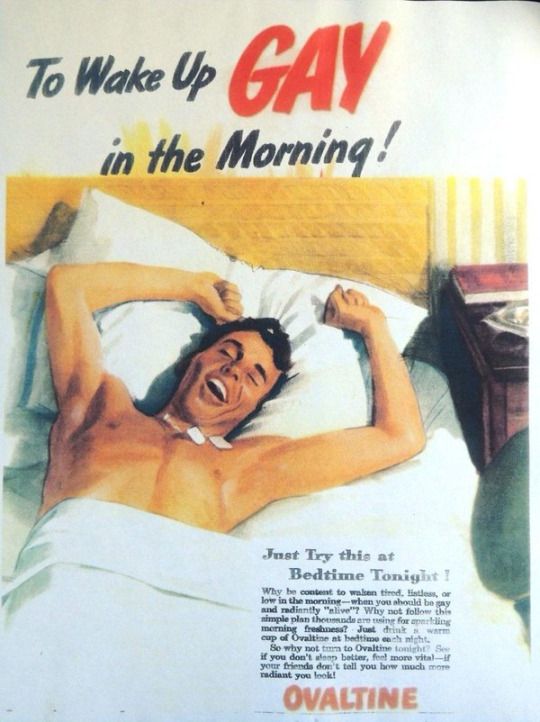 We mentioned that a lot of these vintage ads used the term "gay", even though they were not homosexual. The only thing you can say when looking at these ads is "Oh dear".