Known as the gentle giant of the cat world, the Maine Coon cat is the largest domesticated breeds of felines. Even the world's longest cat is a record hold by a Maine Coon cat named Stewie, from Reno, Nevada. Stewie was measured at 128cm in 2010 by the Guinness Book of World Records.
There are many legends regarding the origin of the Maine Moon cat. Some claim they were a result of a cross breed between raccoons and cats. Another one is a bit more interesting, as it states that Marie Antoinette, tried to flee execution her favorite Turkish Angora Cats. She landed on the shores of Wiscasset, Maine, where she was one of the first to breed the species.
In literature, among the first mentions of Maine Coons is in "The Book of the Cat", a novel by Frances Simpson in 1903. With that in mind, let's take a look at several pictures of Maine Coon cats.
1.The Large Maine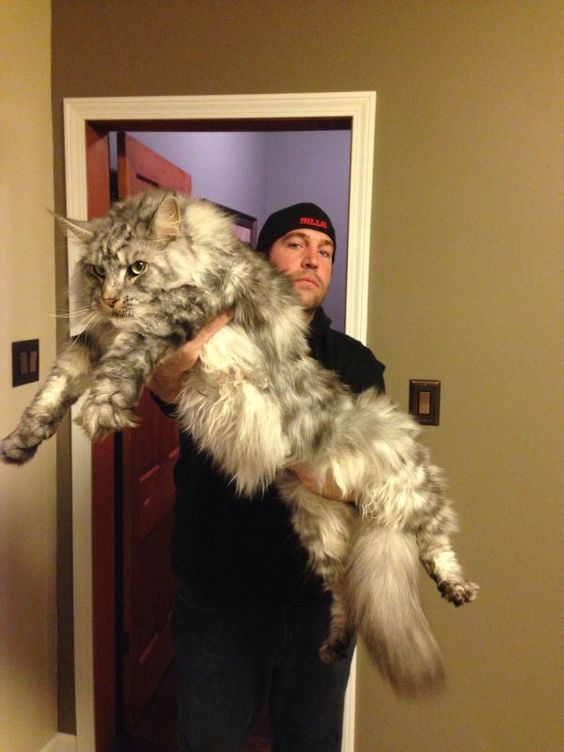 As mentioned previously, Maine Moon cats are the largest domestic felines. This is just a picture of showing you how big they can grow. It is really astonishing to think that a domestic cat can grow up to 15-20 pounds.
2. That Look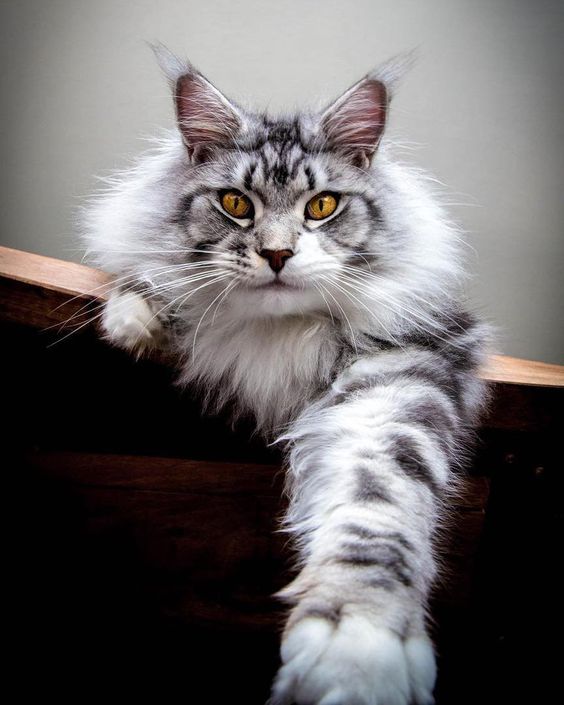 Maine Coon Cats do not typically "meow". However, they chirp and trill, which is a mixture of meow and a purr. Another thing they excel at is the look in their eyes. Just try and look in their eyes for few minutes. You just cannot ignore the cuteness that brings tears to eyes.
3. Is your cat tiny?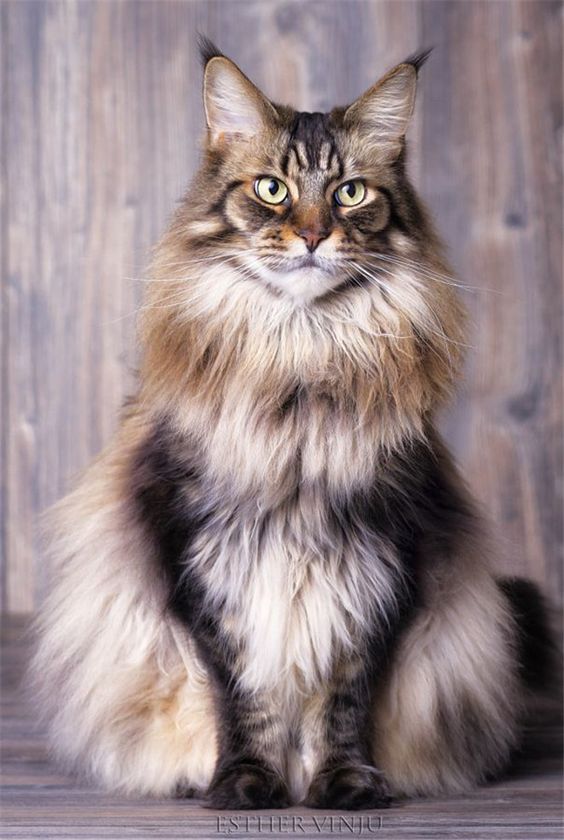 When looking at the pictures of Maine Moon cats, you just cannot help it but think, Damn, my cat does really look tiny compared to this. It is like you are standing next to a guy who is 7 foot tall, and you are like, wow, how short am I.
4. Color of a Maine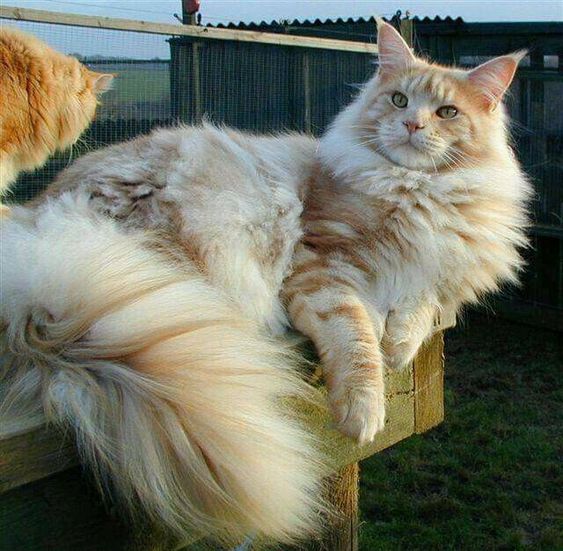 When people think of Maine Moon cats, they often think of the grey cat. But they come in just about every cat color and pattern. There are more than 70 patterns, including orange, red, tabby, cream, white, buff, black, silver, multi-colored and so on.
5. A Gentle Giant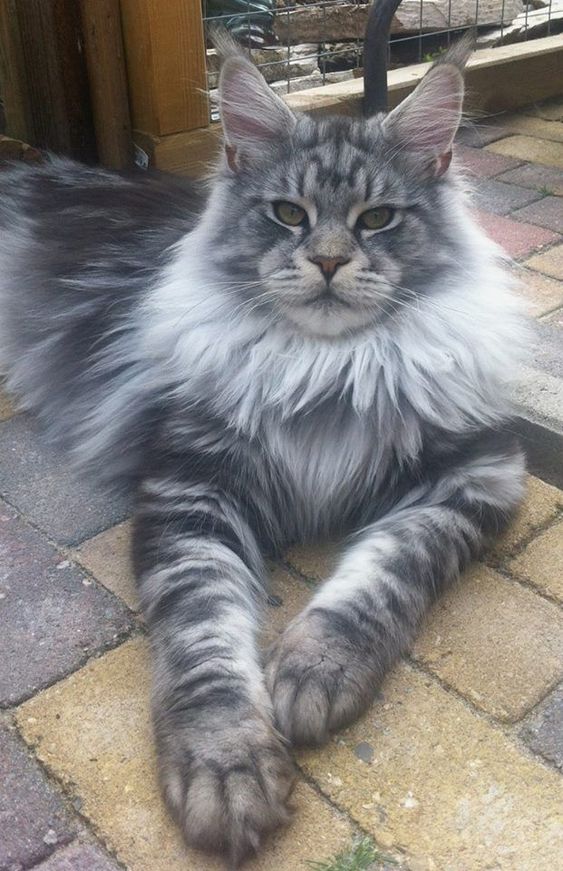 We mentioned that one of the nicknames of Maine cats is gentle giants. They are also known as "the dogs of the cat world".
6. A friendly cat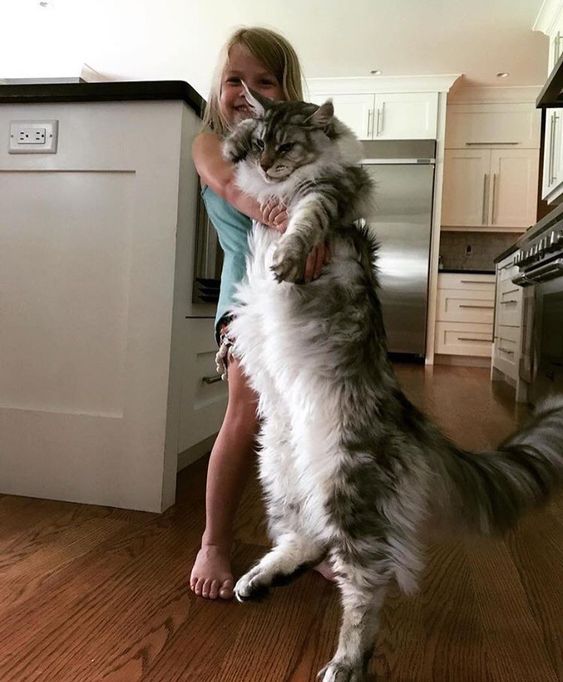 Maine cats are some of the friendliest cats you can find. That is one of their best characteristics. Maine cats are very playful and curious, and great as family pets.
7. The not so friendly cat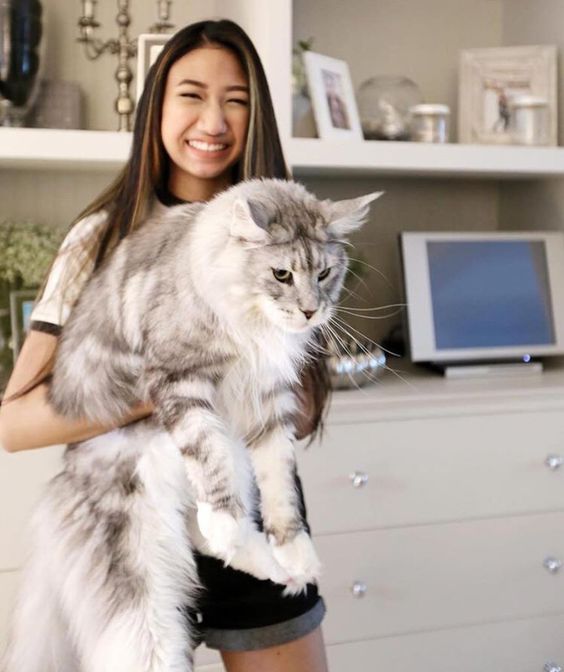 While Maine cats are very loyal to their family, they are cautious around strangers. That doesn't mean they are mean to strangers. But they just do not want to be around people they do not know.
8. Tabby Maine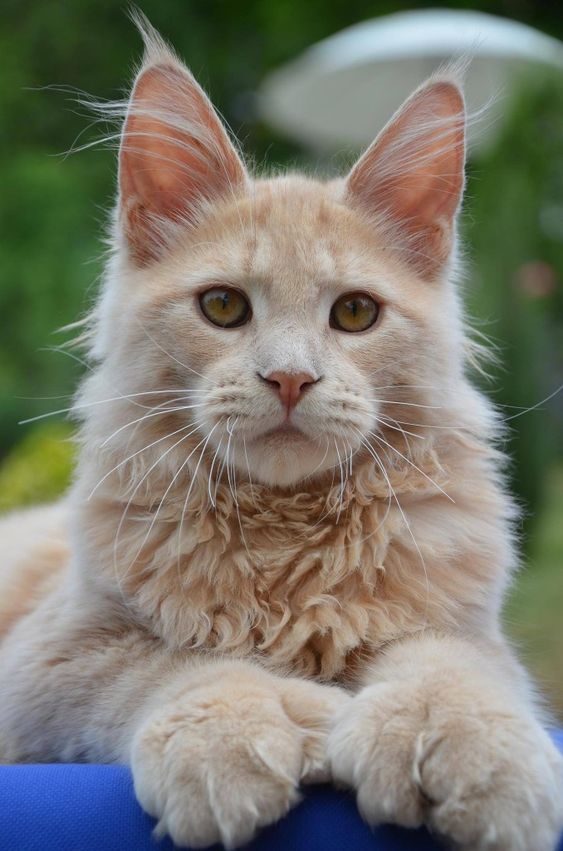 Fun fact: The winner of the first American Cat show held in New York City in 1895 was a brown tabby Maine Coon cat named Cosey. This is not that cat, but it is a fun fact to know about Maine cats.
9. An Evil cat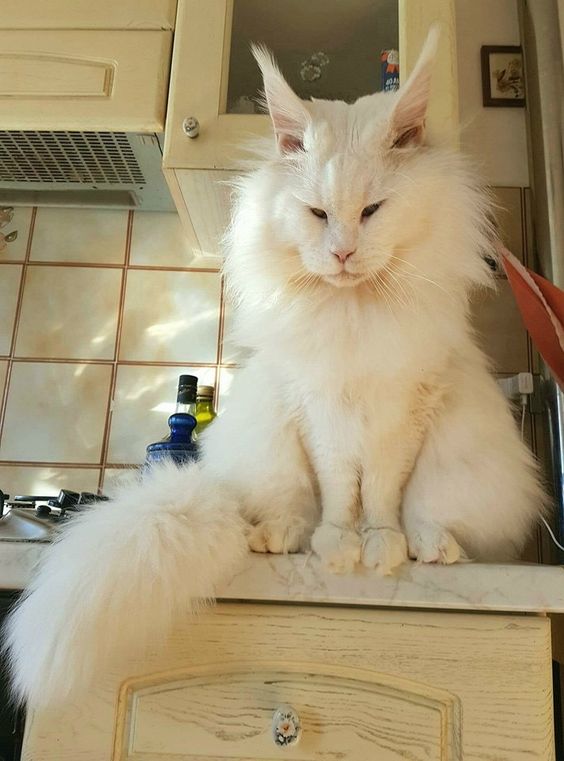 Maine Cats are very independent and not clingy. They are not know exactly known as "lap cats". Therefore, expect them to hide, sleep, and sit on a strange places in your home. That includes the kitchen.
10. Grooming maintenance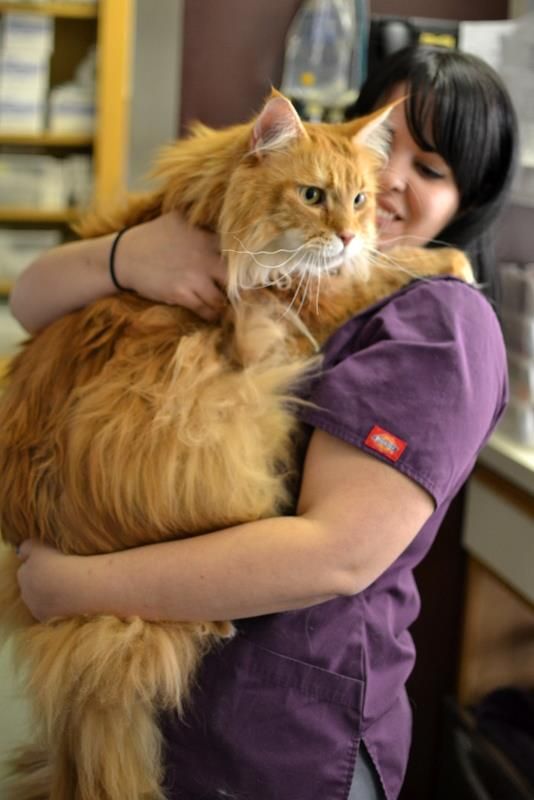 Regular grooming is advised in order to keep the coat of your Maine cat in good shape. People tend to underestimate the grooming requirements of a cat. And the Maine is one of the hardest in that regard.
11. Gorgeous cats
There is no denying the fact that Maine cats are one of the most gorgeous cats you can find. Plus, their gentle disposition makes them relaxed around dogs, children, and other cats. Such a great pet to have around.
12. Ready for winter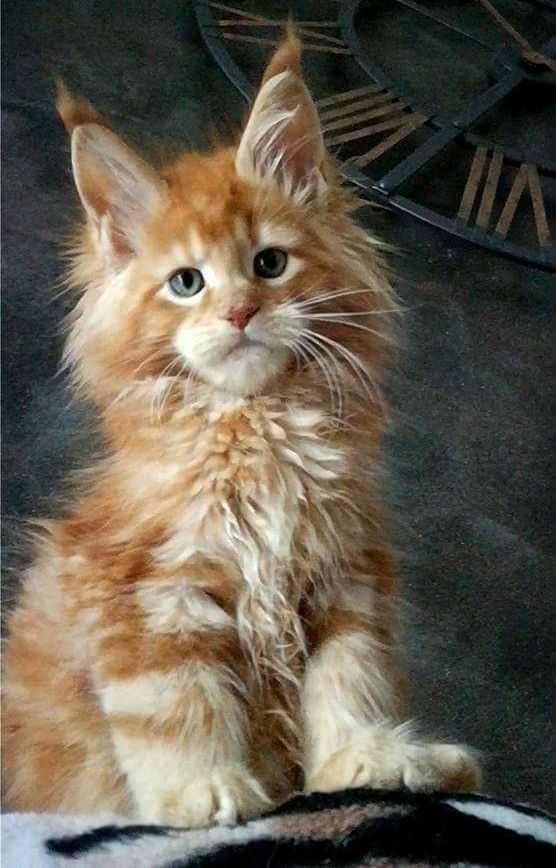 Maine Coon cats can easily survive the harshest winter. They evolved and adapted by developing characteristics like large and tufted paws that serve as built-in snowshoes, as well as a thick and bushy tail they can wrap around their bodies. They also have furry ears, all adapted for winter months.
13. They shed a lot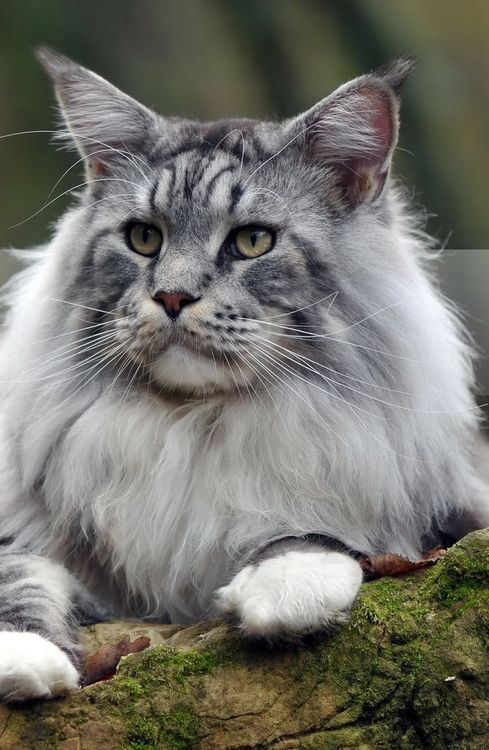 When people want to buy a Maine coon cat, the first question is shedding. And in that regard, Maine Moon cats shed a lot. Shedding will occur often, and it is advisable that you brush and coat their coat regularly so that you can reduce the risk of developing hairballs.
14. Enjoying the snow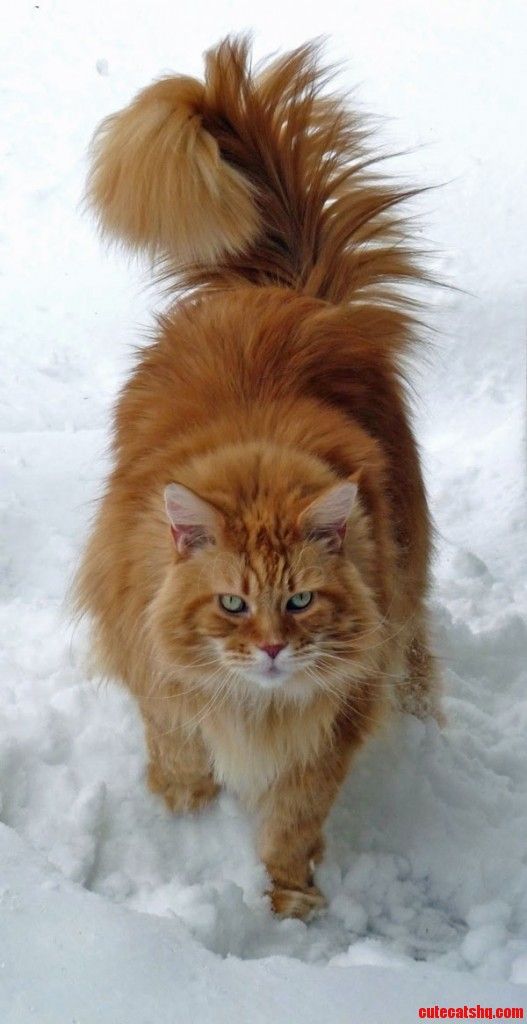 As mentioned, Maine Moon cats are some of the rare cat breeds that are perfectly suited for a harsh winter. And they actually enjoy being in the snow where they play around.
15. Stars of Hollywood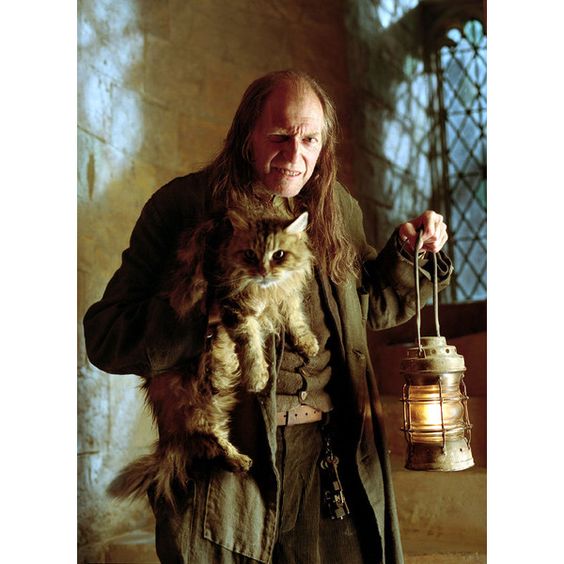 Pebbles, a female Maine Coon was one of the three kitties to appear in Harry Potter movies. According to the people making the movie, Pebbles was not as responsive to training. Her name in the movie was Mrs. Norris, and she was a pet of Argus Flich.
16. Good swimmers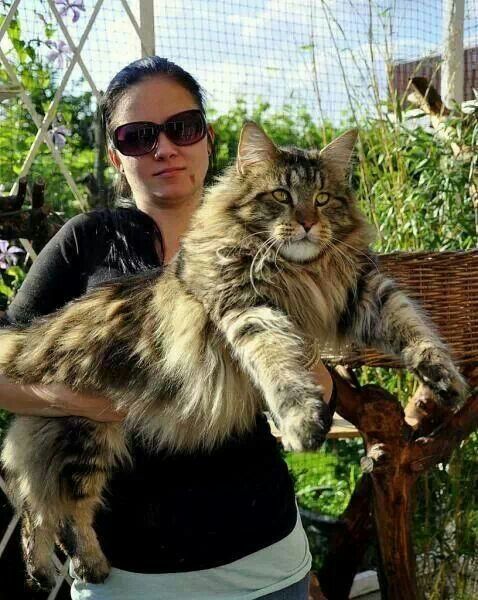 Even though they are perfectly suited for a winter, Maine coon cats enjoy the water. They love the summertime when they can go and swim. Their water-resistant fur makes them quite efficient swimmers.
17. Best feature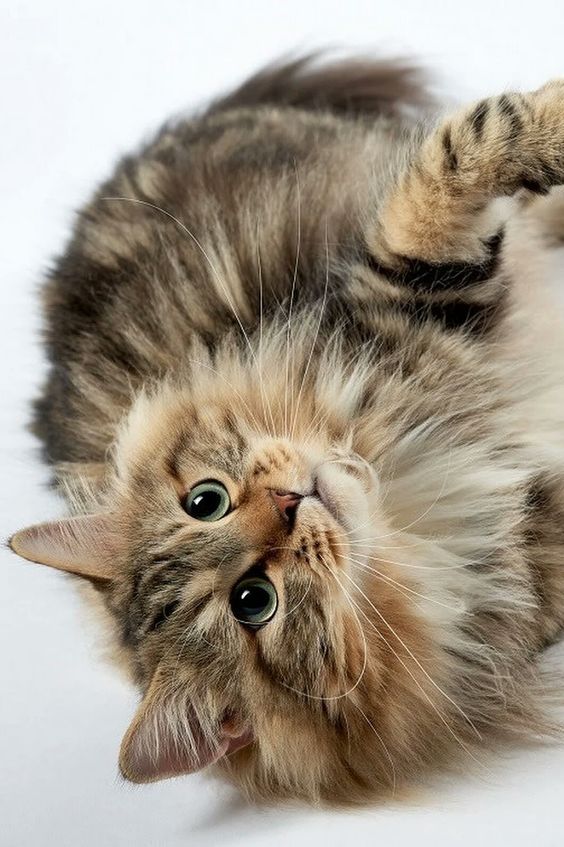 The crowning feature of a Maine cat is the dense, and water-repellant coat. The coat is longer on the stomach, ruff, and flanks. That keeps the cat warm in the lower body when she sits or walks across ice or snow.
18. Curious look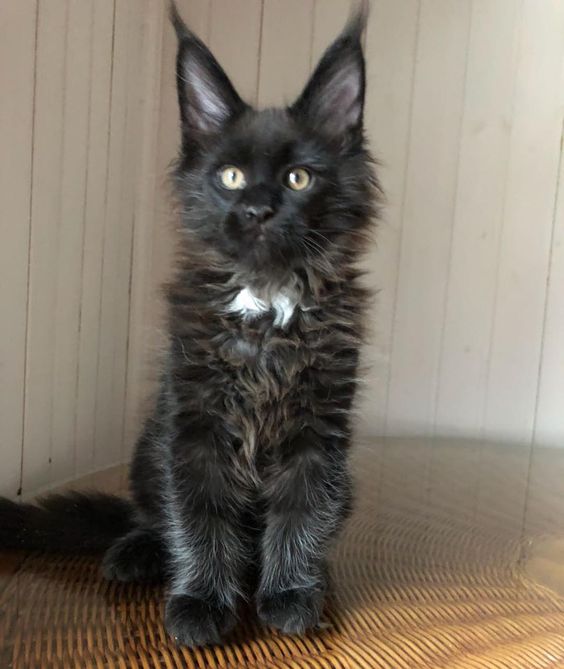 Another feature of Maine moon cats is the fur on the upper body. Their fur grows shorter on the shoulders, which allows them to romp through the woods without getting snared by branches and bushes.
19. Royal cat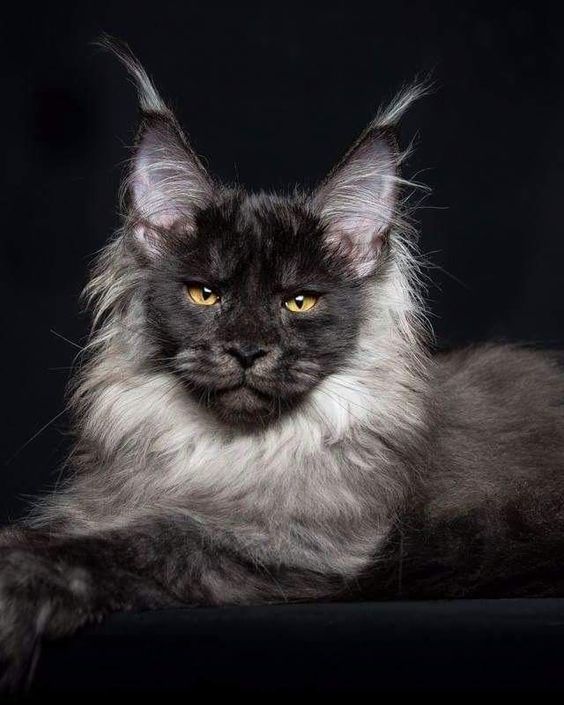 When you look at the Maine moon cat, you just cannot ignore the fact they are like royals. And they want to act as such. Just look at that face, isn't that someone telling you "I Am the King/Queen of this House".
20. Another large cat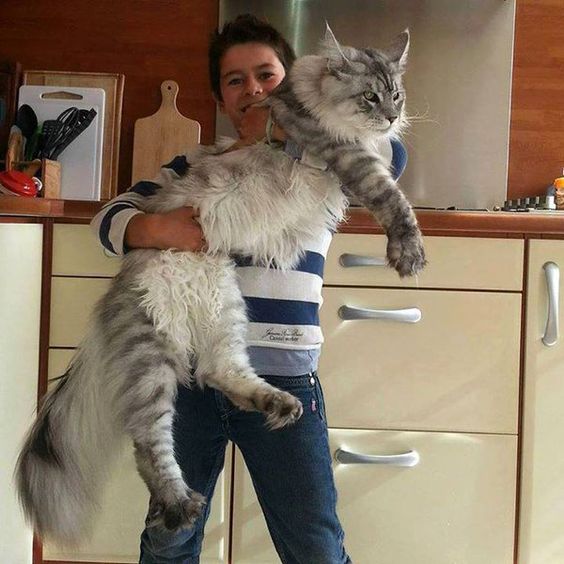 Last, but not least, here is another picture showing you just how big these cats can grow.