Pet owners know the struggle. Going to the vet is like finding a needle in a haystack. The latter is hard to find, and the former is something as challenging as ever. Most dogs and cats are afraid of the vet. They do not like to go there. Well, who can blame them, when most of the time, we take our pets to the veterinarian clinic only when something is wrong with them. And we put them through the nightmare of taking a needle in their butt. However, if they could read these genius vet signs, they would not be as afraid.
Pet hospitals all around the world are trying every way they know to make it more pleasing for dogs, cats, and other pets. But it turns out, all you need is a genius slogan, a sign that will make the place more welcoming for dogs and cats. Let's have a look.
1.The struggle of every owner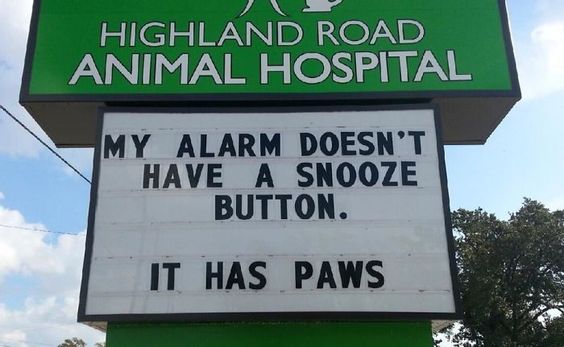 Anyone who has a dog knows that painful moment in the morning. Someone is barking, and it is not the neighbor's dog. It is your dog crying for attention, and a morning walk. It is funny, pets do not know what the time is, but they get up at exactly the same time every day.
2. Cross breeds are just as good as pure breeds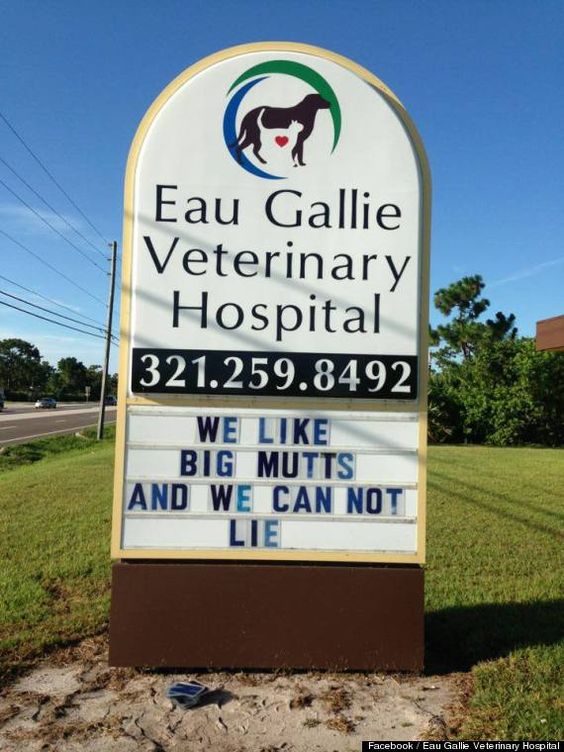 Mutts, or cross breed dogs can sometimes be even more beautiful than pure breeds. Take the labra doodle for example. It is one of the most wanted dogs in the United States. There are even breeders that breed them on purpose.
3. Cats are just the worst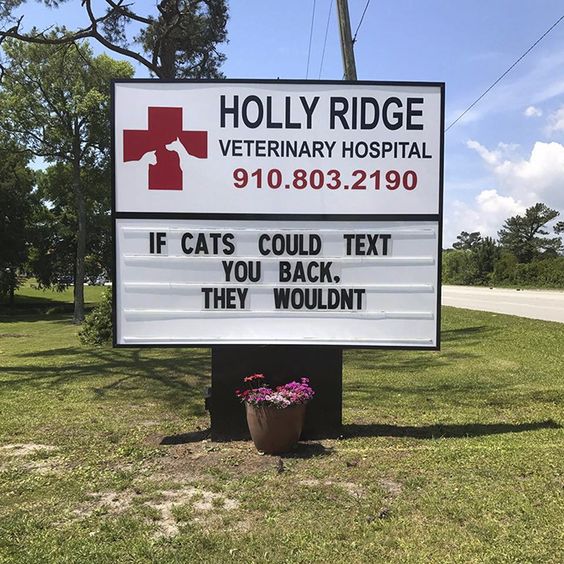 Nowadays, Facebook messenger has given us the painful reality. Someone has seen your message, but hasn't replied. We can all agree that is just pure evil and arrogance. Well, cats are like that as well. If they had messenger and could text you back, we are sure they wouldn't.
4. Clever word play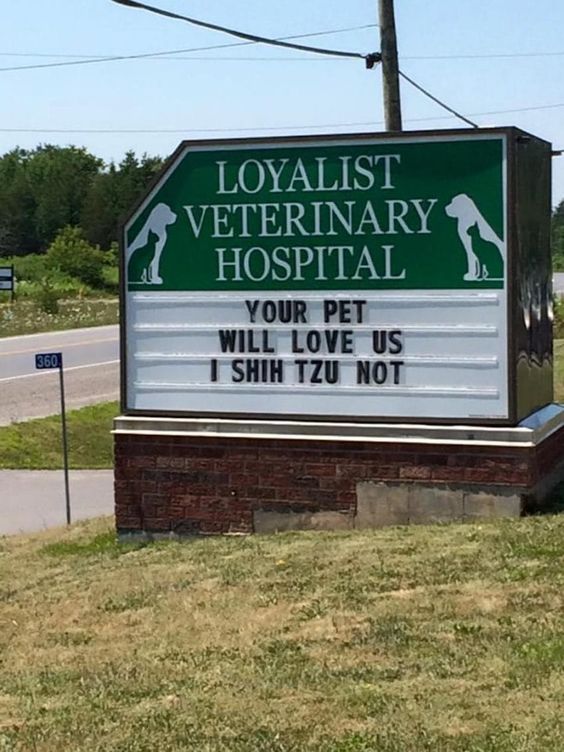 Some dog breeds have the most amazing names. And you just have to put them in a word play. Take the shih tzu for example. Can you think of any other wordplay game where you could use that name?
5. Another word play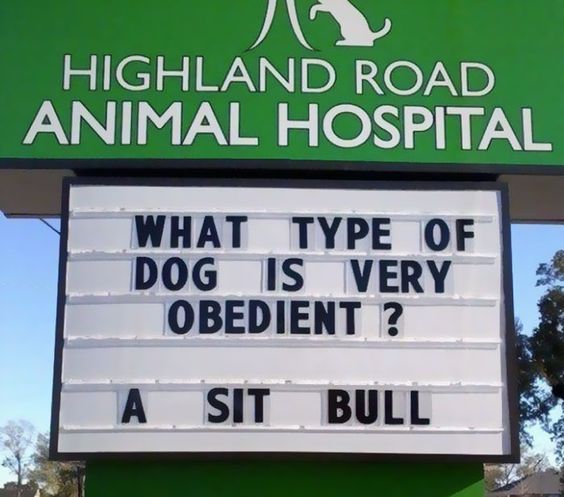 We all want an obedient dog. But you have to remember, dogs have their own mind and body. They are intelligent creatures that want to think with their own head as well. Would you like to be obedient and always listen to commands from others?
6. Dogs and baths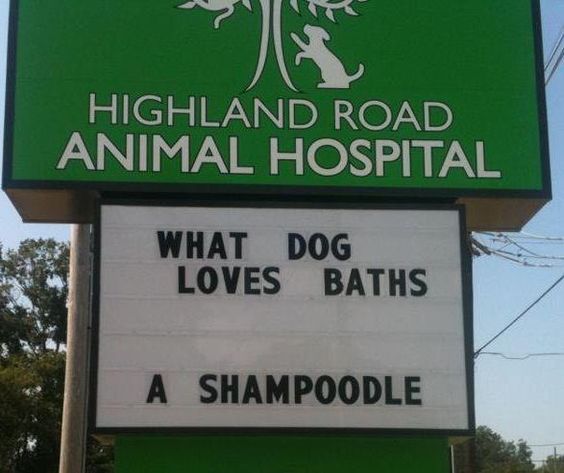 Another challenge for dog owners is getting your pet in the bath. It is just a real struggle. Truth be told, there are dogs that love water. But most dogs do not love getting their body wet in the bath. They have no problem getting wet outside, though.
7. Dogs are like trees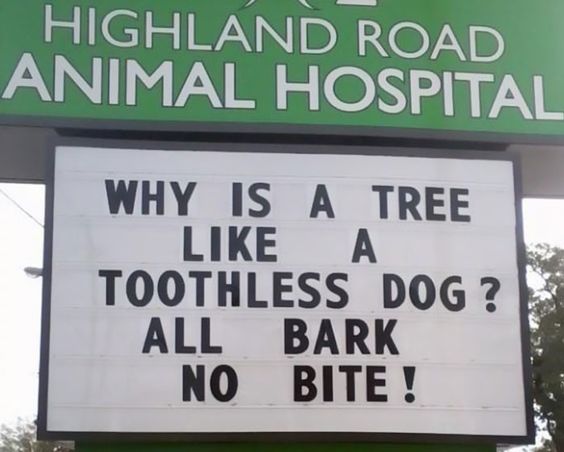 Now, not all dogs are like trees. But toothless dogs, or those that do not bite, are just like trees. It is a funny joke, and we all appreciate those.
8. Dalmatians and hiding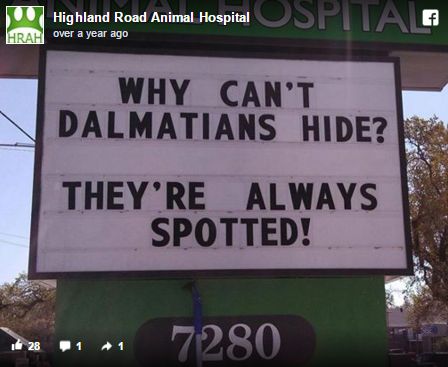 We just have to appreciate a clever joke involving a specific dog breed. These are just hilarious and in the same time genius vet signs.
9. Owners and pets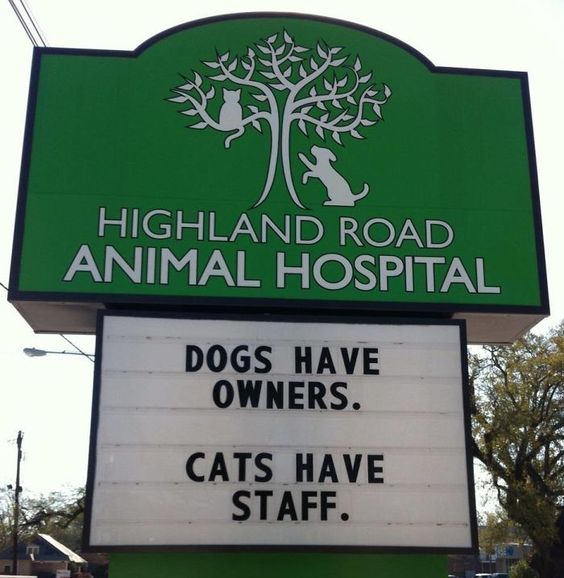 Anyone who has ever had a dog and a cat, he knows this is true. Dogs are more obedient than cats. Our furry friends love to play and listen to commands. Cats, on the other hand, they just need someone to take care of them. And even then, they do not listen.
10. Who is your daddy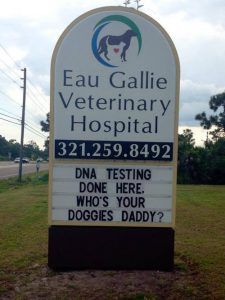 It is one of the most common dirty jokes. We use it all the time. And it is just as funny if you make it for your dog.
11. Striptease for dogs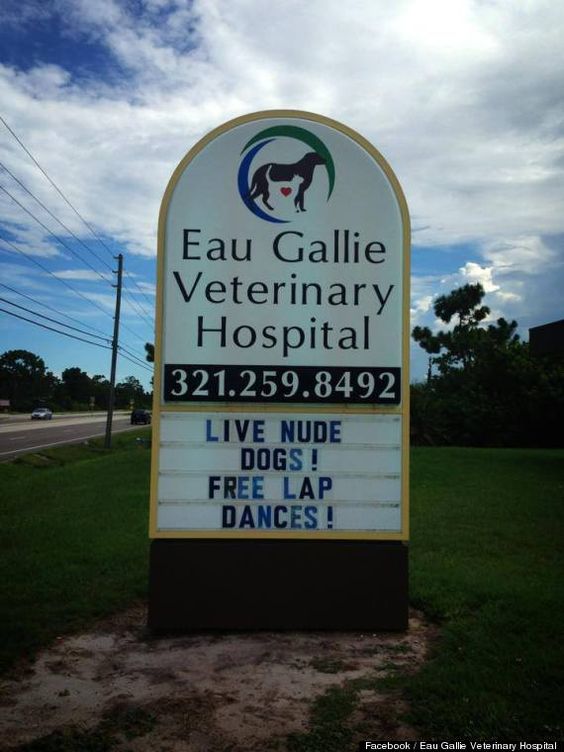 Well, apparently, there are veterinary clinics where dogs get a lap dance. I am sure I would love to take my dog to a such clinic. At least I know he will be happy afterwards. Sex jokes asides, it is one of the genius vet signs that get your attention. And that is all that is needed sometimes.
12. Childhood trauma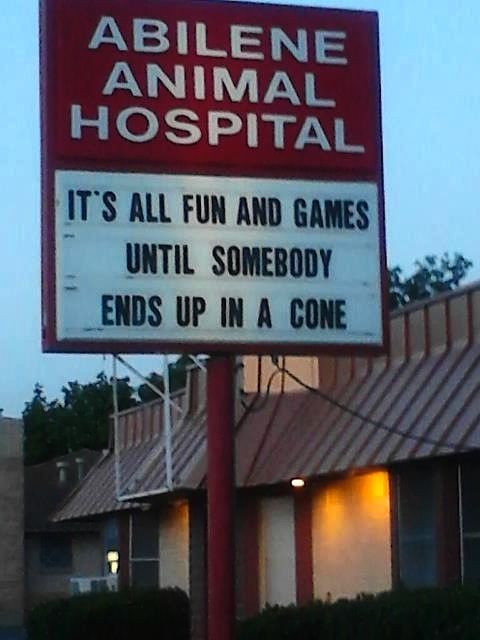 Who doesn't remember the "it is all fun and games until" saying from the times when we were kids. I do remember my parents using that line a number of times. And I am sure other parents did as well. Now that you are a dog parent, you probably use it too.
13. The five seconds rule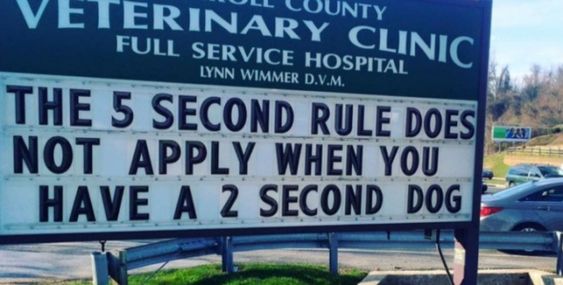 If you do not know what this rule is, let's break it down. Basically, if food drops on the floor, you have five seconds to pick it up and eat it again. However, when your dog is patiently waiting for something to drop, you have zero seconds to react. That is how fast your dog is when foods drops on the floor.
14. Show us your kitties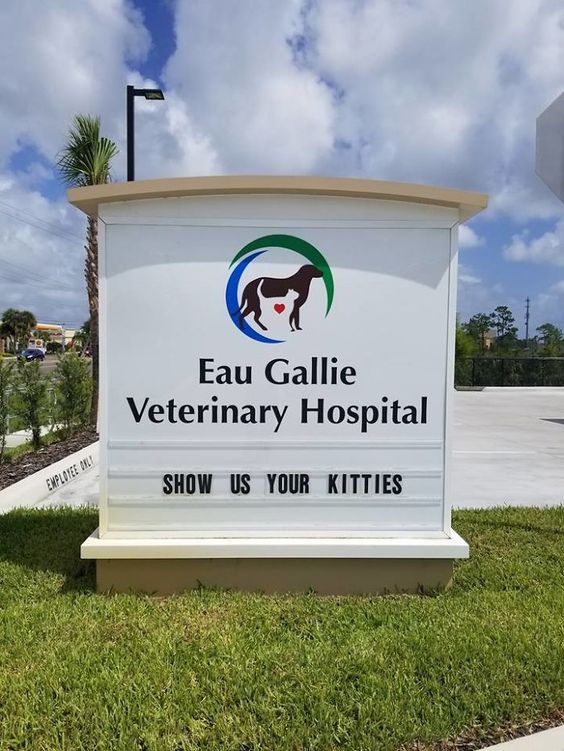 It is a clever play on the always popular "show tits" quote. And while the latter is a bit sexual, vulgar, and offending, the former is just great and genius. Who wouldn't love to take their kittens there?
15. Why should you take your pet to the vet?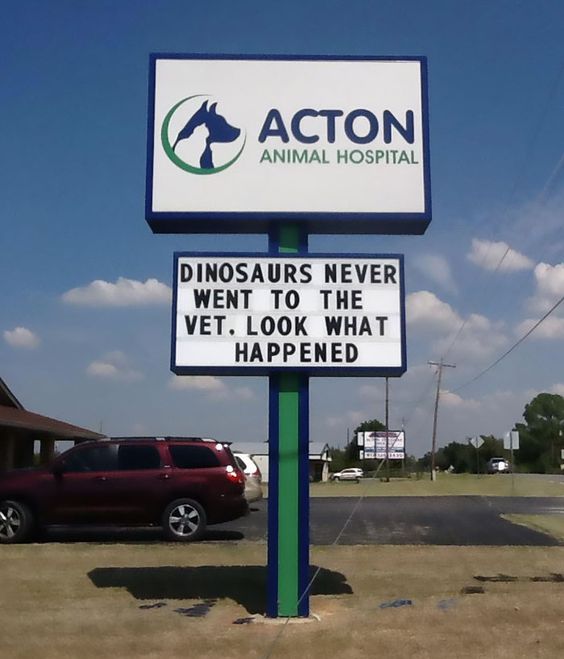 Let's wrap the list of genius pet signs with the harsh truth. If you do not take your pet to the vet regularly, it will die. That is just the truth. Pets need as much health care as we do. And you go to the hospital for regular checkups, don't you?