According to a lot of studies, watching fish swim around and do their daily business reduces stress levels, lowers blood pressure and provides better relaxation. If this can do so, imagine how much more going home after work can be a lot better with these extraordinary aquariums!
Here are 15 of the most uniquely-designed fish tanks that can make your home more therapeutic and awesome.
#1 The Aquarium Sink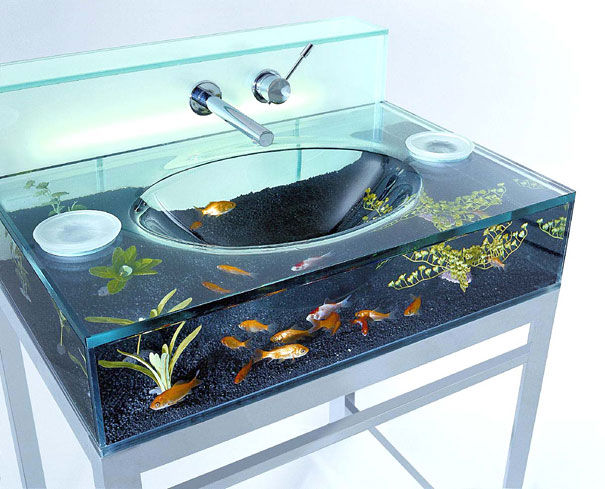 Tired of your common dirty white bathroom sink? Put life in it, literally, by turning it into an aquarium! It's highly entertaining and can actually encourage you to brush your teeth often so you could watch the fishes swim while doing so.
In case you need to rearrange the decor, the top glass can be opened. Each side also offers a large, circular entry for fish feeding.
#2 Balancing Fishbowl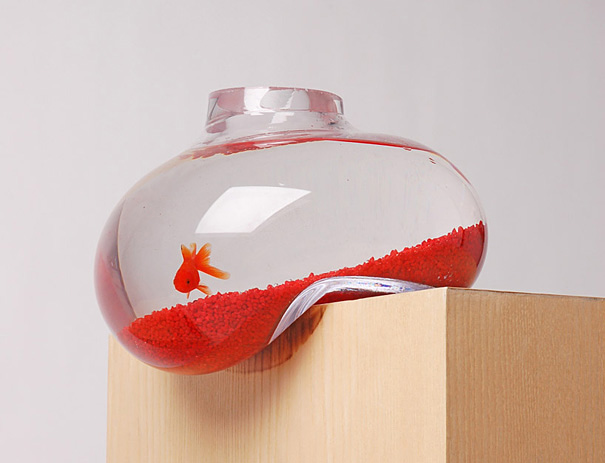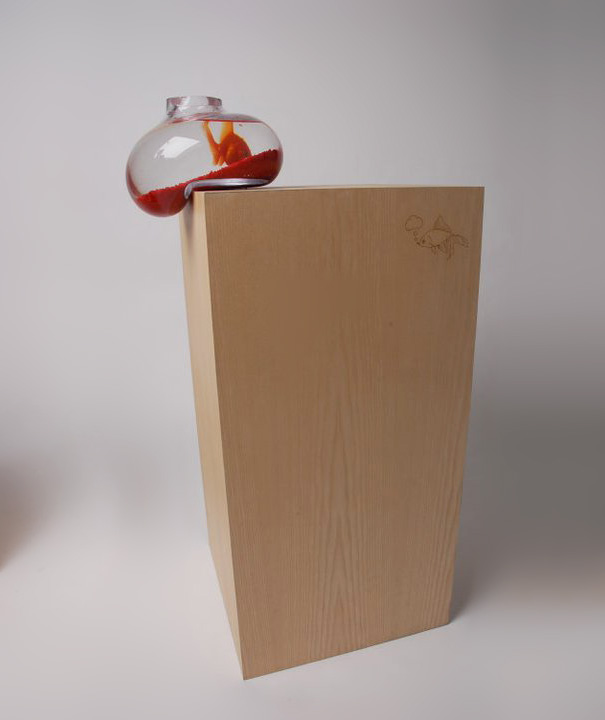 If this fishbowl design bothers you enough that you want to prevent it from falling, then you're destined to have it. I didn't say it will definitely drop, the design is 'resting on its counter-balanced weight' so there is nothing to worry about. It's made up of premium glass and comes with various unique forms and individual characteristics from Psalt Design.
#3 Coffee Table Fish Tank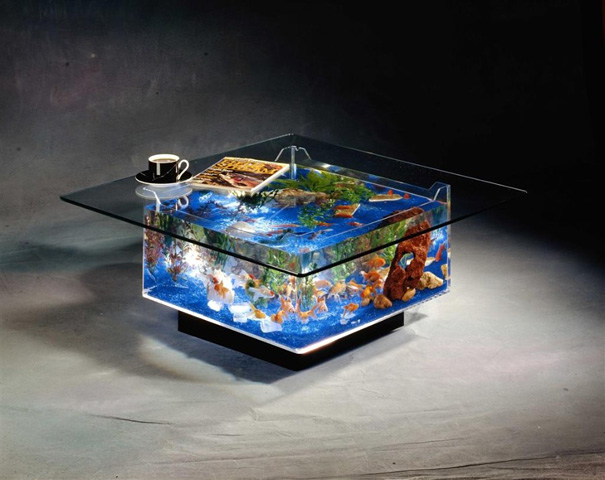 Attract your visitors (and cat) on a quality time by the coffee table with this centre desk. It's based on a fully functional aquarium created with various glass layers so the fish won't get bothered with anything put above it.  It can be decorated with ease by simply lifting open its entire glass top.
#4 Vintage TV Aquarium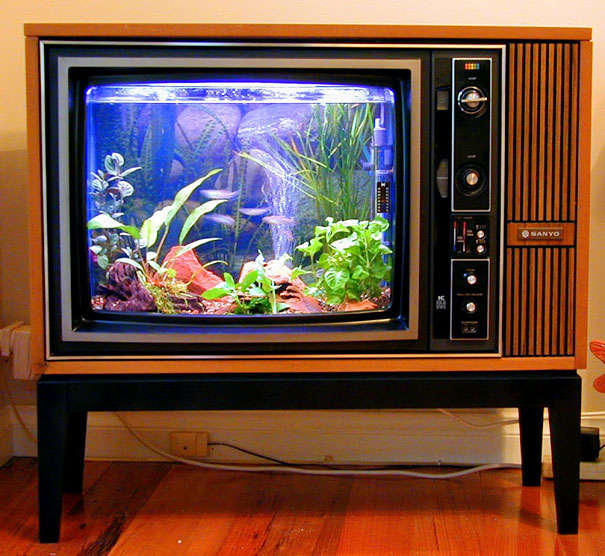 This is the exact meaning of watching a show "live" on TV.
#5 Two Lives in One Pot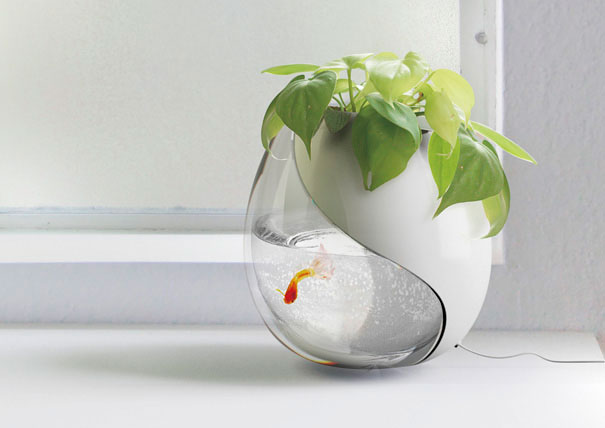 Sheng-Zhe Feng and Ling-Yuan Chou designed a fish tank that can support two lives, plant and animal.
According to the designers, "the soil remains humid, extending the watering period by about one week. The product's middle layer is the filter layer, which accumulates fertilizer as the nutrient for an outdoor pot plant."
#6 Telephone Booth Turned Aquarium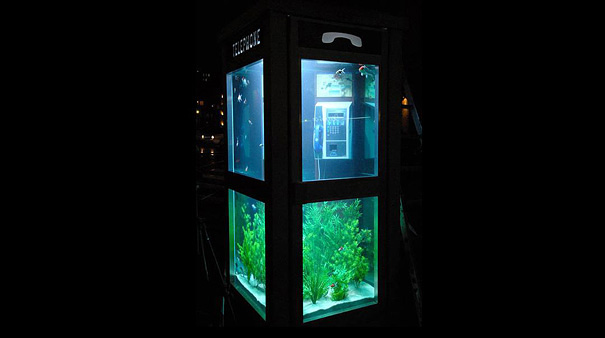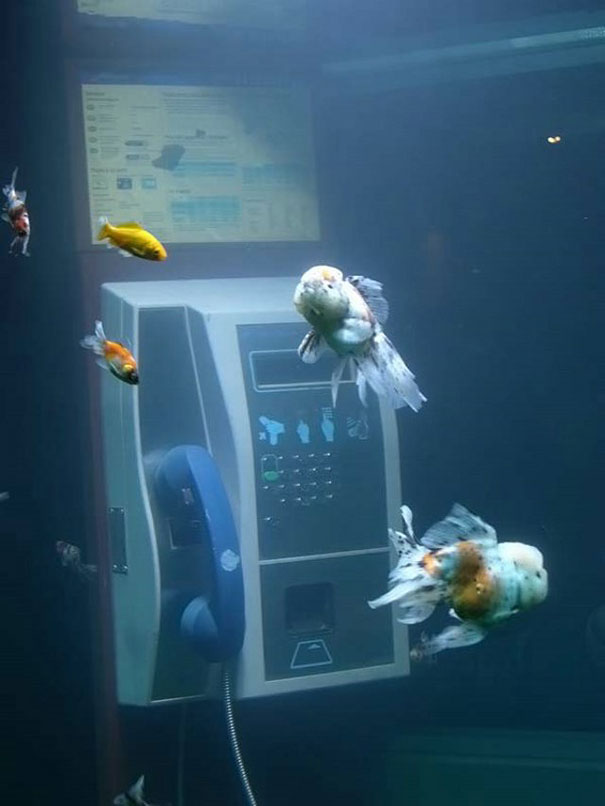 Who says telephone booths are obsolete? Benoit Deseille and Benedetto Bufalino turned a regular telephone booth into a functioning aquarium for the Lyon Light Festival in France.
#7 Pipeline Fish Tank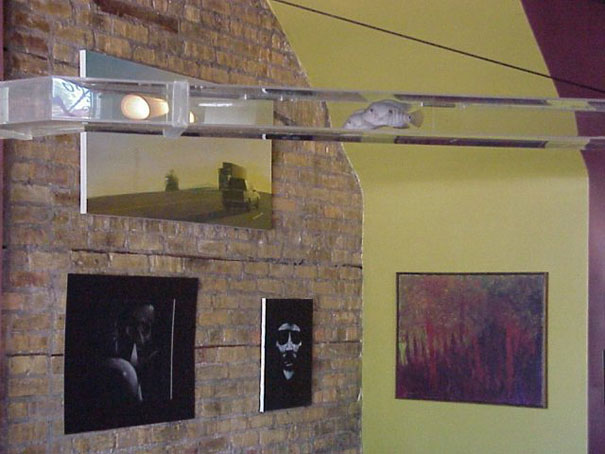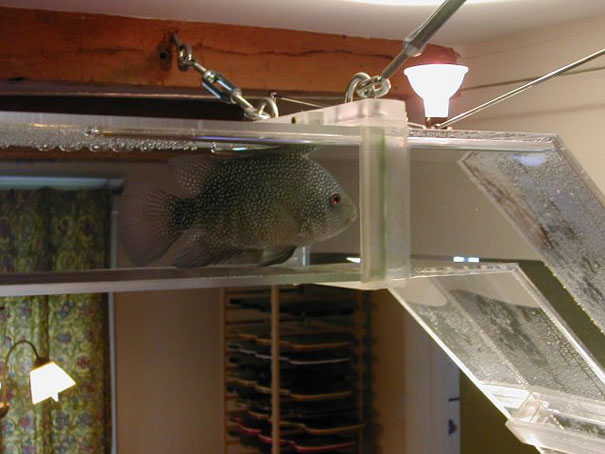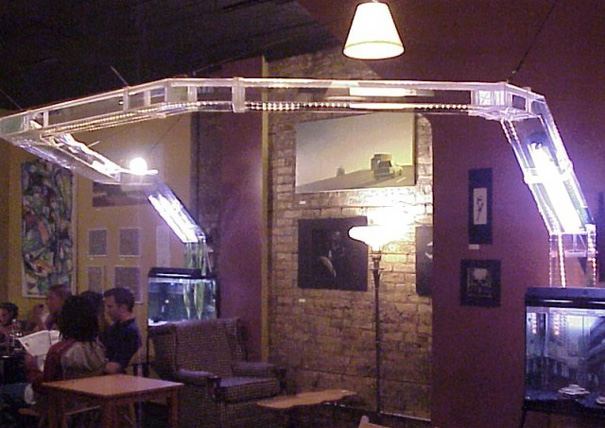 Previously, we've featured a house with a cat transit system. While that one can be quite logical, this pipeline fish tank is totally insane! A guy who's a legitimate aquarium fan made a pipeline fish tank all over his cafe. It makes the fishes move from one aquarium to another.
#8 Travel the World Aquarium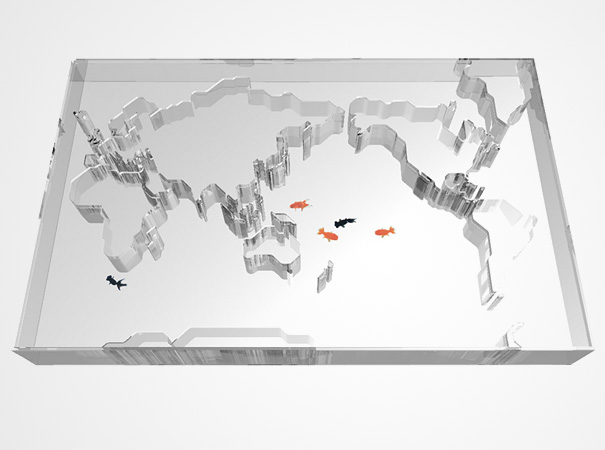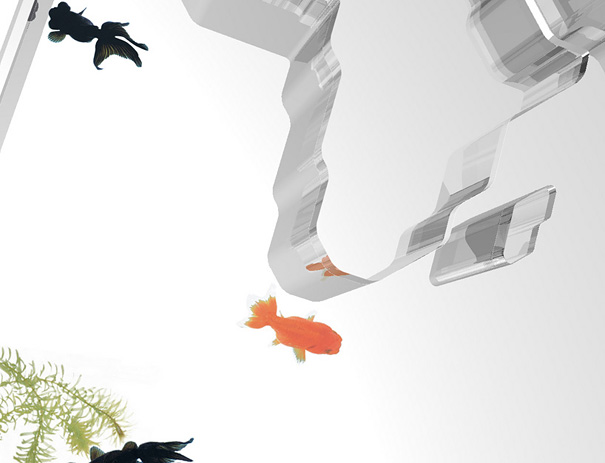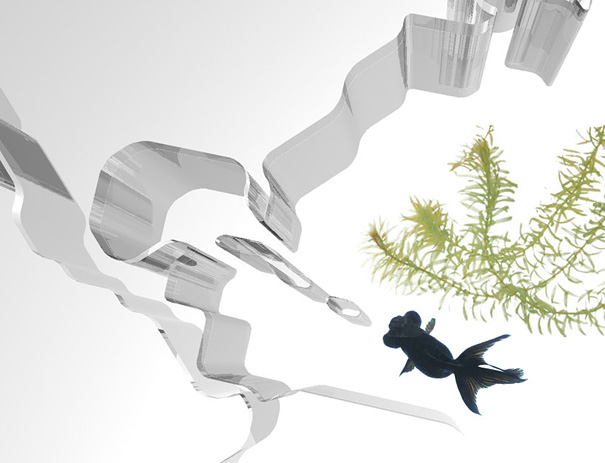 These fishes can go places. They can literally travel the world! Takuro Yamamoto devised a goldfish basin called "World Trip" which has the shape of the world map to enjoy an adventure around the globe with the goldfishes.
#9 Portable Fishbowl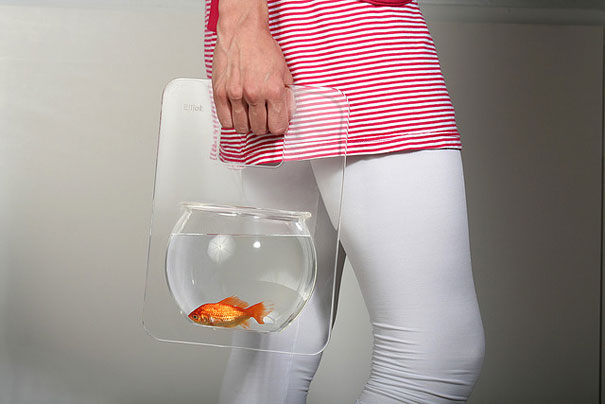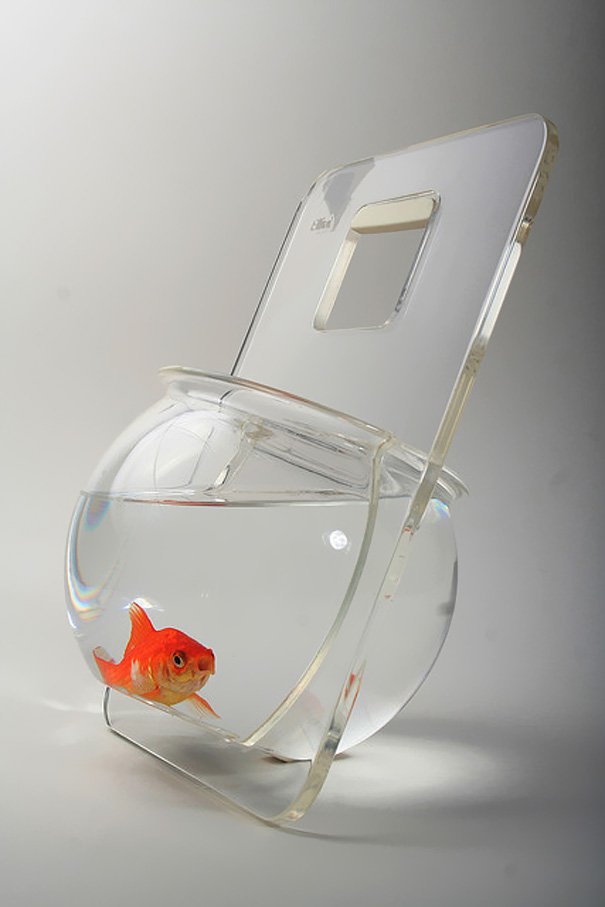 Who says only the dog can be taken for a walk outdoors? Michal Shabtiali made it possible for fish lovers to do the same with their pets through this portable fish tank with a handle.
#10 Labyrinth Aquarium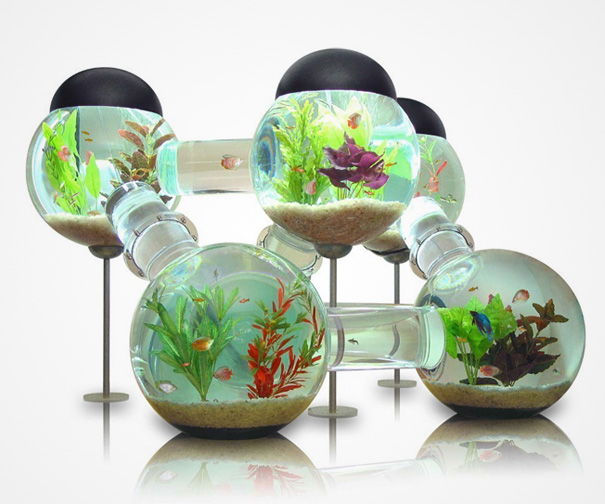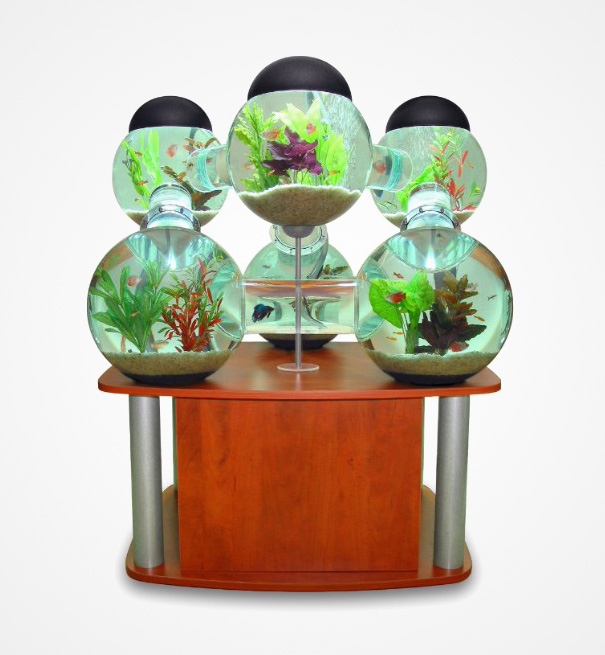 This design gives your fishes the freedom to go from one bowl to another. Best for tropical freshwater fishes, this rare model has a concealed rare filtration and lighting components on the table.
#11 Aquarium and Bird Cage in One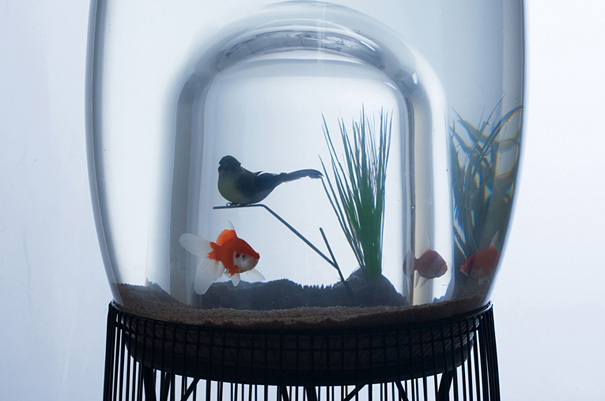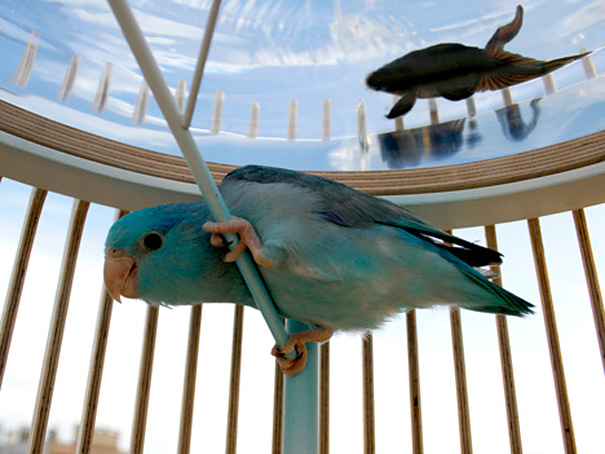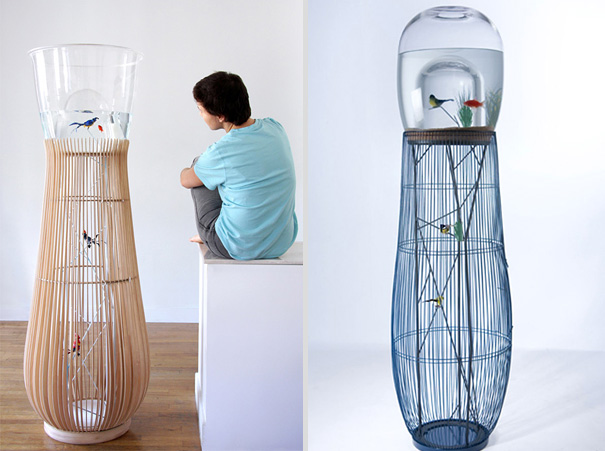 For animal lovers who can't choose whether to get a bird or buy a fish tank, this one can do you both!
#12 Infinity Aquarium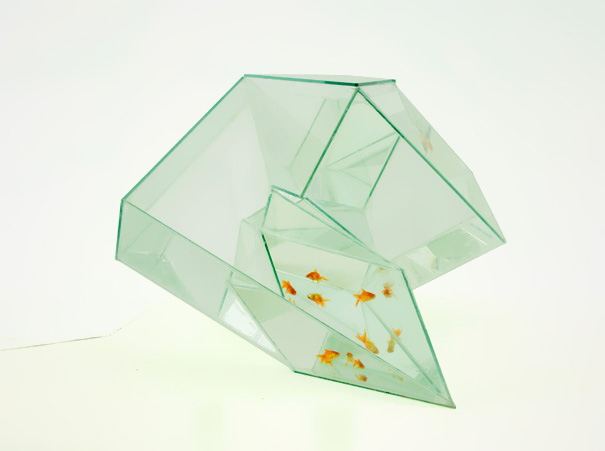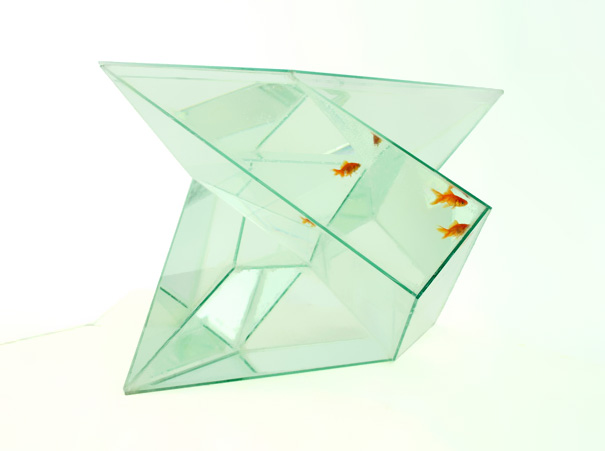 Want to confuse your fish and yourself? This 'repetitive geometrical shape of infinity' on an aquarium aims to create a visual metaphor of life.
#13 Jellyfish Tank for Your Desktop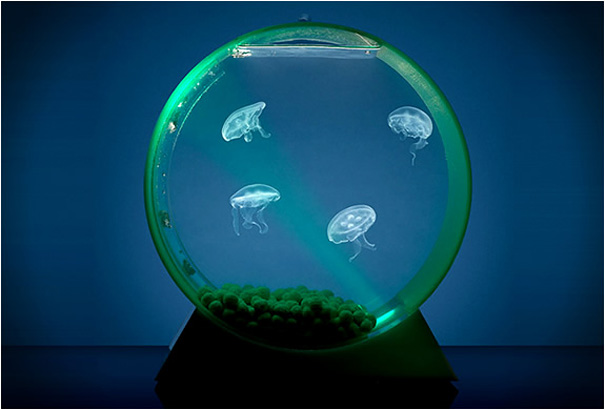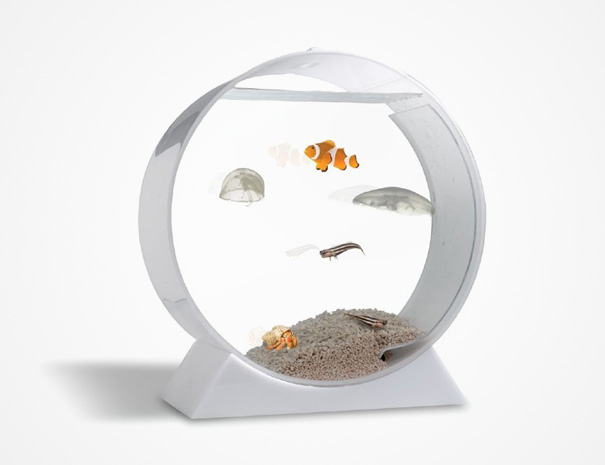 Have your aquamarine friends at your desk through this design which looks cool on both day and night lights.
#14 'Poor Little Fish'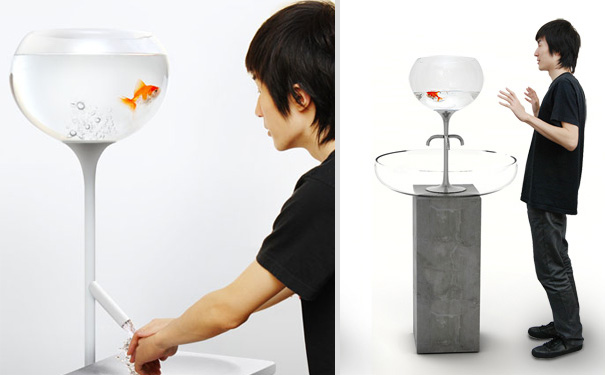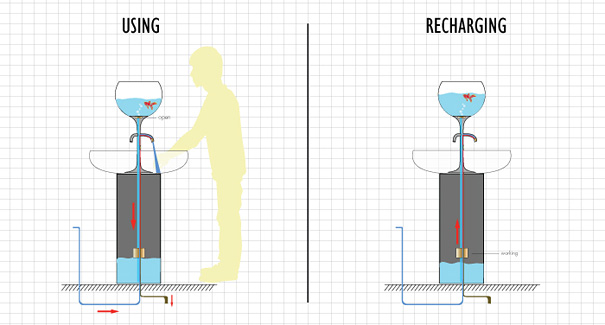 The "Poor Little Fish" is actually a water conservation project. When using water from this basin, water in the fish tank decreases as well, putting the water level down. It makes users think that too much water consumption can make the fish run out of water. Yan Lu designed it with two separate pipelines to make the tap water pure.
#15 iPond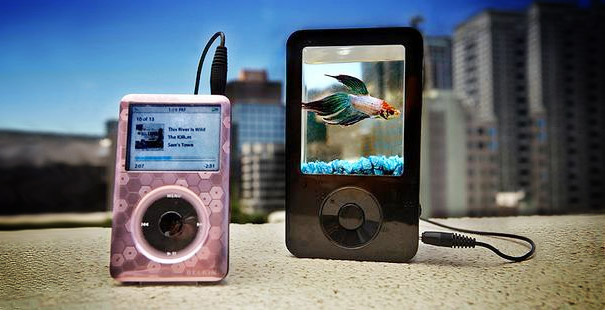 This design is an accessory for iPod that comes with a tiny aquarium. It is actually a speaker that contains about 650 millilitres of water to house a single fish.